Ho hum, another 12 tackles for Luke Kuechly – just another day at the office.
Take a gander at the NFL tackle leaderboards – and Kuechly is atop it once again after five weeks.
And during Sunday's game against the Jacksonville Jaguars, linebacker Luke Kuechly added another superlative to his already historic career.
In the third quarter of the Panthers' 34-27 victory over the Jaguars, Kuechly reached 1,000 tackles for his career in only 107 games, making him the only player to achieve that mark during their first eight seasons in the league.
It's fitting Kuechly achieved the mark in the same game the Panthers inducted wide receiver Steve Smith, tackle Jordan Gross, quarterback Jake Delhomme and tight end Wesley Walls into the team's Hall of Honor at halftime – because Kuechly will undoubtedly find himself there one day. Since entering the league in 2012, Kuechly has been a tackling machine as no one has recorded more tackles in the span since he entered the NFL.
In typical Kuechly fashion, he was quick to point out all of the players who helped him achieve the tackle mark.
"You know, it's one of those things where you try to do everything you can to put yourself in position to be successful," Kuechly said. "And a lot of that goes to the coaches and especially the big guys in front of me. Ever since I've been here, I've had really good defensive linemen and this year is no exception with Gerald [McCoy] and Dontari [Poe] and Kyle [Love] and Vern and KK [Short] – and we had Star Lotulelei, we had Dwan Edwards, a guy that did such a fantastic job."
"Ever since I've been here, we've had fantastic guys inside. And if you ask any inside linebacker, or any linebacker in general, what makes our job easier, it's those guys. I think a lot of it, too, has been I've always had a guy next to me that's been really good with Thomas and Shaq, those guys are fantastic. The coaches do a good job of putting us in position. So, it's an individual thing, but I think a lot of the credit goes to everyone that's made it possible."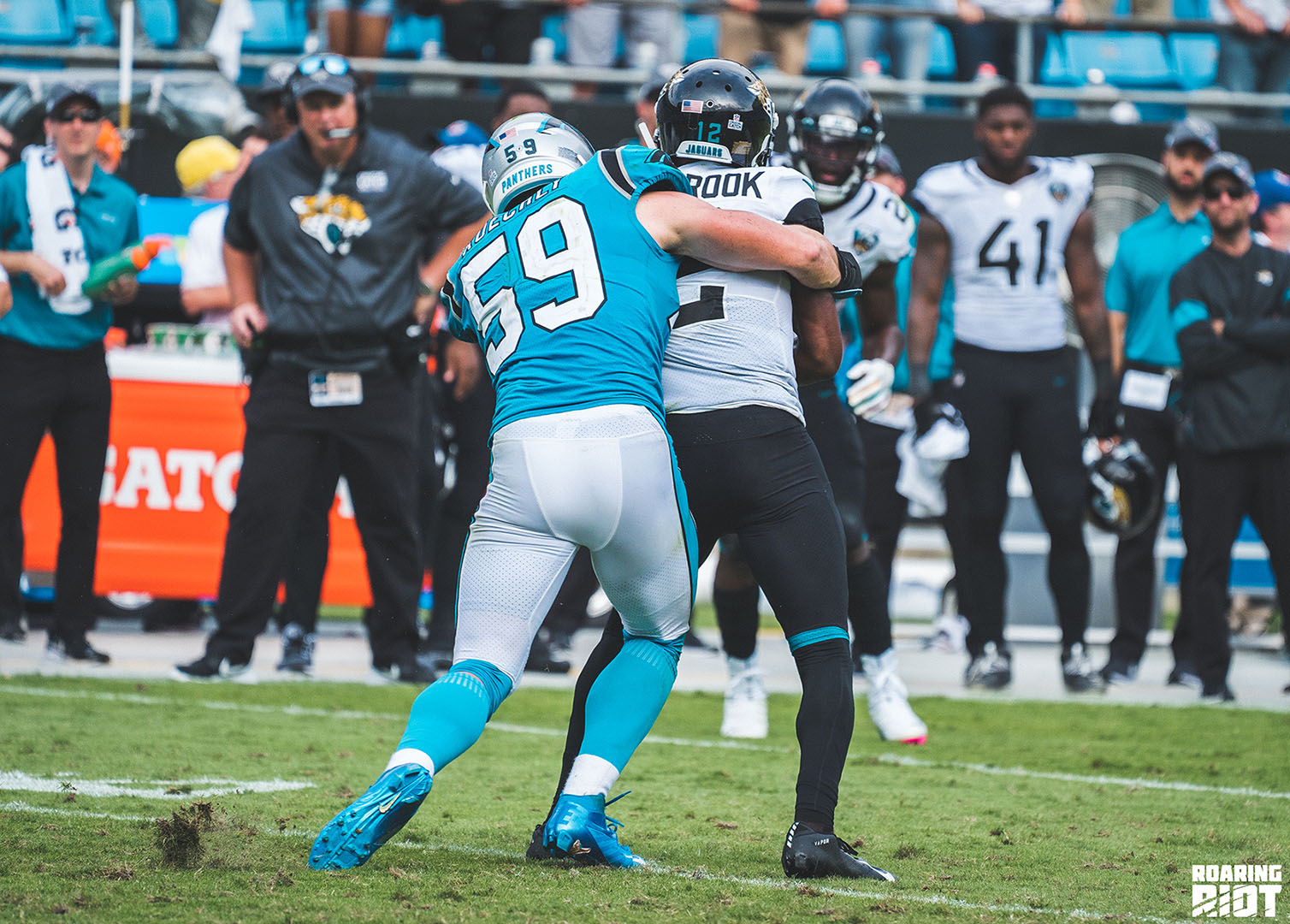 Although the Panthers have moved to a 3-4 base defense this fall, Kuechly's play hasn't skipped a beat as he has recorded 56 tackles on the year. On a day where the Panthers defense didn't have its best game and allowed over 500 yards of total offense, Kuechly once again led the team in tackles.
He and the Panthers' defense helped keep Jaguars running Leonard Fournette in check throughout the afternoon. While Fournette was able to run for 107 yards, 48 of those yards came on one fourth-quarter carry.
Head coach Ron Rivera says Kuechly continues to have a huge impact on the young Panthers young defense, using the final play of the game as a perfect example of what Kuechly brings to this defense.
"On that last play, he could have easily intercepted that ball, but he just knocked it down because he knew it was the most important thing – winning the football game and not personal stats," Rivera said. "That right there, to me, just epitomizes him as a football player and as a person – that he does the right thing. And I do stress that our young guys can learn from our veteran guys to do the right thing."
Kyle Allen, who won his fourth straight start and the Panthers third consecutive game to get them above .500 for the first time since Week 13 of last season, also knows Kuechly's impact – and not just in terms of the Panthers.
"What does he mean to this city, you know what I mean?" Allen said. "Luke's just an incredible player and an incredible person. He's the heart and soul of that defense; he's one of the best players in the entire NFL, regardless of position."
"Incredibly happy for him."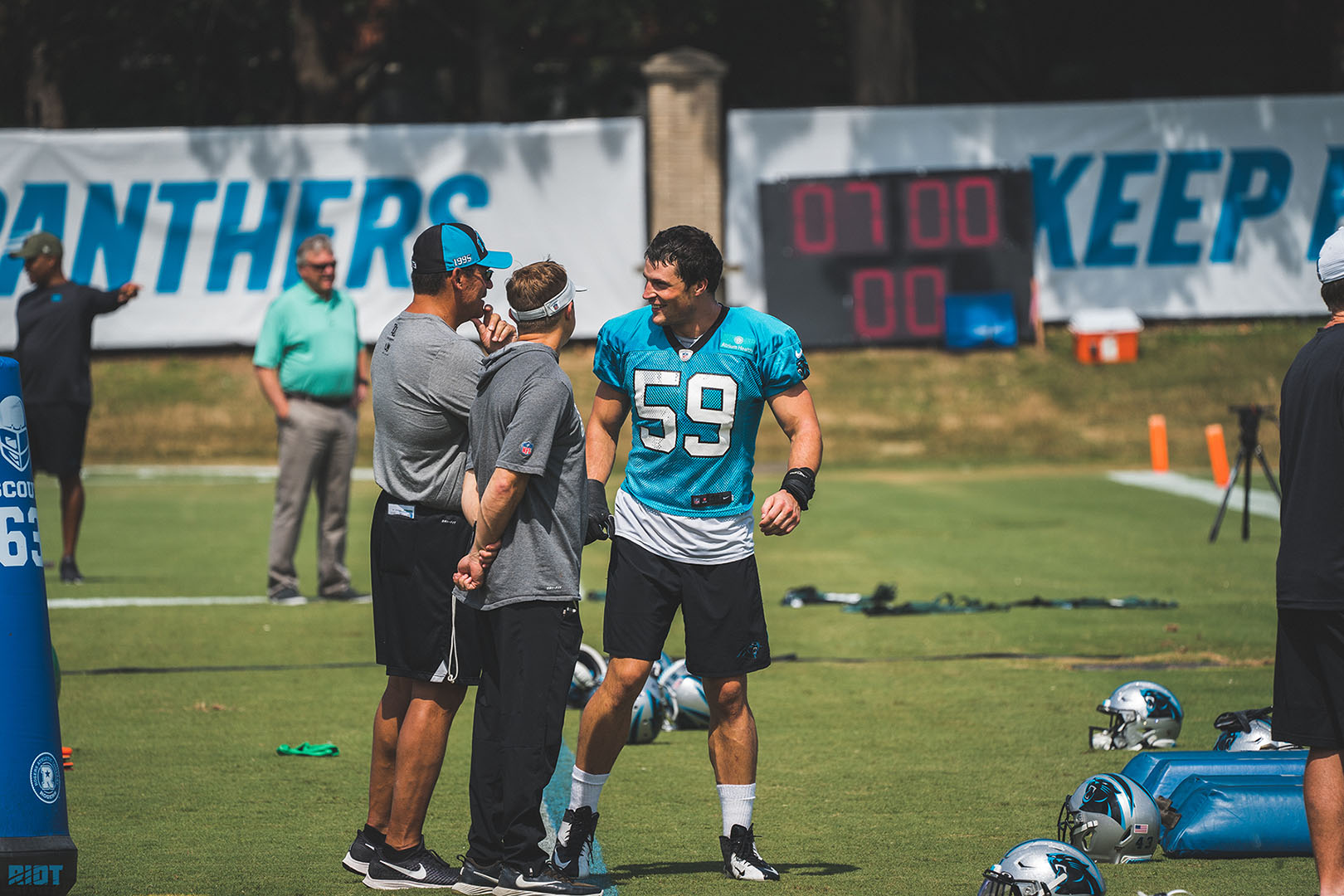 Kuechly wasn't the only person to achieve a milestone on Sunday as Rivera passed John Fox to become the winningest coach in Panthers history. Kuechly believes he knows what has been the secret to Rivera's success.
"Coach Rivera is one of those guys – he loves the players, and I think that's the best part about him," Kuechly said. "He's a great coach and he obviously understands [foot]ball, but I think he loves the guys and the guys appreciate that, and guys feed off that, and he is always super constant."
"We've been in tough situations since I've been here where we haven't started as well as we need to – like this year where we started 0-2 – and everyone could have said the sky is falling, but Coach Rivera does a great job at keeping everyone involved, everybody encouraged and has the same message every week, that we are a good football team – we just need to play like it."
"So we are happy for coach, he's done a great job since he has been here, and we are excited to get that for him."
Just like Kuechly – deflecting praise away from himself on a historic night.