My brother-in-law is a huge sports fan.
So much so that he works a thankless job behind the boards at a sports radio station in Colorado Springs, just to be close to it – but to ask him about it, he'll be more than happy to regale you with stories about how much he loves his job, how much he relishes the opportunity to be a part of the action, even if it's once- or twice-removed.
Last year, when asked what his preferred activities would be for a weekend visit, the answers came flooding before the question was even out of our mouths —
Panthers game. Hornets game. Other than that, anything else you want to do.
Hornets tickets were obviously easy to find, as were Panthers tickets – to the Week 13 matchup against Washington – the Panthers had already lost three straight and the bloom was officially off of the Kyle Allen rose. But I am lucky enough to be in a unique position and I use my favors wisely, so I reached out to some of the folks that I know to get he and my wife pre-game field access.
Not that it matters, but Josiah, who has cerebral palsy, is in a wheelchair.
Josiah is the most positive person I've ever met – has had a huge smile plastered to his face for the decade I've known him and has never, ever let anyone feel bad for him because of his condition. He didn't let it bother him when he went to college thousands of miles from home and wrote an editorial urging his university to improve accessibility. Doesn't let it bother him when he takes an UberXL to and from work each day with his wheelchair in the back. Certainly wasn't an issue while he spent most of my wedding tearing up the dance floor.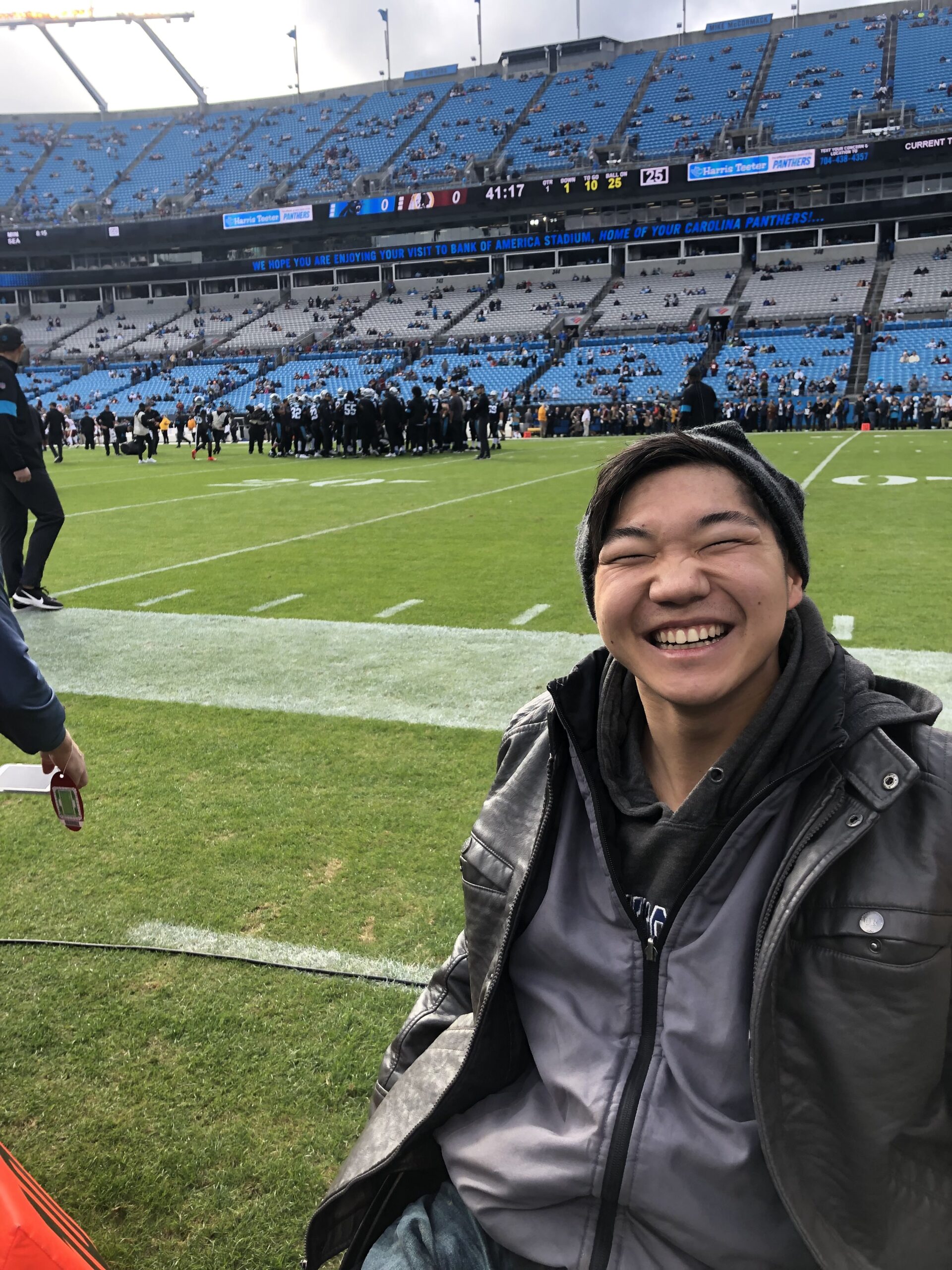 So it meant something to me to be able to give him a special experience – and when he finally made it to the field for warmups, I searched him out with my binoculars from the press box and sure enough, there he was with a huge smile on his face, watching the players warm up.
As the players finished their warmup and began to head towards the locker room I grabbed my binoculars because I knew what was about to happen – sure enough, the scene I'd seen play out so many times before was happening. The black 59 jersey, the most recognizable on the Panthers defense in the past decade, began to make it's way over to the crowd of fans ecstatic just to get close to their favorite players for even a moment.
As I watched, the captain of the Panthers for every season since 2013 went out of his way to give Josiah a high five and his signature smile before turning and heading into the locker room. A moment later, I didn't even have to look at my phone to know what the text would say, the same thing yelled by fans later that day as he made one of his seven tackles that day. It was the same guttural sound that echoed through my mind as I watched one of the greatest players in Panthers history tearfully retire over the course of a three-minute video Tuesday night.
LUUUUUUUUUUUUUKE!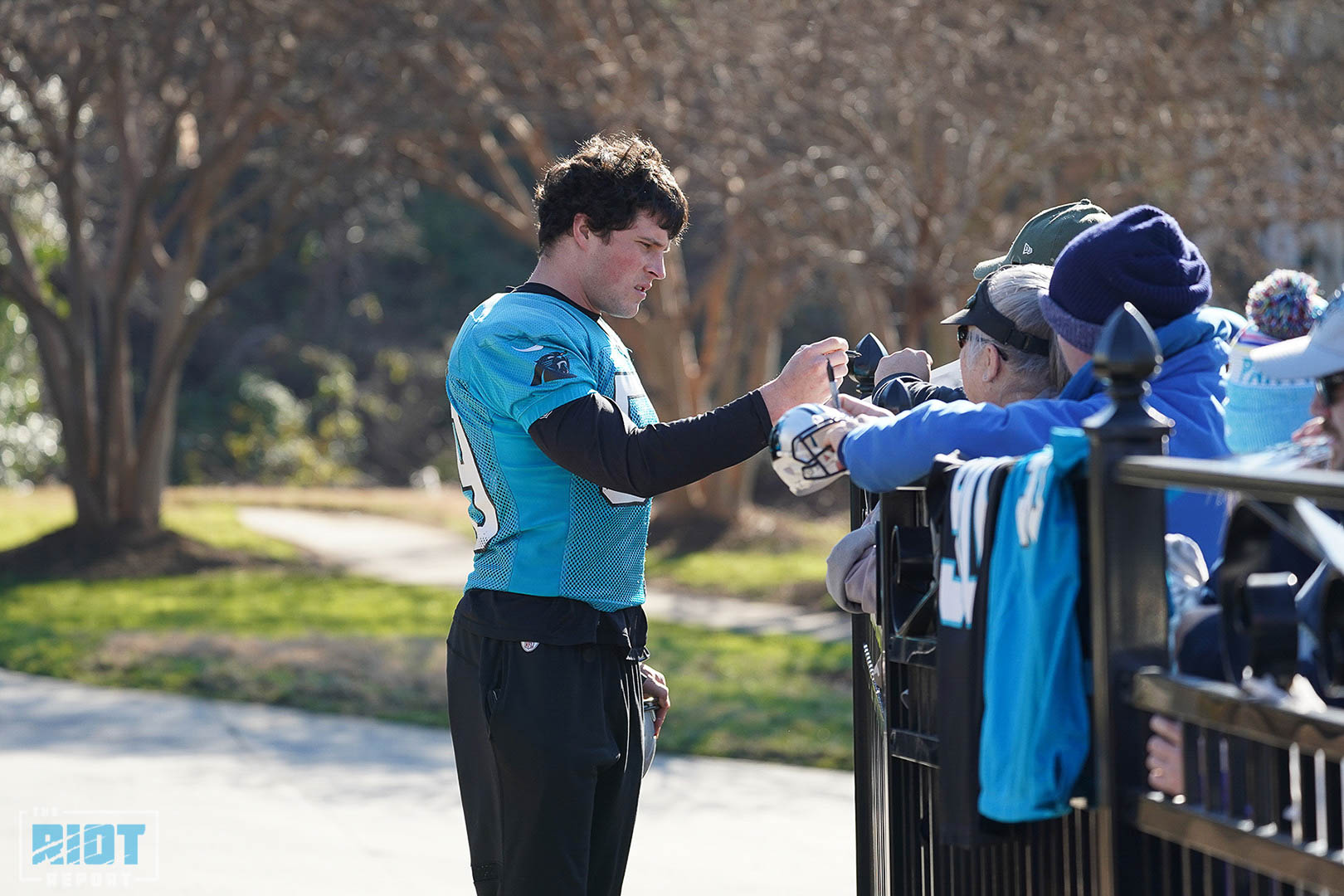 The second-most popular player on the team for his tenure here (every summer day in Spartanburg brought a battle between the high-pitched CAAAAAAAM and the low-pitched LUUUUUKE along the fence) but when the best defensive player to ever strap on a helmet in Carolina decided to retire at 28 years old, saying that he still wanted to play football, but wasn't sure he could do it at the level he demanded of himself anymore, Luke Kuechly took with him a face of the franchise that ultimately defined what it meant to play Panthers football.
Or at least, what people want to picture when they thought of Panthers football.
Smart. Tough. Hard-working. Humble. Proud. The nicest guy in the room and the scariest guy on the field. Hit you the hardest but be the first to pull you back up again.
Kuechly wasn't just the fastest man in NFL history to amass 1,000 tackles, the linebacker with the most interceptions since he came into the league, the player with the most tackles since 2012 or just the fifth player in NFL history to have eight straight seasons – his only eight, it would turn out – with over 100 tackles. He was more than that – when Kuechly was in the middle of the defense, you always felt the Panthers had a chance to win. When Kuechly was speaking in the locker room, everyone listened.
When he returned an errant Russell Wilson pass for a touchdown in the 2015 playoffs, the stadium shook in ecstasy.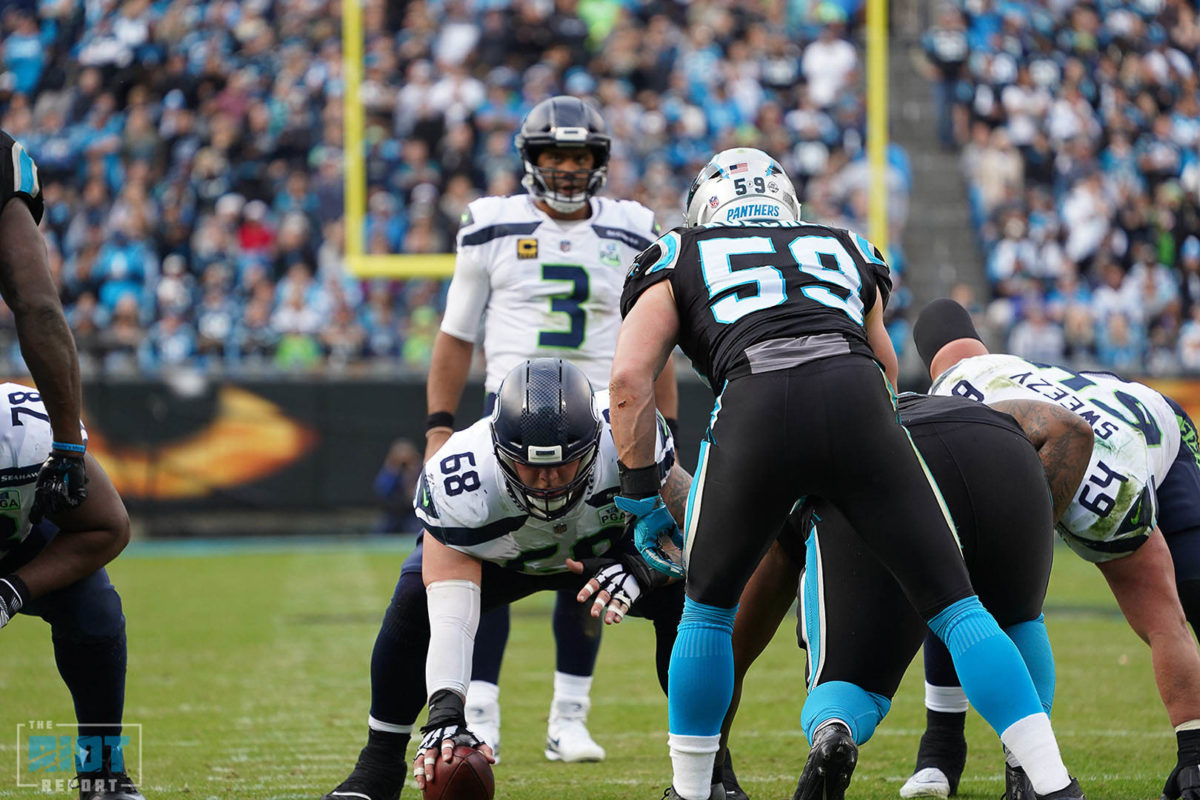 When Kuechly sat on the back of a golf cart and sobbed without seeing on a Thursday night the next November, a fanbase held it's breath in terror that this would be the last time we saw him in a uniform.
But it wasn't the last time – it wasn't the last time the next time either, or the next time after that…and every hit since that November has brought with it that same fear. Every time he took an extra second to gather himself after sprinting across the field to make a tackle, we inhaled quickly and said a quiet prayer. An extra beat on one knee resulted in a murmur across the crowd. When he missed a couple of training camp practices before this season without a full explanation from coaches, Kuechly answered our question without needing to be asked – "Guys, my head's OK," he said with that trademark sideways grin – because he knew what was coming.
"There's only one way to play this game since I was a little kid — to play fast, play physical and play strong. And at this point I don't know if I'm able to do that anymore," Kuechly said in his retirement video. "And that's the part that is the most difficult, is I still want to play, but I don't think it's the right decision."
These past two seasons were hard for Kuechly – it's never easy to lose as an athlete – but he always had time to stand tall in front of the trash can that sat between the lockers of KK Short and Jermaine Carter, Jr, sticking up for his teammates and coaches while heaping the blame on himself and the praise on his opponents. Kuechly played the game with not just a roaring grace, but with a joy that was near un-surpassed every time he was on the field. But with every hit came the chance that this hit would be the last – and the decision to walk away with years still left on the table is almost certainly the correct one.
Get out on your own terms, not when a doctor tells you it's time.
"It makes me sad because I love playing this game. I've played it since I was a little kid and it's my favorite thing in the world to do," said Kuechly.
The Panthers have a long list of middle linebackers in their history, from Sam Mills to Dan Morgan, but no one will ever command the defense quite like 59 did – no opponent was safe.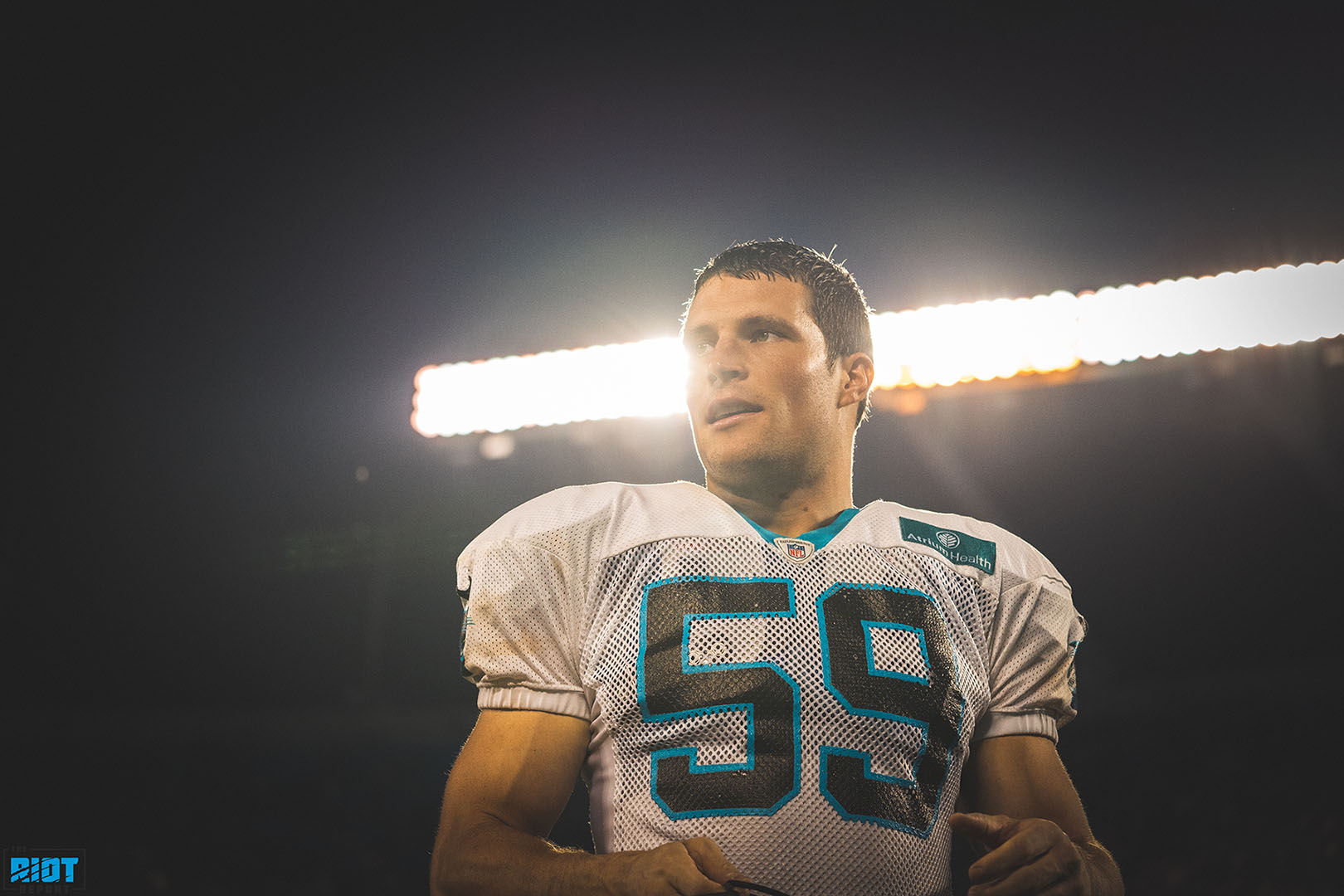 The Panthers would lose in terrible fashion to Washington, blowing a 14-0 lead and allowing one of the worst rushing teams in the league to explode for 248 yards – but Kuechly never wavered.
"Guys got a lot of pride in this locker room, and that's never been an issue here," said the captain. "We took another one on the chin today that hurt. We've got a lot of good guys in this locker room. We've got great coaches. Coach Rivera does such a great job of keeping us level-headed. He's done a great job with it since he's got here, and we're going to do the same thing moving forward."
Two days later, Ron Rivera would be fired and two weeks later, mired in the midst of his second seven-game losing streak in as many seasons and in front of a stadium that was only about half-full, Kuechly had 17 tackles, the third-most in a single game in his career. He almost singlehandedly dragged the Panthers to a victory over the playoff-bound Seahawks, but ultimately fell short as Kuechly extolled the same message.
"We just want to win, and we played so hard," Kuechly said after the game. "Guys fought the whole game. We play the game to win, and it should matter to you, and it should hurt when you lose. We just haven't done enough, and you're searching for what that enough is, but what I do know is guys worked extremely hard during the week, guys played extremely hard during the game."
"Regardless of what the score is, what our record is, the guys in this locker room, these coaches have done an extremely good job of fighting through and persevering through the tough times."
About an hour after Kuechly bared his soul for three minutes and 35 seconds Tuesday night, I got another text from Josiah.
I'm just so happy I got to see Luke play.
We all are.