The last time Mario Addison was in a contract year with the Carolina Panthers, he led the team in sacks with what was – at the time – a career high in sacks with nine before being rewarded with a three-year, $22.5m extension.
All he's done since then is have the most sacks on the team in the first two seasons of that three-year deal as he moves up the Panthers all-time franchise leaders, ending the 2018 season with the fourth-most career sacks in a Panthers uniform with 45.5. He knows he'll need to do more of that, setting his goal of hitting double digit sacks in 2019, a feat he's achieved only once in his career, in 2017 – double digit sacks would allow him to pass Mike Rucker for third on the list.
"It's a contract year. I just want to get out there and ball out [and] do everything I can do – I've still got a lot of life in me," said Addison after OTAs this week. "I just want to make plays everytime I get on the field and the stats will take care of themselves."
"Everybody wants to be the guy that can hold a record – Pep [was] playing for 30 years, so it'll be hard to come close to the sacks total he's got, but you can learn from it. Learn from all of the stuff that he did in previous years – those things that we can learn to do right away that will have an impact on the game right now."
One of the reasons Addison has a lot of life left in him is that even though he'll be turning 32 in a few months, he spent the first two years of his career bouncing between three teams and didn't see the field much before catching on in a bigger role in Carolina – in fact, 2017 was the first season he'd played more than 43% of the defensive snaps in a season of his career – that also happened to be the season he got his career high in sacks with 11. It was the opportunity and more time on the field that resulted in more success for the Troy University product.
But that wasn't necessarily the case last season.
After a hot start – 7.5 sacks in the first eight games including a strip-sack in the season opener that sealed the win for Carolina – Addison only had 1.5 sacks in the final half of the season as the entire defense struggled to get pressure on the opposing quarterback. A change in coaching and Ron Rivera taking over the playcalling for the final few weeks of the season provided a boost, but it wasn't up to the caliber that Addison and the rest of the veterans on the team feel as if they can achieve.
"We've got a standard and we didn't meet it last year – it was sad," said Addison. "We had all the guys to do it and we didn't get the job done."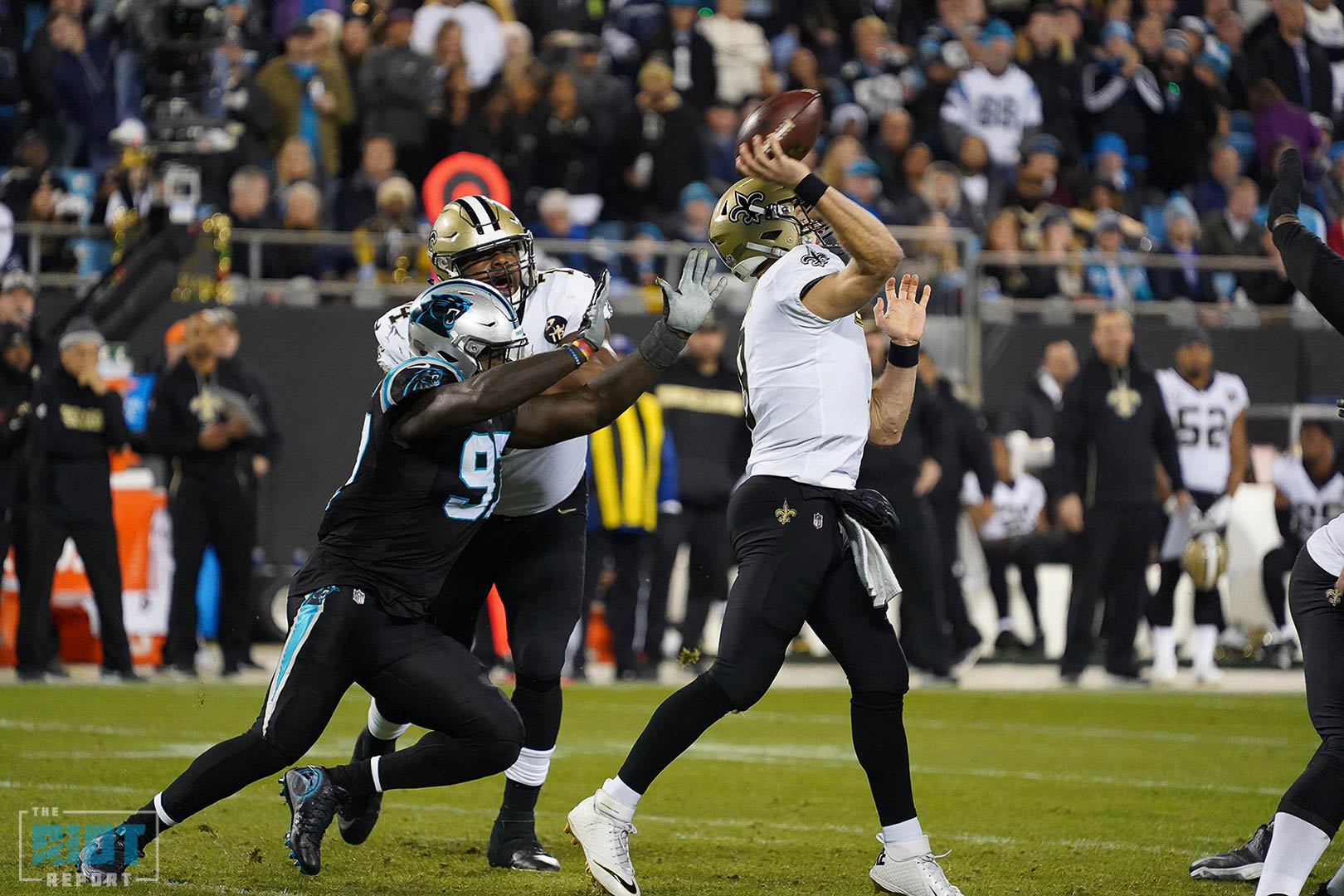 But as the defense transitions from a standard 4-3 base to more of a 'hybrid' that has all the tell-tale signs of the 3-4, Addison, who played in a 3-4 occasionally when he first entered the league but has mostly rushed the passer from a three-point stance since coming to Carolina, is excited for the opportunity to drop back into coverage – where he joked that he plans on securing 45 interceptions and taking three of them back for touchdowns.
Addison hasn't had an interception in his career – at least not yet.
"Going from a 4-3, we mainly rushed," said Addison, who has the tenth most sacks of any NFL player since 2016. "We rush to the edge—rush, rush, rush, rush, but…being able to stand up, I like the standup part, because you can see the play unfold real quick and you can check the backfield out, so you've got more vision. That's why I like the 3-4."
"Vision – vision on the quarterback. That's what it's all about."
A new defensive scheme means new types of athletes, which is why the team drafted Brian Burns and Christian Miller and signed veteran defensive end/outside linebacker Bruce Irvin to not only contribute on the field, but help mold the defense – Irvin in particular has been a resource for Addison as he continues to adapt, not just from a mental standpoint, but from a physical standpoint; Addison changed his diet during the offseason to drop seven pounds and get down to a more svelte 255 as opposed to the 262 he weighed in previous seasons – although he still allows himself the occasional double cheeseburger on the weekend, sans bun – of course.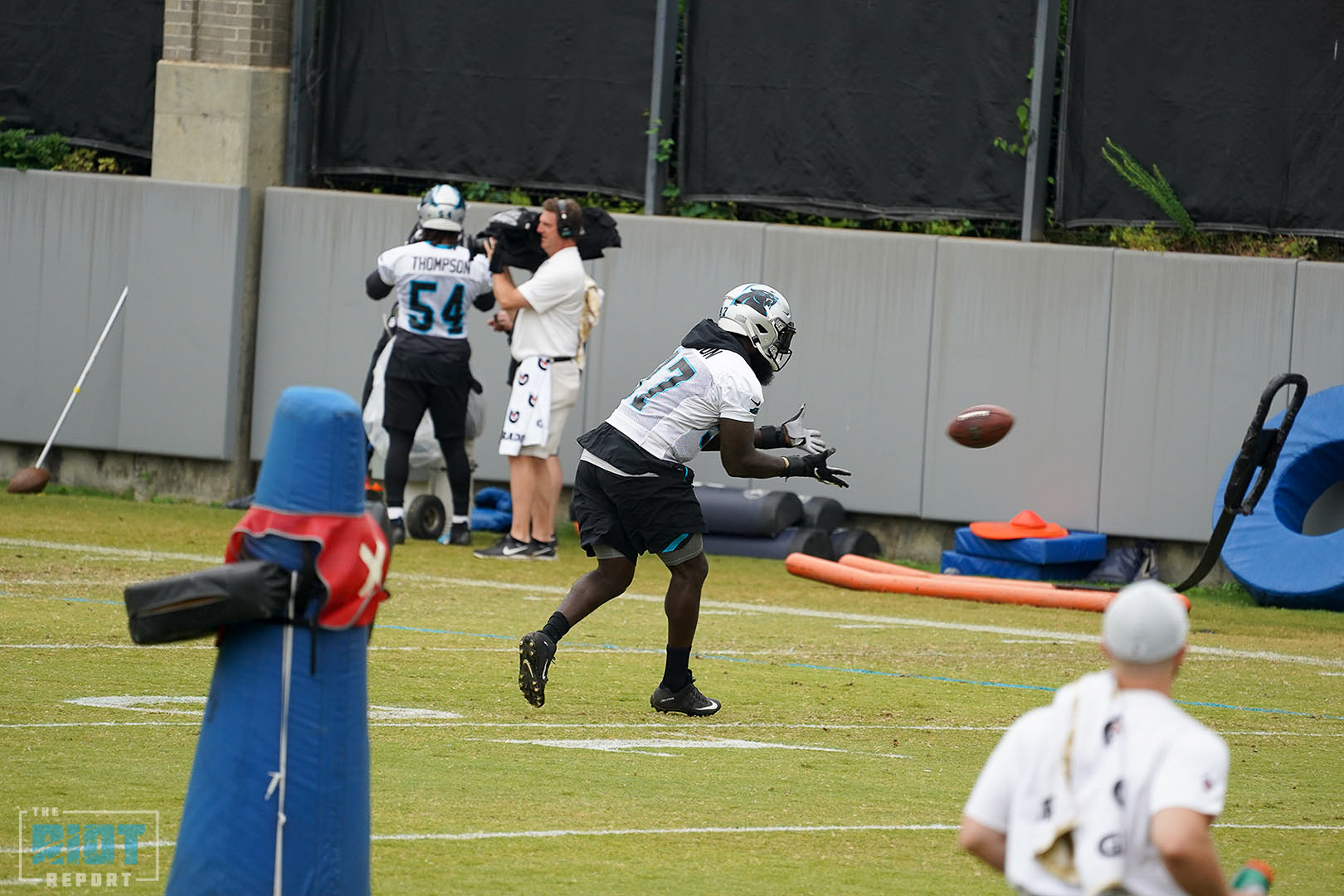 That's why a 3-4 defense can help players like Marquis Haynes (who is listed at 235 pounds), Burns (250), Irvin (250), and Miller (245) who need to be as adept at covering running backs and tight ends as they are at rushing the passer – the key to a three-man front is keeping the offensive linemen guessing at who will be coming for the quarterback and who will be dropping back.
"Doing all that dropping stuff, you don't want to be heavy like a typical end – 270 [or] 275 is not a good fit for that, but when you got mobile guys like myself that can move around…It'll benefit all of us," said Addison.
"We're really just asking Mario to use his athleticism in a different fashion, a different style," said Ron Rivera. "He's adapted to that very well. He's quick off the edge of the defense, he's an explosive player [and] this can add a little bit to his repertoire."
"I'm excited for Mario."
If he makes true on his 45-interception prediction, Rivera won't be the only one who's excited.