It shouldn't have been a surprise that Marquis Haynes had Mario Addison's helmet in his oversized hands as he walked off the practice field – the comparisons have been made for months, ever since the Panthers traded up to the 136th pick to select the speed rusher that had set the school record for sacks at Ole Miss. Sometimes comparisons between a draft pick and a current NFL star can fall by the wayside as spring workouts and training camp begins, as players begin to forge their own path towards success in the NFL; sometimes the players everyone thinks you'll become shift from a future hope to a past comparison – but that's not the case for Haynes. The longer he plays next to him, the more the comparisons to Addison grow.
Not that that's a bad thing.
"[Mario] is one of the toughest guys I've ever had the privilege of coaching," Defensive Coordinator Eric Washington said about the defensive end who went from undrafted free agent to practice squad to special teamer to leading the Panthers in sacks over the course of his six-year career. "Physical toughness and mental toughness, determination – his background, having been released two or three times by the time we got him and just trying to find his niche. He worked primarily as a special teams player and then every single year, he's accepted the challenge of improving and growing – he's always wanted to be a starter and a difference maker."
"Marquis, just like Mario, both of those guys are pretty powerful guys – and they're in that smaller package for a 4-3 defensive end, but they bring exceptional power to the table, so they can really compete on the line of scrimmage and execute the way we need them to – primarily setting the edge."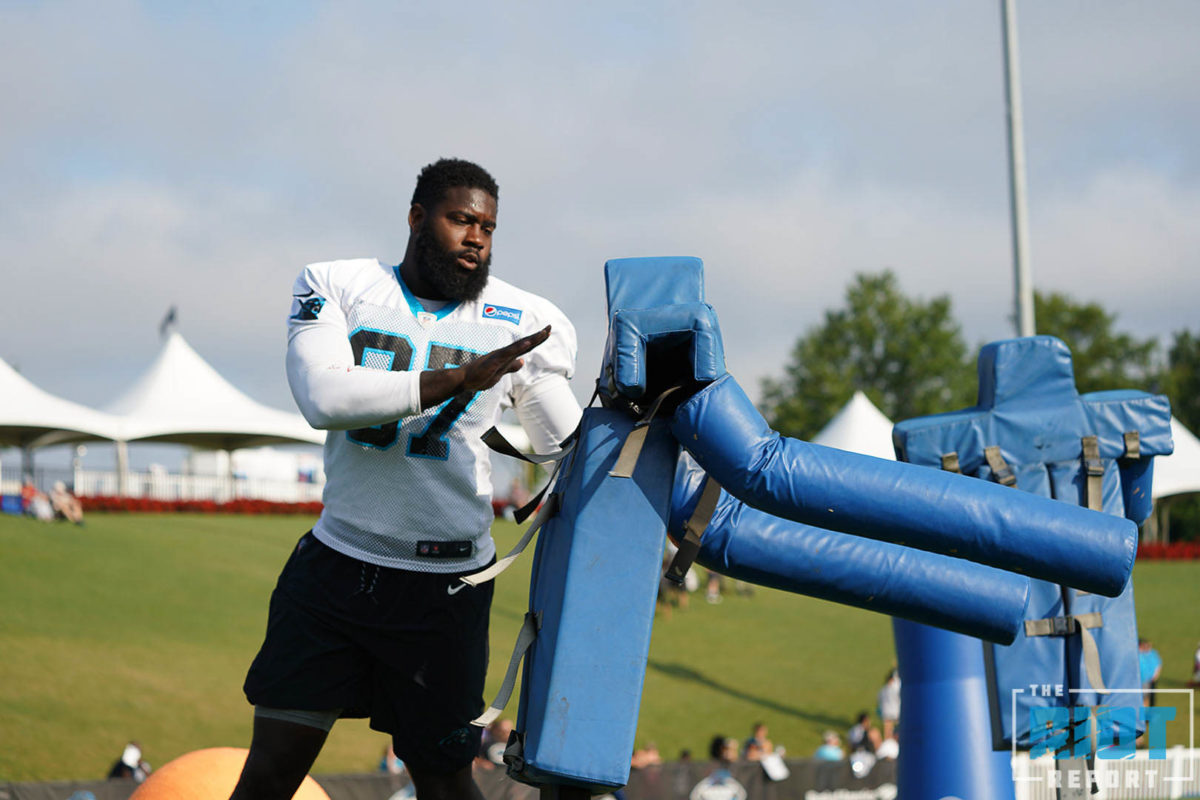 But Washington says that Haynes, who only weighs 235 compared to Addison's 260, will be a situational player as he transitions to the NFL – citing that Addison was used smartly when he first came to Carolina, which was one of the reasons he was successful; if an offense comes out in 11 personnel and a jumbo tight end, don't expect to see #98 on the field. But the "Joker" role, a defensive end that doesn't rush the passer but can drop into coverage or defend the run depending on the play, that Ron Rivera spoke about when Haynes was drafted, won't be Haynes' only role – he'll be asked to rush the passer – he'll be asked to do a lot of things.
"There's a lot for him, said Rivera. "We look at some of the situational things that we do and see how he fits for us – that's why you see him all over the place. He's just got a lot to learn, but he's got a skillset that you can work with."
"Starting off, he's a defensive end, so we're going to develop him in the same mold that we would develop Daeshon Hall – we want to teach them basic fundamentals of the position," Eric Washington said about the player who is likely competing with Hall for snaps at the fourth defensive end slot behind Addison, Peppers and Wes Horton. "Beyond that, he brings elite get-off and speed as an edge rusher, that's going to really challenge protection schemes with whoever is assigned to him in protection, so we want to teach him the foundations and the basics and then from there, we can start to identify ways that we can utilize him specifically."
Haynes says that his time in camp and in the film room with the Panthers has been revolutionary for his technique – seeing how the film room translates to the field and how slightly different counters and club moves can impact your entire game has him consistently asking the veterans on the defensive line for advice; Haynes recounted a story where he asked future Hall of Famer Julius Peppers a question about the way he counters an offensive linemen. The next morning, the two were standing on the grid – a painted area designed to mimic the line of scrimmage and the pocket – before practice where the 38-year old with the third-most sacks of all-time was showing him exactly what he does to get to the quarterback.
But his main source of inspiration is Addison.
"I'm kind of like his little brother now," Haynes, who has impressed in drills in camp thus far, said about Addison. "Coach Eric and Mario are getting on me about using my speed all the time; coach told me 'Mario's your big brother,' and he said he's the biggest brother. They've been on me and it's been positive ever since, nothing negative."
"It helps you learn more about yourself and what you can do – you just watch film and you learn from it, learn from your mistakes and what you can do better – and then the next day in practice and you remember what you saw in the game and in practice the week before and you're like 'that was the old way, go the new way' and you start practicing it until it becomes permanent."
"You just keep doing it and doing it and doing it and all of a sudden, it just becomes natural."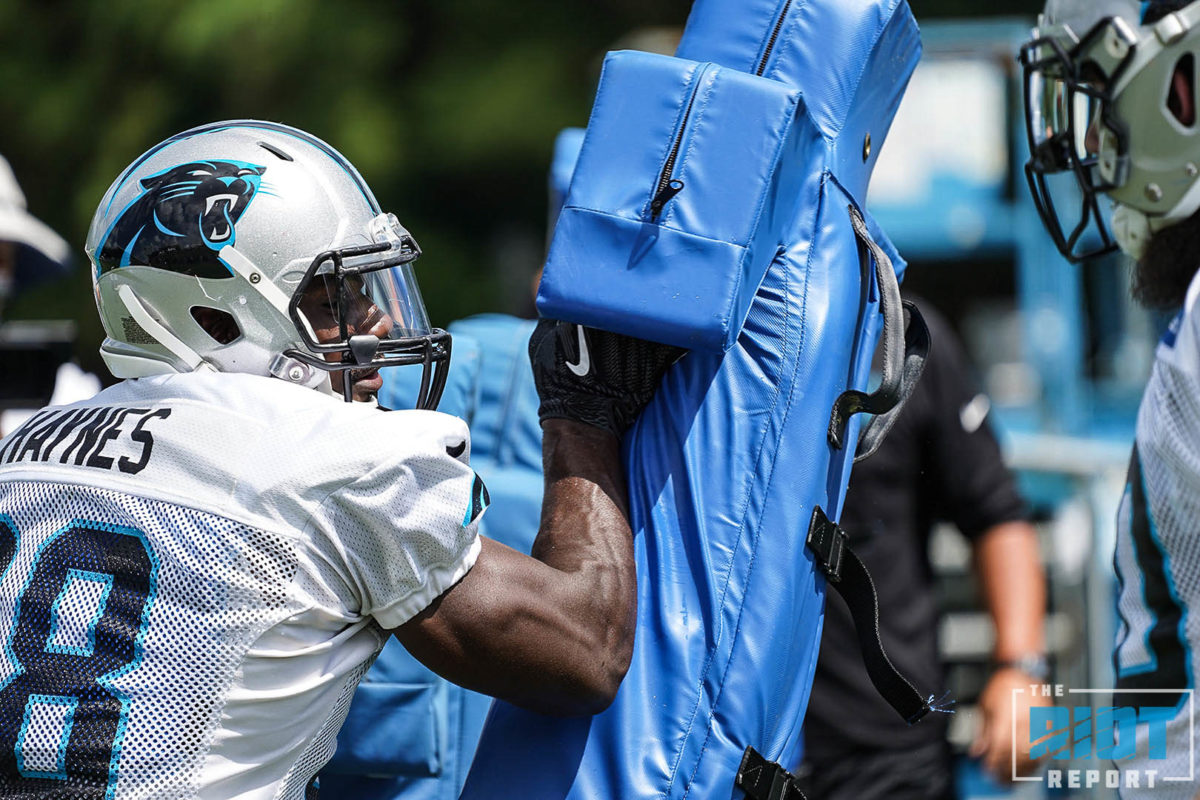 While Haynes has three more weeks of offseason practice for the film room to translate to the field, it might take a little bit longer for his career to develop – just as it did for Addison, who played with four teams in his first two seasons before signing with the Panthers in 2012 – Haynes is currently competing for the fourth defensive end spot with second-year player Daeshon Hall; for now, Haynes will continue to give his all in practice, if not for his own education, to ensure that the offensive linemen are getting experience against a defensive end that can run a 4.67 40-yard dash.
"Honestly, I'm just here to contribute what I can," Haynes said. "If I do go out there with the ones, I'm just trying to make sure I can [help make] our first offense better – I'm going to make sure they get the best rep they can. You never know, they might go up against a fast [defensive] end like me and I've got to make sure they're ready for the next game."
The Panthers' defensive line has been one of the best in the league for years – and fans of the team will recognize the differences in play between the different pass rushers. Addison has his patented spin move and Peppers has a multitude of ways to get around offensive linemen; Wes Horton seems to be making the strip-sack his signature move – Haynes has a signature of his own.
"Just go. Speed."