Here's your mantra for Marty Hurney 2.0: "Let the board come to us."
In his pre-draft press conference, held two days before an absolutely pivotal draft for the Carolina Panthers, the first draft since 2012 Hurney will be making a football decision other than which chair to sit in while he watches, Hurney says that he's learned from his mistakes, taking a moment halfway through the presser to make one thing clear to Panthers fans.
"I can tell you right now, you can consider next year's first [round pick] safe," Hurney said, making light of the former/current GM's penchant for trading up in his first stint with the club, highlighted (or perhaps lowlighted) by a 2009 trade of their 2010 first-round pick in exchange for the 49ers second and fourth rounders. "You step back and look at things and some of the things you've done. Those type of things, you kind of look at what you did and what you can do better. You also look at what you did well and want to try and improve it."
He then grinned and implored the media. Tweet it out – Marty Hurney 2.0 won't be trading future first-round picks to move up.
"We're extremely well prepared, we've covered all scenarios and now you just let the board come to you," Hurney used the phrase he would emphasize throughout the 20 minute talk with the media. "You don't fall in love with a player, you don't overreact, you just try to do what you think is best. Every draft has a character to it, we could trade up, we could trade back – in the decision making process, you've covered all your bases, now don't get caught up in the moment, just be patient and just let the board come to you. I think we did that in free agency and I think it worked out well for us."
Being patient is a hallmark of the Panthers offseason throughout their history, especially in free agency; this year, their only move during the league's unofficial 'tampering period' was to agree to terms with corner Bashaud Breeland – when Breeland failed his physical later that week, they didn't panic and overpay, they waited nine days before signing a replacement, Ross Cockrell of the New York Giants. While it's not clear who will be starting at the free safety position after the team signed only Da'Norris Searcy, who appears to be more of a strong safety, there are still four starting-caliber free safeties available in free agency (perhaps Hurney is letting the safety market come to him?) – and while some may see the secondary as a glaring need that must be addressed with the team's first-round pick, Hurney isn't so sure.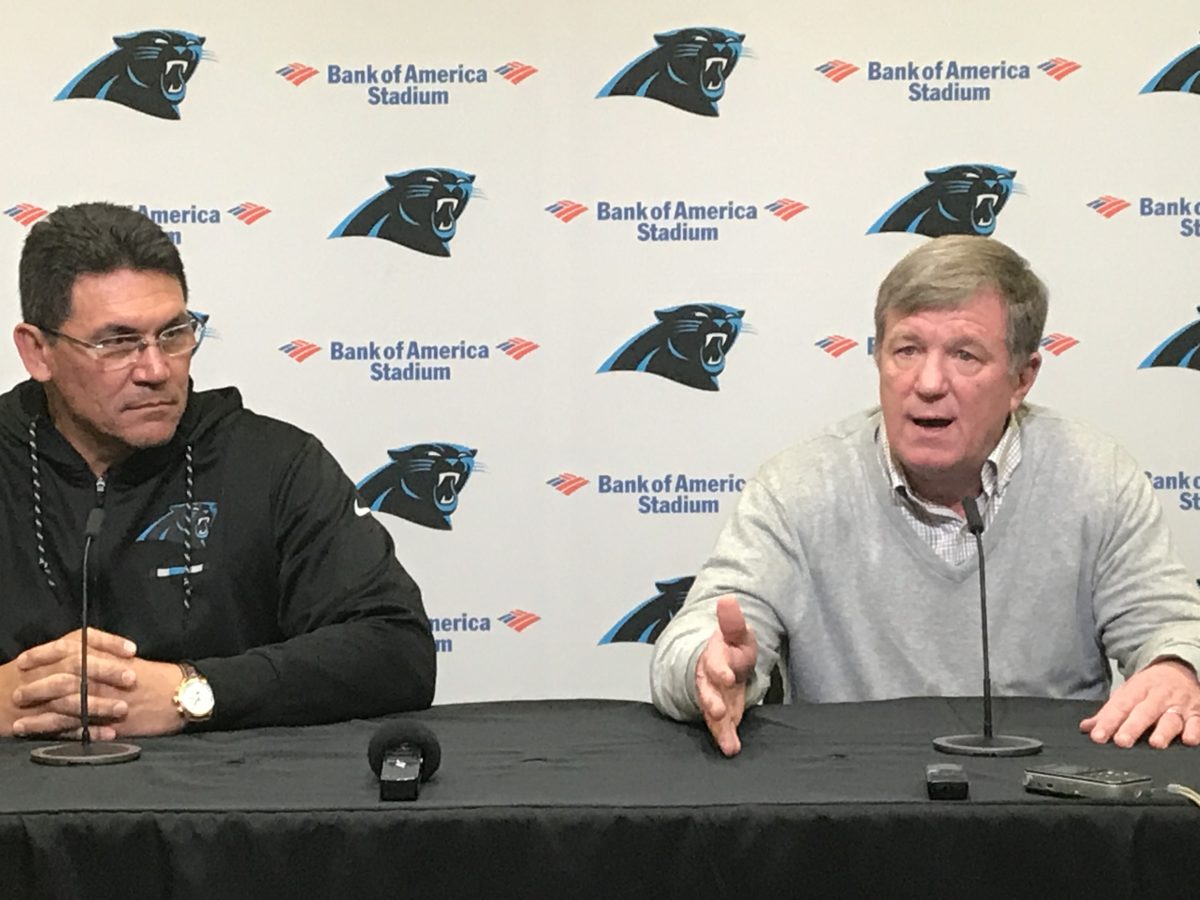 "I think that, obviously, we would love to be able to keep adding parts to the secondary as well as other positions," said Hurney about a group that currently includes Cockrell, Searcy, James Bradberry, Kevon Seymour, Captain Munnerlyn, Colin Jones and Mike Adams in addition to returning Corn Elder and Demetrious Cox, both of whom spent almost the entirety of the 2017 season on injured reserve. "It's going to depend how the draft falls. We're not going to reach for somebody because he's a safety."
That may sound like bad news for those hoping for Jaire Alexander or Justin Reid being a foregone conclusion as the pick in the minds of Hurney and Rivera, but it's good news for Panthers fans who are worried the team may overdraft someone in the first round who might be considered a reach, especially if a coveted prospect falls to the 24th pick after at least five quarterbacks are expected to go in front of them.
Hurney says that the past few drafts, which Hurney said he watched mostly at home or listened to on the radio, have helped him learn from not only his own mistakes, but the mistakes that perhaps other general managers made along the way – when you're a little bit more detached as opposed to in the war room, it can be easier to evaluate what you would have done, even if that hypothetical isn't the correct decision.
Instead of going out and chasing a certain player, it makes more sense to – say it in unison – let the board come to him.
"We're in a little bit of a unique position because, especially in the early rounds, outside of quarterback, I think we could bring a player in if we think he'll have an impact at pretty much every other position. That's basically because I think with free agency, what we've done, we feel like we've got some depth at all the positions, but the draft is about (especially the first couple of rounds) hopefully trying to find future impact players, guys that can come in and impact for four or five plus years."
"That's what I mean when I say letting the board come to us and not having any positions that you might want to have to feel like there's more of a priority for, because that's when you tend to reach for a player. What you want to do in every draft is just get good players to help you, especially in the first three rounds, we have four picks – we would like to get four players to come in and compete for a role and have that impact."
Ron Rivera, however, has a very important tweak to letting the board come to him – he says that the first thing that the Panthers do when they determine whether the player is the best player available is if that player fills a need for the team.
"First of all, more so than anything else: is it a position of need for us at the point?" questioned Rivera about the nature of the 'Best Player Available' strategy. "That's probably one of the biggest thing I look at, and then if it is a position, how does he fit us? Does that make him the best available to me?"
But that overriding idea doesn't mean that Hurney won't be taking phone calls this weekend, he says that all options are open, including trading up or trading down depending on how the draft is playing out – if the tier of players they want is starting to thin out, the Panthers may make a move up the board and conversely, if there is a large tier of players still available as their pick rolls around, they may look to move down; that option may make sense in a draft where Hurney says the strength is in the second or third round. The situation, as with every draft board, is fluid; especially when you're letting the board come to you.
Except for that 2019 first rounder. That one's not going anywhere.