To say there were a lot of topics to cover in Marty Hurney's annual pre-draft press conference – which was held this year via conference call – would be the understatement of the year as Hurney spoke to the media from his home for just under 20 minutes in between virtual scouting sessions and meetings as he, like the rest of us, socially distanced. Hurney was upholding the NFL's mandate that all team personnel stay at home, which has caused disruptions in both free agency and scouting across the league – and is about to make the 2020 NFL Draft different than ever before.
While Hurney spoke on topics ranging from the logistics of operating under self-quarantine to what led to the trade that landed the team a new left tackle in exchange for stalwart guard Trai Turner to whether they've had talks about extending Christian McCaffrey, in the short amount of time allotted by the Panthers for Hurney's only availability since Rhule was hired just under three months ago, questions about Luke Kuechly's retirement, Eric Reid's sudden release, more specific questions about draft prospects and what their plan on the defensive side of the ball is going to be were left unanswered.
But in an offseason unlike any we've seen, it was still important to hear from the GM of a team in the midst of an upheaval – here's what Hurney had to say:
On whether he considers this a rebuild: We've certainly had a lot of changes, but I think every year, you make the decisions that you think will help you be competitive and be a better team. Obviously, we came in with a lot of holes to fill – I think we filled some in free aagency, I think we had a plan as to how we're going to build this and I think we're going to continue through the draft so I think, you know as well as I do, every NFL season takes on it's own personality, so I think you just look at it as a "one good decision at a time" mentality, trying to build your team and make it as competitive as it can be.
On when the Panthers' offseason program will start: We're still waiting for the league to tell us when that starts, so we don't have a date yet. It's hard this time of year – we all like to get a lot out of going to pro days, but obviously, we've all been at home and we're using teleconferencing with the scouts and the coaches and doing calls with some players and everything has basically been through that. We've been meeting just as much, maybe more – probably more – than we have in the past, because we're not going to pro days. You spend the time on conference calls, spend the time watching tape. I think our communication is very good and we also have to get ready for the different scenarios.
Probably the one that's going to take the most time is if we're all in our own houses, how that communication is going to work [on draft night]. I think we're going to be fine. The good thing about us is that we're an organization that communicates very well – so now, when you do communicate very well, I think you have to find the different ways and adjust to the situation as far as how you're going to do it and I think we have plans in place for every scenario.
NFL commissioner Roger Goodell just informed clubs in a memo that club facilities will remain closed indefinitely and the league will conduct a "fully virtual" draft, with club personnel separately located in their homes. pic.twitter.com/28t2kNnLAI

— Tom Pelissero (@TomPelissero) April 6, 2020
I think the positive is that we definitely have more time to meet with our scouts, meet with our coaches through teleconferencing calls. Basically, it gives you more time to watch tape because you're not traveling. I think that there are definitely positives out of it – that's kind of our world. We're used to adapting and adjusting everyday and I think that we're going to feel as prepared going into this draft as we would if we were going to pro days.
You just have to adjust, you have to try to get as much information as you can, you do as many teleconferencing calls with players and talk to them that way and there's always a lot of different ways to reach the same destination and I think that we feel pretty good about how things are going to this point.
On how the draft is going to go (NOTE: Shortly after this conference call, the NFL sent the above memo to all teams that the league would conduct a "fully virtual" draft as team facilities remain closed): We're planning for all the scenarios – the most difficult one is everyone being in their homes and we've got plans set up for videoconferencing – having scouts available, the coaches available – communications, as far as how to send the picks in, we're still waiting on all the details from the league on how the logistics are going to work, but I think we feel very good that we're prepared for any scenario that comes up as far as the logistics of the draft are concerned.
What you can learn on a teleconference: I think it all helps. You can get a feel for the players personality, football questions – it's no different. It's just another piece of the puzzle, like the Combine is, like meeting them at the Senior Bowl is and even though it's a little different though video conferencing, I think it accomplishes the same thing.
On Cam: "Obviously, in our job, you have to make very difficult decisions every year and this was probably one of the most difficult – I mean, I drafted Cam." More on this decision here: Marty Hurney Talks Through Cam Newton Decision.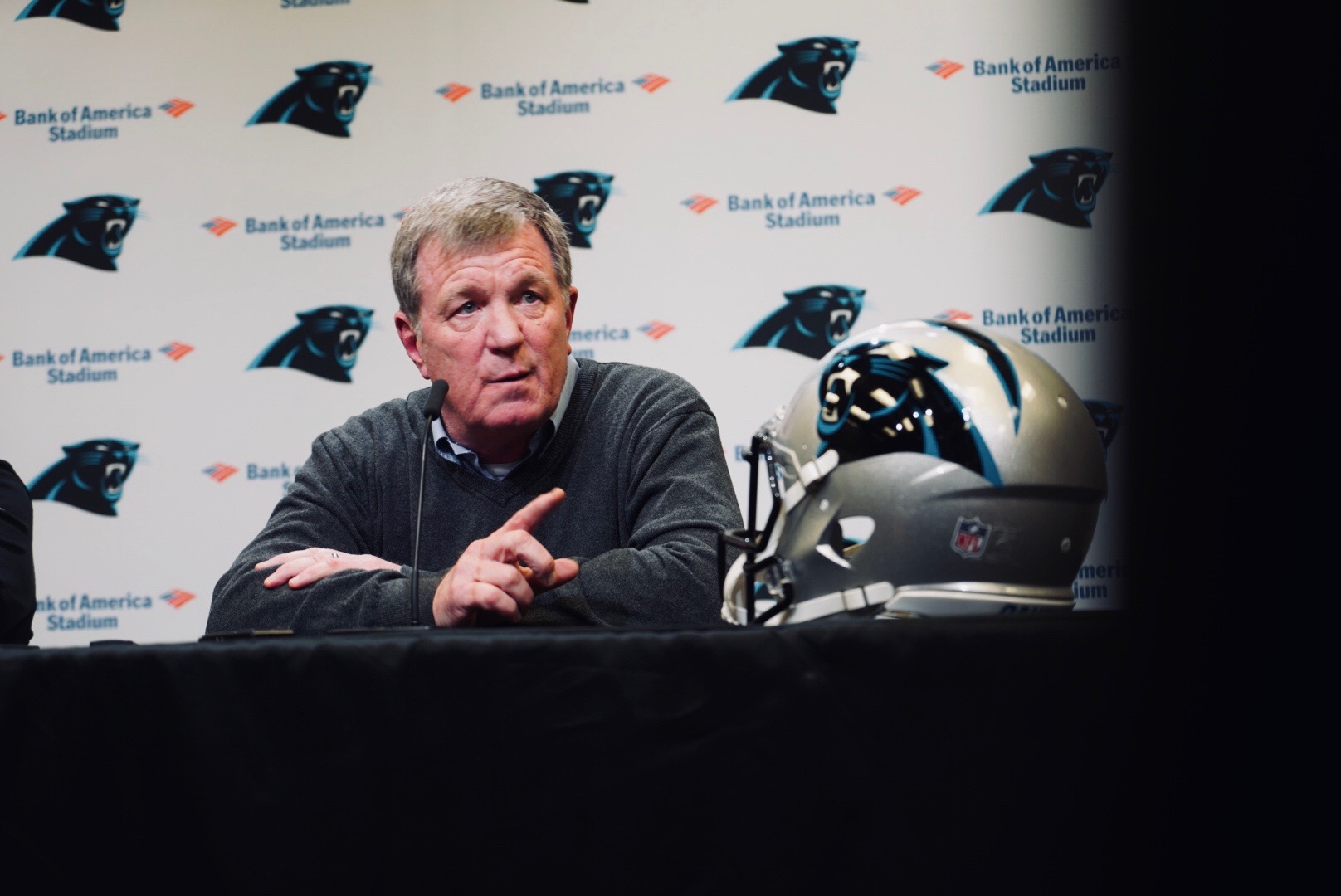 On the different scenarios in this month's draft: We go through all kinds of different scenarios. I think the whole key to the draft is to stay open-minded and consider every scenario. Once we get closer, to a couple days before, I'll start making calls and trying to get an idea of how we think the first six picks will go – we'll talk to teams before and after us and we're going to explore all options either way, whether it's trading up, sticking or trading back – we will have all kinds of different scenarios. Not only for that pick, but for every round we go to – I think that's the key, we have always been so prepared going into the draft that there really haven't been a lot of surprises; we've covered every option….and then you let it come to you and I think that's what we'll do.
Oh his relationship with Matt Rhule: We communicate multiple times daily – conversations about everything. About individual players, about strategy, we did it going into free agency – we had a plan on how we were going to attack free agency and how we were going to build the team and I think that it's just that constant communication – Matt's got a lot of experience, he doesn't really need my advice, it's just that him and I are on the same page and on the same thought process – going through all the scenarios, both individually and big-picture wise and I think that that's something that I've always done and I think Matt's always done. So it's worked out very well for us to this point.
Up Next: On The Russell Okung Trade, Teddy Bridgewater, Christian McCaffrey's Extension And More