When the Carolina Panthers made the decision to move on from longtime head coach Ron Rivera last December, it was not a decision to be made or taken lightly.
Not only were the Panthers parting ways with one of the most iconic figures in the history of their franchise – a two-time NFL Coach of the Year who was equal parts accomplished, righteous, and popular – but they were doing so without a guarantee that the best qualities of Rivera and his teams would be reflected in the next man to occupy the head coach's office.
For those who had become so comfortable with Riverboat Ron on the sidelines, and even those who felt the bloom had fallen off the rose, it was an uncertain and even frightening time. After all, the nature of mankind is to fear change and resist it whenever possible.
A lot has, indeed, changed since Ron Rivera left the building at South Mint Street and Matt Rhule entered it. Thankfully, the most important things in Panthers football have not.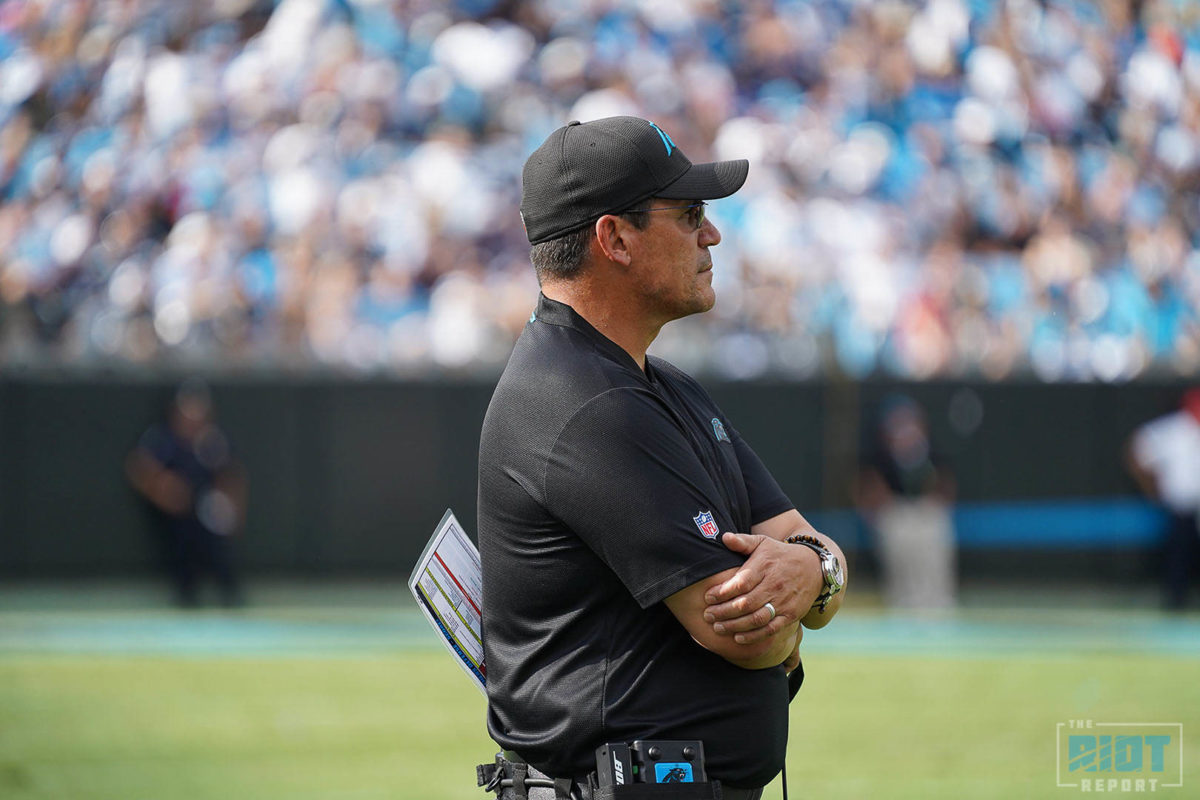 Stylistically, Ron Rivera's Panthers teams followed a formula for success dating back to the beginnings of the franchise with Dom Capers and its adolescence with John Fox. They pounded the rock by running the ball on offense and played a brand of defense just as cerebral as it was physical. And supporting their style of play was a set of characteristics that made them the stuff of legends.
They were resilient in the face of adversity, triumphed against the odds, and always fought to the last no matter what happened. Those qualities were instilled in Rivera's players by his own mantras, namely "Control your inner APE" (Attitude, Preparation, Effort), and ended up a reflection of the "Keep Pounding" mantra first coined by late Panthers linebacker Sam Mills.
One way or another, both attitudes have followed Rivera to the Washington Football Team. And they have stayed with his former players and students, who used them to support their coach when he was battling squamous cell cancer earlier this season.
"It's funny, because some of the former players that I had, they would use that. And that was cool," said Rivera this week. "Some of them would use some of the sayings that I had used with them about Attitude, Preparation and Effort. And some of them would tell me, 'Hey Coach, it starts with your attitude today. Keep Pounding.' Sammy Mills, who's my D-Line coach here, would tell me 'Coach, Keep Pounding.'"
"So it did resonate, and I think it's a hell of a saying. I really do. I think it's a great mantra."
Now near the end of his first season on the job, Matt Rhule has ingrained himself into the overarching culture of Panthers football. Part of his job is to change certain elements of that culture: namely, to take the Panthers from a .500 franchise with occasional moments of brilliance to a sustained NFL powerhouse.
What isn't changing, though, is the phrase at the very soul of Carolina. And already, Rhule has put together a team that embodies a spirit that has been unique to the franchise since it first took to an NFL field.
"When I think Carolina Panthers, I think 'Keep Pounding.' I think about the mindset of attacking everything. That relentless vision of Sam Mills and echoed by so many great coaches and great players," said Rhule. "I think if there's one thing our team's doing, it's definitely that. We haven't won as many games as we'd like, but we've had chances. But no matter what happens every week, I feel like our teams come back out the next week and played through adversity and played through injury and played through some heartbreaking games, but they've never given up and they've never relented."
"And so I think this team has lived true to the mindset of Keep Pounding – we have two games left, we have everything in the world to play for, and I'm excited to see them go play again."
Though the Panthers are only a 4-10 football team, they have played an admirable brand of football throughout the 2020 season. Through both the growing pains of a rebuild and injuries to their biggest and best player – Christian McCaffrey – they have remained a feisty, scrappy group well into December and made more than a few teams well above their weight class have to sweat things out.
The payoff for that approach – wins – has not yet been there. But Rivera, himself passing along lessons of success to a new generation of players in Washington, is very keen on what he is seeing out of his successor's team.
"What Coach Rhule's done is he's got a group of guys that are playing hard to the bitter end. I've seen where they've lost a number of games by a touchdown or less – and to me, that's a good sign," said Rivera. "The thing that I appreciate that they've done is they've played a lot of young guys. And I said this when we went through it: Playing young guys early is important, because they learn 'how.'"
"They learn how to play in these games, and what's gonna happen is next year when this team starts getting ready for the season to start, those young guys will be starters again and they'll be ready to play. And it won't be too big for them. … and that's what I see from what Coach Rhule has done. He's taken a group of young players, and they've indoctrinated them into playing in the NFL early. And that's gonna pay dividends for those guys going forward."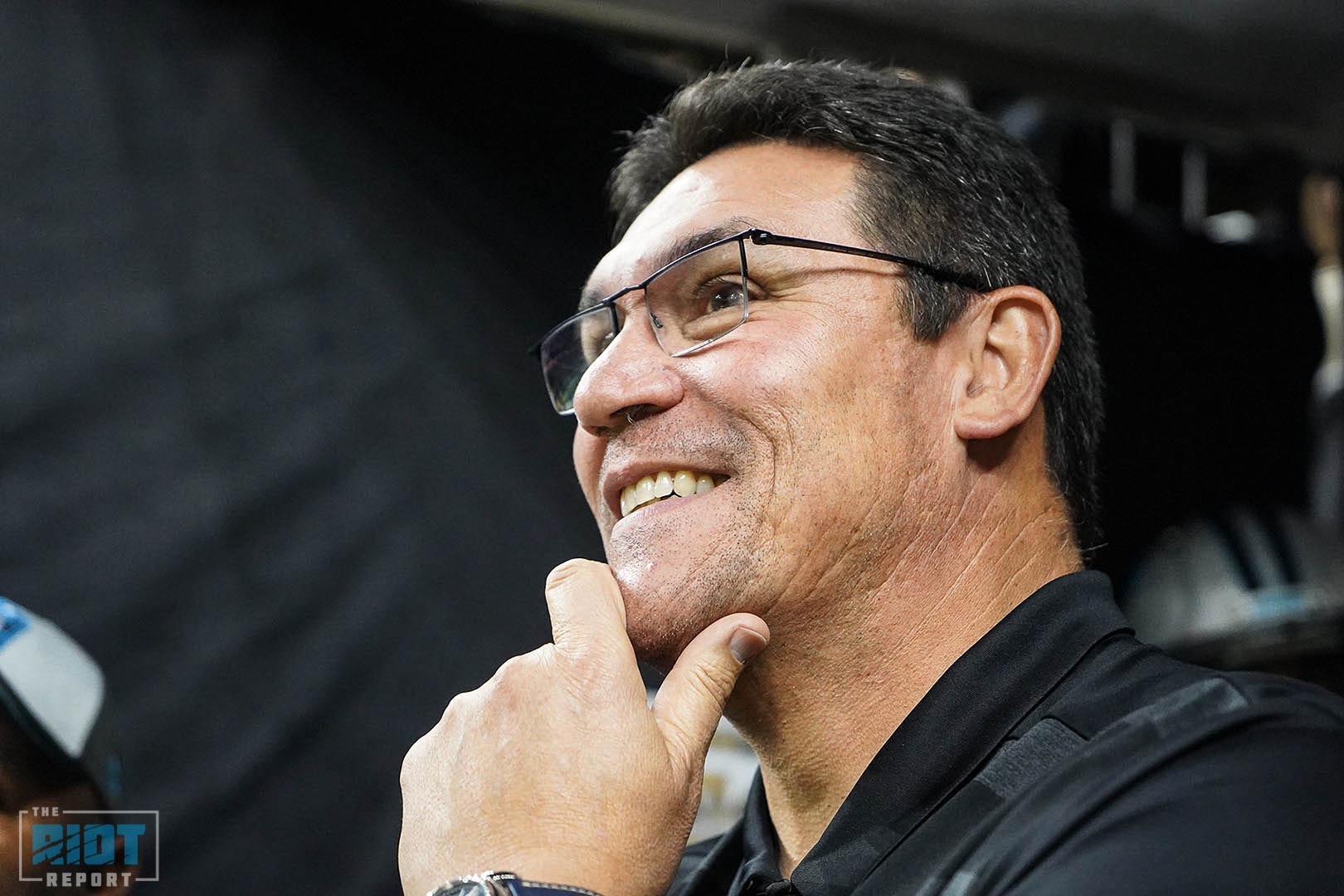 Rivera talked highly of the Panthers' roster, offense and defense alike, and still very much has his fingerprints on it: about a third of the Panthers' current players are carryovers from Rivera's teams. And by the estimation of those who have worked with both, it's plain to see why Matt Rhule's teams have exhibited the spirit that they have.
As head coaches, both Ron Rivera and Matt Rhule are largely cut from the same cloth.
"I see two men, when I compare them, that care about their players," said safety Tre Boston. "Who are willing to get feedback from their players, willing to [do] not only that, but get feedback from the coaches around them. You don't see big ownership of 'Oh, this is my team. I'm by myself, doing my way or the highway', just themselves."
"You see guys who are willing to get feedback. And at the end of the day they're strong enough to make the final decision, but I like that they're both able to talk to the guys, be personable, be players coaches – just be all-around good guys."
"I'd say the biggest similarity is they're both real tough guys," said cornerback Donte Jackson. "They both love to be around tough guys, they love to coach tough guys, because they're naturally tough guys. I would think that's probably the biggest similarity, I would say, between those guys or what I would take from their coaching styles."
Coaching changes are always uncertain occasions, especially when it means turning the page from a great chapter of a franchise's history to begin writing a new story. In football, there are plenty of examples of a new regime coming in with the most ambitious of plans to completely change the identity of a particular team. Plans which end up failing after those changes come at the cost of what and who the team are at their core.
With Year One soon set to turn to Year Two, Matt Rhule has a long way to go yet before he matches and surpasses Rivera's legacy as the winningest head coach in Panthers history. But the book is far from written on Rhule. And just as Rivera once did when he had to fill the shoes of John Fox, he is building a team that taken the qualities of Carolina's great teams of the past – attitude, preparation, and effort alike – and made them their very own.
With the past and present of the Panthers set to stand on opposite sidelines, Week 16 is set to illustrate something important: Change in football does not have to be unpleasant or come at the cost of tradition. Instead, it can be a passing of the baton and a passing on of familiar and faithful values that Carolina is taking with it far into the future.