Sometimes the stars align.
First, take a coach that used every advantage that he was offered during his time at Temple and Baylor over the past seven years, including a comprehensive sports science, analytics and player development.
After games at Baylor, Matt Rhule would use certain techniques to get the most out of players when it came to a certain 48-hour window before a game and after a game. In the final 48 hours before game day, players would work on hydration and lift weights as they would focus on strength and conditioning. Rhule also had players working with nutritionists to make sure his athletes were ready to go so they would be fresh, fast and physical during the games.
Any edge that could be found off the field, Rhule found it.
Now pair that with an owner who said before he started searching for his next head coach that he values modern and innovative processes in a candidate and will do anything to win — oh, and by the way, he's the richest owner in the league.
Sounds like a good match.
"I think as we started talking, the worlds of sports science and analytics is something I'm interested in and as we talked, I think it's just a common interest in those things," Rhule said as the Panthers introduced him as the fifth head coach in franchise history Wednesday in a practice bubble Tepper built for the Panthers in one of his first acts as owner. "I think the big things is they're always evolving…..We have catapulted Baylor, they have catapulted here. We monitor the loads on players. It really comes down to the application of it and can you get alignment from your football staff, your sports medicine staff, your sports science staff."
"And to me, I just believe in common vision. If we believe [that] our players have the very best, then our players can be really successful."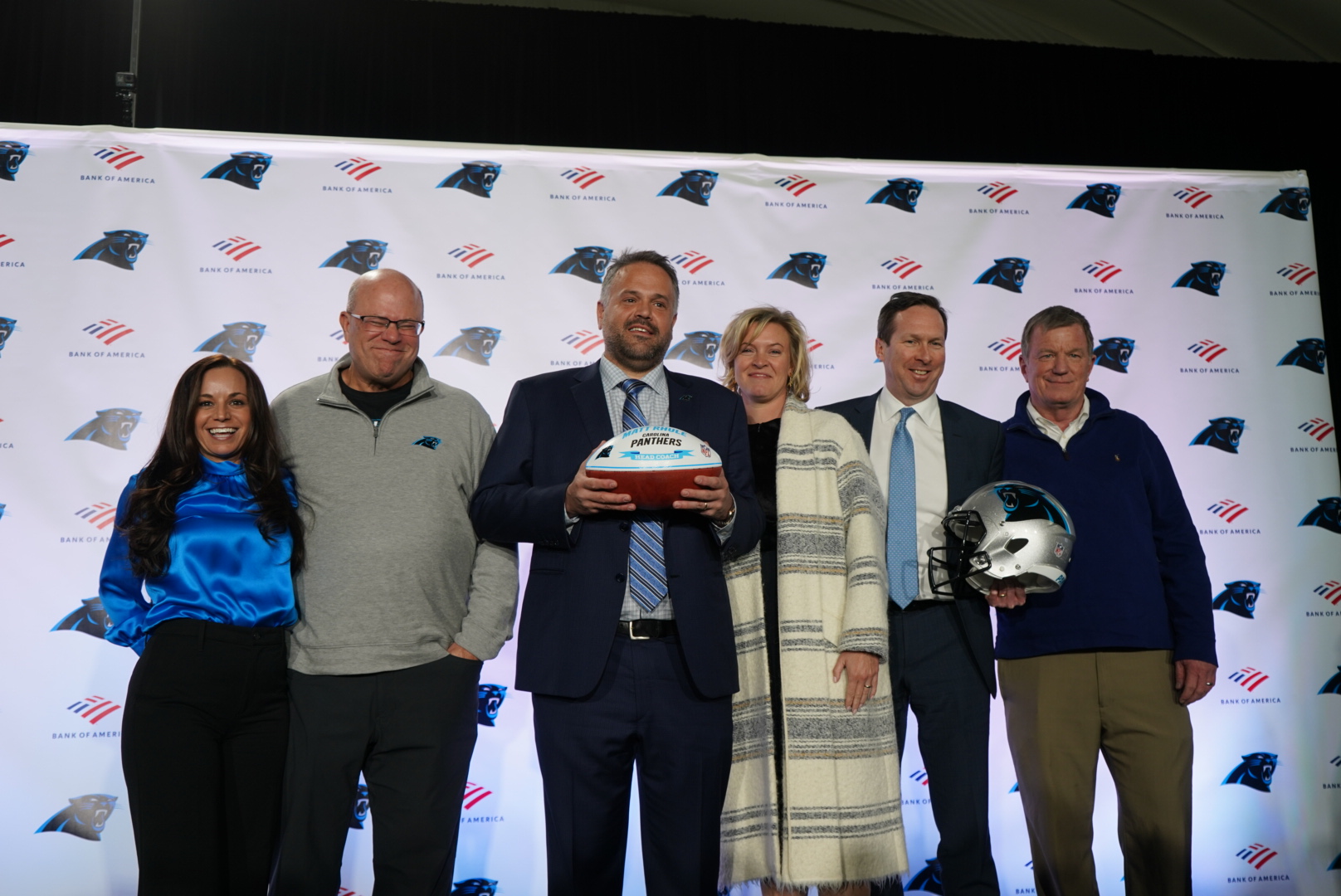 It's hard to argue that it worked for Rhule – he certainly had a lot of success at Temple and Baylor in a short amount of time. Rhule's first season at Temple, his team went 2-10; during his final two years at the school, the Owls finished 10-4 and 10-3.
When Rhule took over a difficult situation at Baylor, the Bears went 1-11 season in his first season, improved to 7-6 in 2018 and a year later, Rhule helped guide the Bears to an 11-3 record with appearances in the Big 12 Championship and the Sugar Bowl.
Statistically, Baylor also saw a significant jump in their production over three years at the university. After finishing 98th in scoring offense and 114th in points allowed in 2017, the Bears improved to 63th and 91st in those areas in 2018. Last season for Baylor, Rhule's offense finished 27th in scoring offense as they averaged 33.6 points per game. Their defense also continued to improve as they were 19th in scoring defense as they allowed just 19.8 points per game
After firing Ron Rivera, Tepper hinted he wanted to bring in an offensive coach that was more focused on analytics. It seems like the owner has found his guy.
"All kidding aside, this is a guy that's no bullshit. He speaks plainly, he says what he says, believes what he believes," said Tepper. "We have a shared vision, we know it's not going to be a fast process; we're willing to build something for the long-term and I told you guys – it's a building process. Things could happen fast, and maybe they will, because we're all so aligned. But we're in a building process here and sometimes you have to tear things down to build them up."
The Panthers owner also indicated that he would do everything in his power to give his team a competitive advantage – that includes making a first-year head coach the sixth-highest coach in the league and locking him up to a deal that will last through the 2026 season.
And he's not stopping there as what he calls one of the most advanced practice facilities in the NFL is set to open in August of 2022 in Rock Hill – and he thinks Rhule is the perfect man to maximize it's potential, maximize the best use for a $12 billion bank account in ways that aren't necessarily governed by the NFL's salary cap.
"The advantages we have, if you think about it logically, here's a guy with very little resources [at] doing what he does [at Baylor]," said Tepper. "He can have resources here where he had to scramble for resources before – and we have different edges that we can have and things that we can potentially do."
"Remember one thing about the NFL, it's an 8-8 league. They call it an 8-8 league because you all get so much [money] to get the same players; it's not an 8-8 league when you build facilities, it's not an 8-8 league when you get trainers. It's not an 8-8 league for other sort of things you can bring in here. I've heard this: Carolina Panthers has an owner who has some resources."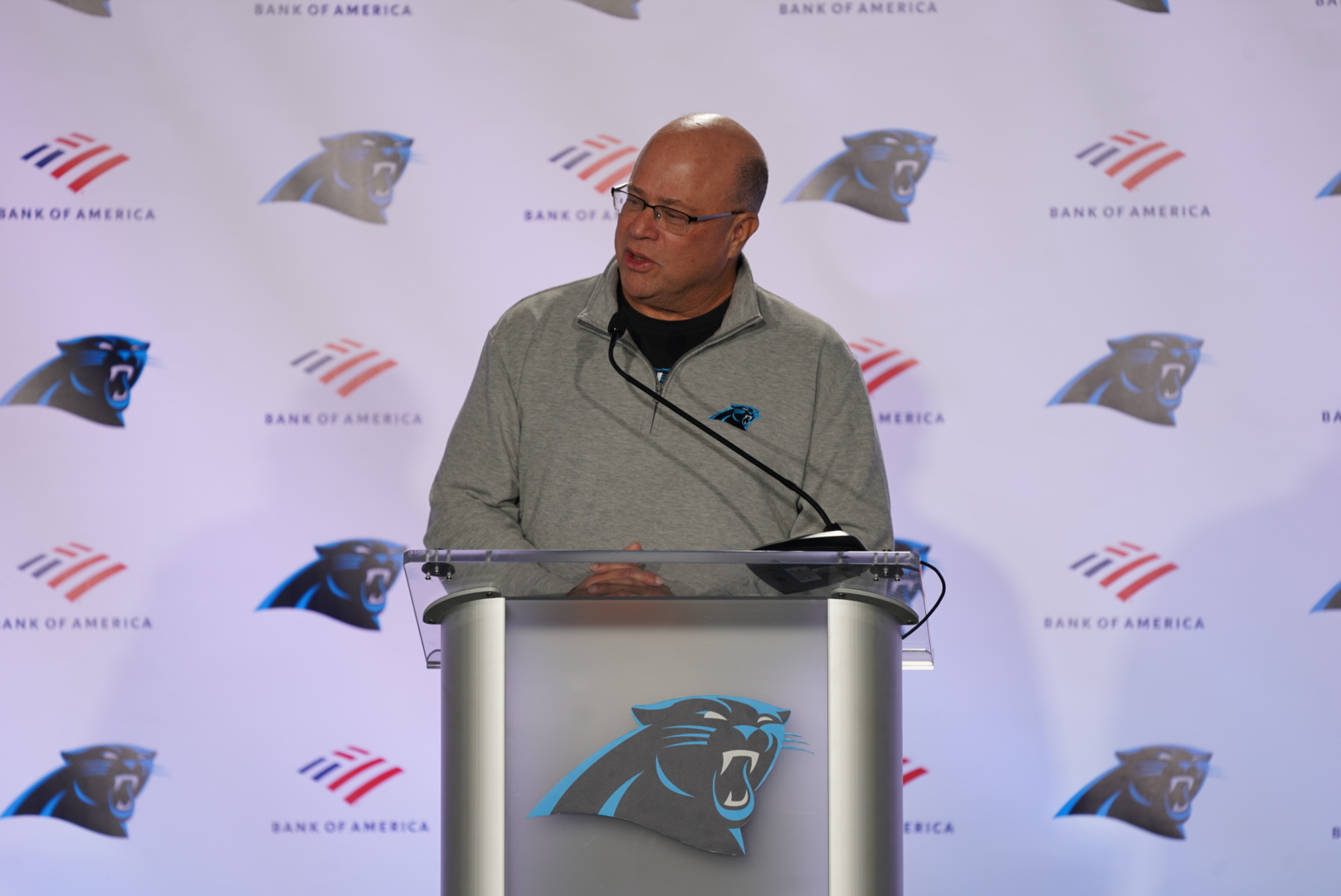 While Rhule will bring a fresh new perspective to the Panthers organization, he will have his work cut out for him. The Panthers finished the season on an eight-game losing streak as the team has finished the last two seasons with epic collapses. One of the biggest issues with the Panthers all season long was their rushing defense.
Carolina finished last in the NFL in yards per carry (5.2) along with rushing touchdowns allowed (31). They also allowed 143.5 yards on the ground, which was 29th in the league.
In three years at Baylor, Rhule's teams went from 94th against the run to 42nd. Rhule says he definitely is a believer in being able to stop the run.
"You have to be able to create big plays and stop big plays," Rhule said. "So we want to do what's best for our players, we want to build around the quarterback. So I have to get in here and find out what people do well, but we don't want to be a stale team. We want to be a team that is explosive, dynamic and fun to watch. I do know this, we won't win if we don't play great defense.
"So we are going to start there."
The other biggest problem the past two seasons? The health of Cam Newton – but Rhule, Tepper and GM Marty Hurney were all aligned there as well, as all three politely sidestepped questions about what would be the plan for the Panthers franchise quarterback since 2011 who has had three surgeries in the past four years and is still recovering from Lisfranc surgery last month at Rhule's introductory presser.
"We will try to use our personnel to [create] the best possible winner, whoever that personnel is," said Tepper when asked about how planning for the future meshes with a quarterback entering the final year of his contract. "The vision is to get the best of out of anyone that is on this team. We all share that vision."
But the combination of Matt Rhule's process-driven approach with Tepper's bankroll is already attracting attention around the league – even with the future of Cam Newton up in the air – as Rhule says he's already heard from assistant coaches in both the college and NFL ranks interested in bringing their talents to the Queen City to work on the Panthers staff under Rhule as they move forward with creating a new era in Panthers football.
"They know what's there. They can see the vision," said Tepper. "They know the resources, so it's a really unique situation where you have this alignment – and people aren't stupid. They can see this alignment, alignment of ownership, coaches and GM – you guys think that happens everyday?"
"I've told you again and again that we're going to be the best. The same message, you've heard it again and again from me – and you just heard it up on stage from Matt Rhule."
Sometimes the stars align.