Any general tasked with leading men into battle is only as good as his lieutenants.
Oftentimes, when it comes to head coaches in the NFL, there is a tendency to view their methods and actions in a vacuum. This is especially true when a regime change occurs and a new head coach is brought in: Frustrated with the direction of the past, a new head coach is exalted to "savior" status and built up to be a larger-than-life figure who will completely turns things around, usher in an era of unprecedented success – and do so single-handedly.
The trouble is, that's not the way things work in the modern NFL.
In order for a head coach to succeed at the NFL level, he not only needs to possess the sort of competence and command the sort of authority necessary to do the job at a high level, but also a capable and committed staff of assistant coaches. As the men who head the position rooms, develop the schemes, and lead the players through drills, the assistants are the parts that lead to the sum of the team's performance under the head coach. And the responsibility taken on by a head coach in assembling them can either make or break his entire tenure.
Such is the situation that the Carolina Panthers, and new head coach Matt Rhule, currently face – in the gestative period of the new era of Panthers football, Matt Rhule's top priority is to hire his coaching staff and make sure that it is one that will enable him to grow and prosper as an NFL head coach. Considering that Rhule is fresh out of the college ranks and in his first NFL head coaching job, he is in an interesting position relative to his peers.
And, accordingly, he has certainly made some interesting moves.

At the two most important positions on his staff, he has made one sexy hire – LSU passing game coordinator Joe Brady – and one familiar hire in Baylor defensive coordinator Phil Snow. Both have very similar profiles to that of Rhule, as both have a dab of previous NFL experience despite being first-year coordinators coming out of college football. Brady spent the 2017 and 2018 seasons working for the New Orleans Saints as an offensive assistant, while Snow worked for four seasons with the Detroit Lions in the late 2000s. Snow first served as a defensive assistant in 2005 before a three-year stint as the team's linebackers coach.
As it stands, Rhule's coaching staff promises to be one that is full of its own ideas, ideas that aren't necessarily beholden to the conventions of professional football. That can be a good thing, given how their exposure to both pro and college ball can keep them out of the "this is how we do things in the NFL, and this is how we do them" trap. In fact, Brady plainly said as much in his introductory press conference.
"As a play-caller, as a coach, you have to evolve," said the youngest offensive coordinator in the NFL. "I'm not a big believer that what you do today is going to work necessarily tomorrow, or what we did this year is going to work next year. Every day, you're competing with yourself and I think you have to look at yourself in the mirror and we have to get better. The game that you guys saw in the NFL this year is probably going to change next year. And I think it's important to be innovative, and to stay on top of it."
But Rhule's hiring approach comes with a major inherent risk: He has not given a coach with extensive NFL experience one of the top seats at the table, which is a major gambit for a first-year head coach to be taking.
Though the game of professional football is highly malleable, and certain methods that worked 20 years ago may not work today, having someone in place who knows the trials and tribulations of being an NFL head coach is important for a first-year coach. And that's something that Rhule's predecessor had to learn the hard way.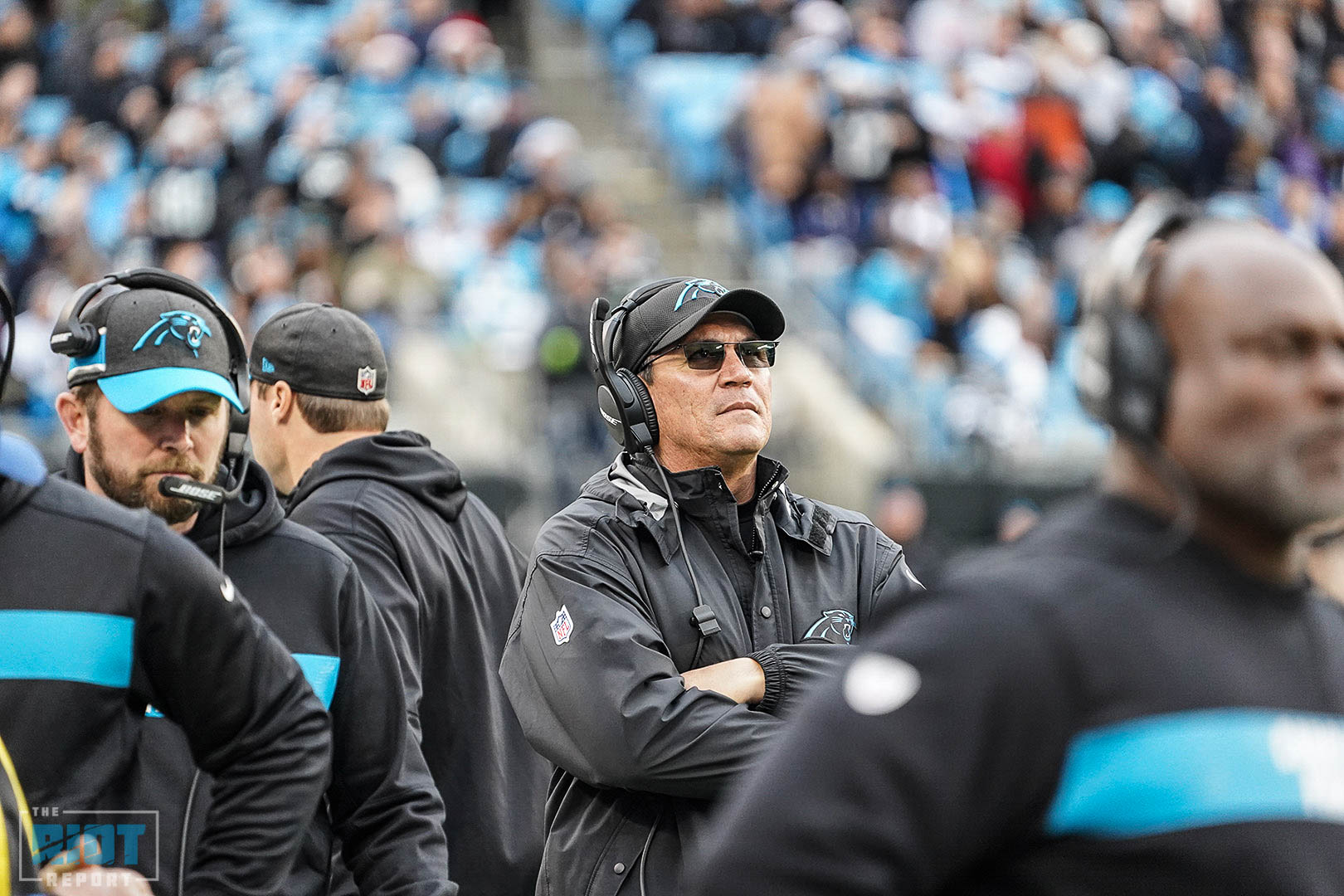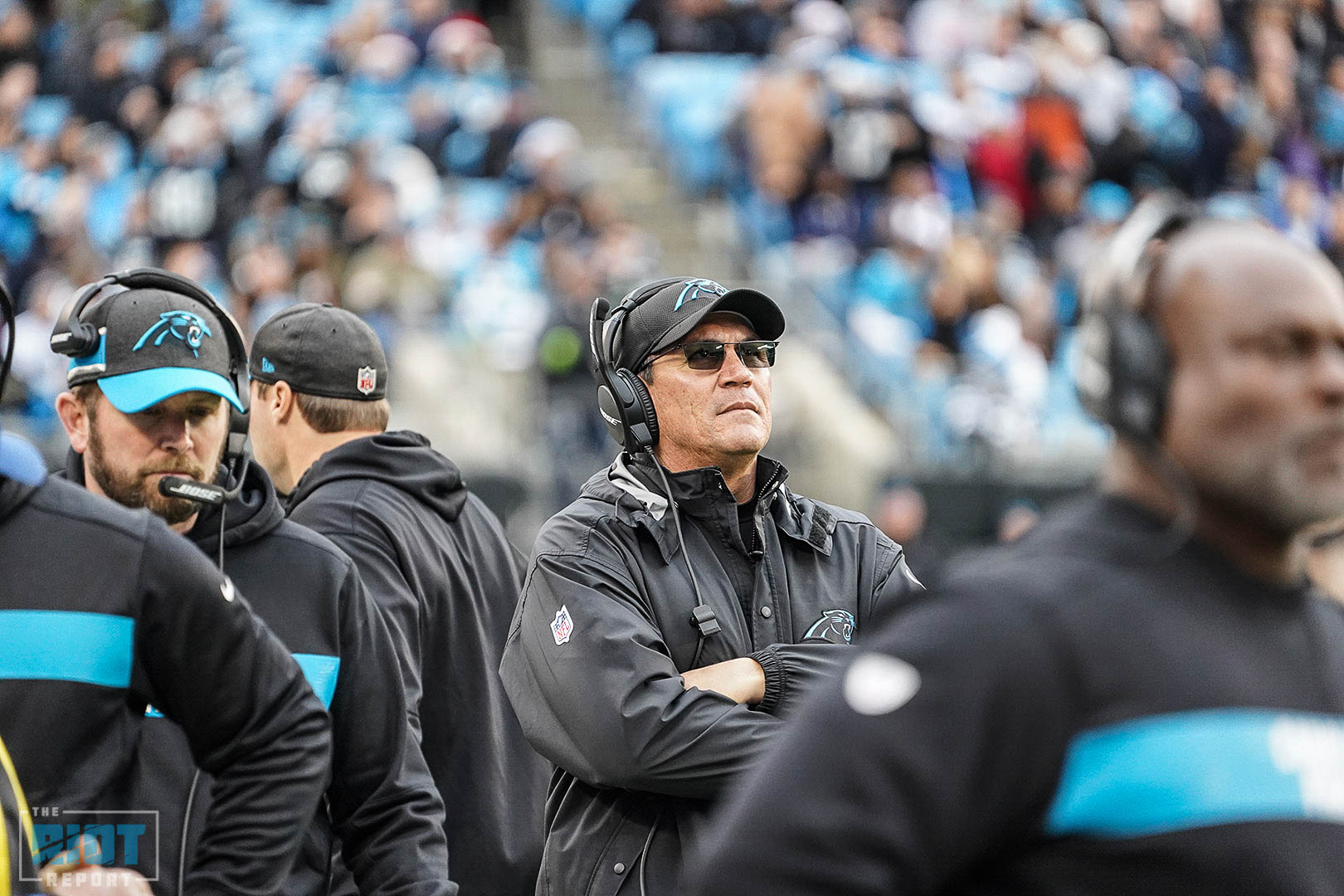 When Ron Rivera first became head coach of the Panthers in 2011, the coaching staff that he ended up hiring did not feature a single man who had previously served as an NFL head coach. And in retrospect, he often spoke of how he could have used one in his first two seasons: Before becoming the winningest coach in franchise history, he first had to endure two underwhelming seasons that saw him coach the team to a 6-10 record in 2011 and a 7-9 record in 2012 – the latter the product of a four-game winning streak at season's end that saved his hide.
It wasn't until he began to consult with Pro Football Hall of Fame coach and NFL icon John Madden that Rivera found his identity as a coach – from beginning to end, his nine year tenure as Panthers head coach illustrated the importance of how capable assistants can elevate a good coach to a great one….and how assistants not up to par can drag a great coach down.
When Rivera won NFL Coach of the Year honors twice in a two-year period, he did so with the help of a coaching staff that thrived beneath him – particularly on the defensive side of the football. Defensive coordinator Sean McDermott was distinguishing himself as one of the best in football, and his fellow defensive coaches included defensive line coach Eric Washington, linebackers coach Al Holcomb, and defensive backs coach Steve Wilks – all of them on their way up the coaching ladder.
And that was a problem for the Panthers: Success resulted in other teams raiding the pantry – McDermott and Wilks were hired away for head coaching jobs in the span of two years. When that happened, other members of the Panthers organization who had a hand in building the Super Bowl 50 team – including Holcomb – came with them. This happened elsewhere on the coaching staff as well: Special teams coordinator Bruce DeHaven died of cancer at the end of the 2016 season, resulting in a promotion for assistant Thomas McGaughey – who was hired away by the New York Giants after one season.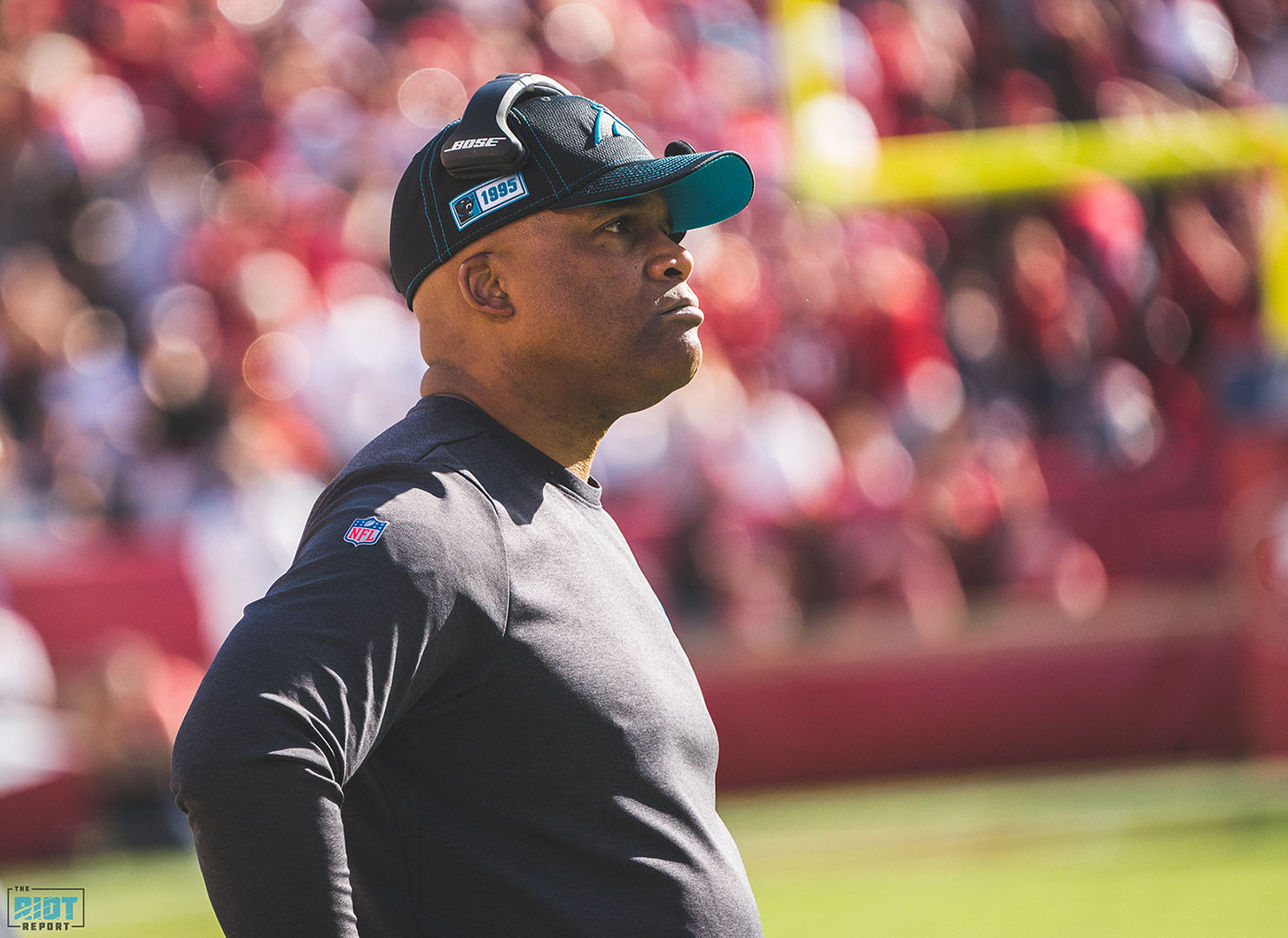 By 2018, the plundering of Rivera's staff was having real consequences for Carolina. Washington, as good a defensive line coach as he was, did not have nearly the same success as defensive coordinator. Other defensive assistants who had been hired to fill voids on the coaching staff were not as capable as their predecessors, and by December, Rivera had fired two of them. In doing so, he also took over playcalling duties from Washington, re-assigning him to focus on the front seven.
It was an act of mercy by Rivera on one of his original assistants, and one not in line with the often cutthroat nature of NFL coaching. Only a week after Rivera re-assigned Washington to his previous position, Minnesota Vikings head coach Mike Zimmer responded to the struggles of first-year offensive coordinator John DeFilippo by firing him after a loss.
It was a much colder and crueler approach. But through that, Zimmer's keycard still works in Minnesota. In Carolina, Rivera's has been handed in and is starting to collect dust.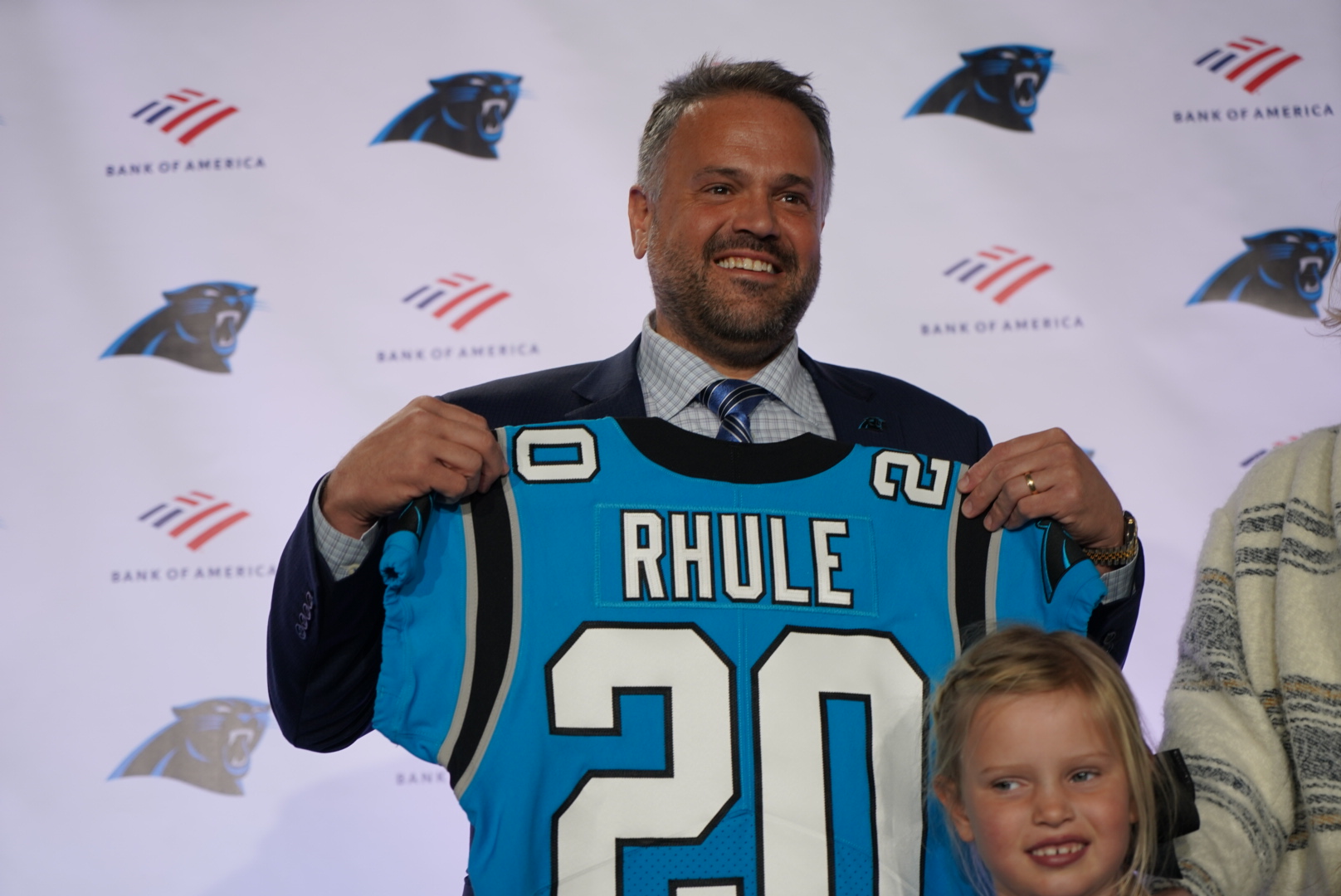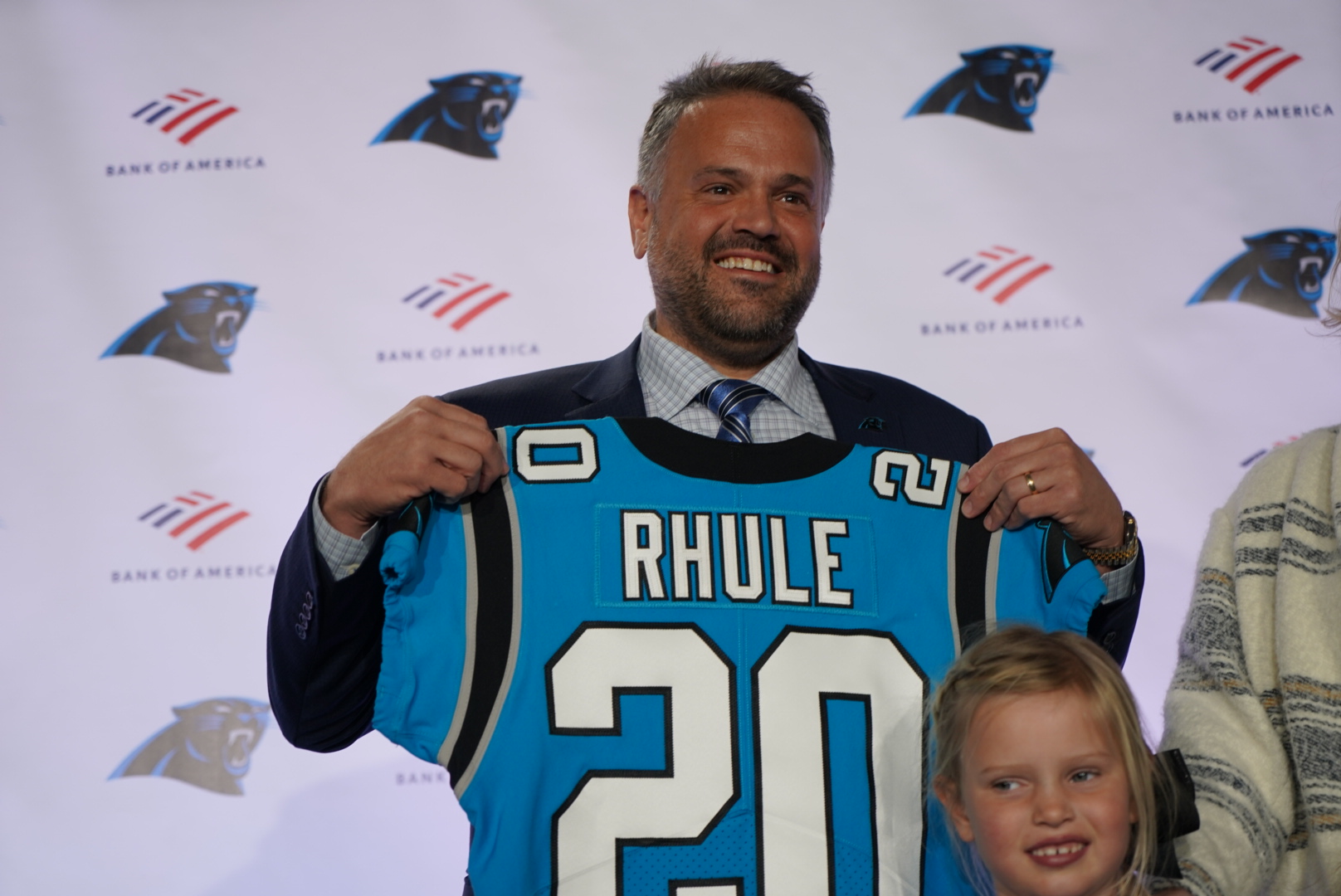 What happened when Rivera had the right staff in place – and what happened when he didn't – makes it doubly important that Rhule gets his assistant hires right.
And at the moment, it seems as though he is working towards having a desirable amount of pro experience. According to NFL Network's Mike Garafolo, Rhule is hiring his staff while being advised by Tom Coughlin, who built the expansion Jacksonville Jaguars into a contender before winning two Super Bowls as head coach of the New York Giants. And Thursday, Joe Person of The Athletic reported that the Panthers are interviewing two former NFL head coaches for positions on Rhule's staff – Ben McAdoo and Mike McCoy.
If one or both end up joining the Panthers, there should be a strong concession that NFL head coaching experience does not always equate to good head coaching experience. Though both McAdoo and McCoy coached playoff teams, their head coaching tenures are remembered more for their failures than their successes; mutiny and infighting occurred in the New York Giants' locker room under McAdoo's watch and his second season was such a disaster that he was fired midway through the Giants' plummet from 11-5 to 3-13. McCoy's Chargers declined from a playoff-caliber team to 4-12 and 5-11 in his third and fourth years. As a result, he did not see a fifth.
Still, Rhule intimated in his introductory press conference that having someone who has been through the ringer at head coach before is something he is seeking out. After all, the element of veteran counsel was an important part of the jobs that earned him his chance in Carolina.
"I've always tried to have somebody to be there to speak truth to me, speak truth to power, that can be kind of a right-hand guy," said Rhule. "I want to have a great mix, and at the end of the day, all I really care about when I hire assistant coaches is are they great teachers. That's really what this game is about. It's about getting players to play their best, and the best way to do that is to have guys who bring out the best in their players.
"Old, young, none of those things matter to me. I don't have to know them. I just think when you meet guys who are great teachers who bring out the best in others, you kind of feel it."
Those teachers are beginning to come together. Besides Brady and Snow, Rhule has also attracted Holcomb to return as defensive run game coordinator, linebackers coach Mike Siravo, and defensive line coach Mike Phair – he's also raided the Baylor coaching staff for his cornerbacks, wide receivers and strength coach. In the days to come, exactly who will work at maximizing the potential of the 2020 Carolina Panthers will come into full focus, and all will set to work come springtime.
By the fall, most won't remember the work of the spring – the promise and platitudes of OTAs and installations will subside. And the Carolinas will begin to see both whether Matt Rhule is a capable general — and if he has the right lieutenants in place.