Matt Rhule's first press conference of Panthers training camp began with some good news – currently, they do not have anyone placed on the NFL's COVID/reserved list, a Panthers spokesperson announced before turning it over to the first-year head coach. PR made it clear that they would not comment on a player's medical status other than to refer to their roster status going forward – so the Panthers may not indicate if a player who has been placed on the COVID/reserve list has been placed in quarantine as a result of being exposed to the virus or a positive test.
If players want to keep it the facility clear of the coronavirus that has changed the way football – and the world – operates in 2020, Rhule had a straightforward message to them, especially to the young players.
"The best thing you can do is to be accountable," Rhule said during a Zoom teleconference with the media Wednesday afternoon, "Be someone that, as best you can, protect yourself and this team from getting sick."
What is usually a fairly innocuous and joyous talk to the media – the first presser of camp – was dominated by talk of what it will be like to hold training camp in the age of COVID-19.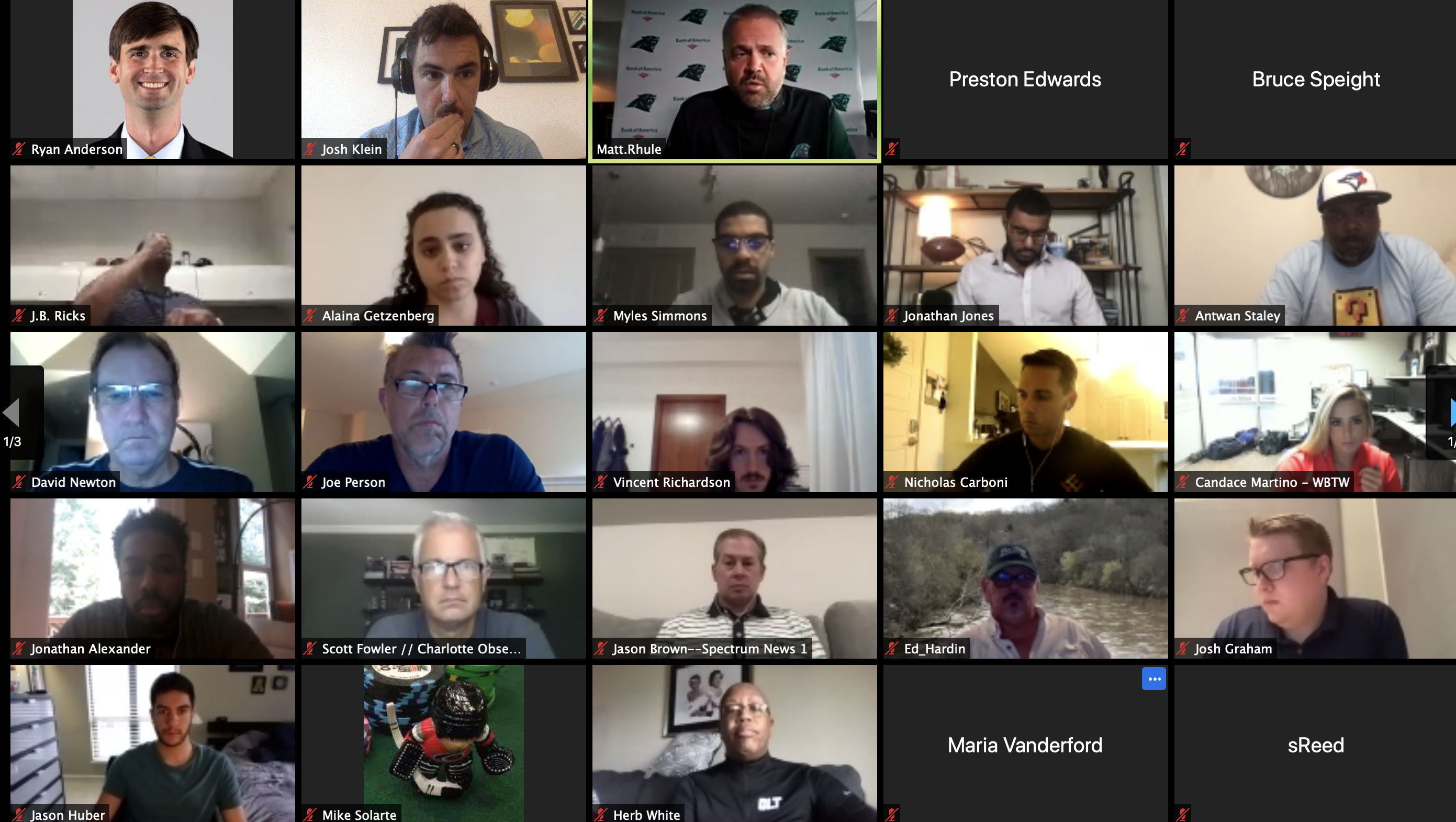 Here are the highlights:
What is the biggest challenge with not being on the field with the hope of getting players ready for the start of the season?
"I think the biggest thing is everyone wants to do the right thing, everyone wants to perform at a high level – whether they're a coach, staff member, or a player…. I think we have to be humble enough to make mistakes, to learn from them, to continue to grow together as a group."
"The second part is just building trust. Football is a game where you can only play it great when you trust yourself, if you trust your teammates, if you trust your coaches, if you trust the system – and that takes time. Obviously, this is a small window that we have, but the men in the locker room and the coaching staff are up for the challenge."
How did you decide to keep 90 guys around instead of going down to 80 now? [The Panthers are required to cut the roster to 80 by August 16th]
"We have worked hard to pick the 90 guys that we wanted to go to camp with – and those guys have worked really hard this entire offseason. The virtual meetings, all the things we asked them to do this offseason; it just didn't seem right or prudent for us to make cuts without ever seeing some of these guys work."
"So the rules state that we can go down to 80 at any time. I think, in a year like this, as many people as possible that know your system and that have been around you – even if they get called up in November – you're going to be happy about it. We thought we would start at 90 and just sort of see how things progress and how things trend. When the time comes, obviously whether it is the mandatory day or before then, we will always have the option or the ability to go to 80."
Do you anticipate anyone else opting out for the 2020 season [in addition to UDFA LB Jordan Mack] and what is your message to the team?
"My only message, really, to the team, has been we are all under a different set of circumstances."
"Each of us have different family issues – I have three kids at home who were premature. We all have different issues. Some of us have parents, some of us have pregnant wives, some of us have kids, some of us [are at higher risk]. So the thing that I've said to everyone is it affects us all differently. So if you have any concerns or questions, just always reach out to talk about those things."
"But everyone has to make the right decision for them. I don't fault anyone for the decisions that they make when it comes to the safety and the security of their own family, their own safety. During this entire time during COVID, I've tried to make sure I'm someone who is helping people put their families and their own health first….I hope when the guys walk in [to the stadium], my words will be backed up by actions where they feel like they really feel secure."
"My message is very simple, everyone's got to do what they need to do. But at the same time, we can work together to make sure we keep ourselves safe."
Do you feel like you're at a competitive disadvantage because you have a new quarterback and a lot of roster turnover?
"It's less than ideal."
"Even as we are making decisions right now, we're making decisions based on meeting rooms and things like that. But it just is what it is. There's nothing worse than a football coach that complains. So I just have to do the best I can with it and take it as a challenge. And it is like anything else – when things go back to what they were or how normal however they end up, you're that much more grateful for the things that you had. I still haven't met all the players yet. Players are going to be walking in, and I'm going to be introducing them to me, 'Hey, I'm Matt Rhule,' through the mask and everything."
"The challenge is here, so I'm going to accept it."
How are the injured players coming in? And what led to the signing of new punter Joseph Charlton?
"Just seeing KK [Short], he looks like he is in fantastic shape – he is 315 pounds. I think he has done a great job of putting himself in a position to have a special year. Shaq Thompson is back, he is healthy. Graham [Gano] looks healthy. I obviously haven't seen him kick but I know the medical staff is pleased with how far he has come. And obviously Michael Palardy [who tore his ACL during the offseason], I'm so disappointed for him. Just an amazing team guy, a guy that has overcome so much. But I believe his best football is ahead of him, everything happens for a reason. I know he will hopefully come back stronger and better in the future."

"Joseph is someone Marty identified way back when he went to the school. He has a big, big, big leg. Has the leg to do it. So we felt like [we should] get him in here check him out and see what he can do. So far, meeting him, obviously, we haven't been out there yet. But he has the leg, he has the ability, we just have to provide him the right environment where he can get comfortable in the system. Obviously, he won't be able to do it in a preseason game but we'll put him under some pressure."
"But he did kick in the SEC, so he has kicked at a high level."
How does not having preseason games affect the evaluation process?
"I think the hard part is that there are always those guys that get into the games and either struggle or bring what they do in practice to the game – or some guys are the opposite. Something special is lit up inside them. So you won't really see that until you get into games."
"So that will be the challenge to this. I've been a head coach for seven years, and I didn't have a preseason game in college, so I've had to utilize practice and scrimmages and those things to make evaluations. So I'm going to rely on our coaching staff, our personnel staff, Marty [Hurney] and his people. The thing that I've told our guys is – people always say control what you can control. But this is truly a time for our players, young players, old players, if they have a meeting whether it is virtually or in person, they've got to be great at it. They have to really show what they can do in a controlled environment."
"And we will cut the team down – obviously, there's a little bit more roster flexibility this year than there have been in years past. It is not ideal, but we are going to try and make really good decisions. The way this preseason is laid out is probably what my preseason would have been laid out the last couple of years. So I feel very comfortable the way it is."
Are there any tricks of not having a preseason you're going to bring over to NFL practices?
"I just think we are going to have to practice really, really hard."
"It isn't like we are getting into the games and you're going through a simulated game. We are going to have to really compete against each other like the old days and see who can withstand the competition. You want to go out there and watch Donte Jackson versus D.J. Moore. You wanna watch Ian Thomas go against a Tre Boston."
"I just think we have to respect the other guys on the other side of the ball and practice at a really high level. Then [we will go] into the stadium, play a little music, trying to create some distractions. I think all of those things are important. But at the end of the day, iron does truly sharpen iron, so it will come down to how we practice against each other."
What went into coaches wearing face shields versus masks on the practice fields?
"A couple of coaches have worn shields on the field."
"All the coaches and players are wearing masks in the building. When we've gone out to the practice field, we've said, let's all wear masks. A couple of the coaches are wearing shields. So the players can see their faces. It gets so intense out there so you want players to see your face, see that you're smiling, see that you're — whatever."
"So a lot of us have been experimenting on the field the first two days, trying to find that sweet spot of 'how can I best communicate?' Especially when it is 95 degrees. We've given [the players] masks and wraps and everything, and they've all been good about covering so far. It is strongly encouraged through walkthroughs and weightlifting sessions that the players wear masks, but it is not required of them."
"And I look at that as a personal decision for each guy to make."
How important are the players who might be overlooked in other years this year because of everything going on?
"Just philosophically, when I came to the NFL and made the decision to make the jump, that was one of the areas I always thought was neglected by so many people. You see guys that were on the practice leave one team that leave and they go somewhere else and they're a starter."
"Being a college coach and being a coach that coached at Temple and Baylor that didn't have their pick of five-star recruits, I just always prided our staff on being a developmental staff."
"I don't know why you can't develop players in the NFL."
"I always thought – let's do a great job with our practice squad players. Do a great job in our young players and find some diamonds in the rough. It is always in our mindset. In the CBA, they've upped the number from 10 to 12 and gave you a little bit more flexibility in terms of moving back and forth between the roster [and the practice squad]. Now going to 16, you now have tremendous flexibility on the roster. You want to make sure you have guys on the practice squad on who you can develop for the long haul and who have a chance to be really good players."
"But this year, you also want to have versatile guys. I've challenged our young guys and said hey, if you know football, there's going to be a decent chance that you can help us."
How do you plan on using D.J. Moore, Curtis Samuel this season?

"They're both guys that we haven't had our hands-on yet, so we see the potential and the things that they can do. Now we have to fit them in our system. One of the reasons I hired Joe [Brady] was because Joe is someone as an offensive coordinator that finds what guys do well and tries to stick them to that. He isn't purely a system guy where you have to do everything."
"The thing that's always intrigued us about Curtis – obviously – he has big-play ability, he gets behind people. He hasn't always been connected with, but he has the ability to run by people. But he is always so versatile. He can be a running back, he can be a slot, he can be an outside receiver."
"He brings a sense of versatility that we think can be fun and we think we can utilize. D.J. has to take another step this year and be that dominant, physical go-to receiver on third-and-five that you're going to. And take the best matchup of the [other] team's best corner and that's the step that he has to take."