In sports, things are designed to go wrong. A baseball slugger is the best in history if he gets a hit four times out of every ten at-bats, a quarterback that only misses three of every ten throws is extremely successful, winning 75% of your games will likely qualify you for the playoffs. Hardly ever do things happen perfectly, the way you drew them up; but sometimes, every now and then, they do – for the Carolina Panthers run game, it took only two plays for something perfect to happen.
Christian McCaffrey took the handoff from Cam Newton on second-and-one with 10:31 left in the first quarter, and multiple things happened at once – Taylor Moton and Trai Turner double-teamed a defensive lineman as Alex Armah stonewalled the defensive end coming off the edge – a hole opened on the right side; Greg Van Roten pulled across the line and took on the safety, who had overran his gap assignment; Ian Thomas cut off a linebacker closing towards the opening; defensive end Robert Quinn, who had two sacks on the evening, had a chance at stopping McCaffrey in the backfield and got a hand on him, only to be shoved out of the area by Matt Kalil.
And all of a sudden, McCaffrey was in space. And off to the races.
"I saw a heck of a gap," McCaffrey said about his 71-yard touchdown run, his second rushing touchdown of the preseason. "The offensive line did a great job. I think it was Van Roten on a pull from the left guard; Kalil, Trai, Taylor and Matt – they all did an unbelievable job. The tight ends and Alex did a great job on the block."
"It was a lot of fun, [they] made my job easy – just hit the crease and put the ball in the end zone."
You're not catching @run__cmc!

Christian McCaffrey goes 71 YARDS for the TOUCHDOWN. #KeepPounding#MIAvsCAR pic.twitter.com/jyY61kOJhd

— NFL (@NFL) August 17, 2018
While much has been said this offseason about McCaffrey's ability to run between the tackles, it's fitting that both of his touchdowns – last week he had a two-yard run that was as hard-nosed as they come – have come inside the tackles; this one, although it was a big play, involved the 5'11 running back shrugging off a tackle in the backfield before using his speed to accelerate downhill for the score.
"All the great runners in the league are great at breaking tackles – I definitely want to make as many people miss as possible, but once again, it all stems from the line – if they get their guys, it makes our jobs that much easier and I think you saw them get into a rhythm and a flow and I think you saw that with all of our backs," McCaffrey said after the game. "It was fun out there to spread the ball out there and everybody got a piece."
The other running backs certainly did get a piece, as the Panthers tied their franchise record for rushing yards in a preseason game with 226 – only a Garrett Gilbert kneeldown kept them from setting the record; last year against the Dolphins, they set a franchise record for rushing yards against the Dolphins with 294 yards – tonight, it was McCaffrey with 92 yards, Kenjon Barner with 72, CJ Anderson and Cameron Artis-Payne combined for 57 – even Elijah Hood converted his three carries into a touchdown. The running backs all certainly got a piece and while the team was happy with their rush blocking, they know that their pass protection left something to be desired.
"I think we can be better, there's a lot of room for improvement; it's the preseason, we're coming together as an offensive line," said Greg Van Roten, who started at left guard for the second week in a row before moving over to center for a few series. "It was my first time out there with Ryan, so that was exciting for me personally and there's a lot of work to be done, but there's a lot of work to be done. That's what preseason is for and that's what practice is for; it's just something that we're going to work on and we're going to get it right."
"You definitely want to get it figured out before the games start to count."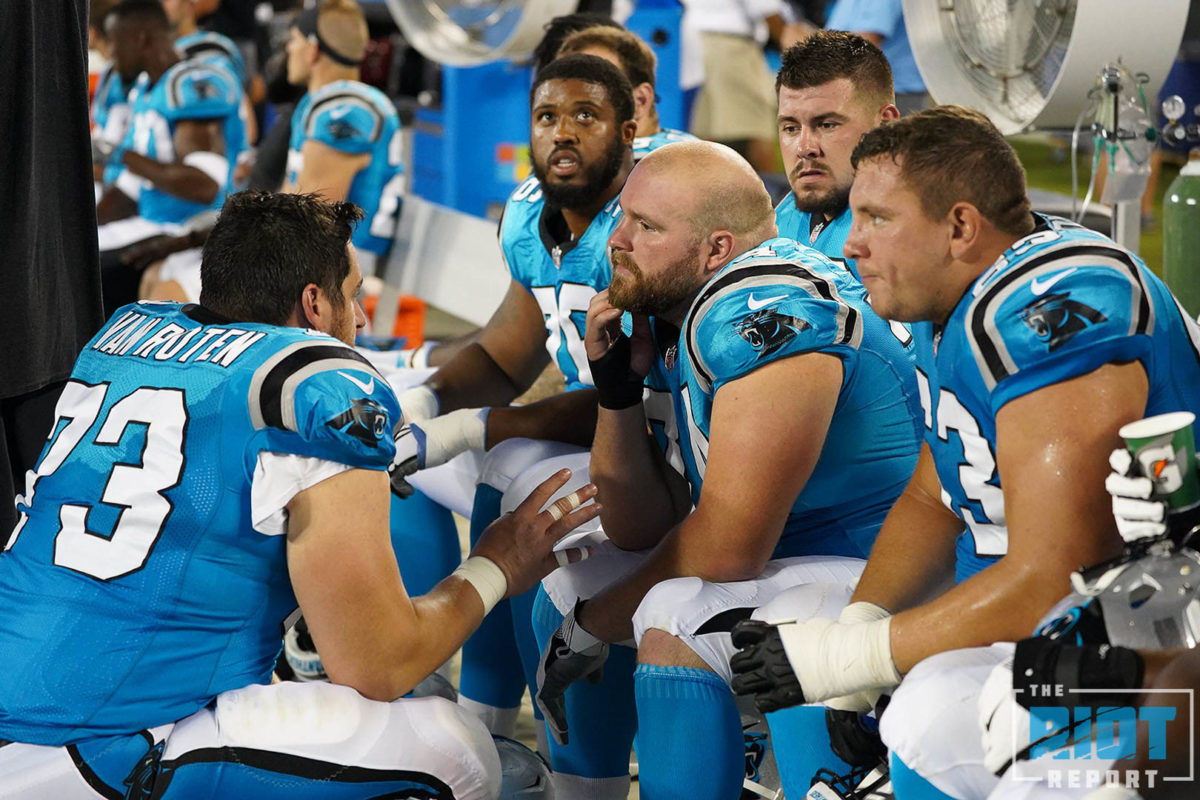 But back to that one perfect play, the one that had Alex Armah saying all that was left to do was "meet him in the end zone" and Cam Newton gushing after the game – while the ability to run between the tackles might have been doubted by some, Ron Rivera has always trusted that McCaffrey has that skill – because he's done it before.
"You go back and in his two years [at Stanford], nobody ran between the tackles more than he did," said Rivera about the running back that appears to be the foundation of the Panthers offense through two weeks of the preseason – he's touched the ball 15 times in two weeks, more than any other player by a wide margin. "We've always felt he has that kind of ability – he's got that kind of quickness that he can pop one and just make things happen, which we did see. We're very confident and comfortable in what he think he can do and we'll continue to use him how we best feel he's going to suit us."
The team is going to continue to use McCaffrey in a variety of ways and he's proven the first two weeks of the preseason that he can be effective – especially if everything goes just right.
"It's good to know that everyone had a good block on that play," said Van Roten. "That's what supposed to happen when everyone does their job."