As they have been for the past several seasons, the Panthers are one of the oldest teams in the NFL – they've invested and re-invested into their core group of veterans and now, facing a host of departures at season's end, time is of the essence. The season began with Thomas Davis declaring the Super Bowl as the goal of the season and that mantra has been repeated multiple times over the course of the first ten weeks of the season.
This isn't a team that's a year away, they're supposed to be built for the now.
So why, ten weeks in to the season, are they saying goodbye to the only halfback not named Christian McCaffrey to tote the rock?
When CJ Anderson was signed, some felt he was the best pure running back on the team, but after two plus months of Norv Turner's offense, it's clear that Christian McCaffrey is, for better or worse, a constant on the field for the Panthers. Some, yours truly included, hypothesized that the team could be holding back the CMC-CJ package, preferring to use it more down the stretch – that's obviously not the case now.
Anderson's usage never amounted to what even the most skeptical of fans would have thought; Anderson cracked double digit snaps in just two games this season and never played more than 12 snaps in a game. Anderson produced just 125 yards from scrimmage and his most notable play was an interception that bounced off of his face mask.
Given the low production and lack of playing time for Anderson, it makes some sense that a team may look to improve their roster by replacing someone with those numbers – perhaps with an edge rusher that the team desperately needs or more depth at corner so the first backup is not a fifth-round pick that has struggled to earn a jersey on a weekly basis – but the decision to use that roster spot on another running back seems curious.
Travaris Cadet is a receiver out of the backfield, but has never been one to tote a heavy load. The only other halfback on the roster is Cameron Artis-Payne, who totaled less than 20 carries last year and has yet to see a single offensive snap this season. The Panthers didn't use the roster spot to stengthen an area of need, they simply swapped their playoff and Super Bowl-tested backup running back, who last season was a thousand-yard back, in favor of another running back – one who has played just three playoff snaps and amassed 959 total rushing yards in his five-year career.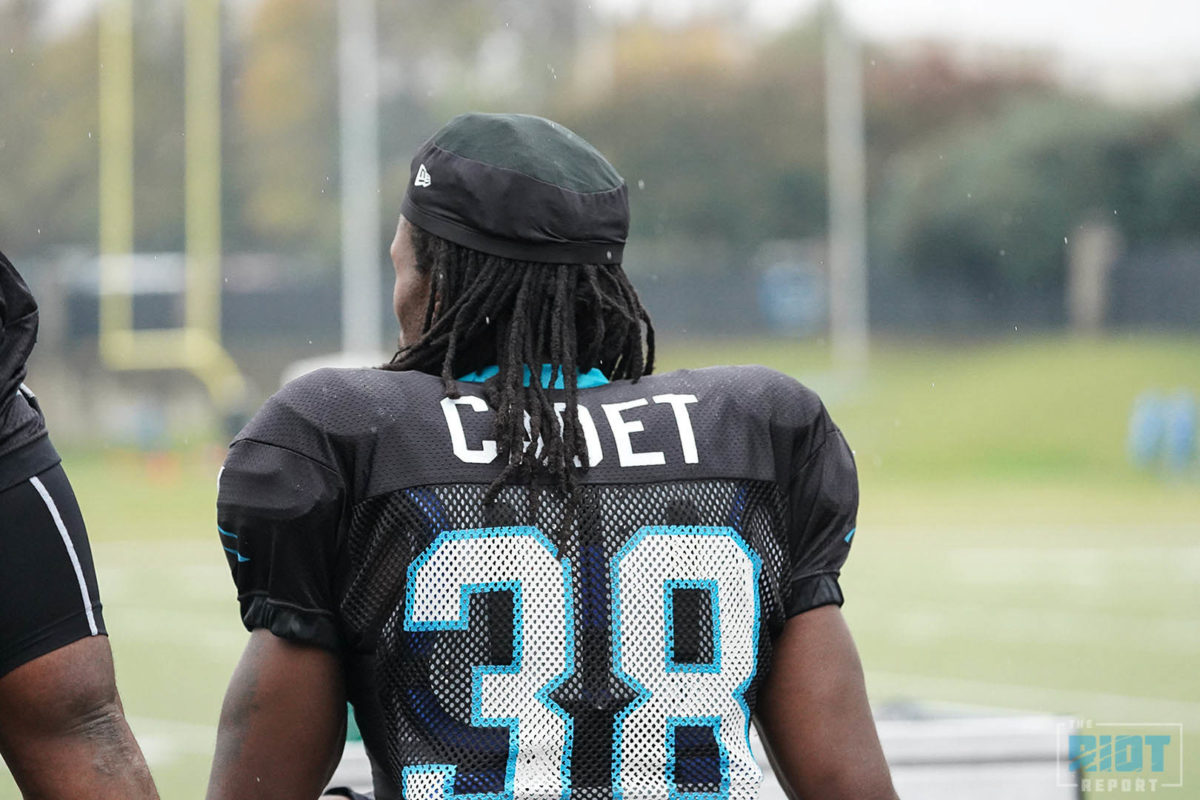 Anderson's lack of production and subsequent release appeared – at least at first blush – to be more a result of McCaffrey's continued emergence than anything CJ was or wasn't doing. The Panthers dynamic offense is predicated on a run threat that both the QB and RB possess as the play commences; the additional security of having a veteran running back to effectively pick up blitzes was another cited plus for CJ's addition, but Anderson only played five snaps Thursday night (only one before the game was decided), as the Steelers generated the most pressure on Cam that we've seen this season.
Those five snaps were an alarming number for those of us who thought he was part of the solution for this offense. Turns out they were just a precursor to release.
With McCaffrey on the field for virtually all the offensive snaps, giving the ball to CJ became harder and harder. He's never been a third down back – he's typically caught between two and three passes a game even when he was a featured back in Denver – it's possible the Panthers think adding more pass catching to the backfield will help more than Anderson. It's hard to imagine Cadet getting many more snaps than Anderson, with the backup running back likely squeezed by young players at other skill positions, be it Chris Manhertz for his blocking or the duo of Moore and Samuel as multi-faceted weapons; combined with fullback Alex Armah, the trio of non-running backs have nearly as many carries as Anderson this season.
For a team in the thick of a playoff race, the decision to move on from a veteran backup in favor of a guy who has never been a featured back and has struggled to stick on rosters – even with Rivera asserting that they wanted to give more of an opportunity to Artis-Payne – is at best, curious.
Allow me to posit a pure hypothetical: for a veteran team that has thrice this season – against Atlanta, Washington and Pittsburgh – lacked the requisite energy and has twice needed to be bailed out by fourth quarter heroics and is coming off a performance in which they tied franchise records for futility, perhaps Thursday's embarrassing effort was too much?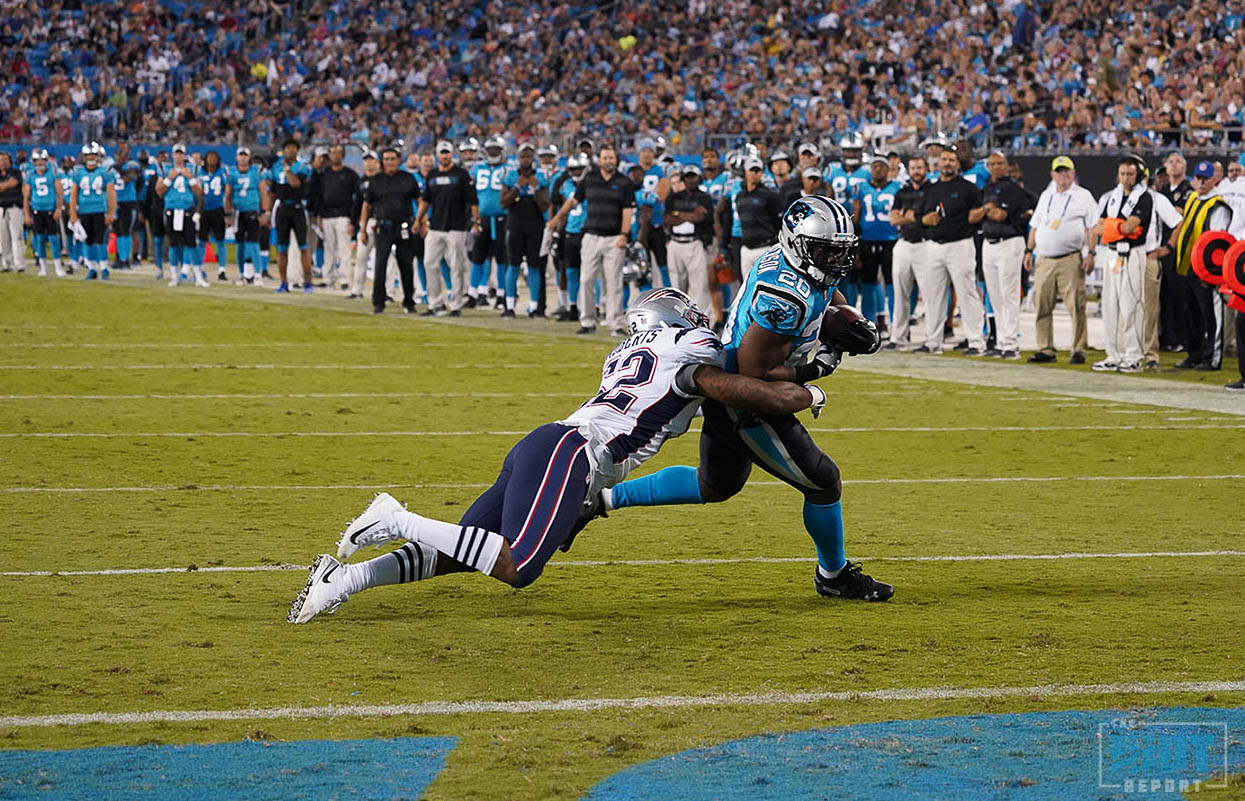 Did the Panthers brass attempt to send a message to the rest of the team with this move?
Anderson has been vocal on social media, grumbling at times, but for the most part gleefully arguing with the nameless and faceless as well as spending time streaming video games on Twitch during the season. Typically only once a week, Anderson's time spent streaming increased as the season progressed and his playtime stagnated; did they feel he was emblematic of a veteran group too focused on everything else instead of the games? Did they feel as if the loss of a security blanket in case of a McCaffrey injury, one that wasn't making an impact the way the roster and scheme were currently aligned, was worth the bulletin to the rest of the team to wake up with the season over halfway complete? That losing embarrassingly on national TV to your owner's former team is unacceptable?
Whatever the reasoning for the Panthers front office, conscious of the closing window for several veterans – whether they made this move to improve the team or to wake up their current roster, Panther fans can only wait.
And hope they got this one right.