Mike Adams is getting vocabulary lessons this offseason.
After telling his rookie teammates in the defensive secondary that he was 'swagged out', the 22-year-old Donte Jackson and 23-year-old Rashaan Gaulden told him that they no longer use the word swag.
It's saucy. The word is saucy.
The Panthers are hoping that the two rookie additions to their secondary can add some 'sauce' or 'swag' to a defensive backfield that struggled to contain quarterbacks over the second half of the 2017 season, allowing over 275 yards through the air over their last eight games of the season, but the bulk of the first-team reps in the past three weeks of the OTA sessions have been dominated at safety by the incumbent Adams and newcomer Da'Norris Searcy, who signed a two-year deal this offseason after spending three years in Tennessee.
"I watch him and Mike Adams together and it's like two old vets that have been together for a while," Rivera said after Monday's OTA session, which began the final week of OTAs before mandatory minicamp next week. "I do see the fluidness of his movement right now. The big part is getting comfortable with what we do and how we do it, and then the communication with the guys around you. He's done a nice job, he really has. Just watching them work with pretty much whoever he's been back there with, he's doing a really nice job."
Searcy, who will turn 30 this November, joins the 37-year-old Adams as elder statesmen in a secondary room that expects to populate the top of it's depth chart with young players aside from the 30-year-old Captain Munnerlyn. Case in point: taking the first-team reps with Adams and Searcy are James Bradberry and Kevon Seymour, both entering their third year in the NFL; the rookies Jackson and Gaulden, along with free agent acquisition Ross Cockrell, have been taking reps with the second-string, although no rushes to judgement should be made based on the division of labor in May and June. While Adams is happy to help rookies like Jackson and Gaulden make their way through this early part of the offseason, he says they are holding their own at this early stage.
"They're attentive – both young guys, they're listening; they're taking what we've learned from the classroom to the field, which is a great thing," Adams said after the first OTA session. "They're developing and learning real quick and that's not normal [for] guys coming in; usually they're running like a chicken with their head cut off."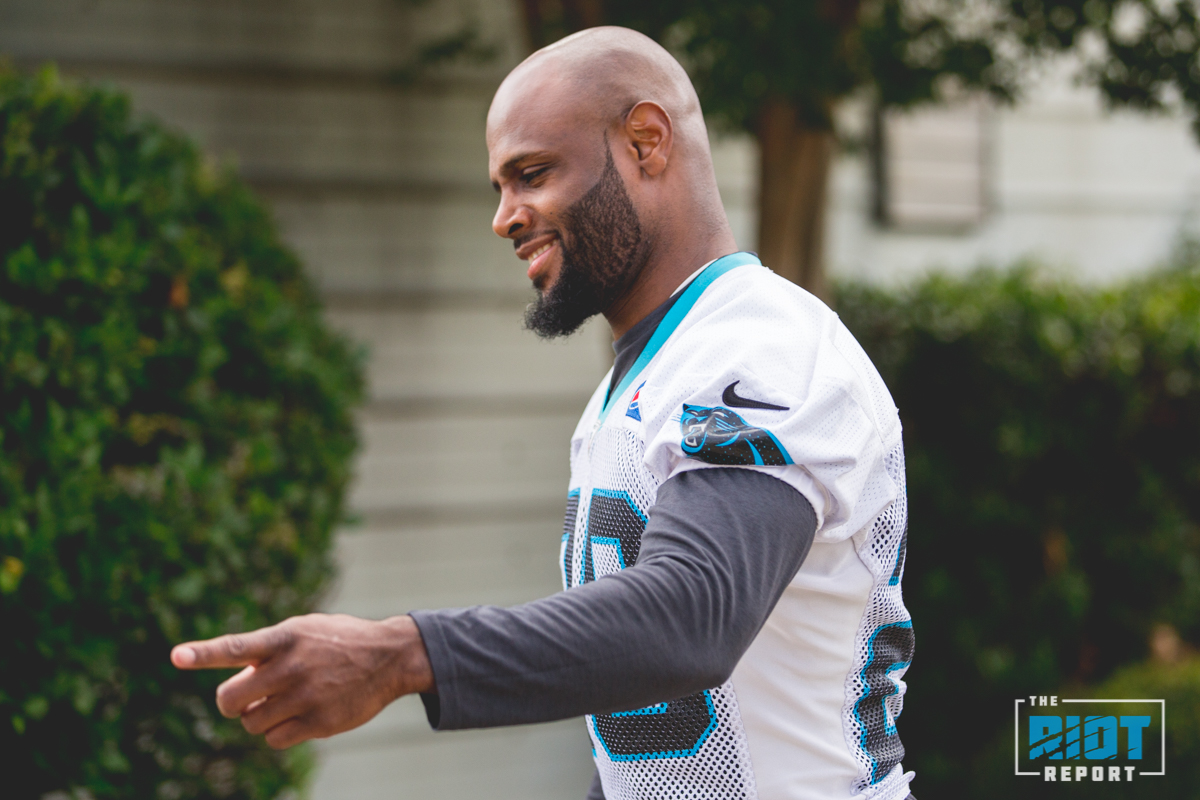 But Adams refuses to feel old in a room dominated by younger players, although he admits he can't relate to players that were born while Adams was in middle school or even high school.
"I can't relate to none of these young boys, I can't relate to their music, the clothes they wear, their haircuts – see this hairdo?" Adams asks, pointing to his shiny dome in juxtaposition to Jackson's long dreads that he routinely shakes in celebration on the practice fields. "I've got a bald head, I keep it simple."
"I just do my job and mentor the best way I can on the field – off the field stuff, I just let them do what they're going to do."
Adams said he started working out earlier this year, even though he has remained relatively healthy, only missing four games over the past four seasons and starting every game in his first season with the Panthers – the 2014 & 2015 Pro Bowler secured the most interceptions in the secondary in 2017, forcing two fumbles and recovering two more over the course of the season. The Panthers have changing faces in the secondary after the release of Kurt Coleman and trade of Daryl Worley, so Adams must be a source of consistency as the team blends young players with veteran experience, especially during this early portion of the offseason.
"The goal for me is to build the chemistry with these young guys, to earn the respect of the new guys that [are] here," Adams said of these spring team activities. "I'm pretty sure it's vice versa, they've got to earn our respect; everything is earned out here, nothing is given."
"We've got to work hard and build something, because we've got to work towards something and that goal is ultimately the Super Bowl."