In 2015, the Panthers led the league in interceptions and overall turnovers – the secondary consisting of Josh Norman, Kurt Coleman and "Peanut" Tillman, among others, dubbed themselves 'Thieves Avenue' and the nickname has persisted ever since – even though none of those players from the defensive backfield are still on the team and the defense only managed 10 interceptions in 2017, anytime the Panthers forced a turnover, the 'Thieves Ave' moniker would resurface, whether it was deserved or not.
With six interceptions in the past two games – four from the secondary – the Panthers might just be earning that nickname back.
"That just says a lot about our room," said rookie Donte Jackson, who had two interceptions in Week 3 against Cincinnati. "We're trying to bring Thieves Avenue back, and we can't just talk about it, we've got to go out there and show it and prove it – two games, four picks, so I think we're making a strong case for ourselves."
They certainly are – the Panthers have the second-most interceptions in the NFL since 2015 – and have gotten off to a quick start, aided by Jackson's league-leading three interceptions; they got some help today from Mike Adams, who the team has multiple nicknames for, all of which revolve around the safety's age: Old School, Pops, OG.
Call him whatever you want, he's producing.
Adams had the fifth multi-interception game of his career against the Giants as he grabbed two interceptions – his third quarter pick in the Giants red zone led directly to a Panthers touchdown that put the team up two scores; the Giants tried to run a run-pass option that they had run in the first half and Adams recognized it, jumped in front of Odell Beckham, Jr. and put the Panthers in a position to score. It's something he's been doing his entire career; the 37-year old safety leads all active players in career takeaways with 29 interceptions and 16 fumble recoveries.
"We talked about it all week – disguise, just disguising," said Adams. "On both plays, I just disguised. I was down in the box and then I just popped out both times. I guess Eli (Manning) thought it was one coverage when we were playing another and he ended up throwing it right to me. So, I got blessed on both plays."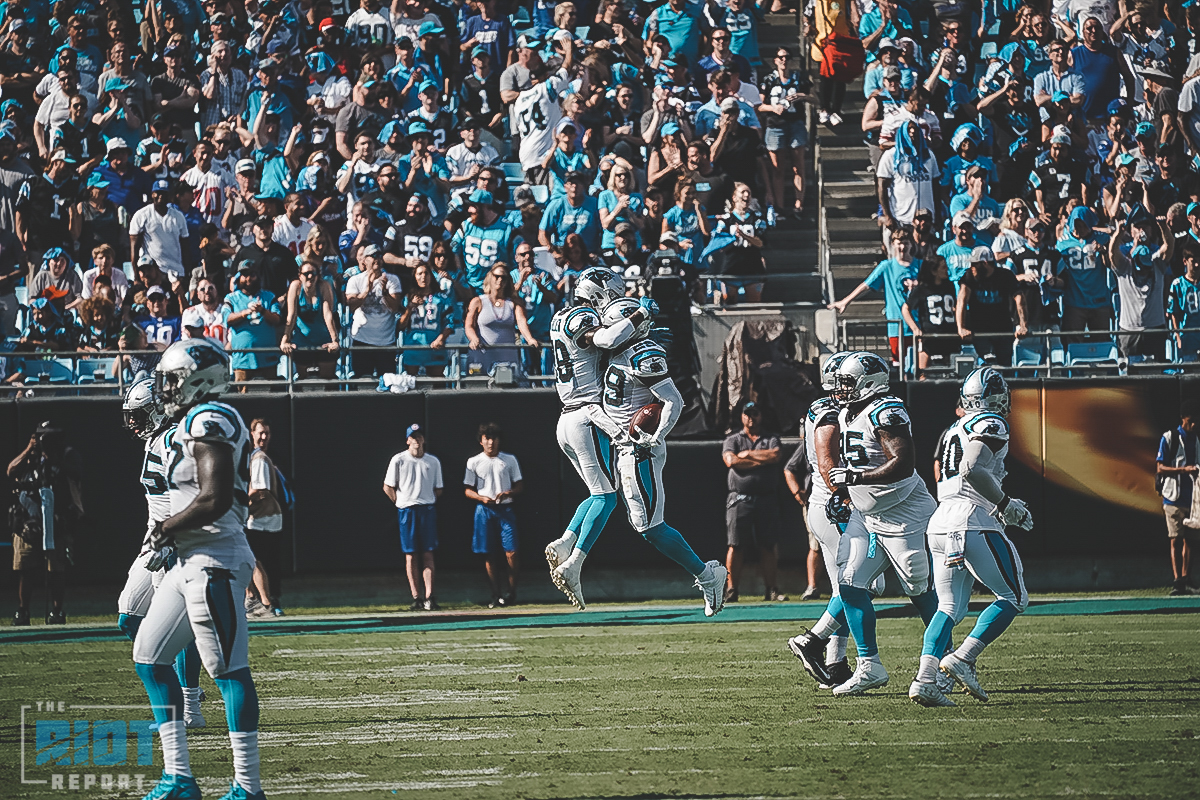 Adams said he had some help in the form of the Panthers most recent acquisition, safety Eric Reid – Adams said after the game that there were certain plays were it appeared the Giants may have shied away from throwing it in Reid's direction.
"He ended up opening a lot of doors for me, so I appreciated it."
That's just how Mike Adams has operated his entire career – he says the secondary in Carolina is a blue collar group that doesn't care about accolades or being in the top tier of defensive backfields in the league, they'll just continue to do what needs to be done to get the win. Even though the Panthers know they haven't played their best ball over the past two games – Luke Kuechly described it after the game as 'alright' and the Bengals and Giants put up over 700 yards passing combined against the Panthers defense – it's been timely turnovers and big plays that have helped the defense when they needed stops. The Panthers have held their opponents to 4-of-17 on third down over the course of those games and have amassed six interceptions – and won both games.
"[He's] a guy that can be a calming, steadying force out there which he was," said Rivera about Adams. "As I said, we made some mistakes and some things we need to take a look at and get corrected. But again, I just think when you have a veteran out there, he can come up with some things that will happen. I thought he did a great job, just quarterbacking the guys back there."
The Panthers have faced off with three of the best receivers in the league over the past month in AJ Green, Julio Jones and Odell Beckham, Jr – after limiting Green and Jones, they were unable to contain Beckham, who was able to rack up eight catches for 131 and a touchdown, in addition to tossing a long bomb to running back Saquon Barkley in the second quarter – a play that kept the Giants within striking distance when it looked as if the Panthers were going to pull away and turn the game into a blowout after going up 17-3.
The Panthers knew going in that when you go all-in to stop certain players, you tend to make mistakes; while Green and Jones had relatively quiet games against the Panthers, secondary receivers like Calvin Ridley and Tyler Boyd had big days
"If you try to take [Barkley and Beckham] out, then you start making mistakes so we just wanted to minimize what they do," said Adams after the game. "We definitely minimized Barkley but Odell ended up getting off."
"But I'll take the win over that any day."
While the media – ourselves included – have painted the Panthers, and #1 cornerback James Bradberry in particular, as facing off with a gauntlet of top receivers to start the season, that's not how they've pictured it – in their minds, they're part of a gauntlet for receivers lining up against them.
They're Thieves Avenue.
"If you view yourself as a premier guy, no guy is a premier guy because you trust in your ability and you trust in your technique," said Donte Jackson. "That last group of receivers that we've been matched up with, we've been Thieves Avenue."