Monday's training camp session ended with another tough blow to the Panthers' roster, the second in three practices for the team after Daryl Williams dislocated his patella and tore his MCL on Saturday, with free agent acquisition Ross Cockrell suffering what appeared to be a left leg injury in the final seconds of practice as he was rolled up on by Torrey Smith. The injury happened when Cockrell collided with receiver Smith, who was on the ground in the end zone. Players immediately huddled around the cornerback who was heard screaming "My leg is broke," – the disturbing sound of a cracking bone could reportedly be heard by fans attending the session in Spartanburg.
Looked at as a possible offseason upgrade over Daryl Worley, Cockrell was the number one corner for the New York Giants for much of last season, impressing with a combination of ball skills, awareness and athleticism and was signed after a contract with Bashaud Breeland was voided by a failed physical. With what looks at this time to be a possible broken leg, the Panthers will have to look to Kevon Seymour and second-round pick Donte Jackson to hold down the outsides of the secondary along with James Bradberry. Although Cockrell was not getting reps with the first team in practice, he was expected to be a contributor in a secondary that ranked last in the NFL during the final eight weeks of the season.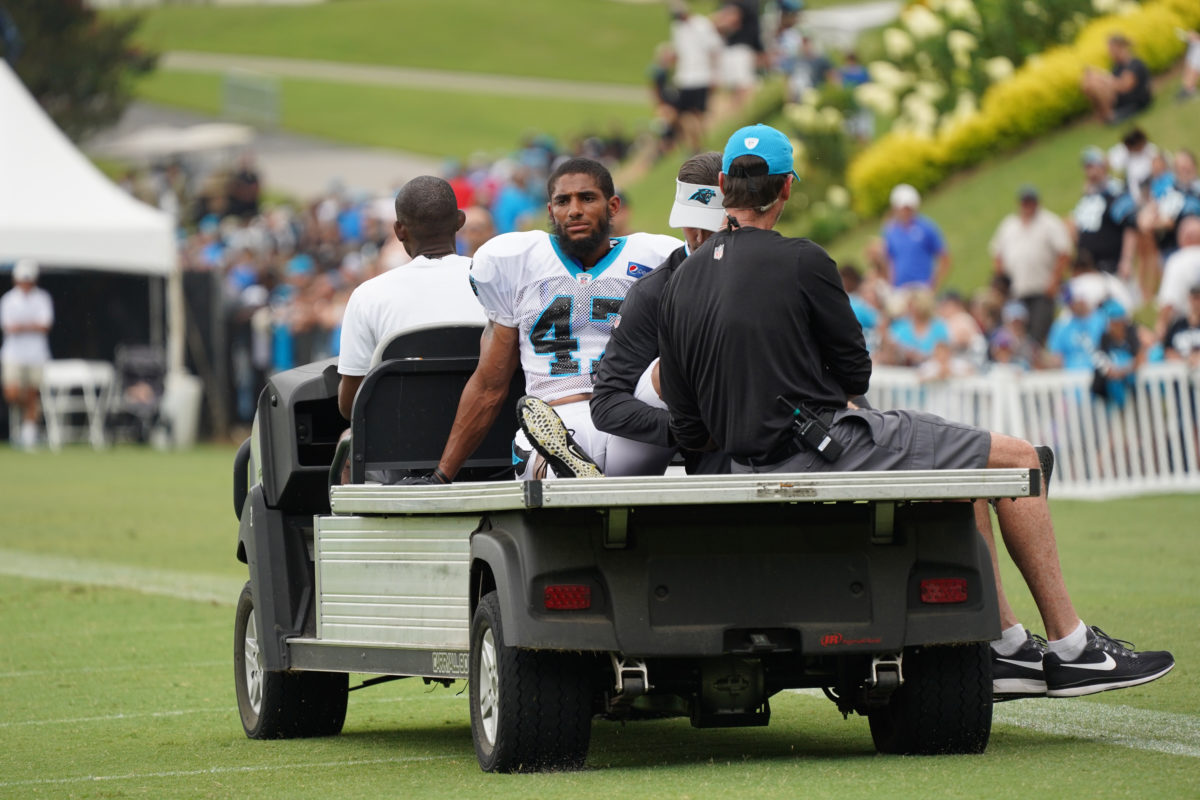 "One of the key components to making a Super Bowl run is having everybody healthy," fellow cornerback James Bradberry, who was not on the field when the injury occurred, said after practice. "And [when] we have prominent guys go down, it's tough, but you've got to have this next man up mentality and that's what we have here."
Ron Rivera would not comment on the injury after practice, only saying that both Cockrell's and Daryl Williams' injury came in normal circumstances – doctors and trainers will evaluate Cockrell; the team will release an official injury announcement either today or tomorrow.
Cockrell, a Charlotte Latin and Duke alumni, started 32 games over the past three seasons with the Giants and Steelers with 157 career tackles, 36 passes defensed and five interceptions.