The relationship between the NFL and analytics is a complicated one – the league is torn between what it once took to win in the league and what it now requires. As a new wave of owners, GMs and coaches enter the league, the way they – and by extension, all of us – view football is beginning to change.
Witness David Tepper when he began the search for his first coach hired as owner of the Carolina Panthers.
"I have great respect for old-school toughness and discipline," said Tepper the day he relieved Ron Rivera of his duties. "Given my background, I lived in an analytical world. A stats world. It's about innovative processes. Process management. A guy can do old school process management too, but innovative process management. Modern and innovative techniques. Whether it's down in the training room, and not just having them on a piece of paper but implementing some of those things."
"You want to have the coach and the football operations, GM and assistant GM, have some of those skills."
Finding the right mix between the old and the new can be a balancing act – a fine line that Matt Rhule, Marty Hurney and Tepper are trying to walk.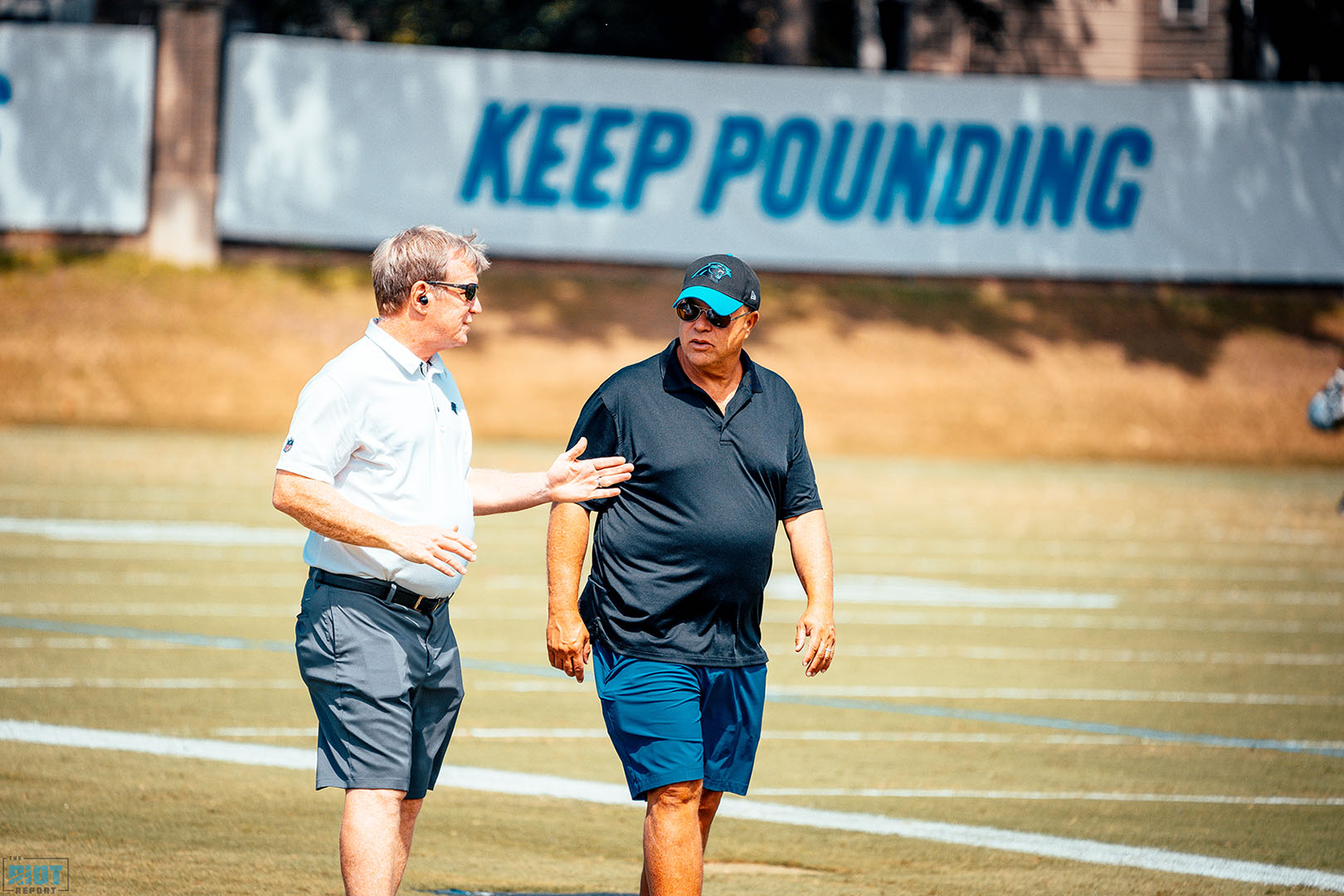 The relationship between the NFL and the running backs of today is even more complicated. Everyone loves them and what they can do for an offense – until it's time to pay them.
Once the focal point of any offense worth its salt, the running back position has gradually been devalued by the NFL, despite perhaps featuring better and more explosive athletes than ever before. And it's no accident that the devaluation of the position has directly correlated with the rise of analytics across the NFL, as the majority of arguments against investing major resources in the running back position – that it's a high-attrition position that depends heavily on being in a functioning offense, and that one running back truly is as good as another as long as he has proper blocking – come from an empirical standpoint.
Last December, the signal had been given that the Carolina Panthers were pursuing empirically-based operations, steering away from traditionalism in favor of a heavy emphasis on analytics. To hear Panthers owner David Tepper discuss his team's new order of football operations, one would have thought that Carolina would adopt completely new values and abandon the ones that the numbers said they "shouldn't".
A development which, if league-wide trends held true, would have meant trouble for the Panthers' running backs room.
But yet last month, the new age Carolina Panthers have made a record investment in running back Christian McCaffrey, signing him to a contract extension worth up to $64 million that makes him the highest-paid running back in all of football, with virtually no pushback.
Considering the Panthers' move towards being an analytics-driven organization, and the way analytics proponents lay the running back position low, paying Christian McCaffrey with little resistance is something of a curious development. And it's worth examining as a signal of how the Panthers are now going about building a football team – and if it's really that different from what they've traditionally done.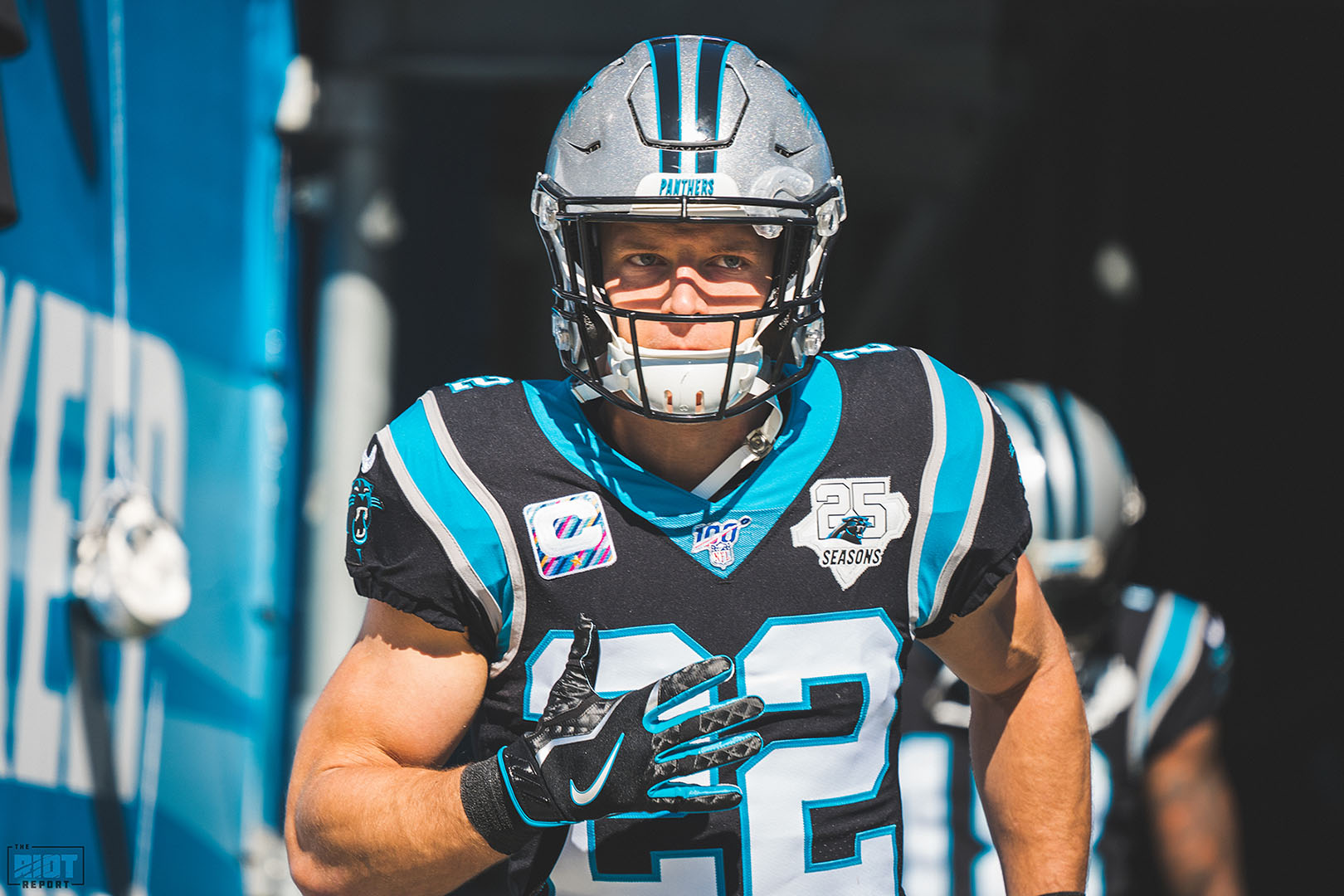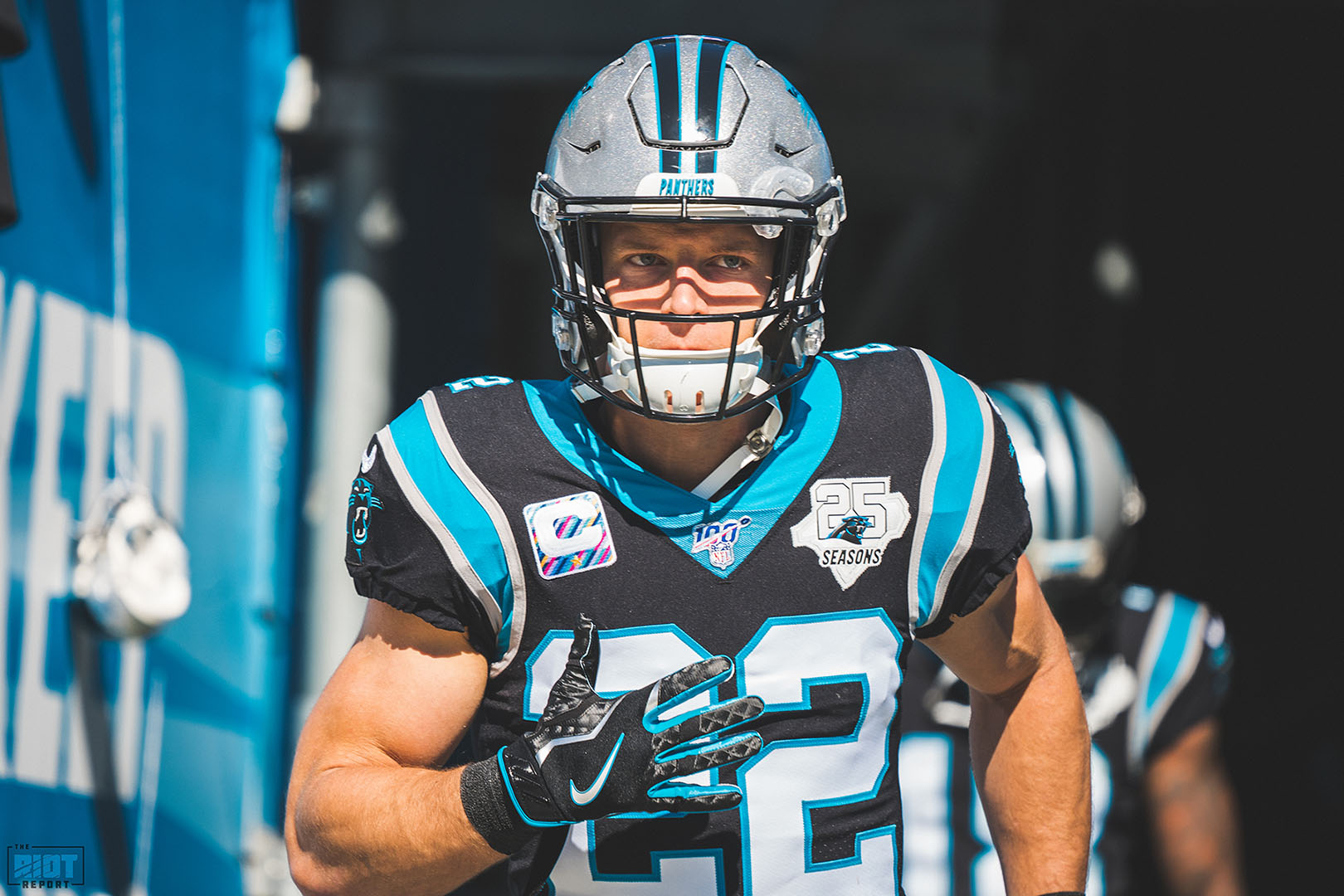 It should be noted that the value of the running back position isn't as settled as some – specifically, the true zealots of analytics – would have it thought of. By now, most football fans are familiar with the argument: running backs, some claim, aren't worth major draft capital or salary cap resources, as they inhibit roster-building and will eventually become a drain on resources as the back gets older and more expensive while presumably "declining".
Those proponents often advocate that running backs are best suited to be cheap labor without strong strings attached, pointing to late-round draft picks and undrafted success stories like Phillip Lindsay of the Denver Broncos or Austin Ekeler of the Los Angeles Chargers.
As they usually do any time a running back gets paid, analytics proponents have beat this drum in arguing against McCaffrey's new contract. Jared Dubin of CBS Sports argued against McCaffrey's contract based on the idea that his production in 2019 was based largely on volume, and that the gap between him and the "average running back" in terms of yards per touches is not so large as his All-Pro stature suggests. George Chahrouri of Pro Football Focus, the gospel of football analytics, suggested that the Panthers were "grossly overpaying" for McCaffrey based on his averages yards per target relative to wide receivers and tight ends.
There are, however, arguments to the contrary at the running back position.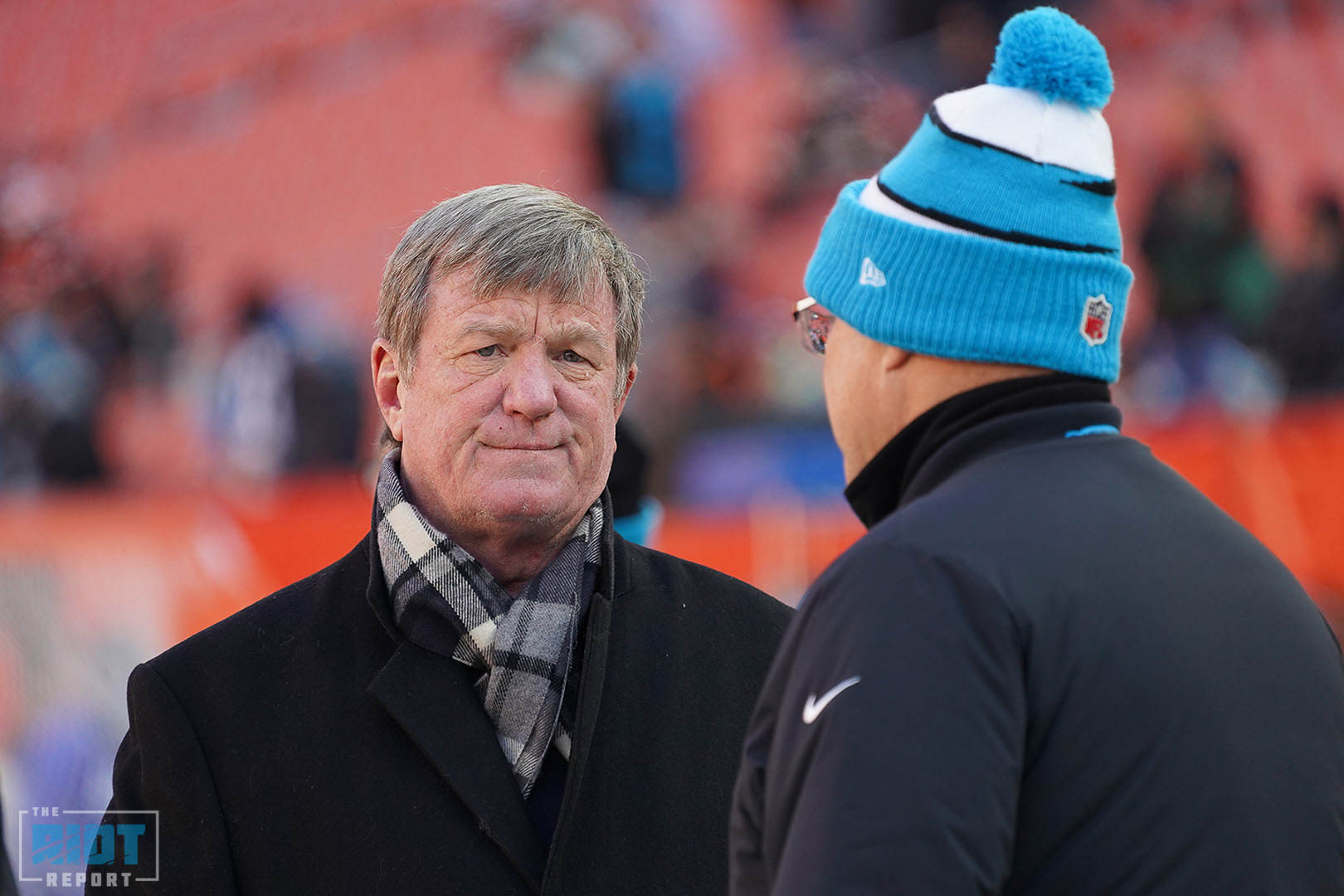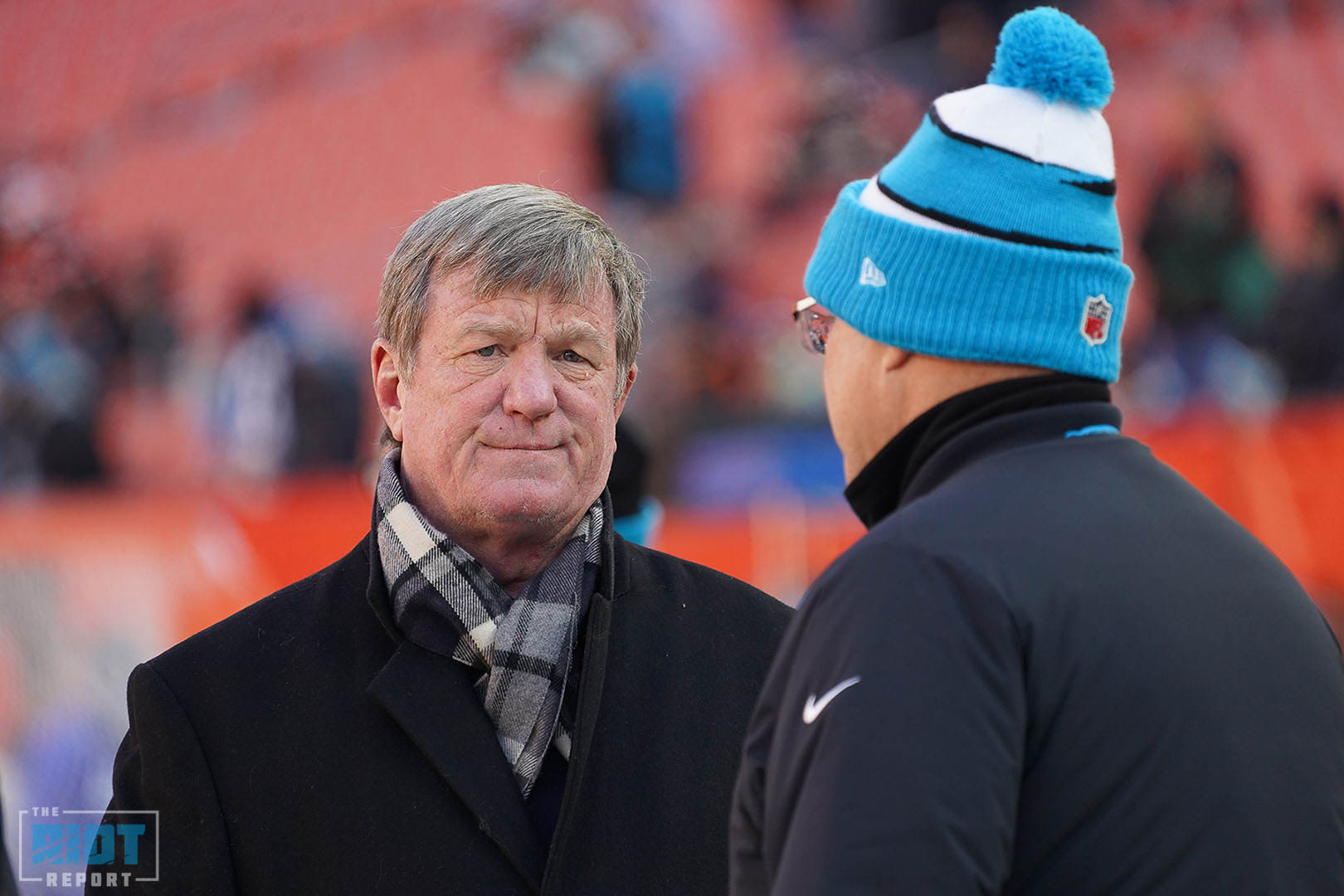 Some may point to how the Tennessee Titans were able to go all the way to the AFC Championship Game thanks to 2019 NFL rushing champion and star running back Derrick Henry, who pulverized both the New England Patriots and Baltimore Ravens in perfect displays of sheer physical force to take control of a game. Others may note that the argument running backs have a negligible effect on win-loss record also applies to wide receivers, an offensive skill position whose value has only increased.
Eight of the Top 10 wide receivers in the NFL last season played for teams with .500 or losing records. Only one made the playoffs, and none won a playoff game.
Proponents of the running back position go from McCaffrey's contemporaries, such as Mark Ingram of the Baltimore Ravens, all the way up to former Panthers general manager and current New York Giants GM Dave Gettleman – the man who drafted McCaffrey eighth overall in 2017 and the patron saint of analytics skeptics.
"If that makes me a hater of analytics, because the analytic people say [running backs are interchangeable and one is as good as another] – you can't!", said Gettleman in an interview with Jonathan Jones last summer. "If that's the reasoning, that I've become a doddering old fool that hates analytics … that's OK."
Although Gettleman was the one who made the decision to draft McCaffrey not so long ago, every game of McCaffrey's Panthers career has taken place under the eye of another GM.
A GM who, based on McCaffrey's contract and his own proclivities, remains very much in charge of Panthers personnel.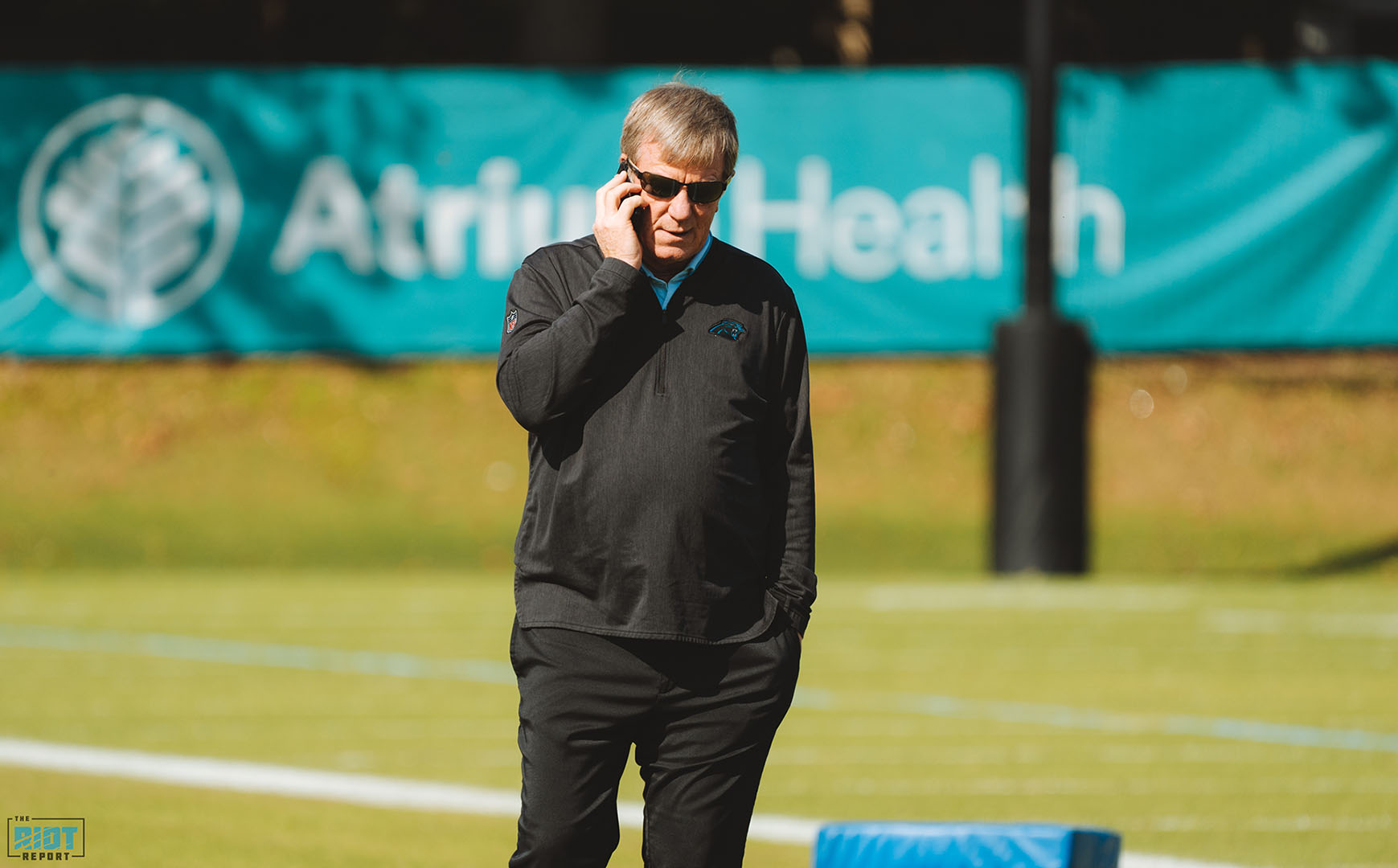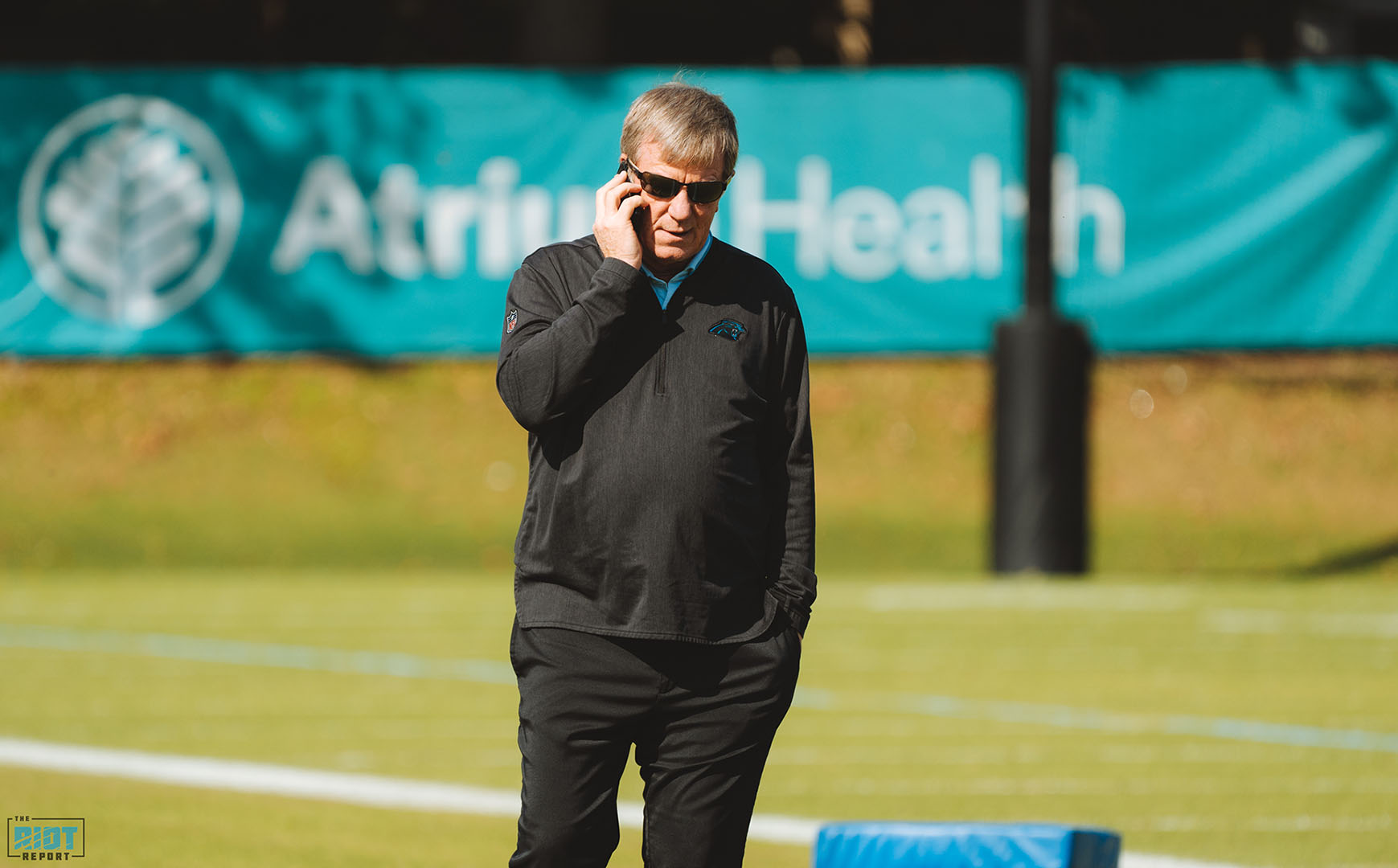 In his history as general manager of the Panthers, Marty Hurney has long had an especially keen eye towards two particular positions: running back on the offensive side of the ball, and linebacker on defense.
It doesn't take much to make that inference, as some of the most prolific players in Panthers history – running backs like Stephen Davis, DeAngelo Williams, and Jonathan Stewart as well as linebackers like Thomas Davis, Jon Beason, and Luke Kuechly – were all brought to the franchise under Hurney's watch. And two of those players – Williams and Stewart – were kept in Carolina with rich contracts arranged by Hurney.
While the introduction of a new head coach in Matt Rhule and David Tepper's increased say in football operations has resulted in some fan and media speculation as to who was really in charge leading up to the 2020 Draft, it's safe to infer that recent transactions suggests that the "way" of the Panthers' front office is still the way of Marty Hurney. Alongside McCaffrey, the other most notable contract extension for a Panthers player in the past several months was given to linebacker Shaq Thompson, who received a four-year, $54 million deal last December.
In free agency, one of the Panthers' most-valued signings was a linebacker, Tahir Whitehead.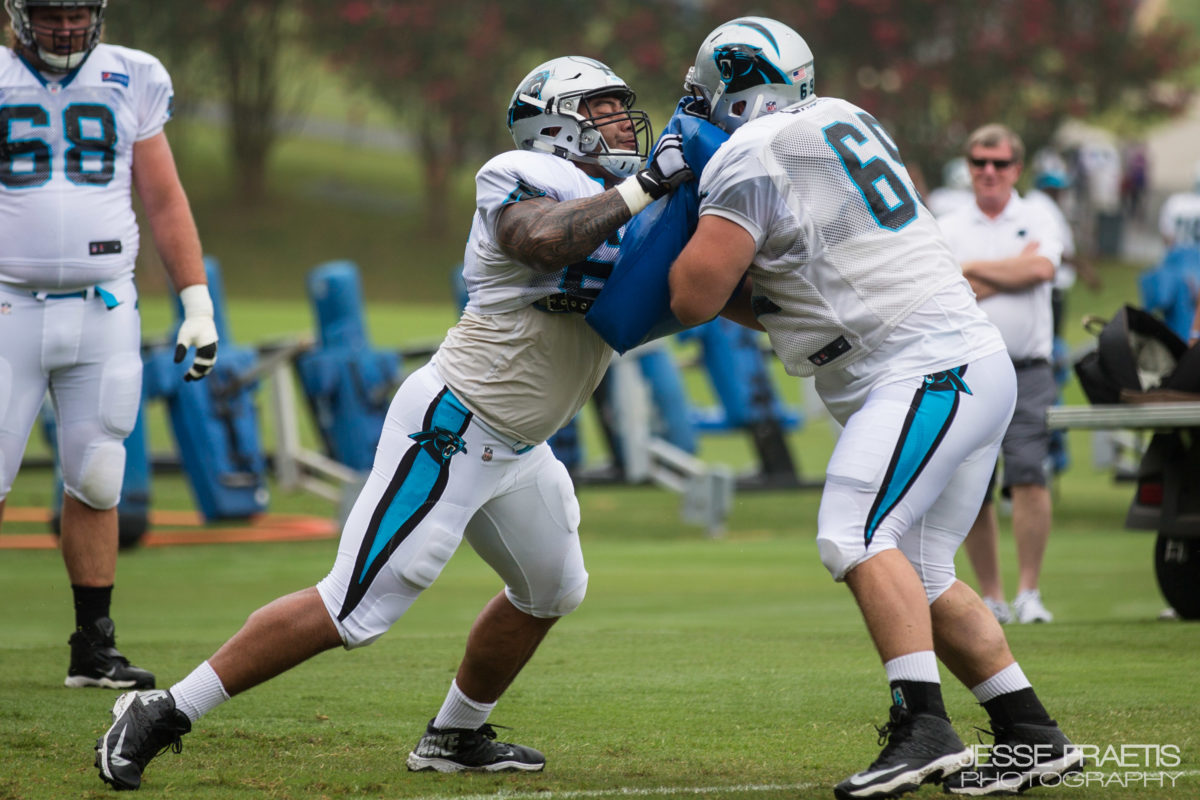 The Panthers giving McCaffrey a contract as rich as his, however, shouldn't be taken as a sign of Hurney going rogue: From an ownership perspective, securing McCaffrey long-term was a sound PR move to stem the tide of criticism that the Panthers – and Tepper – had faced following a purge of many veterans and franchise icons. And speaking about the contract on his own, Rhule signaled that he didn't subscribe to the idea that McCaffrey is just like any other running back.
"I don't look at Christian as just a running back … I don't think anybody can put Christian as just a traditional running back," Rhule told WFNZ's Kyle Bailey before the draft. "We see him as a weapon. We see him as a person that can be a receiver, can be a running back, can be a returner, and probably more importantly than anything else is a true leader on the team and a guy who does things the right way.
"I don't think he's the type of player that you can just pigeonhole into one position. And therefore, I think some of those [analytics arguments] maybe don't add up quite as much."
All those considerations, and others as well, have led to the Carolina Panthers making Christian McCaffrey the highest-paid running back in NFL history. And talking about his new contract, McCaffrey sang a much different tune than other running backs – like former Chargers running back Melvin Gordon – who have been met with analytics-driven pushback from their front offices.
"I think more than the money, it just shows that the Panthers believe in me. And I really appreciate that," said McCaffrey. "It shows that I'm on a team whose ownership and whose front offices believe in me in the way I believe in myself. And to me, that means a lot knowing that I get to go to work every day and be the best me and be myself."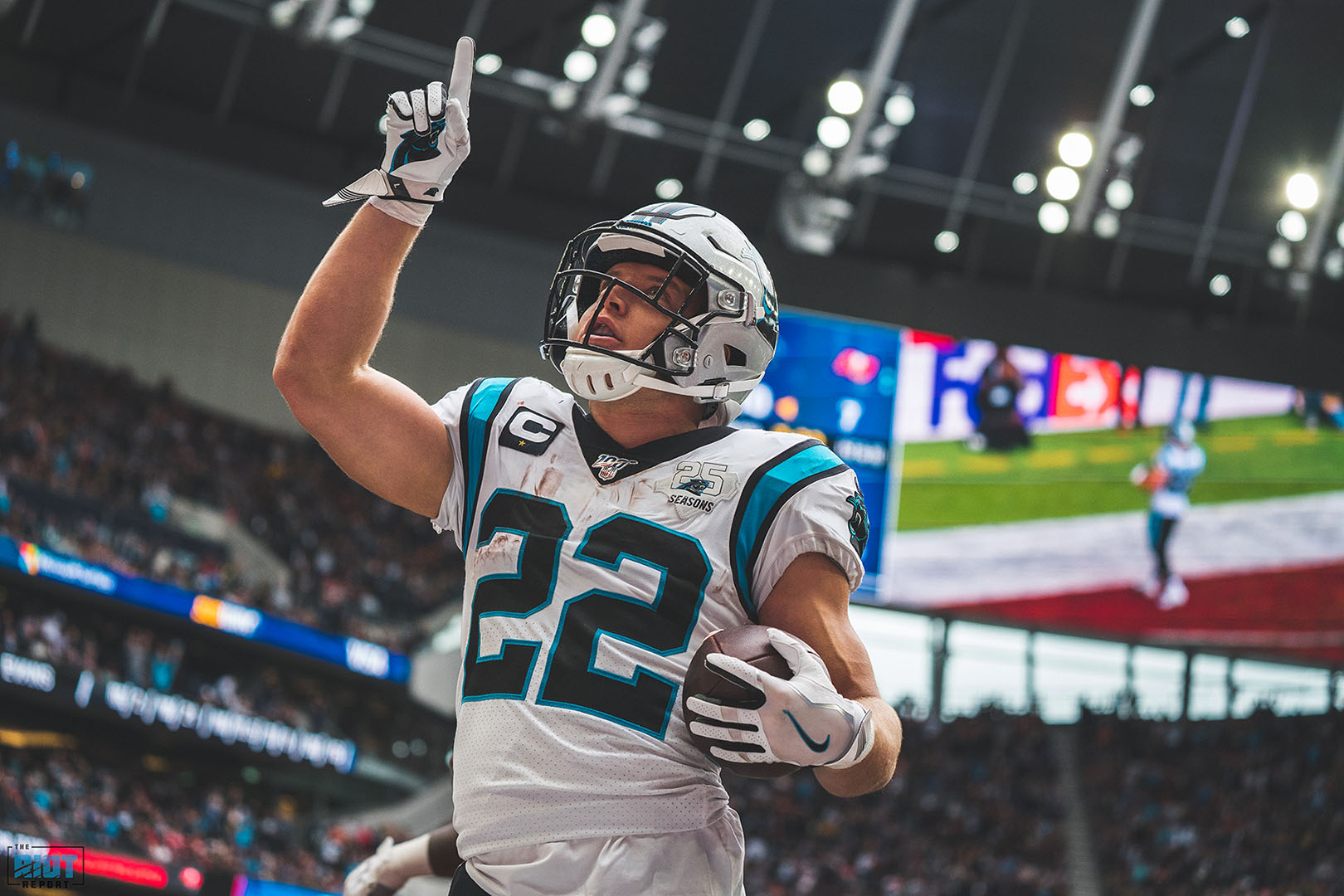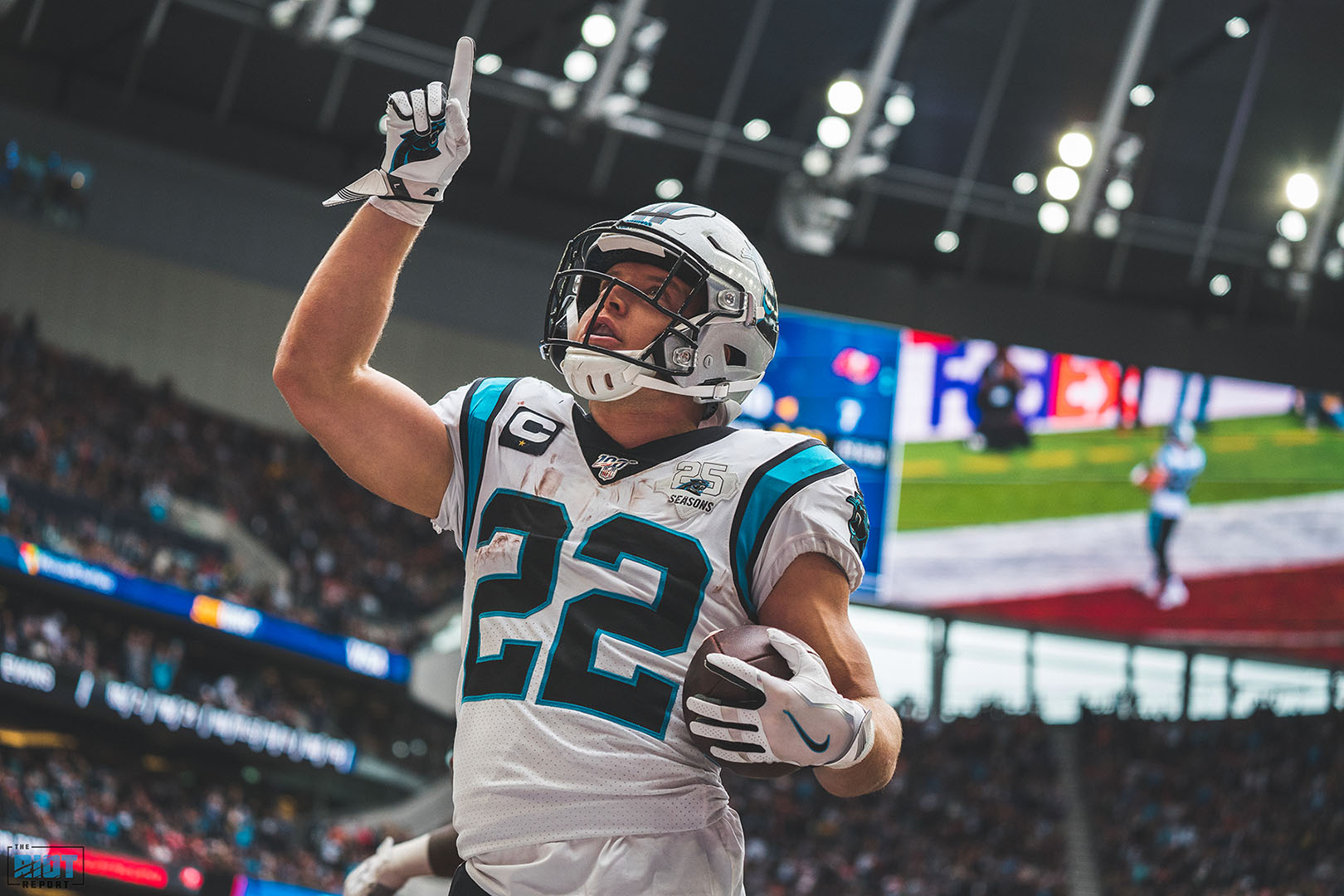 McCaffrey's contract, indeed, shows that the Panthers are committed to the new face of their franchise.
And frankly, the fact that the Panthers have moved towards featuring players mostly on rookie contracts – and don't seem overtly concerned with contending in the short-term – gave them the luxury of not penny-pinching when it came to McCaffrey. But it is interesting that one of the first major moves under the Panthers' new M.O. – one described by David Tepper as utilizing "modern and innovative techniques" derived from an analytical world – is a move that runs counter to popular analytical thinking and is in line with what the Panthers have valued over the past 20 years – and how they've done business towards it.
The NFL Draft brought further evidence of this, as the Panthers used the seventh overall pick on a defensive tackle – a position which has fallen out of favor among analytics-types due to its perceived marriage to the run game and limited impact on pass rush. Though the Panthers' defense-heavy draft earned good reviews from the media, there was a case to be made that Carolina could have taken the sort of data-driven approach – say, by trading back for additional picks – that the franchise suggested it was moving towards and that reports have indicated that Matt Rhule was interested in doing, only to be overruled by Hurney.
Discussing the draft, Hurney confirmed that the Panthers had taken some calls about trading back before and during the Draft – some reports indicate the bounty could have been as high as a 2021 first-round pick. But ultimately, what has mattered to the Panthers in the past – namely, 'the eye test' of gauging a player's athletic abilities and plain old personal character – ended up being the driving forces in the decision to take Auburn star Derrick Brown, despite a poor showing at the Combine that might have scared some teams away.
"Analytics and the numbers part is a piece of the puzzle, but it still comes down to getting out in the fall and seeing guys up close, and getting to the school visits," said Hurney. "Going through the process with your coaches and your scouts as far as the Senior Bowl and the Combine. I think that you have to use every bit of information that you have that's at your disposal, but I still think it's seeing a guy up close, first-hand, and getting to meet him and talk to him. Seeing him at the practices in the fall and playing games and then go through the Senior Bowl and the Combine.
"You use every piece of the puzzle to put it together. I think that analytics is one piece – and the interviews, the medical, your evaluations, they all play a big part in your final decision."
The 2020s have indeed brought about a new era in Carolina Panthers football. But if Christian McCaffrey's contract and their draft is any indication, perhaps that new era hasn't brought as dramatic of changes as may have been thought.