This offseason has been very different from a year ago for the Panther coaching staff as a whole, as with OTAs happening in person they have already had a chance to get hands-on with their players which will hopefully pay dividends as they move towards the start of the regular season. However, for defensive line coach Frank Okam, this offseason is very different in another regard, as after spending the 2020 as the assistant defensive line coach, he now finds himself in charge of the development of a very young but hugely talented group.
Speaking to The Riot Report, Okam described how he is approaching his new role and how the changes from a year ago are helping to put the defensive line in the best position to succeed:
"The main difference is it's your vision and, with the help of the other guys I've worked with, but it's our plan to try to have a chance in the offseason to implement an ideology, a mentality and a brand that we really want the defensive line to try to represent. Last year, obviously, you're trying to allow guys to learn a scheme, get comfortable with scheme, build a brand and identity and get ready for opponents for the regular season. So it's just a little harder to get some of the minutiae, some of the philosophy, some of the ideology … you're really trying to make sure that can execute a play right."
While Okam is a new face as the defensive line coach for the Panthers, he is not a new face in this role under Phil Snow and Matt Rhule, having spent two seasons as the defensive line coach at Baylor prior to joining them in Carolina, and that background working with and looking to develop younger athletes is valuable experience for a coach who is now tasked with taking a defensive line room that has seen seven players drafted into it over the past three offseasons, including five over the last two.
"You expect players to get better from year to year, especially players from their rookie year to the second season, when players make significant jumps in terms of their attention to detail and focus." explained Okam, "You really want to have a DLine that's tough, that's hard working, that's competitive and where they are competing against each other play in and play out to try to make plays and impact the game. I think that we had so many young guys last year, they were just trying to figure out if they could play in the NFL. And so, after a year of being in the NFL, they're more comfortable in themselves in the situations and really can try to play the game the way we drafted in the first place to be dominant game-changing type players."
While the Panthers' defensive line will succeed or fail as a group, a lot of attention is naturally going to fall on getting the most out of the Panthers two young stars. While Brian Burns narrowly missed out on Pro Bowl honors a year ago, and looks to be on the threshold of becoming a genuine league-wide superstar at the age of just 23, and while neither he or the coaches are going to rest on their laurels when it comes to his technical development, Okam has been impressed with how Burns is developing as a leader as well as a player.
"He's a very talented player and when your talent kind of thrusts you in a spotlight, into that leadership role, it's on you now to own it and do something with it" said Okam. "To see the jumps he made from last year to this year, becoming more vocal, more demanding, calling guys out when they make mistakes and being an extension of the coaching staff is something that's really exciting. Because, once you get a situation where a player is taking that stand and setting the standard for the group in the room, it helps elevate everyone."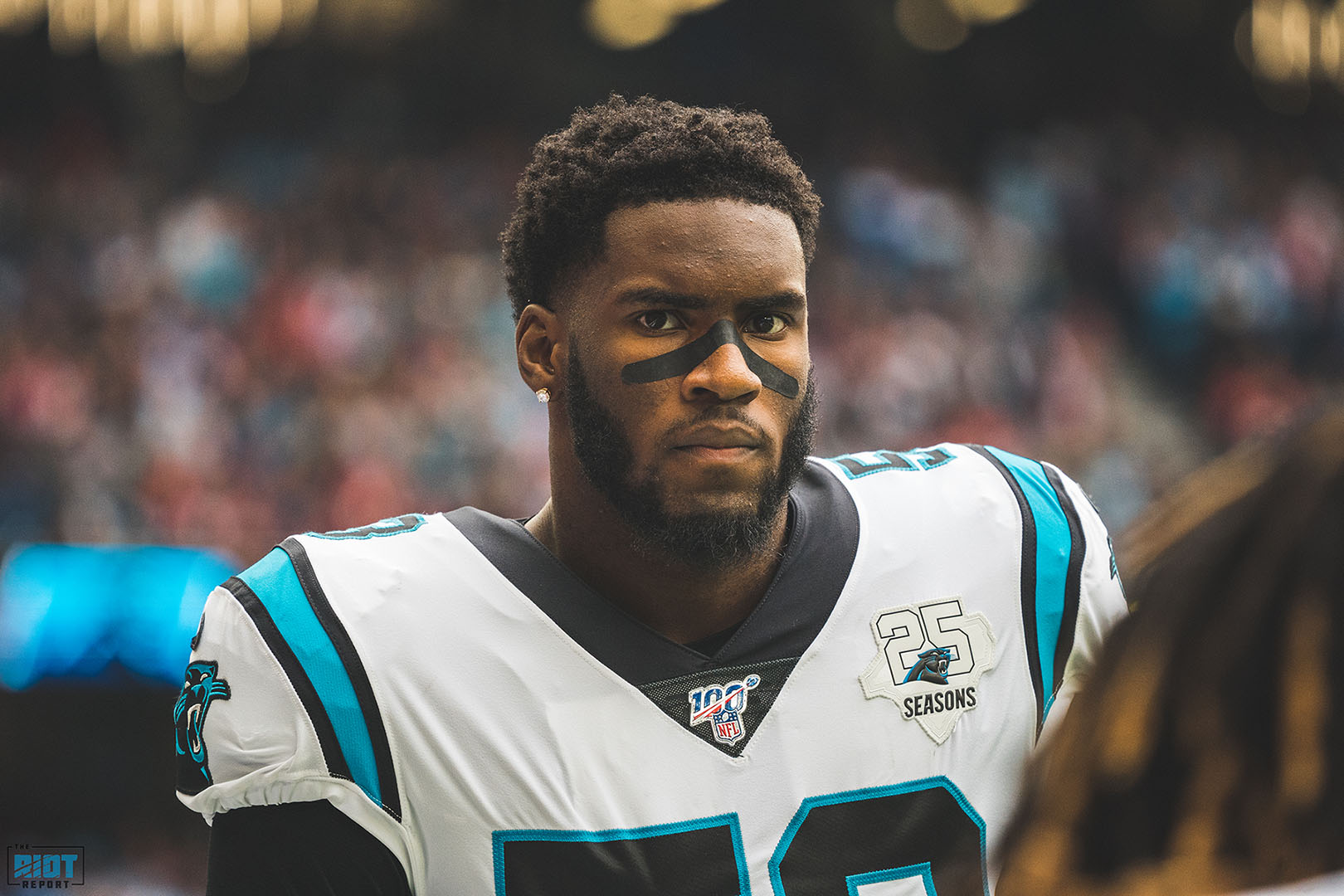 Burns will also get more help on the edge this year in the form of veteran pass rusher Haason Reddick, who not only played for Phil Snow and Matt Rhule at Temple, but is also looking to establish himself as one of the top young pass rushers in the NFL as the 26-year-old comes off a break-out 12.5 sack season in Arizona. For Okam, however, Reddick's decision to come to Carolina was helped not just by his connection to the coaching staff and the trust in being used to maximize his impact, but also the allure of playing alongside the likes of Brian Burns.
"Haason, he had a lot of options to pick his place and go where he wants and I think when you're trying to get guys to see your vision and join in, it doesn't hurt that you have Brian Burns opposite you" admitted Okam. "For his career, where he is where he wants to be, I think he made the choice that, that fits him and fits where we are right now. We can utilize him to show him in in the best way possible. And that's the goal."
Getting the most out of the two pass rushers is also something that Matt Rhule has talked about at various points this offseason, and while the Panthers will once again look to be multiple up front and give offenses different looks, in order to play with two relatively slight players on the edges they are going to ask their interior defensive linemen to do a lot of heavy lifting to make sure the Panthers are stout inside as well as highly dangerous on the edge.
"I think it can potentially stress the offensive line if those interior guys are really doing a great job there because now that leaves those guys on an island and their athleticism can show up" Okam explained. "Now just watching Haason Reddick go about his work that we teach every day. He's a Pro's Pro and he brings a very complimentary type of pass rush opposite Brian Burns that we're excited to see come to fruition. So you have a chance right there to have two athletic guys who have great speed. And hopefully two guys in the middle, that really collapse the pocket that can put some pressure on the quarterback."
A major component in this, understandably, is going to be second year defensive tackle and former 7th overall pick Derrick Brown, who impressed as a rookie in flashes last year, but who is now looking to take that next step to becoming and every-down impact player.
"Derek has become way more comfortable within himself; who he is, what type of play he wants to be; and this Spring so far I've seen him make huge technical strides that are really gonna help his game" explained Okam. "Just the ability to understand how to make the most of his size, how to rush and rush well. He's made vast improvement at that, in my opinion. His ability to collapse the pocket and finish, I think he always had the ability to collapse the pocket, but it's the point now where he's starting to finish some of those reps where you have us, the defensive coaches, excited about the possibility of what he could do."
The Panthers also have high hopes for the first of their 2020 second round picks, Yetur Gross-Matos, who is continuing to add weight to his frame (something the Panthers' coaches have been talking about ever since he was drafted) and has a chance to be not only a hugely impactful player for the Panthers, but also a very versatile one.
"Yetur has grown into a hunk of a man, he's gained some weight, he's getting physically more solid, and I think he's still scratching the surface of how big he can get. He's padding all this mass and not losing any speed and so that's what's really exciting about him because, when you have a guy who's six-five and then that long and who moves that well, he's gonna have a chance to be impactful whether it's as a interior pass rusher or true, solid, strong side defensive end" gushed Okam.
Brown and Gross-Matos's fellow second-year defensive tackle Bravvion Roy is also hoping to build upon a rookie year in which he saw a lot more of the field than expected due to KK Short's injury. While this came with some ups and downs, Okam is confident that having managed to keep his head above water in year one, he can now kick on and begin to make the most of the talent that he was drafted for.
"When you're a lower round pick like Bravvion was, one of the issues is confidence in his ability to play, I think the more reps he gets in the NFL, the more confident he'll be and I think you'll get to see a guy who's becoming more physical and starting to see some of the athleticism that we know he's got from Baylor show up at this level" explained Okam.
Similarly, the Panthers' 2021 seventh round pick Phil Hoskins (despite being listed at 280lbs on the Panthers' roster) has a chance to give the Panthers a slightly different type of bigger body inside.
"We drafted him to be a large nose tackle defensive tackle type body, he's about 300 pounds. He's a long, 300-pound kind of body type person" clarified Okam. "Six-five, great length, great power, great initial quickness I'm excited about what he can what he can do. I'm more excited about to see how he can be in Training Camp."
It is still a little unclear what the Panthers' rotation will look like up front, with a number of players competing to see playing time behind the expecting starting pair of Derrick Brown and veteran signing DaQuan Jones, but true to Matt Rhule's ethos of fostering competition for every spot, the Panthers can expect to have a number of options to choose between for the next big body on the field.
While the Panthers have a lot of big bodies on the interior and some quick-twitch edge rushers on the outside, something they are trying to roll over from last season is the success they had using strong-side defensive ends who can play 4-3 defensive end or kick inside to 3-tech in obvious passing situations. However, after losing KK Short last year a major priority for this offseason has been finding a more conventional 3-tech who can mix in with the strong-side defensive ends and bigger-bodied defensive tackles. Enter Daviyon Nixon.
"He's a different type of body type. He's more of the true traditional, as far as length athleticism and leanness level, three-technique. So no, he really isn't shaped like DaQuan and Bravvion and Derek and even Phil for that matter. He's kind of his own little his body type that is unique for our room" explained Okam. "So you get to see a kid that has the athleticism that we desire from that 3-technique position, see, a kid that has the length that you desire from that 3-technique position. So we're really happy to have him and it's really something for us to just help him become a pro as fast as possible, because I think he has a chance to really become that position in this league if he if he can figure it out sooner than later."
Nixon, the Panthers' fifth round pick from Iowa was expected to be selected somewhere on day two but landed in the Panthers lap towards the middle of day three. A former community college star who transferred to Iowa, Nixon has an immense amount of talent and with continued development has a chance to be a real difference maker for the Panthers as somebody who can add that something different to the rest of the defensive line room, though it could take some time for him to become the player he is capable of.
It's just the reps. When you're playing defensive line, no matter how old or young you are, when you have these young guys come in the NFL, into OTAs and the pads aren't on, you think you know what they're going to be like, but they won't really know until training camp" explained Okam. "I think that's really what he's gonna have to see the reality of 'Okay, these older linemen can do certain things that they can't do right now and learn and see those techniques executed so he knows and understands what we're trying to get him to get done'. I just think he needs the reps. And once you get the reps in training camp, realizes how fast and physical this game is, his athleticism, his ability will show up.
With all these young players on the roster, the coaching staff not only have their work cut out for them but are looking to the veteran players they have brought in this offseason to act as leaders in what is a very young room, a role which Okam says both Daquan Jones and Morgan Fox have settled into well.
"Morgan Fox just came in and he's been a Pro's Pro. He's done a great job of his vocal and physical leadership, him and DaQuan Jones together. And they've brought a vision because losing KK last year kind of hurt us as far as the stability of the room" admitted Okam. "Having that veteran leadership presence Those guys have come in and kind of taken that baton and they've carried it and ran with it. So they helped set a standards that helps build the identity that we're trying to build."
However, beyond simply being leaders on the field, Okam also appreciates how they are working as coaches on the field during practice who can help the younger players get things corrected without having to turn to the coaching staff.
"It's great. Any time you can have a guy that you say, 'Hey guys, this is how I want it to get done', and he can articulate it to a guy that's out there doing it every day who's confused on the coaching point, it allows people in our room to grow exponentially faster. it takes less time to help them understand the technique, to help them understand the coaching point and moves the room faster so you can move on to other things once they've mastered the base fundamentals and foundations" said Okam. " DaQuan and Morgan, they definitely helped us speed that process up faster than anticipated. So it's great having those guys in our room. They add so much value."
Training camp is a hugely important step for every position group on every team each year, but for a young group like the Panthers' defensive line with a new position coach like Frank Okam, the Panthers' trip to Spartanburg this year offers a chance to make huge strides towards being the dominant unit they hope and expect this group can become for the foreseeable future. Underneath the competition and growth that will hopefully be visible on the practice fields this August, however, lies the hard work the Panthers' have already put in this Spring, as Okam explained.
"That was a big emphasis for us this Spring; the fundamentals, the foundations of the basic things that you do every single day, mastering that so we can continue to layer on top of that day by day."
Player development is far from a trivial exercise, and the challenge Okam faces in trying to get the best out of this young group cannot be understated, but there is certainly no lack of talent to work with among the Panthers' defensive linemen. As the Panthers look to take a step in the second year of the Matt Rhule era, a major part of that will be the continued development of the Panthers' young defense, and in turn their young defensive line.
If Frank Okam's optimism based on what he has seen through OTAs and minicamp can come good in the regular season, then there is a lot for Panthers' fans to look forward to, both for 2021 and beyond.
(Top photo via Carolina Panthers)