We've known for months that the Carolina Panthers of 2020 would look different than they have in the past – new owner, new quarterback, stars of the past gone to either other teams or retired will all be things that fans will have to get used to in 2020. But with the state of the world and the coronavirus pandemic still gripping the nation and throwing all events, sporting and otherwise, into question, the NFL is taking all precautions to ensure that their fans, players and staff members are safe, weighing a delayed start to the season or playing in front of empty stadiums as they begin to plan in earnest for what a season might look like with the final offseason event, the NFL Draft, now in the rearview mirror.
The reality is that even though the NFL still plans to release their 16-game, 17-week schedule on May 9th, no one really has any firm or concrete answers – which is why it's so imperative that alternate plans are put in place.
After NFL writer for NBC Sports' Peter King's suggestion that the NFL could be looking at either a 12- or 14-game schedule – with the ability to remove the first two or four games in September – earlier this month, an article in Monday's Sports Business Journal prognosticates a season that would open Thursday, October 15th, eschew a bye week, Pro Bowl and the week between the conference championships and the Super Bowl and have the Super Bowl in Tampa on February 28th, with keeping the big game within February a priority.
That's similar to a shortened seasons suggested by King:
"Spitballing: A 14-game schedule could be as simple as the league assigning every team one home and one road game on the weekends of Sept. 13 and 20, and if the season couldn't start till the weekend of Sept. 27, those first two games could simply be lopped off the schedule, and each team would be left with seven home and seven road games," King wrote. "A more radical idea, if the season couldn't start till mid-October: Opening night Oct. 15 at Kansas City, opening weekend continues on Oct. 18 and 19, a 12-week regular season, no byes, final regular-season games on Jan. 3. In that case, imagine the NFL scrubbing all preseason games and having training camps, likely closed to the public, beginning in early to mid-September.
"That's five months from now. So much can happen to affect the schedule, obviously."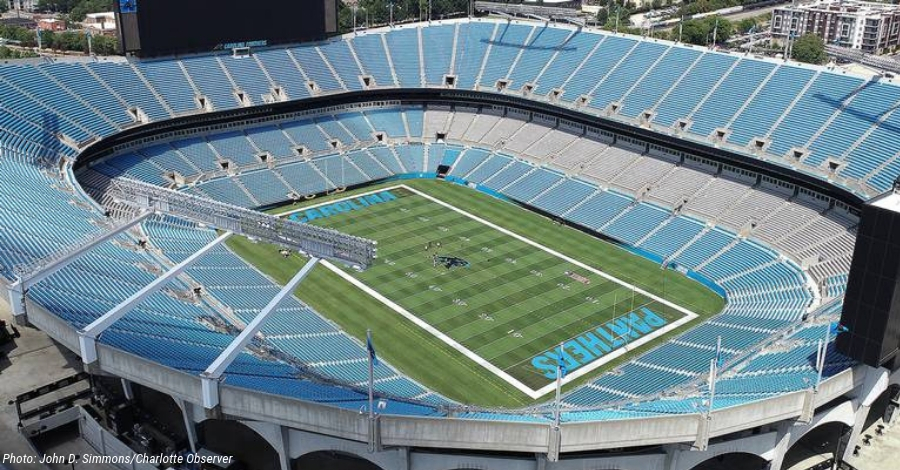 The thought of having 70,000 screaming fans in the same place without a vaccine for COVID-19 in place seems unlikely, and even though other leagues like the NBA and MLB are thought to start sometime in the next few months, neither is expected to have games played with fans in attendance.
The NFL seems intent on having a season, even if it's an odd-looking one – there are literally billions of dollars in television revenue at stake, not to mention a government that will likely push to re-open and begin to establish some normalcy – but the logistics of whether or not Bank of America Stadium will be devoid of fans, open to fans in a limited capacity or a full crowd remains to be seen.
Decisions about training camp – the weeks at Wofford have always been open to the fans – will also have to be made at some point.
Yes, a season without fans is obviously not ideal – teams would lose out on ticket revenue, season-ticket holders and PSL holders who had already made prepayments would be frustrated, home teams would lose out on the advantage of thousands of screaming fans and those fans would lose out on the experience of getting to see their favorite teams in person.
But at least there would be football – and that seems to be what the NFL is striving for, even if it's not quite the football we're used to seeing.
"One thing I've learned about what we are going through as a country is you can't tell a week from now, much less three months from now," Goodell said on Good Morning America. "So, our job is to be ready. We will obviously be ready to make alternatives."
The truth is, they don't know – and neither do we.
So the only thing left to do is wait.