When Ron Rivera hired Norv Turner to be his offensive coordinator, he knew what he was going to get – at least what he hoped he would get.
He knew he was getting a friend and a confidant – Rivera was defensive coordinator under Turner in San Diego; he knew he was getting a mentor – Rivera says he's already leaned on Turner in his time here and Turner is helping him grow as a head coach. And he knew he was getting a quality offensive mind, a "brilliant" play designer and playcaller – someone who could use all of the pieces on the Panthers offense from Cam Newton to Christian McCaffrey to Curtis Samuel.
Sometimes you get just what you want.
"He's doing exactly what I'd hoped he was going to do for us," said Rivera this week after the Panthers put together their second consecutive electrifying offensive performance – the Panthers used two touchdowns each from Christian McCaffrey and Curtis Samuel to put up 42 points on the Tampa Bay Buccaneers; Turner's offense has scored 99 points in their last nine quarters and now that the Panthers have remained relatively healthy, the picture Rivera and Turner saw before the season began is beginning to come into focus.
"I think continuity of the guys we have in there, especially at the skill positions," center Ryan Kalil said about the Panthers offensive explosion over the past two weeks. "We've been getting a lot more repetitions through the season and then obviously through the practice week, so I think anytime you do that, it makes for better football. Honestly, a lot of those plays, we have so many moving parts – a lot of it is timing so when we're able to rep those things full-speed with the same guys, it's been very helpful."
Their offensive production has long come from unorthodox places – anytime you've got Cam Newton on your team, that's going to be the case. But this year has been even more unorthodox on offense as the Panthers lead the NFL in rushing yards by non-running backs with 533 yards and six touchdowns – DJ Moore (117) has the most of any wide receiver and Newton (342) has the most of any QB; Turner is not just using the versatile pieces on this offense to great success, he's putting them in the correct position to be successful.
Moore already has set the franchise record for most rushing yards by a wide receiver halfway through the season.
The constant misdirection and ingenuity on offense has the Panthers averaging 27.5 points per game, the second highest average in franchise history behind the 2015 season.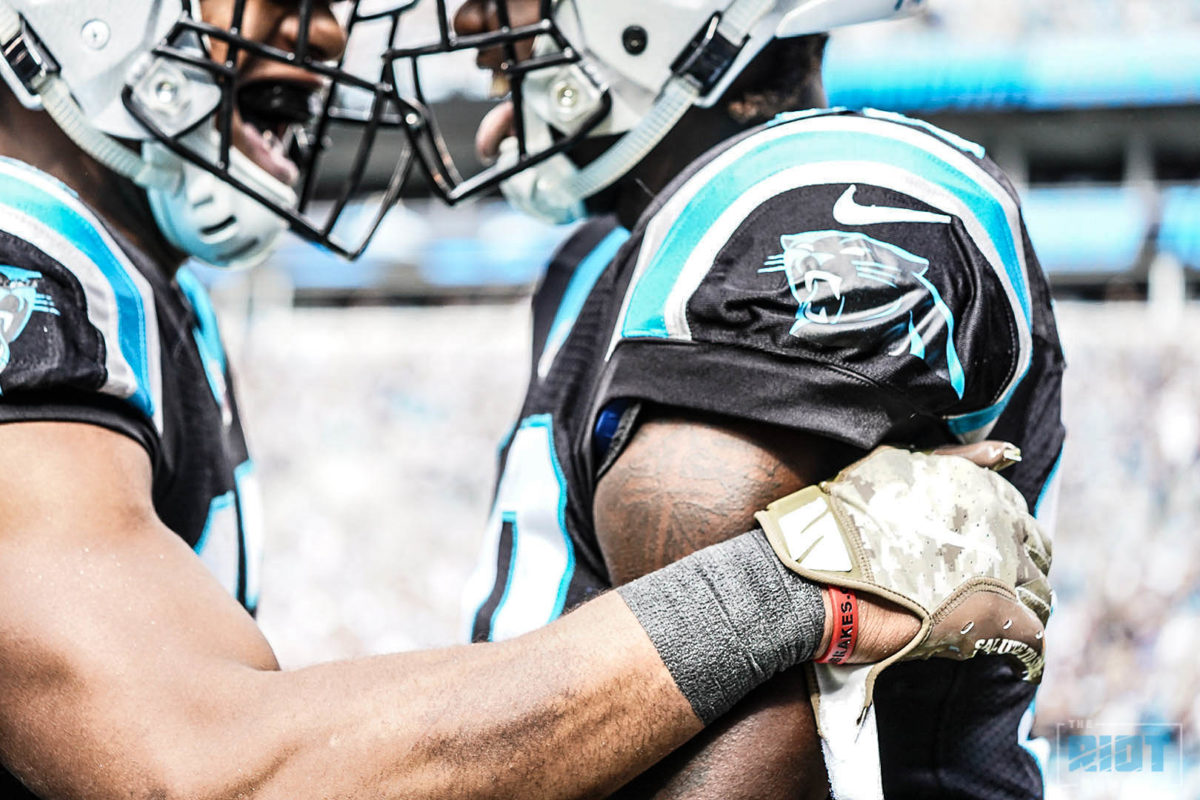 "I think the biggest thing when you look at it, we use the right kind of guys," said Rivera. "As far as creating things and putting things together, we're taking advantage of those types of guys and we are putting them into position to have success; when you look at the offense and see the things that happen, you see the very steady players. You see Greg Olsen – very steady. You see Christian McCaffrey – very steady. You see [Devin] Funchess being very steady, Jarius Wright. We have a couple of dynamic young guys who can be explosive, which we see."
"Then, who knows what will happen next week. Somebody else may step up."
The Panthers have used 106 different lineup combinations in 2018
This week against Tampa Bay, it was Curtis Samuel's turn to step up as he scored twice on only three touches – last week it was DJ Moore who had 129 total yards. One of the reasons the double reverse to Samuel worked was because of the reverse that Moore had been so successful earlier in the game; Moore's reverse went for 32 and set up a score.
Samuel's went a yard longer and finished in six.
"It's always fun to have to have those in the game plan. We just know when they come up we've got to go execute it and make the play that we do," Moore grinned in the locker room. "We joke about who's going to go off that day, so he got his chance to go off so I was happy for him."
Rivera was a little bit more analytical in breaking down the effects of a reverse on a double reverse.
"You do things not just for the moment but you do them for the future as well," Rivera said. "I think really good playcallers do that, they have enough foresight to think about what's coming next – that was one of the things that I was always impressed with with [Turner] when I was with him in San Diego, how he always seemed to be a playcall ahead."
And Dirk Koetter had the most cynical look of all after his defense chased the Panthers weapons all over the field for most of the first half.
"You're worried about Cam and what he can do with it. You're worried about McCaffrey. They don't send you a text message and let you know they're going to run a reverse on the next one."