Last week in San Francisco, the Carolina Panthers and their defense allowed an opportunity to legitimize themselves as a contender in a crowded NFC slip right through their fingers. But compared to some of his peers, edge rusher Brian Burns might be forgiven for the fact he only had five at his disposal.
After undergoing a bye week procedure on his right wrist, injured in Week Four against the Houston Texans, the Panthers' first-round draft pick and exciting rookie pass rusher was forced to play with his hand wrapped in a cast in Week 8's matchup with the 49ers. And in turn, Burns' impact on the game was muted: between the club on his hand and the lack of pass rushing opportunities in general, he would play only 33% of Carolina's 67 snaps on defense.
The situation, as it stands, is a blemish on what has otherwise been a very good rookie season for the No. 16-overall pick in the 2019 Draft. Near the midway point of his first NFL season, Burns has made 15 combined tackles, has had at least half a sack in all but two games for a total of 4.5, and also has forced a fumble and returned a fumble recovery 56 yards for a touchdown.
Knowing what he's done to date, Burns has had reason to be pleased with his first seven games. And yet, entering Week 9, he spoke the words of a player who knows there's more that he could have and still can do.
"First half was good," said Burns on Thursday. "Little slight setbacks, but nothing too serious – other than I'm not satisfied."
Considering his draft billing combined with the Panthers' immediate need for someone young and versatile to breathe new life into their pass rush, Burns has done well to give his team immediate returns. And yet, he freely admitted that he has left things on the field – specifically, sacks and tackles for loss that he just missed out on.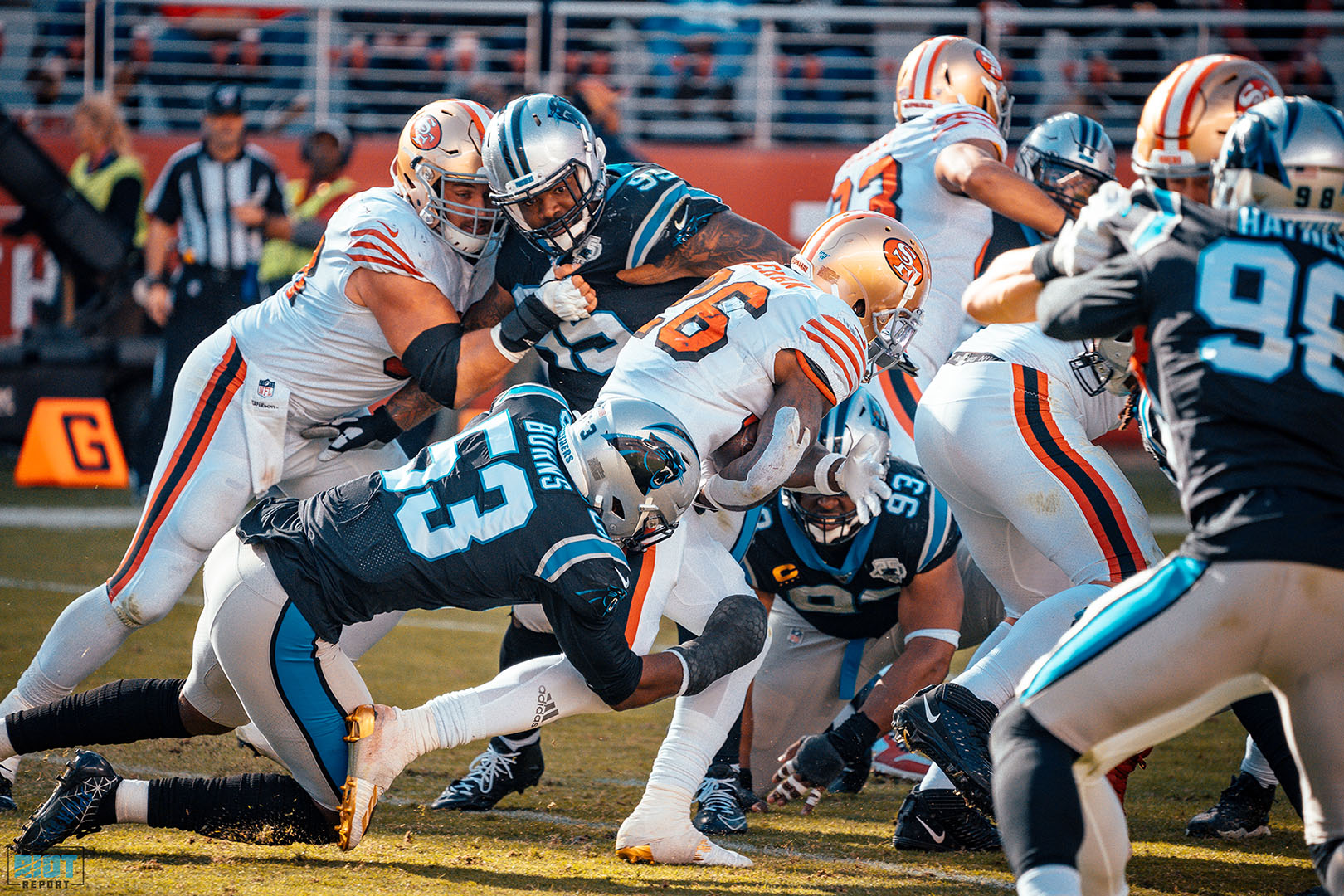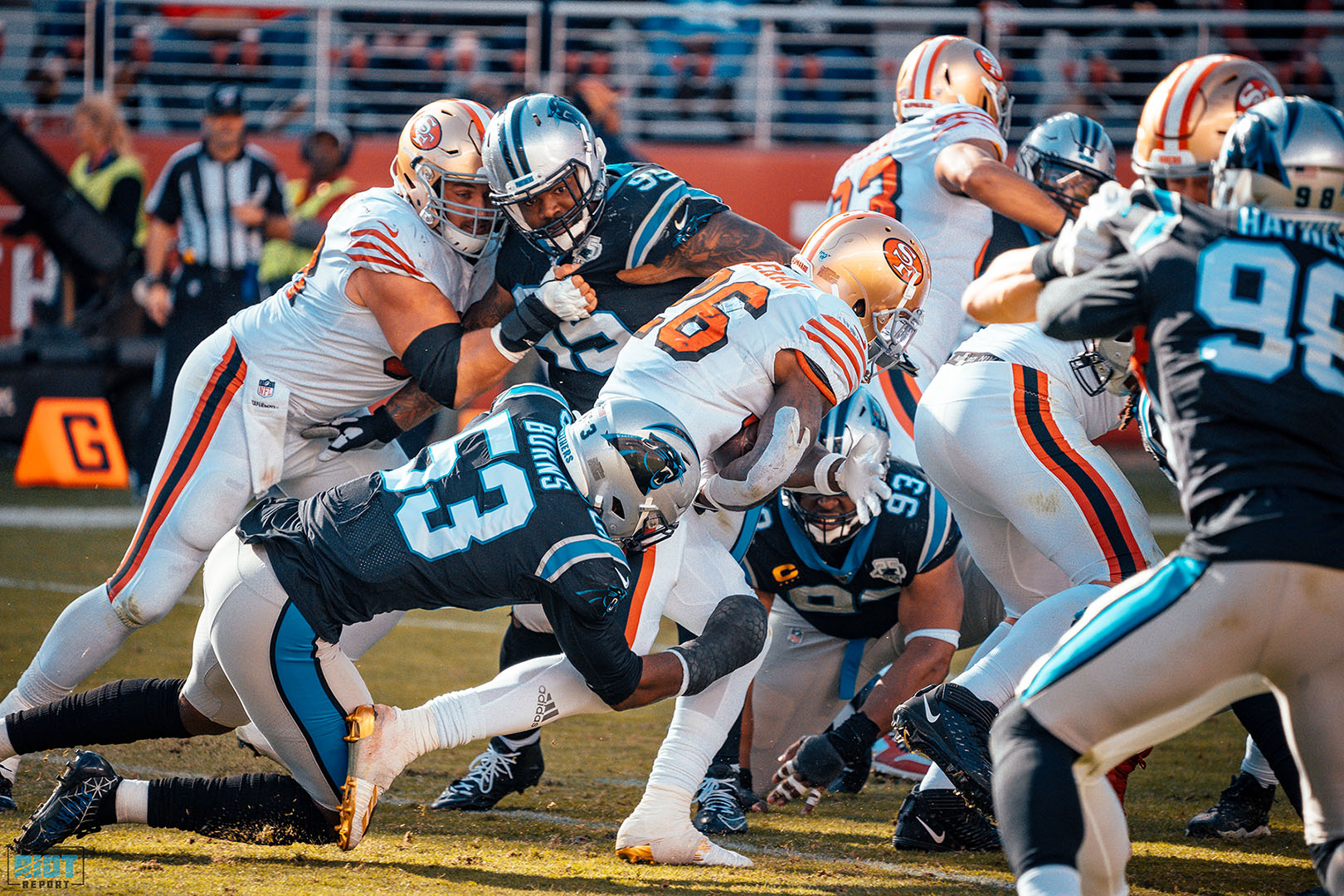 But in saying that, Burns knows that he could certainly be in a worse place as a first-year player. And in the eyes of one of his teachers – defensive coordinator Eric Washington – Burns has been an exceptionally quick study compared to most.
"In my experience, it's been one of the more rapid developments that I've seen," said Washington of Burns' growth as a rookie. "Because normally, with guys that play on the line of scrimmage, the learning curve is a little bit steeper because they're playing against powerful, big, strong, NFL-caliber guys on every single snap. And so that takes some getting used to – regardless of what you've been able to establish in college."
In a certain sense, Burns having to learn to play without the full faculties of his hand is reflective of his overall learning experience as a pro. Going from college to the professional level, Burns is now in a situation where he is competing against players who are on the exact same level that he is. And with that, he has to learn how to play outside of his comfort zone and mentally steel himself to do so – his wrist issue forces him.
"You have to kind of push that to the side and almost imagine yourself competing just as effectively, but with a slightly different circumstance," explained Washington. "I was joking with Brian, I said 'Stop looking at your hand!' We would joke and talk about that: Forget about it, address it."
"And I'm not saying that's an easy proposition, but you have to make that quick adjustment and then find a way to stay within the framework of your fundamentals in your game with that new circumstance. The people that I've been around, pro football players as a whole, tend to make that adjustment."
Veteran edge rusher Bruce Irvin can't exactly relate to having to play with a club, as he has never had to in his eight-year NFL career. But beyond such matters, Irvin has proven to be a credible and valued sage to Burns among other players, teaching them the finer points of situational football, technique, and what it takes to truly live up to the title of professional football player.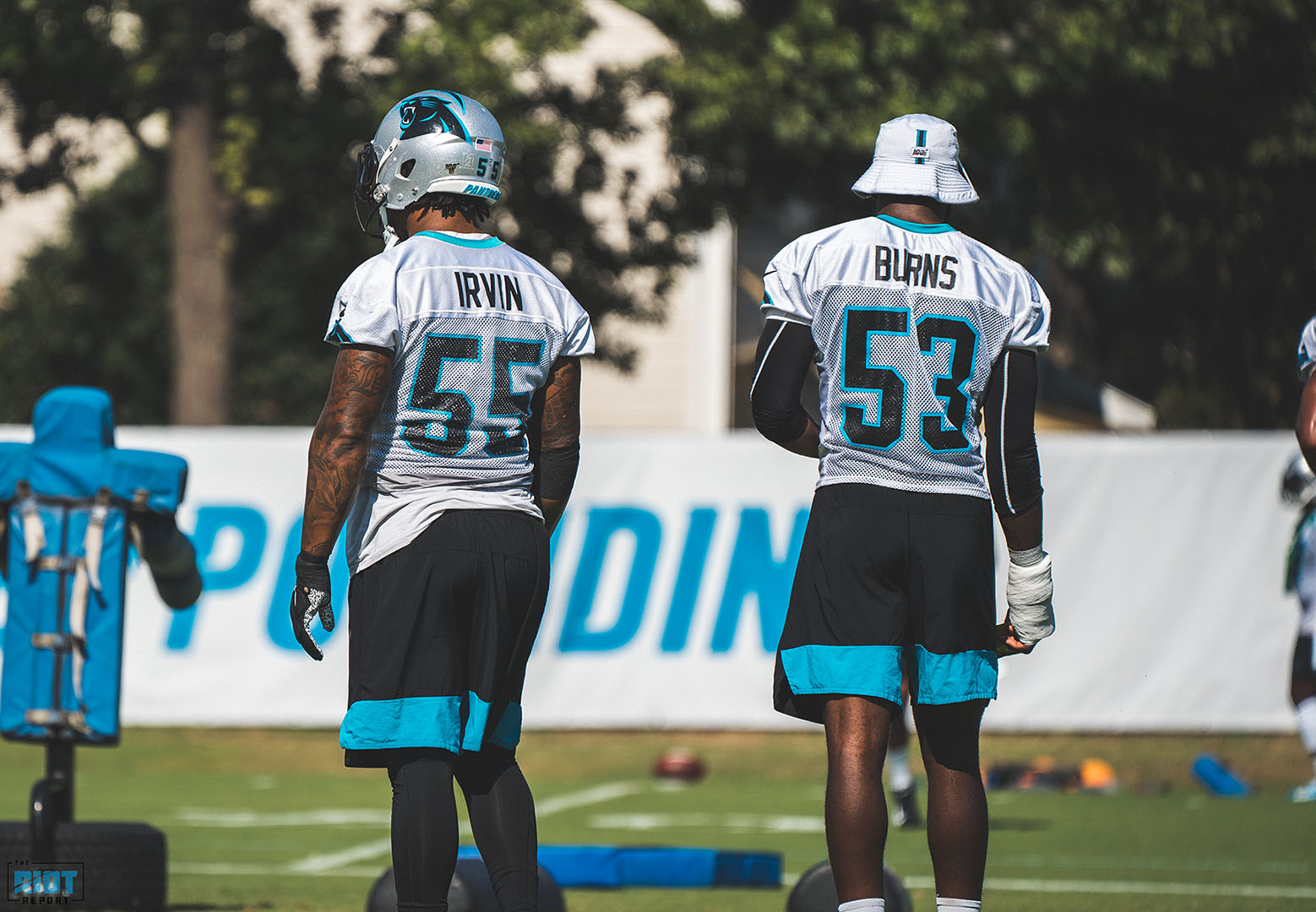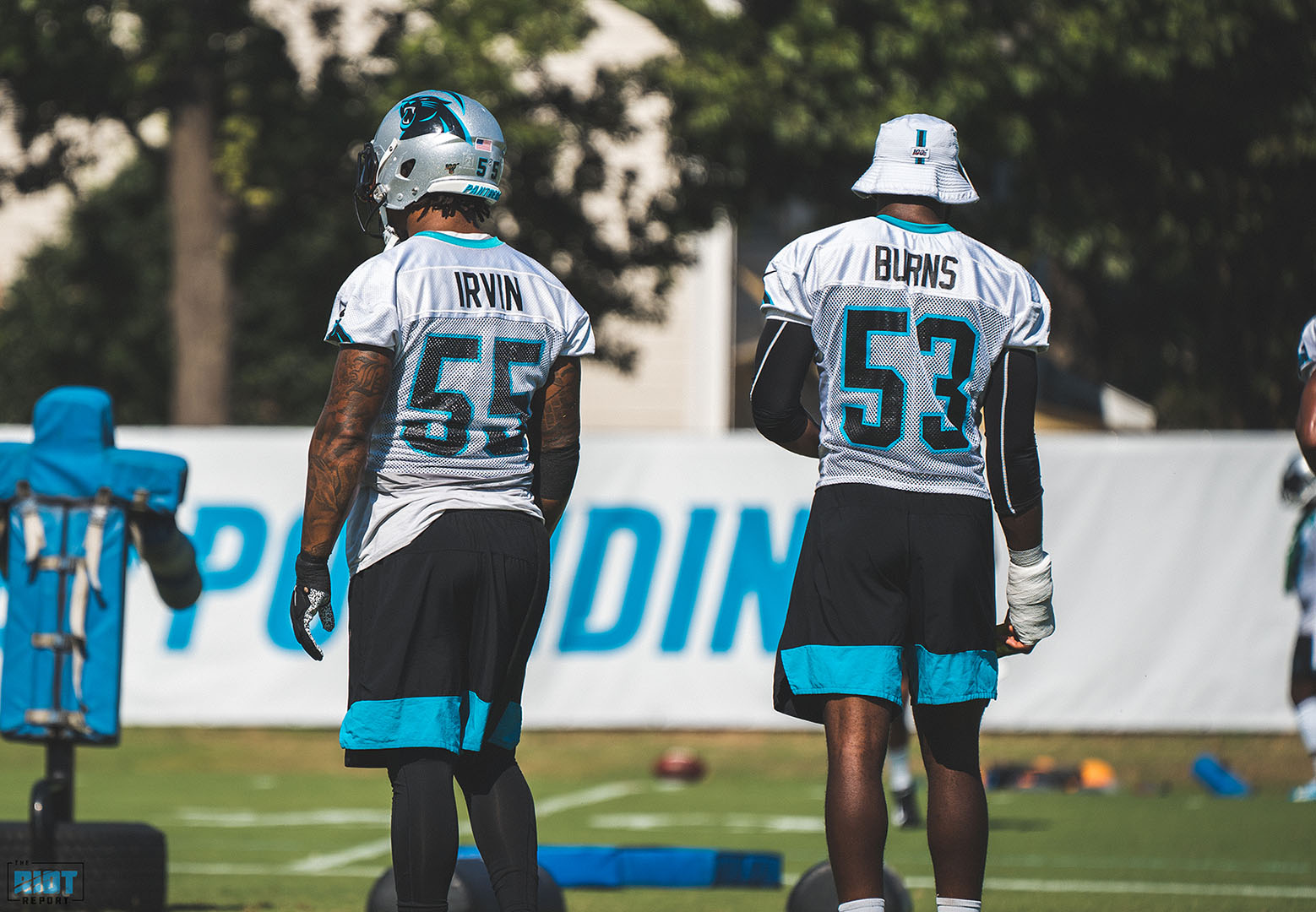 "I'm just trying to lead by example. Spread as much knowledge that I've gained in this league around to my young boys, and just show them that you win during the week," said Irvin. "You win in practice. You get sacks and work hard in practice, it translates to Sunday. So that's my biggest thing – leading by example in how I carry myself and how I play."
As the Panthers begin to become a younger football team across the board, one of the advantages that their less-experienced players have is the amount of veteran experience they can rely on to help guide them. In the quarterbacks room, Kyle Allen and Will Grier have been well-served by Cam Newton's guidance. Greg Olsen and Chris Manhertz are there for Ian Thomas at tight end, as are Eric Reid, Tre Boston, and Colin Jones for Rashaan Gaulden at safety. Among the outside linebacker/defensive ends, Irvin isn't even the only mentor for Burns to depend upon: Mario Addison, a Panther since 2012, falls into that category as well.
In the short and long term, those sorts of resources have an immeasurable impact on any young player who takes advantage of them. As Christian McCaffrey did in 2017, when he was the young buck in a running backs room that featured veterans Johnathan Stewart, Fozzy Whittaker, and Cameron Artis-Payne.
"We had such a good room," recalled McCaffrey. "I was very fortunate coming in as a rookie having Stew and Fozz and CAP and guys like that who were older than me, just to see how they went about their business in everything, life and football. I was lucky that I was put in a situation around a lot of good guys. They taught me a lot about football, about life, and I still keep in touch with those guys today."
"When you've got good leaders in your room, you kind of just naturally start to flock towards them. I was lucky to have them."
But in life, as well as in football, there are certain lessons that one has to learn for themselves. And throughout the past several days, that is what Burns has had to experience. His lack of playing time, relative to the Panthers' complete loss of control over the 49ers, left him frustrated and with a feeling that he could have helped make the outcome different. However, it was explained to Burns by his coaches that he was by no means given only 22 snaps for no reason.
"It's just mainly affected me as far as playing the run and grabbing. I mean, you can't really grab, you can't really keep contain," said Burns of playing with his club. "That's what the coaches [saw]. We talked about it, that's why they played me the way they did. And we couldn't really get into any passing situations, so that's pretty much why my snaps were so limited."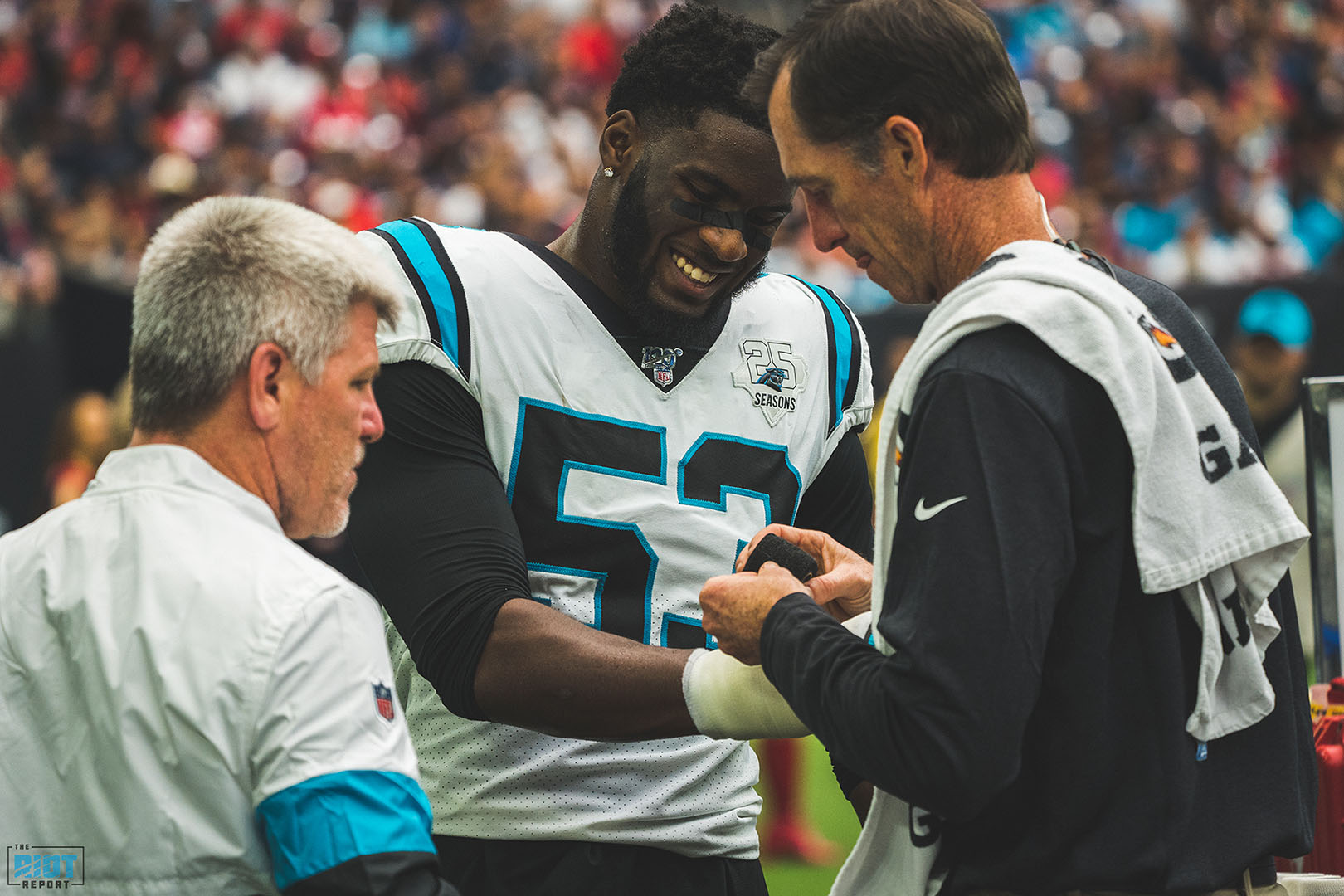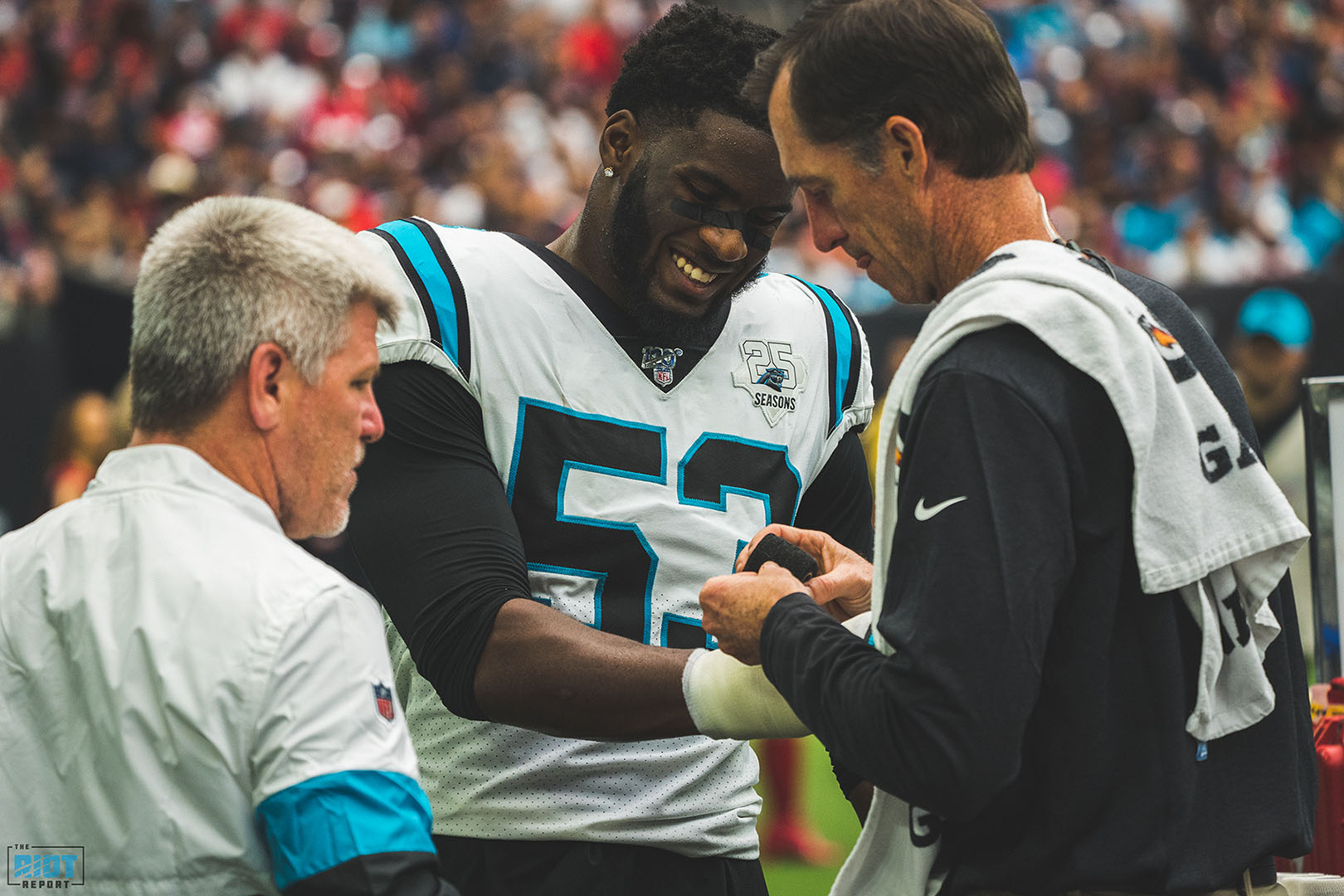 Fortunately for Burns, he won't have to wear something nearly so clumsy as a club for Week 9's game against the Tennessee Titans. Burns will now be using a more accommodating hand protector, which will allow him to use all except two of his fingers – in turn giving him the chance to grab and keep leverage the way he normally would.
Discussing Burns' situation, the comments of head coach Ron Rivera were reflective of perhaps the most vital lesson that Burns has had to learn through his wrist predicament: Knowing how to let on to how he is feeling, and help his team help him as he tries to make the best out of a less than ideal situation.
"He decided to have them club his hand, and he tried to go out and play with it. And I said 'If it's difficult, you've got to let us know. We've got to know how you feel so we can help you as well.' And he really appreciated that."
"He's such a good young player, and the more we can help him learn and grow and understand, I think the better he's gonna be. And I really do think he can have a very good career here, as a Panther, for a long time."