Now is not an easy time to be a Carolina Panthers fan.
Over the past month, two of the most beloved Panthers in the franchise's history announced they would not be taking the field at Bank of America Stadium in 2020. One will walk into the sunset, at some point trading in his fishing pole for a headset and clipboard and the other will attempt to grow a playoff beard in the place where he made his most iconic play in black and blue as he introduces another fanbase to beanies worn during training camp no matter the temperature. Not to mention the most beloved (or most hated, depending who you ask) player in franchise history's future is debated on a daily basis across social media despite new information coming at what could best be called a trickle.
If Facebook is perilous for a Panthers' fan, Twitter is downright terrifying.
Five of the six players featured on the 'All or Nothing' poster promoting the Panthers 2017 season are now officially gone – with the sixth still very much up for discussion – and the mood in Carolina is glum after David Tepper sent a letter to season ticket owners announcing that "sometimes you have to do a little tearing down before moving forward." Even the prospect of a brand new coaching staff highlighted by the hottest offensive coordinator candidate calling plays next season for Christian McCaffrey, DJ Moore and Curtis Samuel isn't enough to lift spirits of those who now must decide what to wear on Sundays as their 88, 59, 58 and 90 jerseys became throwbacks all in the span of two offseasons.
But rather than focus on the sadness of the end of this era of Panthers football, it would behoove us to remember just how much fun that era was.
Indulge me with a personal story about the time we ran a bar out of blue caracao.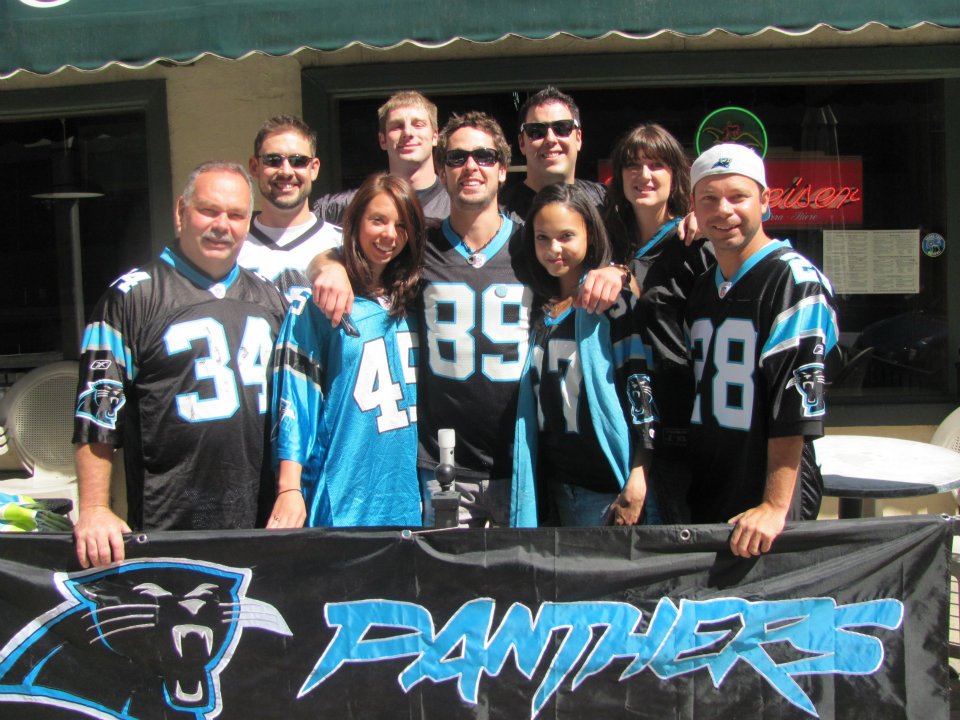 In 2010, I was a young Carolina Panthers fan deep in the heart of Broncos country in Denver. After spending the season suffering through the short-lived Jimmy Clausen era, including turning down free tickets to Colts-Broncos because I wanted to watch Pickles' first start live at a bar — that didn't turn out to be a great decision — my friend Joey and I were determined to find a place where we would be welcomed to watch the Panthers and their freshly minted #1 pick playing quarterback.
So I approached my favorite bar – when you're young, you know all of the bartenders at your spot – and asked them to open on Sundays and guarantee us the game sound. In exchange, we would bring at least a dozen "Panthers fans" – these would eventually be just our friends wearing jerseys we'd purchased on eBay – if they promised us specials of cheap Coors Lights and free blue shots every time the Panthers scored.
They balked at the free shots – who wouldn't? – but eventually acquiesced when I told them that the 2010 Carolina Panthers had scored only 17 touchdowns in 16 games – yes, that terrifying fact is sad but true. The owners told me later that inviting the Mile High Cats, as we came to be known, was one of the best business decisions they'd made as the bar was packed to the gills each Sunday for years afterward…but that was a couple of years after Cam Newton and Steve Smith ran them out of blue liquor that first Sunday because they poured us so many shots.
Cheap vodka and blue caracao was flowing when Cam Newton went over the top to Steve Smith a 77 yard touchdown. They were heavy on the mixers when Smitty had his second score and by the time Cam scored the first rushing touchdown of his career, the bartenders were already talking about how they'd have to transition to Jell-O shots for Week 2.

I had to look up the score of that game (the Panthers lost 28-21) – because it didn't matter whether the Panthers won or lost, all that mattered was that there was something to cheer for. Hope. Excitement. I don't remember the loss, I only remember the screams of delight from even the non-Panthers fans when Newton somersaulted over the top for a touchdown from a yard out.
I remember sitting at the same bar a couple of seats down when the Panthers selected a linebacker with a last name I didn't quite know how to pronounce in the next year's draft. I also remember feeling like the upper deck was going to collapse when he returned an interception for a touchdown in the NFC Championship a few years later.
I remember walking into work the Monday after the Panthers dismantled the Cowboys on Thanksgiving – I was living in New York then, my bartending days already behind me – wearing a Panthers tie and everyone congratulating me on Cam and how funny it was when he did the twist.
Or Graham Gano's 63-yard field goal to beat the Giants. Or Josh Norman's feud with OBJ. Or silencing the 12s in Seattle. Or one of any other of the hundreds of touchdowns over the past nine seasons.
So don't tell me the past nine seasons have been a waste. Don't tell me that you'll never forgive the organization for not providing Cam with weapons or not finding a left tackle to cover his blind side. Because that would mean the good times didn't happen – sports are supposed to be fun or else there's no reason to watch. 31 teams don't waste their time every season because they didn't win the Super Bowl.
Ask 49ers fans if they think this season was a waste. Ask the kids who get the Sunday giveaway. Or the family who drives 700 miles to attend training camp.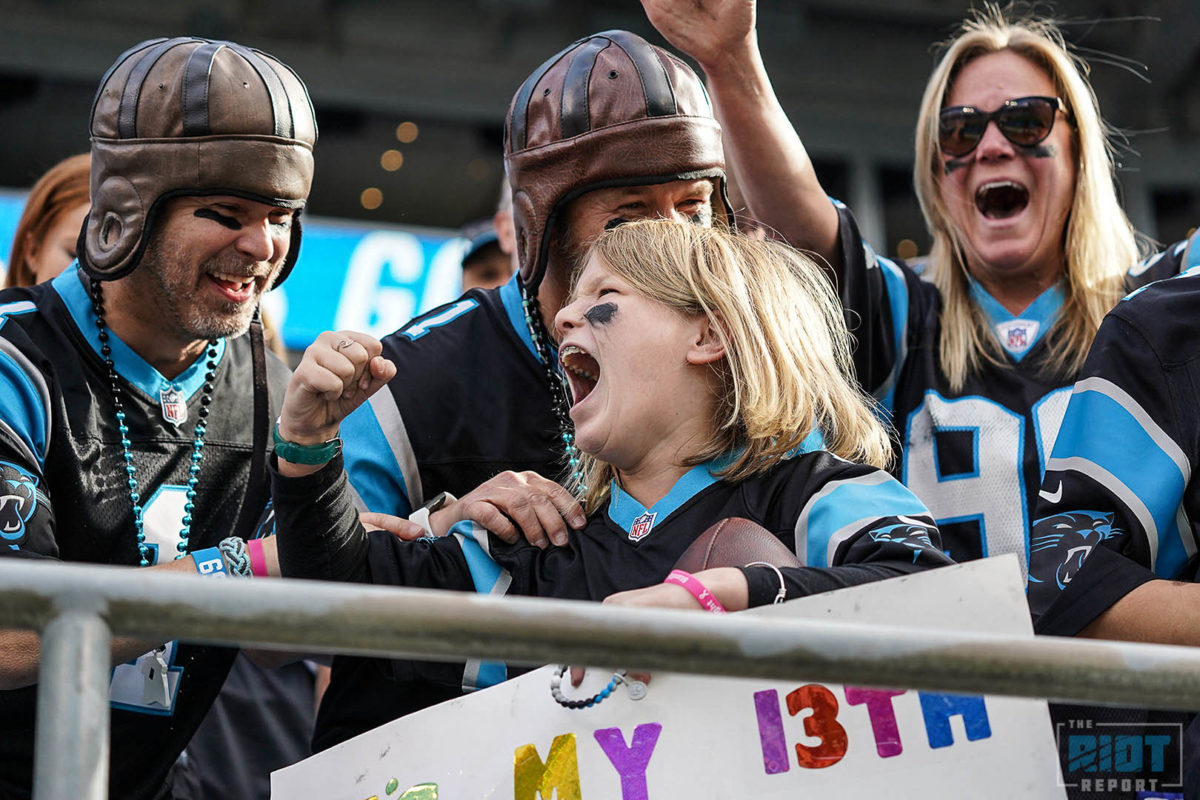 Because sports echoes life – you don't get the good without the bad. Keep Pounding is etched on the collars of the fans' jerseys just as it is on the players'.
The Panthers wouldn't have been able to select Cam Newton #1 overall without the terrible 2010 season. There would be no Luke Kuechly without the struggles of starting a rookie quarterback with a rookie head coach. That first long touchdown pass to Steve Smith wouldn't have felt like such a cathartic moment had there not been some demons to exorcise.
So, yes, this is going to be a long offseason – it already has been. You are probably going to get sad. And angry. And upset. It's probably going to continue into next year and perhaps even beyond.
There is no guarantee the rebuild will be swift, but the longer the suffering, the sweeter the success. Being a fan means being a fan during the bad times as much as the good ones.
"Do you think I can promise to anybody that things are going to be great in one year? Do you believe in the tooth fairy? Santa Claus? Which guy do you like?" Tepper asked after relieving Ron Rivera and his 'long-term medocrity' from the organization. "If you don't think I have to build something long term, if you don't think it takes time to build something great, if you think something great gets built in one second, then that's wrong. You shouldn't expect it, fans shouldn't expect it.
I'm not talking about one year, I'm talking of a standard that will be built and sustained, OK? Built and sustained. If the fans are expecting something to be miraculous next year – listen, it could happen. Maybe, you know, it's that good, but you can't count on that. There has to be a degree of patience to build sustained excellence. I'm going to say that again – sustained excellence. You say five years? Listen, you want to wait five years for sustained excellence? You think people will wait five years for sustained excellence? For 20 years of winning seasons? They better, if they want that. You're not going to get immediate gratification."
You cannot rebuild without a foundation – if you embrace the delay, it will make the gratification that much more satisfying.