In 2020, an entire generation of Carolina Panthers fans became wise to just how the other half lives.
Throughout the last decade, fans across the Carolinas turned on their televisions or took their seats at Bank of America Stadium not having to question whether or not their team had "the guy" at quarterback. In the prime of his Panthers career, Cam Newton was among the elite quarterbacks of the NFL and one of professional football's biggest stars. With Newton's larger-than-life persona and MVP-caliber play, the anxieties experienced by fans of teams who don't know if they have a franchise quarterback – or very clearly don't have one at all – became a distant memory for some and a complete unknown for others.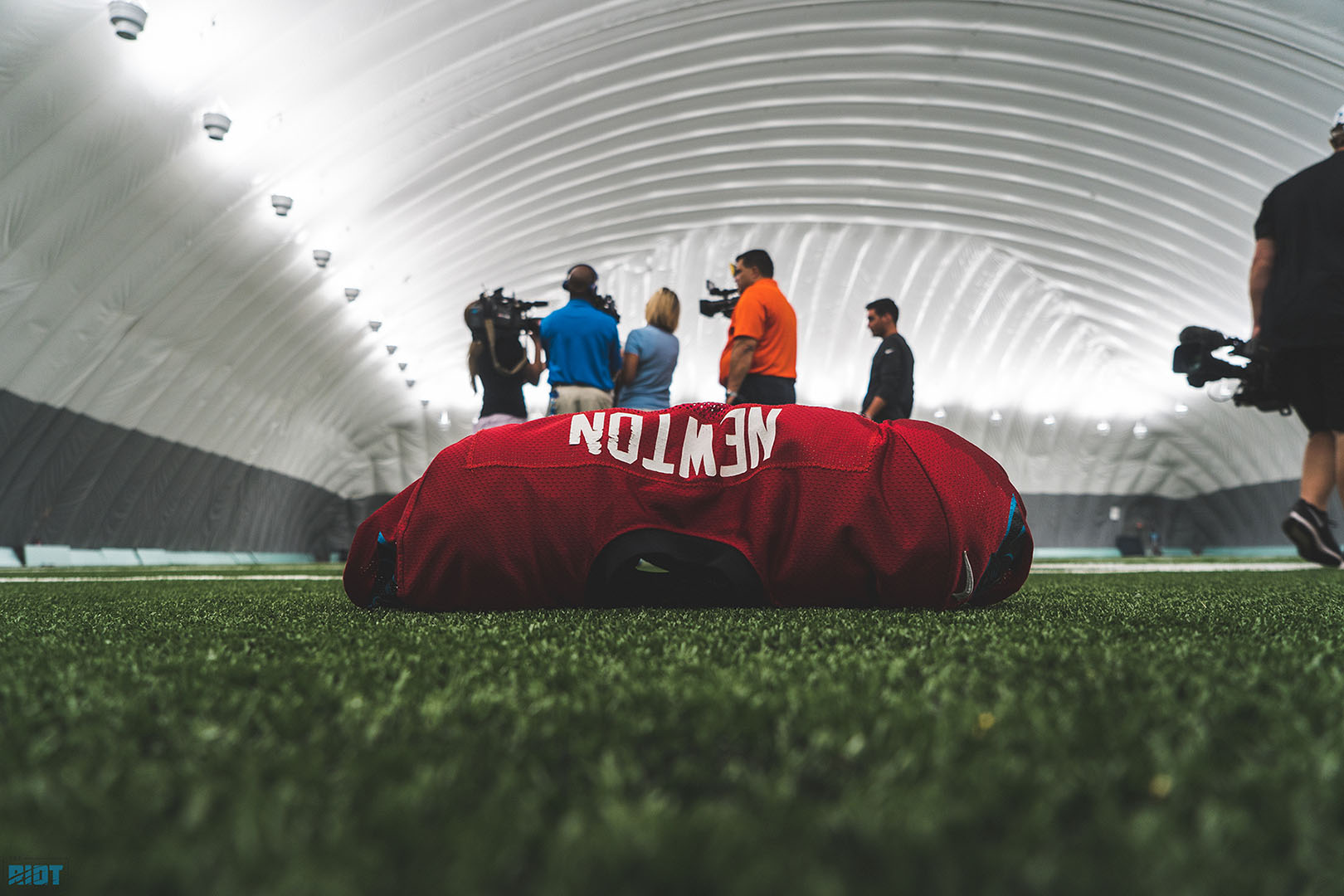 But after nine seasons, the Panthers – right or wrong to do so – released Newton after two lost seasons and a mounting injury history for the 2015 NFL MVP. And in doing so, they went from the comfort of knowing they had their quarterback to having a quarterback.
The difference between the two was obvious in Week 17: At the end of his first season with the team, Panthers quarterback Teddy Bridgewater closed 2020 with a dud, throwing two interceptions, fumbling twice, and posting a quarterback rating of 44.8. Despite a sparse crowd limited by additional COVID restrictions in Uptown Charlotte, the angst that had mounted over Bridgewater's performance boiled over online, with fans demanding something – anything – other than the journeyman they had signed to a three-year, $63 million contract to replace Newton in free agency.
True to the old "and do what?" question, posed by former Raiders CEO Amy Trask on the subject of pro football firings and benchings, the rest of Carolina's 33-7 season-ending loss showed they have little viable alternatives: P.J. Walker was even more woeful than Bridgewater, completing just five of 14 passes while throwing an appalling three picks. The other QB on the roster, 2019 third-round pick Will Grier, hadn't been active since Week 5.
Matt Rhule didn't mince words in his final press conference to close the season about his starting quarterback, declining to announce Bridgewater as even the starter heading into 2021.
"I think Teddy played well early on in the season," the first-year head coach explained. "I thought the middle part of the season, we still showed flashes of that. I'd say, really, the last month of the season, both offensively, I don't know that we've played real well, and I don't think Teddy's played his best football. I personally feel like ever since he got hurt in the second half of the Tampa Bay game, Teddy hasn't played his best ball.
"So for us, we have to evaluate our total offense — the players, the schemes — at every position, including Teddy. Teddy has to have a tremendous offseason."
With the season now over, the options the Panthers have to address the quarterback position are now once again open to them. And like any other team in their position, there are three major avenues the Panthers can pursue in finding their next great field general to carry the Panthers to new heights in the 2020s.
The Draft
View this post on Instagram

The most exciting and tantalizing avenue – but also the one with the most risk – is to use their first round pick in the NFL Draft on a quarterback.
Such is a method that has served the Panthers well before: Kerry Collins, the fifth overall pick in the 1995 Draft, had a productive and generally successful career – though he only lasted four seasons in Carolina before serious issues with alcoholism ruined his once-promising start with the team. Cam Newton, the first pick in 2011, became one of the Panthers' most iconic players ever and needs little introduction.
This year, the apple of the NFL Draft's eye – local favorite and Clemson Tigers quarterback Trevor Lawrence – is likely out of the Panthers' reach with the number eight pick.
But there are several other viable options that could very well be within Carolina's grasp.
One of the hottest names among prospective 2021 NFL Draft quarterbacks has been BYU's Zach Wilson, who has shot up Mock Draft boards thanks to a 2020 season where he completed 73.5% of his passes for 3,692 yards with 33 touchdowns and just three interceptions. Wilson's rise has coincided with Ohio State's Justin Fields losing some of his, but the Buckeyes' quarterback did a lot to help himself with a gutsy performance in the Sugar Bowl.
Battling through injuries to his ribs and hip, Fields threw for 385 yards and a whopping six touchdowns as Ohio State stunned Lawrence's Clemson team to advance to the National Championship Game.
By virtue of strong seasons of their own, Alabama's Mac Jones and Florida's Kyle Trask have also been put in the picture of first round consideration. North Dakota State's Trey Lance is also an option, but he presents far more of an unknown: the Bison postponed their 2020 season, with Lance receiving only a one game showcase in a 39-28 victory over Central Arkansas.
Pursuing a quarterback in the Draft will be by far the most exciting and confidence-inspiring move for Panthers fans, especially those still looking for a new hero after the end of the Cam Newton era.
"In regards to Draft and players and all those things, we'll look at every opportunity to have the best we can have at every position," said Rhule. "And that includes quarterback."
That the Panthers will find their next great quarterback in the Draft, however, is hardly guaranteed. Far from it.
The NFL Draft has a long history of first-round quarterbacks who didn't turn into franchise saviors, and the past several years have served no exception. Mitch Trubisky, the second overall pick out of UNC in 2017, has been saddled with the unfortunate distinction of being drafted over Patrick Mahomes and Deshaun Watson with little to show for it. As well as Baker Mayfield, Josh Allen, and Lamar Jackson have served the Class of 2018, Sam Darnold and Josh Rosen are two cautionary tales.
And the Panthers' Week 16 victory over the Washington Football Team proved the end of the Dwayne Haskins error – The fifteenth overall pick in 2019's miserable play, combined with poor work ethic and immaturity off the field, resulted in head coach Ron Rivera cutting him just shy of the end of his second season.
While the possibility of failure shouldn't scare the Panthers off from drafting a QB, the circumstances of Collins, who was "called a racist, a drunk, and a quitter" by the end of his Panthers career in 1998, should make them wise to what can happen if their evaluations of a quarterback are off by even a smidge. As should the failure of 2010 second-round pick Jimmy Clausen, who went one-and-done as the Panthers' starting quarterback in one of the worst seasons in franchise history.
Free Agency & Trades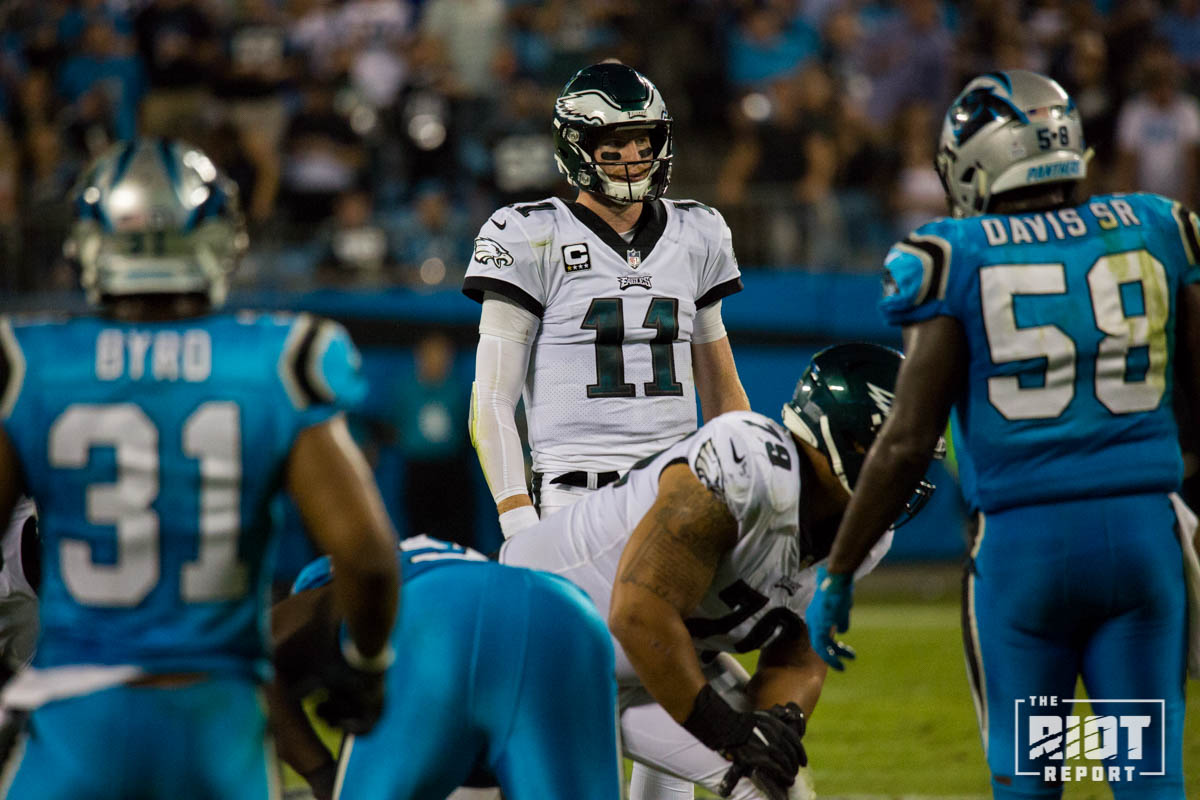 Considering that free agency is the avenue they pursued to add Teddy Bridgewater last year – not to mention their cap situation in 2021 – it's highly unlikely that the Panthers will have another go at looking to an active NFL quarterback for their starting job. But just for the sake of argument, what could be an interesting quarterback market should be examined.
If Matt Rhule and the future general manager of the Panthers really want to take a risk, two prominent quarterbacks could end up available to the Panthers through trade. Philadelphia Eagles quarterback Carson Wentz is a top option, as a 2020 soap opera that featured his alarming regression and eventual benching has led him to reports that his relationship with head coach Doug Pederson is "beyond repair" and that he will request a trade this offseason. Despite the many issues Wentz had this past season, the memory of him playing at an MVP level in 2017 will likely still be enough to fetch the Eagles a high price should they opt to part with him.
The aforementioned Sam Darnold, the third pick in 2018, could also be available for trade and presents an interesting reclamation project – one somewhat reminiscent of Ryan Tannehill, who has blossomed into a star for the Tennessee Titans after escaping former Miami Dolphins and New York Jets head coach Adam Gase.
In free agency, the Panthers may already be looking at a reclamation project of their own: after Haskins was cut by Washington, it was reported that the Panthers were among the teams interested in taking a look at the former Ohio State star, though Matt Rhule declined comment when asked about said reports and any interest in Haskins was deemed 'exploratory'.
Beyond the trade market and other projects, the biggest star among quarterbacks set to hit free agency is Dak Prescott of the Dallas Cowboys, though Cowboys EVP Stephen Jones recently stated that signing Prescott to a long-term deal remains a top priority even after a gruesome ankle break ended his 2020 season. Among journeymen to take a flier on, the Panthers' top option could be former #1 pick Jameis Winston, who spent 2020 with the New Orleans Saints and has spent his entire career in the NFC South.
The Status Quo
For all the talk of making a change, and as popular as the idea of doing so is, there is also cause to examine the third option the Panthers have available to them: Staying the course and carrying on with Teddy Bridgewater under center. Proposing that course of action requires a more nuanced look at Bridgewater's season, why it unfolded the way it did, and what he brings to the table.
Generally, Bridgewater was able to provide competent quarterback play, both protecting the football and giving his playmakers chances to make plays. In 15 games, Bridgewater completed 69.1% of his passes for 3,733 yards, and limited his turnovers in doing so (11 interceptions, three fumbles lost). With Bridgewater at quarterback, wide receivers D.J. Moore, Robby Anderson, and Curtis Samuel all flourished with 1,193, 1,096, and 851 receiving yards between them – the Panthers were one of only five NFL teams in the Super Bowl Era to produce four different players with over 1,000 scrimmage yards each.
They were also the only team to achieve that feat while also producing a losing record.
What was lacking from Bridgewater were true impact plays that decisively meant the difference between victory and defeat: He only threw 15 touchdowns, and time and again came up short when he had the ball last trailing in one score games. And down the stretch of the season, Bridgewater's performance fell off from a promising start: after his return from an ankle injury in Week 12, Bridgewater threw only two touchdowns while throwing four picks and fumbling five times (losing four).
The loss of Christian McCaffrey to injury for all but three games contributed greatly to the issues Bridgewater had. So too did his injury and his conditioning: prior to 2020, Bridgewater's last full season as a starter came when he was with the Minnesota Vikings in 2015.
"It's been a long time since he's played an entire year. And part of being a quarterback in this league is being able to withstand the physical toll of the season, and playing your best football at the end of the year," said Rhule. "I don't know that I've seen that from him, so my encouragement for him has been to have a great offseason."
The circumstances of Bridgewater's season in Carolina relative to those he faced earlier in his career should also be factored in: on both the Vikings and New Orleans Saints, Bridgewater had the benefit of playing on talented, playoff-caliber rosters that were particularly apt on defense.
With the Panthers, Bridgewater had a run of the mill offensive line, though the 31 sacks he took were far less than the 39 and 44 he took in two seasons with the Vikings. The Panthers' defense was also middle of the road, alternating between being young and promising and being a liability that cost the team in close games.

A stronger team around him, and the ability to play with a comfortable lead instead of from behind, could provide Bridgewater the chance to play to his strengths: As negative of connotations as the term has, Bridgewater at his best is a high-end game manager who likely won't be the reason the Panthers lose games, even if he doesn't necessarily "win" them either.
Carolina could also certainly do worse than Bridgewater in more ways than one – wherever he came up short, he made up for it with professionalism, personability, and accountability; his willingness to talk to the media even as his season fell apart netted him the Tom Berry 'Good Guy' Award from the local chapter of the PFWA. And even after a season filled with derision from the fanbase and a press conference that wasn't exactly a vote of confidence from his head coach, Bridgewater remains confident in his role as quarterback and leader of the Panthers.
"It's one of those deals where this is my team, and I'm going to continue to conduct myself that way," said Bridgewater. "We have a great group of guys in the locker room who look toward me for leadership. I just want to continue to do a great job of being the leader I can be, and everything else will fall into place."
Long term, the most likely scenario is that Bridgewater ends up being a "bridge" – as has been suggested since he first signed – to the Panthers' next franchise quarterback. His contract was structured that way – either he overplayed his cap figure, which is among the lowest for veteran starting quarterbacks in the NFL, and signed a longer deal – or he underachieved and can be released after 2021 with a minimal cap hit the following season as the Panthers continue to search for the guy instead of a guy.
Still, that doesn't mean that the book on Teddy Bridgewater has to be completely written and then slammed shut after the 2020 season. Even if he is who he is as a quarterback, another year of growth for the Panthers around him could mean that he still has something to offer.
(Top Photo Via Carolina Panthers)