Every year, some of the most highly anticipated aspects of training camp are the one-on-one battles – think DJ Moore vs James Bradberry. Samuel vs. Donte. Luke vs CMC. While this year, fans won't be able to watch these battles first hand, how a player is viewed by those he is competing against everyday can provide a snapshot of whose stock is rising among the Carolina Panthers.
And when rookie defensive back Jeremy Chinn was asked who had stood out during practices thus far, he immediately gave out a name that might surprise some fans:
"Omar Bayless, from Arkansas State, he's been really good," said Chinn. "As far as just training with him and his approach, he's going to be really good. That's definitely one guy that sticks out for me"
Maybe it shouldn't be a surprise that a player who ranked second in the FBS in both receiving yards and receiving touchdowns in 2019 is impressing in camp, but having gone undrafted, Bayless is likely going to face a harder path to the roster than his college statistics would suggest. Bayless was a third team AP All-American in 2019 and Sun Belt Player of the Year after racking up 1,653 receiving yards and 17 receiving touchdowns in his final season at Arkansas State.
"My offensive coordinator and position coach [at Arkansas State] really believed in me," Bayless told The Riot Report on a recent Panthers off day. "Because everyday at practice, I really pushed the guys and pushed myself. That made me a whole lot better so when it came to the games, it was easy – they really trusted me, so when i got those opportunities I didn't take them for granted."

Bayless hasn't taken the opportunity for granted in Carolina either, clearly impressing more than just fellow rookie Chinn – his name has been dropped by several players over the past week as well as head coach Matt Rhule.
"He's learning the system, he's a big powerful guy, he's got a great catch radius, but the most important thing is that he's just really coachable," said Rhule. "He works hard, he attacks the ball, doing a nice job on special teams. He's a young player, he's growing, he's developing, he's learning his role. He's someone that you want to work with, you can see that 'hey, this guy can really do some things that can help us."
The coachability point is an important one, and something we'll come back to later – but first, we should probably get to know Omar Bayless the football player.
Let's begin with something that Matt Rhule made a point to mention and something that seems obvious – his ability to catch the ball. Bayless' catch radius certainly is impressive as he consistently showed the ability to catch the ball away from his frame on tape (Bayless wore #7 and almost exclusively lined up as the outside receiver on the left side of the field)
As well as the concentration and focus to make receptions through impending contact:
While there was one frustrating concentration drop on tape:
This was a notable anomaly against the backdrop of consistently good hands and was more than compensated for by a number of created receptions:
Overall, Bayless showed consistently good hands on tape, and fans should probably get used to more photos like this from training camp:
Of course, in order to be effective at the NFL level as a receiver, you have to do a lot more than just catch the ball well – the ability to consistently create separation is paramount; this is something that starts at the line of scrimmage. While a lot of college receivers don't face a huge amount of press during their careers, Bayless faced a heavy dose of it when he went up against Georgia last season, and he really impressed not just in the way he was able to get off the line, but the fact that he was able to do so with multiple different releases:
The importance of being able to react to what the DB is offering you and having a variety of ways of creating that leverage advantage at the line is something that Bayless appreciates only too well.
"A lot of it is about reaction, depending on what kind of leverage he was giving me, if he was patient or not," Bayless said. "It's just something you have to work on everyday because as a receiver, you're going to get press coverage. You don't want to have so many releases where you don't know which one you can use but you've got to have at least three or four that you can go to."
"It's just something I'm going to continue to work on and get better at because obviously, I'm not where I want to be with my release because sometimes I chose the wrong release – so I'm just staying with the fundamentals, the basics, and really just getting off the ball when I need to."
As Bayless mentions, there is still room for growth in this area, as there was at least one play against Georgia where what he tried clearly didn't work:
But sometimes you can only tell what works and what doesn't by trying it in a game.
"Sometimes I just want to see if I can work it in a game, because whatever release I work in practice I'm going to try it in a game to see if I can accomplish that," added the 6-1, 210 pound Bayless.
While Bayless plans to continue to work on improving the consistency of his release, he is already ahead of where most receivers are in this regard entering the NFL; he should be able to generate consistent quick leverage at the line of scrimmage at the NFL level. Of course, once he gets that leverage at the line, he needs to be able to turn that into separation down the field, and although, as his Combine numbers will suggest he is not a burner down the field, he has enough speed in combination with his good release to offer something of a vertical threat:
But what his Combine numbers don't show is the surprising quickness he has for a receiver of his size – his ability to turn that leverage he gets at the line into a step of separation isn't just helpful down the field, but by getting the defensive back to chase the play, it then makes it easier for him to generate separation on underneath routes:
"A lot of people think you win down the field," explained Bayless. "You really win at the line with the release and how you get off the ball. At the line, I've got a good first couple of steps…. but it's basically just winning at the line and getting into your routes and creating separation from the DB."
Against man coverage, this means that with his back to the ball, the quarterback can throw him open with a back-shoulder throw to the outside.
The potential for this can be seen on the following play, even if the throw itself was off-target:
Against off-zone, he can then use this quickness to force the DB out of their backpedal, which then opens up comeback and stop routes:
Importantly, he offers enough of a vertical threat for defenders to have to respect his ability to beat them deep, which then gives him the space to allow for routes working back behind the first layer of zones:
While all of this allows him to be an effective NFL receiver, in order to reach the higher levels of receiver play, he will need to show the ability to consistently separate underneath against high quality man coverage over a variety of routes – even though this is probably the biggest area of uncertainty surrounding Bayless as an NFL receiver, he did run more complex NFL routes at times at Arkansas State – on plays such as the following, you can see a lot of traits needed to be a high level route runner at the NFL level:
There are also things to work on in this regard, however, one of which was something that Bayless said was his main focus for improvement his season.
"Getting in and out of my breaks faster," Bayless said when asked what he's been working on this offseason. "Because you've got elite quarterbacks, so by the time you come out of your break the ball will be on you … just getting out of my breaks, because you've got DBs that can run, so you've got to come out of that break and make it easy for the quarterback and myself."
If Bayless can apply this improvement to a full NFL route tree, he certainly has the making of a very good NFL route runner – he shows a good understanding of leverage and timing to maximize the separation he is able to get at the break-points of routes, such as here where he subtly instigates contact just before his break so that the defensive back is moving outwards slightly as he breaks inwards, thereby maximizing his separation:
And he also shows the footwork and balance to work across the face of the defensive back to get to the catch point, allowing him to get the defensive back to commit one way before working to the opposite leverage:
Bayless is not just an athlete who has the potential to run routes, but a legitimately good route runner who needs to continue to take the nuances and techniques he shows and apply them to a more consistently diverse set of routes while continuing to work on the things that he already does well in order to take them to the next level.


The final thing to consider in terms of his potential ability as a receiver is his ability to add yards after the catch; while he isn't in the same class as the likes of DJ Moore, he shows the ability to consistently add a yard or two on underneath routes with the ability to break a short pass for a big gain from time to time:
Given the three receivers who are expected to top the Panthers' depth chart this season, it might not be clear how a more possession-type receiver like Bayless might fit into the Joe Brady offense, but Curtis Samuel made it clear how the speed they have at receiver is going to create opportunities underneath for the likes of Bayless:
"When you have speed at receiver, a lot of cornerbacks are probably not going to press you, so that opens up the quick passes underneath," said Samuel. "Because a lot of defenses and a lot of safeties they want to back up, they tend to want to play back because they know the speed that they have, which allows tight ends or other receivers on underneath routes [to get open]."
While Bayless, should he make the roster, will likely be just one of a few receivers competing for snaps behind the top three receivers, his combination of size, hands and route running does offer something different from the other options the Panthers have at receiver – if the Panthers are going to use the speed they have at receiver to consistently stretch the field vertically, that is going to open up a lot of opportunities for other receivers underneath, with Bayless being one of the many potential recipients of that.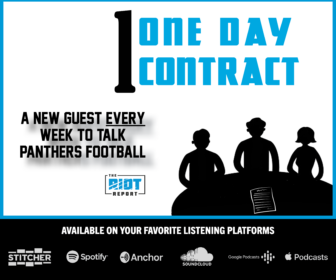 But in the short term, Bayless' best chance of making an impact is going to be on special teams, something that Rhule made a point to mention.
"We're making a commitment to special teams, we believe that we can tilt the field in our favor, we believe that we can steal some possessions, having big strong physical athletes that want to do it really helps," said Rhule, who was once special teams coordinator at Western Carolina University.
Bayless himself is all too aware that for him to make the roster, he isn't just going to need to impress in terms of his potential ability as a receiver, but also through his ability to make an impact on the plays which are unlikely to make a highlight reel:
"It's just the small things, like when I don't have the ball turn up the field and find somebody to block," Bayless said before grinning. "Because we know who we've got in the backfield, so you never know when he can come out running the ball – so you've just got to be [ready] where you're at."
While it will be harder for a player like Bayless to prove their potential worth on special teams without a preseason, the Panthers have made it clear they expect to try and replicate as many in-game scenarios as they can to allow those outside of the star names to show the impact they can make.
If his blocking at Arkansas State is any indication, Bayless certainly has the desire to make an impact even when he isn't getting the ball, be it blocking on a screen or as the gunner on special teams:
It is always going to be tough for a UDFA to make the roster and while it does seem as though Bayless has a very real chance of doing so, he will need to continue to prove his worth throughout camp both on offense and on special teams. Of the UDFAs that the Panthers have brought in this year, Bayless is not only the one who seems to be on the lips of his teammates and coaches every couple of days, but also one who has the tape to back up such hype and who also has the attitude needed to be somebody who can grow into a significant part of the Panthers' rebuild going forward.
"Just finding a role and being great at it and just come in every day working," said Bayless. "Don't give them a reason to look at me and question me…. Always go out and get 1% better every day and don't take it for granted and cherish every moment because you'll never know when it could be your last."
"I took those words and went from there, so every day I'm just finding different roles to help this team out."
(Top Photo Courtesy Brandon Todd/Carolina Panthers)