With the third and final week of OTAs beginning today and the mandatory mini-camp coming next week, Ron Rivera said after practice that he was looking not just for retention of installation, but whether the skills being taught by position coaches are starting to translate to the field – are route runners getting better, does the secondary have a feel for how the coverages should be played, are the linebackers communicating – it's not just what the players are retaining from the classroom, but starting to be about what they're doing on the field. And it showed this week, with goal line drills dominating the bulk of the latter half of practice – first round pick DJ Moore showed out with a sliding grab on a nicely thrown ball from Garrett Gilbert; running back Kenjon Barner followed that up with a concentration drill type catch that showed him bobbling and then securing the ball as he went to the ground in the endzone.
The day was highlighted by a "third and one" in which Cam Newton faked a handoff to Christian McCaffrey and turned towards the sideline on the naked bootleg we've seen him run dozens if not hundreds of times in the past. As he turned his shoulders, Shaq Thompson recognized the playcall and made a beeline for the pylon, hoping to meet Newton there and stop him. As the two first-round picks hurtled towards each other, Newton raised the ball in the air, as if preparing to dunk the ball into the end zone as he did last season to Atlanta cornerback Desmond Trufant – only to gently place the ball on the ground just inside the goal line.
No contact. Not yet.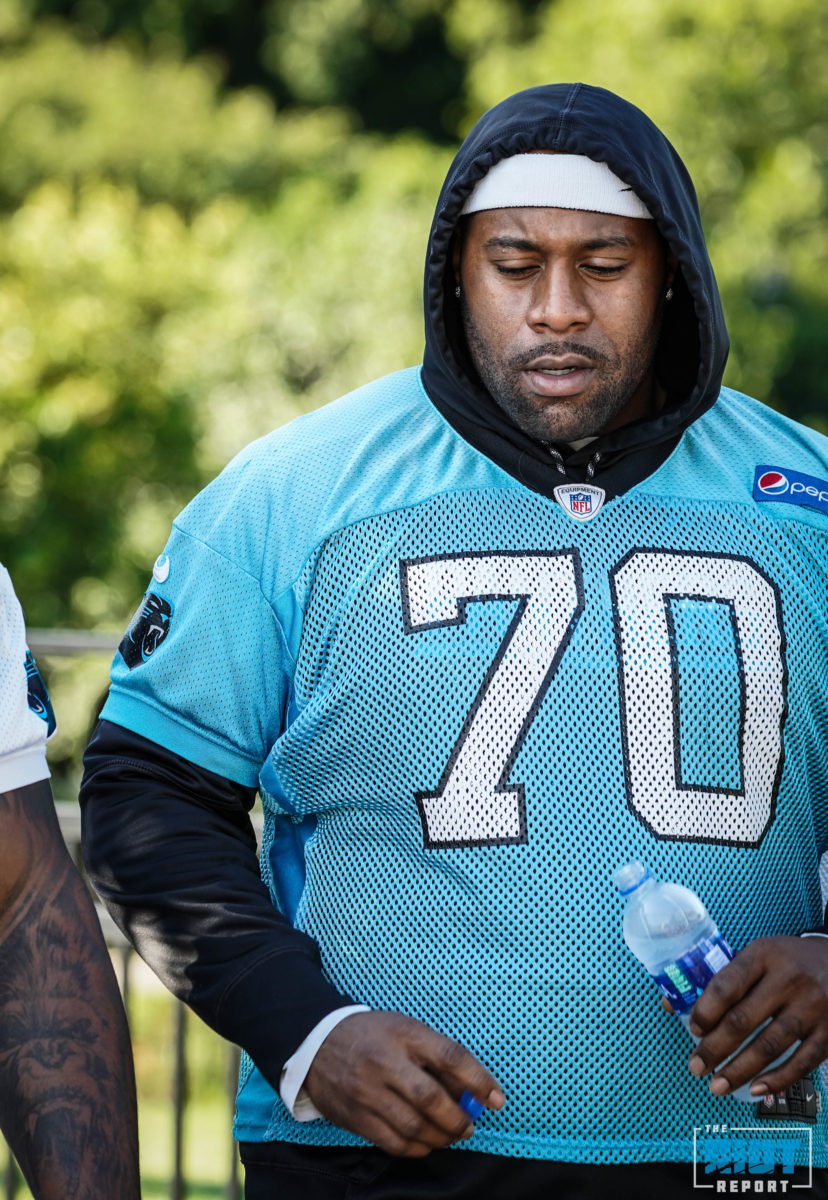 Here are some other things we noticed from today's OTA session:
Trai Turner didn't practice again today, but worked on the side with trainers – he began the day wearing a brace on his left knee, but took it off about halfway through the training session. Don't read too much into it, though – it's still only June and Rivera said after practice it was just soreness. Also working on the side were Evan Baylis and Fred Ross, with Julius Peppers and Graham Gano not present at practice – again, don't read too much into it, these are voluntary practices; special teams coordinator Chase Blackburn told us after practice that Gano was excused to watch his alma mater FSU play in the NCAA tournament.
In Gano's absence, punter Michael Palardy pulled double duty at special teams, not only doing coffin corner drills, but kicking field goals as well, culminating in two tries from sixty yards out – the first one was wide right and the second was straight down the middle. Palardy celebrated heartily afterwards, doing celebratory jump-bumps with anyone that would have him and asking a Panthers staffer for a handshake at one point; Rivera said after practice that Palardy and Gano are each other's backups – another example of positional flexibility in the Panthers' camp.
Curtis Samuel participated in both individual and team drills, looking as if he was cutting and running with no restrictions. the 2017 second-rounder who was only active for nine games last season had a nice grab along the sidelines during team drills as well.
Garrett Gilbert looked sharp in individual drills and is improving in team drills as well – Rivera said after practice that his greatest asset is his arm strength, which he showed as he threw long bombs to receivers during individuals. He still threw an interception to cornerback Lorenzo Doss which Doss took back the other way for a hypothetical six.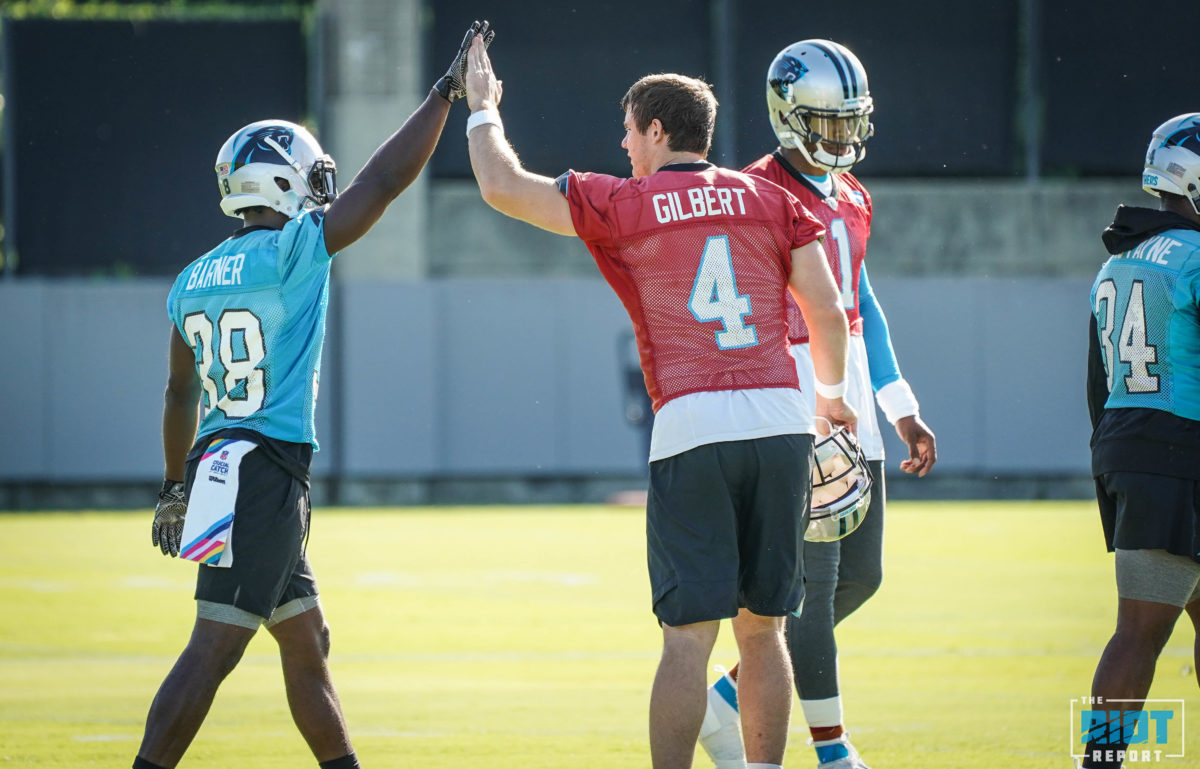 Fans of the I-formation will be happy to hear that there were multiple plays with Christian McCaffrey lined up behind Alex Armah and Chris Manhertz and Ian Thomas along the outside – they also lined up in this formation in goal-line situations and ran four straight rush plays – second, third and fourth down belonged to McCaffrey, Newton and Cameron Artis-Payne. The first carry in goal-line drills? That went to Alex Armah.
Another short-yardage drill was the familiar QB Blast play with Newton running behind CJ Anderson for a first down. Only with no tackling, no one could bring Newton down, so he sauntered fifty yards towards the endzone – running beside him the whole way was Devin Funchess.
Let's quickly address the position battles one-on-one, remember that it's only June:

Kick Returner – Reps given to Curtis Samuel, Christian McCaffrey, Donte Jackson, Damiere Byrd, Kenjon Barner and DJ Moore.
Left Guard – Reps with first team shared by Taylor Moton, Tyler Larsen and Amini Silatolu – don't forget that with Turner out, the line was shuffling more than usual. All three of those linemen took reps with multiple iterations of the offensive line at multiple spots.
Cornerback – Kevon Seymour continues to get reps across from James Bradberry, but we saw Donte Jackson get time at both outside corner and in the slot. Jackson continues to be a character, hyping up the nonexistent crowd before one of the reps.
Safety – DaNorris Searcy has been taking the first team reps with Mike Adams with Colin Jones and Rashaan Gaulden taking reps all over the field as well – this competition is still open, but it appears Searcy is the leader if the season started tomorrow – which it definitely does not.

Ryan Kalil still looks spry – at the opening of practice as the offensive linemen ran towards the blocking sleds, Kalil accelerated from the back of the group and ended as the first one there. Have you ever seen Beat the Freeze? It was like that, but a little slower.
Greg Olsen said after the first OTA that there were things that Norv Turner liked done a certain way and they were obviously working on one of those as Olsen continually worked one-on-one with the Panthers new offensive coordinator on a certain footwork pattern – Olsen worked, Turner critiqued, repeat. The same thing happened in wide receiver individual drills as Turner constantly tweaked the receivers on their routes and ball placement for the quarterback.
First to Practice award went to defensive end Efe Obada, who arrived at 7:59 for an 8:30 practice session.