It might be half a year until the 2023 NFL Draft, but the Panthers are already one of those teams who are going to be watching the remaining eight games with one eye on the offseason. Though the Panthers were one of the more active teams at the trade deadline, which has allowed them to recoup some of the draft capital they traded away during the Rhule era, they have managed to keep their young core together and, with a good offseason, they have a chance to get a lot better quite quickly.
However, to do that, they'll need to have a much more consistently good draft than they have so far managed under Scott Fitterer who, despite doing well with his two first-round picks, has had more mixed luck when it comes to the latter stages of the draft. With that in mind, we've decided to take a quick look at what the Panthers might be able to achieve in the upcoming draft.
As there is still nearly half a season to be played, we haven't taken two much notice of exact draft projection but have used general draft positions from Tankathon and the draft board from PFN's draft simulator.
1st Round: CJ Stroud, QB (Ohio State)
The Panthers have certainly gone through their fair share of quarterbacks during the Matt Rhule tenure. Teddy Bridgewater, PJ Walker, Sam Darnold, Cam Newton and Baker Mayfield have all started at least four games for the franchise over the 38 games that Rhule was in charge. And that's before we even consider Matt Corral, who is spending the 2022 season on IR after being selected in the third round of last year's draft. So why would they want to draft another one?
Well, the short answer is that, despite all that investment, they don't appear any closer to finding a long-term answer than they were when Cam Newton was first released following the 2019 season, PJ Walker has certainly made the Panthers more fun to watch, and there are some who would like to see them give Corral a genuine look before moving on, but with a new Head Coach and, almost certainly, new offensive coaching staff, it seems highly likely that yet another quarterback change is coming this offseason
The discussion about which quarterback should go top of the 2023 class is likely to continue for several more months yet, but any discussion is going to have to start with CJ Stroud. Through his two seasons starting at Ohio State, he has amassed a staggering 73 passing touchdowns to just 10 interceptons, en route to an 18-2 record.
Beyond the good number, his tape shows good footwork from the pocket, excellent intermediate and deep accuracy with great touch and an ability to work through progressions and delver balls on time across a comparatively complex college offense. While he's not a dual threat quarterback, he has enough mobility to escape the pocket and does an excellent job of using his feet to extend plays and find open receivers downfield.
He's not perfect; his arm strength is good rather than excellent, he can get caught staring down receivers at time and he will likely take some time to adjust to the greater speed and complexity of the NFL game; but he has all the tools needed to be an elite NFL quarterback.
2nd Round: Nolan Smith, EDGE/LB (Georgia)
In refusing to accept any offers for Brian Burns the Panthers hope they have retained one of the best young pass rushers in the NFL (and yes, Burns is still just 24). However, after allowing Haason Reddick to walk to the Eagles in free agency, what they now lack is somebody who can offer a meaningful pass rush from the other side and, if nothing else, divert some attention from Burns.
2020 2nd-round pick Yetur Gross-Matos has so far managed 23 pressures in more than 1100 career snaps (Burns has 16 in less than 500 snaps so far this season) while, despite signing a new contract last offseason, Marquis Haynes has struggled to convert splash impact on limited snaps into consistent production. Unless one of the pair is able to turn things around in a huge way over the second half of the season then, aside from quarterback, finding more pass rush should be the top priority of the offseason.
Nolan Smith might be going under the radar somewhat due to the huge number of future NFL starters that Georgia have had among their front seven over the past couple of seasons, but he is a hugely versatile and highly potent defender who, like Burns, is capable of rushing the quarterback one snap and then dropping into coverage the next. Though it isn't clear yet what the Panthers' will be scheme-wise next season, Smith should be able to earn a role regardless.
As a rusher, he has the quickness to pressure the edge and then uses his hands well to keep his frame free and work to the quarterback if the initial speed move doesn't win, As a run defender, he plays with good pad level and arm extension to set the edge effectively and work off blocks to make tackles. He will need to continue to add to his repertoire of pass rushing moves at the NFL level, but he should offer an immediate upgrade across from Burns.
2nd Round (from SF): Cameron Latu, TE (Alabama)
Much like with the quarterback situation, the Panthers have certainly invested a lot into their tight end group in recent years, but it hasn't come with much success. Despite signing a three-year contract worth nearly $17m this offseason, Ian Thomas has just 12 catches so far this season, while 2021 3rd-round pick Tommy Tremble has just 8. Even with Gio Ricci and Stephen Sullivan added in, the Panthers entire TE room has combined for just 27 catches so far this season.
There are twelve tight ends who have more than that on their own so far this season.
While the adage of TEs being a quarterback's safety blanket is hardly new, if the Panthers are going to build around a young quarterback moving forwards then finding a reliable pass catcher over the middle who can make things easy for their young signal-caller is going to be essential.
Latu isn't a flashy athlete who is going to run away from cornerbacks, but what he is is a technically proficient blocker and route runner who does a lot of the dirty work for the Alabama offense. He has good hands and uses his body well to wall-off defenders at the catch point, thereby making him an asset in the redzone, and is able to use that size in combination with nice changes of speed and direction to create underneath separation against man coverage.
In DJ Moore, they have a player who can make the special plays that can win or lose games, but they need to do a better job of combining him with players who can allow the Panthers to make the boringly effective plays more often. Latu is unlikely to be a star, but he can be a key cog in a winning machine.
3rd Round (from SF): Andre Carter II, EDGE (Army)
Like with most things, a key part of an effective draft is balance, especially when it comes to risk and reward. Nolan Smith and Cameron Latu would certainly make the Panthers better, but neither are likely to become All-Pros, while CJ Stroud (like all quarterbacks taken towards the top of the draft) could either be an All-Pro or out of the NFL within five years. To put another finger on the high-upside side of the scales, the Panthers could look to Army's Andre Carter II as a big swing from the heels.
Though drafting another pass rusher might be something of a luxury, once the first fifty-or-so picks are in, all the smart teams worry less about positional need and, as long as they have space on the roster, more about adding the best players still on the board. Or, to quote a former Panthers' GM, "you can never have too many pass rushers".
Carter certainly has a lot to like, from his quickness off the snap to his excellent length (he's listed at 6'7) and surprising range and fluidity in coverage. If he can put all these together than he won't just be good, he'll be one of the most unique defensive players in the NFL. However, while his 2021 production certainly put him on the map, 15.5 sacks can do that, he has struggled to be anywhere near as productive in 2022 and could take some time to be hit his stride in the NFL.
Most of all, he needs to play with more consistent pad level. Being 6'7 has a lot of advantages, but it also puts extra pressure on Carter to make sure he plays with consistent knee-bend as, otherwise, it makes things too easy for tackles. He will also need to continue to add to his repertoire of pass rushing moves as his athleticism will only take him so far.
However, there are only so many 6'7 edge rushers who can move like linebackers and ragdoll quarterbacks.
4th Round: SirVocea Dennis, LB (Pitt)
Shaq Thompson has come a long way from being the young face on one of the best linebacker groups the NFL has even seen to become the heart and soul of the Panthers' defense, and in 2021 was able to combine that with arguably his best season on the field as he excelled in the off-ball role alongside a more conventional inside linebacker. While he hasn't had quite the same impact in 2022, whoever takes over as the Panthers HC in 2023 would ideally want to me him a key piece on defense.
There's only one issue, his cap hit north of $24m.
The Panthers decided not to move on from Thompson at the trade deadline and may be willing to eat that heft cap number in order to give them some continuity on D, but given that they can save over $13m of that cap hit by moving on from Thompson during the offseason, it's also worth considering what their Plan B might be.
SirVocea Dennis isn't the fluid athlete that Thompson is, very few linebackers are, but he plays with good later agility to work laterally in zone coverage and to navigate blockers in the run game. He is also a very effective blitzer, who times his burst so that he is able to hit gaps as they appear and has 13 sacks over the past three seasons to show for it. While he isn't going to play a ton of man coverage, he also has the intelligence to maximize his athleticism in zone.
He does need to continue to work on the fundamentals of his run defense, as he lets his hands drop a little too often which can allow blockers to swamp him, and there is probably going to be a ceiling to his effectiveness as a coverage player, but at the very least he would give the Panther some much-needed depth at the position.
4th Round (from SF): Cory Durden, DT (NC State)
One of the most positive developments for the Panthers from the 2022 season has been the emergence of Derrick Brown as a legitimate force on the interior of their defense. Although his pass rushing rushing numbers and TFLs are roughly in line with his previous seasons, his overall tackle numbers have increased enormously, and he has been largely eliminated the poor plays that have haunted his first two seasons in the Carolinas.
However, what is less clear is who is going to partner Brown in the middle of the Panthers' defense moving forwards. Matt Ioannidis has played well so far his season but he will be a 29-year-old free agent after the season and has a fairly lengthy injury history. Bravvion Roy and Marquan McCall are, from a stylistic point of view, both much better suited to rotating in in place of Brown than starting alongside him and, while Daviyon Nixon is back on the Panthers roster, he has still yet to play his 150th defensive snap and is likely still some way from being a starter.
Adding another 3-tech to pair with Brown is another high-priority need for the Panthers this offseason.
Cory Durden is no Aaron Donald, and his game is much more around upper body strength than quickness and bend, but he has been a consistent starter for a good NC State defense and can play both the run and pass to a high level. He needs to improve the consistency of his pad level to make sure he can't get knocked off balance, but when he matches pad level with blockers then he can effective two-gap against the run with a couple of nice power rush moves.
Much like Dennis, he is likely a borderline starter at the NFL level without the upside to develop into a star but, also like Dennis, he would give the Panthers some much needed competition and depth at a key position of need which, at this stage of the draft, would be good value.
5th Round: Chris Rodriguez Jr., RB (Kentucky)
The Panthers seem to have finally realised that they are allowed to run the ball, with D'Onta Foreman being the main beneficiary. with back-to-back 110-yard games against the Bucs and Falcons. However, Foreman is a bending free agent after the season and, even if he is re-signed, the Panthers would be smart to continue to fill-out the running back room with quality depth.
In particular, with McCaffrey now in San Francisco, the Panthers desperately need to improve their receiving contribution from their running back room. D'Onta Foreman has been in the NFL since and has all of 20 career receptions to show for it while Chuba Hubbard has consistently struggled with drops during his two seasons in the NFL. They don't need a new CMC, though that would be nice, but they need to be able to throw a checkdown every now and then.
Rodriguez missed the start to the 2022 season due to a suspension, and any team that drafts him is going to have to do a lot of due diligence to make sure they are ok with his resume off the field but, on the field, he deserves to be in the conversation to be the top running back in the class outside the big two of Robinson and Gibbs.
He runs with good power and contact balance which consistently allows him to gain yards after contact and, while he isn't a burner, he gets up to speed quickly and, combined with a good ability to read rushing lanes and leverage, allows him to consistently hit the hole at speed on downhill runs. In the pass game, he isn't going to be confused for a receiver, but he has good hands and is a capable enough route runner to be more than just a check-down option.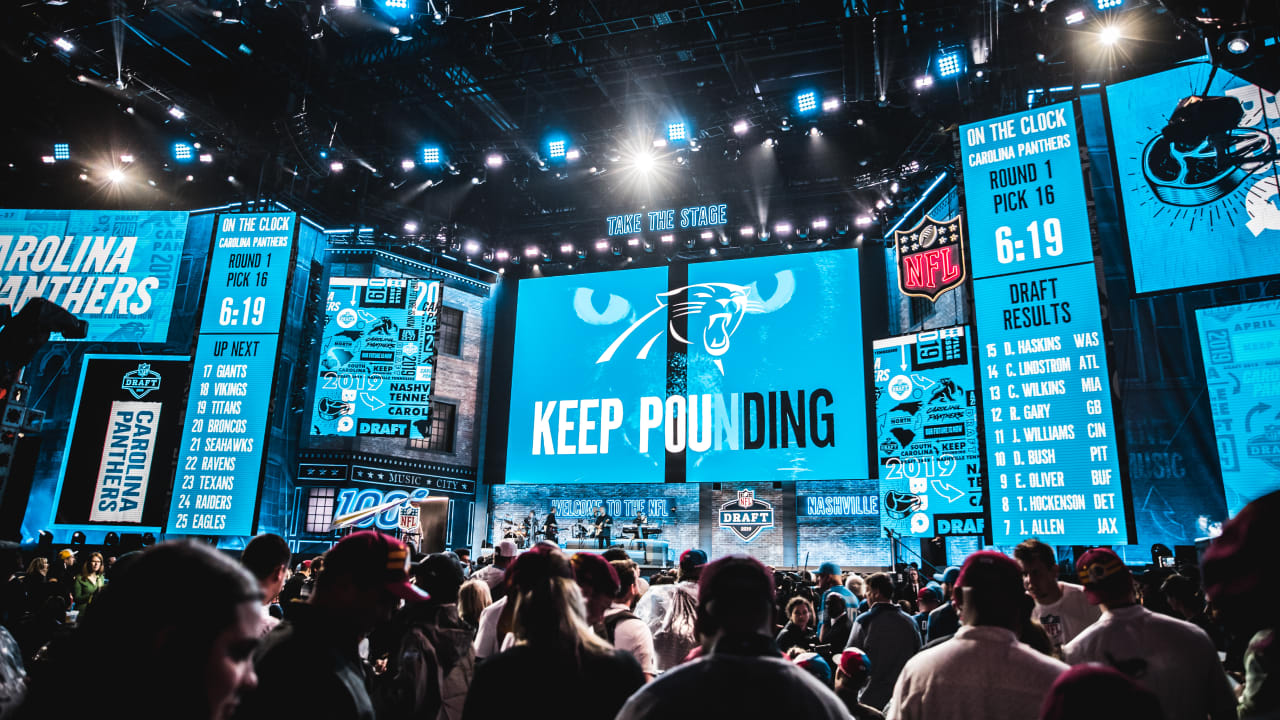 A lot can, and almost certainly will, change between now and the 2023 NFL Draft, so take this mock with a massive pinch of salt, but hopefully it has served to both inspire some mild optimism and to inform about some of the prospects who might be available in the 2023 class and how they fit into the Panthers' prospective needs.
(Top photo via AP Photo)