It might only be early December but, coming off an embarrassing defeat to the Dolphins with a 5-7 record and the prospect of playing the final five games of the season without either Christian McCaffrey or Donte Jackson, it should be little surprise that around the Carolinas, attentions are starting to slip from the Panthers' fading chances of a play-off spot and towards the looming offseason.
Though it is still unclear what major chances could be in store for the Panthers between now and the 2022 NFL Draft, we've taken the extra time created by a Sunday without Panthers football to have a first attempt at projecting what the Panthers might do, or at least be able to do, in the upcoming draft. As neither the full draft order nor the complete list of draft eligible players will be determined for some time, the purpose of this is more to explore what the Panthers need might be, and who could be available at different points in the draft.
For those who are interested, we have made used of the projected draft order from Tankathon, the pick value chart from Drafttek and the big board from the Pro Football Network's Draft Simulator.
Trade(s)! Panthers send their 1st- and 6th-round picks to the Jets for their two 2nd-round picks, their 3rd-round pick and their 4th-round pick from the Sam Darnold trade. Panthers then send the first of the 2nd-round picks to the Falcons for their 2nd-round pick from the Titans plus their own 3rd- and 5th-round picks
It's no secret that Scott Fitterer likes to trade down and, with the Panthers only starting with one pick in the first three rounds, it is going to be very hard to resist that urge this year. The Panthers certainly don't look like a team that is one or two players away and, as much as they will likely be tempted to take yet another shot at quarterback, the smart money would almost certainly be on trading down, accumulating picks, and trying to build a roster around a low-cost bridge quarterback.
The most likely scenario is probably what the Panthers did in the second round last year, making a series of trades to slowly drift down and collect a series of picks. However, to save time, here we get the same effect from two big trades, with the Panthers turning their top-ten pick and a sixth rounder into four day two picks and couple of mid-rounders.
2nd-Round Pick (Own via NYJ): Nicholas Petit-Frere, OT (Ohio State)
The Panthers' need at left tackle has been around far longer than almost anybody on the Panthers' roster and it is hard to see the Panthers having anything close to sustained success without addressing it in some way. Though this isn't a draft class with any one sure-thing OT prospect (though admittedly some might have Evan Neal in that category), it is a class with a fair amount of depth at the position and so, even if the Panthers do trade down significantly, there is still a chance they could use their first pick on a potential franchise LT.
Nicholas Petit-Frere is not a player without faults, he needs to continue to work on his pad level and can be guilty of over-setting in pass protection, but he has all the core tools needed to be a quality starting left tackle in the NFL. He has the foot speed to cover the edge against all but the very fastest speed rushers and combines this with good balance and power to counter more power-based rushers and to make an impact in the run game, aided by good hand placement and arm extension to locate and sustain blocks. He's not in the very top tier of tackle prospects, but he would be good value in the early second-round.
He might not be somebody that is ready to step-in week one, but the key for the Panthers is about finding good solutions to problems rather than quick ones.
2nd-Round Pick (TEN via ATL): Desmond Ridder, QB (Cincinnati)
This is probably the upper end of the range where the Panthers should seriously consider taking a quarterback and, while taking a player towards the end of the second round is always going to be something of a project, the Panthers sights should definitely be on the long-term after a series of disappointing retools. If Ridder (or any other developmental QB) doesn't work out then that obviously isn't ideal, but it isn't liable to set the franchise back multiple seasons in the way that missing in the early first round might.
Ridder certainly has a lot of tools to like; he has the arm strength to push the ball down the field, the velocity to work it into tight windows underneath and the athleticism to impact the game with his legs as well. He will almost certainly need some time to develop coming from a fairly different system to anything he is likely to be asked to run at the NFL level, but he made generally good decisions inside the structure of the offense, albeit with the occasional brain fade. The biggest thing for Ridder will be continuing to work on the details of his mechanics, as currently there are too many errant throws, but these are things that can be worked on, and he would be at least decent value at this point in the draft.
3rd-Round Pick (NYJ): Nik Bonitto, EDGE (Oklahoma)
The Panthers top priority for this offseason should be re-signing Haason Reddick, who has not only been their best player this season but looks every bit the perennial All-Pro type player that he flashed the potential to be last season. However, even if the Panthers do re-sign Reddick, they would benefit from continuing to add to their edge rushing arsenal as they are currently very dependent on the production of Reddick and Burns as, while Frankie Luvu has certainly made a big impression this season, he is more of a genuine LB/EDGE hybrid than a full-time pass rusher.
Bonitto might not be in Reddick's class yet, but there are certainly a lot of flashes on tape of the kind of plays that Panthers fans have come to adore this season. He is quick and bendy with enough hand usage and power to create consistent problems for tackles in obvious passing situations while still being able to hold and edge at the point of attack or drop into underneath zone against TEs. At 6'3 240lbs he isn't going to offer the Panthers anything radically different to what they already have but making their two-headed monster a three-headed one would certainly not hurt.
Trade! Panthers send their 3rd-round pick from Atlanta and their own 4th-round pick (back from the Jets) to the Ravens for their two 3rd-round picks, their 4th-round pick from the Cardinals and their 6th-round pick from the Dolphins
This is essentially the same principle as earlier of maximizing picks, and if the Panthers feel they are willing to give up on one of Brady Christensen and Deonte Brown as starters already then they may be better off taking a guard as early as they can as well, but if we're going to following the theme of trying to build a foundation moving forwards then adding an extra pick in the 80-140 region looks to be a good move in a draft class that is more about depth than top-end talent.
3rd-Round Pick (BAL): Zay Flowers, WR (Boston College)
One element of the Panthers' offensive struggles this season that hasn't been hugely discussed is their inability to replicate Curtis Samuel's production from the slot as a #3 receiver, especially on third downs. Though the Panthers did draft Terrace Marshall Jr. in the second round a year ago, thus far he has failed to product during the regular season and, while the Panthers won't have receiver top of their wish list, if they can add somebody in the Curtis Samuel image then they likely would be wise to do so.
Zay Flowers certainly has some of the eye-popping YAC ability of Curtis Samuel, even if he isn't in the same tier athletically. Though Boston College haven't run much of a downfield passing attack in recent year, when he has been tasked with creating separation down the field, he has flashes some high-tier route running ability and his solid hands and his ability with the ball in his hands would make him a useful addition to most NFL offenses.
3rd-Round Pick (Comp. via BAL): Brant Kuithe, TE (Utah)
Tommy Tremble has certainly shown some positive signs so far in his young career, and Ian Thomas has continued to be solid if somewhat unremarkable, but the Panthers still lack a genuine match-up weapon at tight end. Though this isn't a must-have for an NFL team, with Thomas a pending free-agent the Panthers could look to find a more versatile receiving threat as a long-term partner for the more blocking-focused Tremble.
At 6'2 230, Kuithe if somewhere between a big receiver and a tight end and, while he's unlikely to be lining up on the line to block a defensive end on 4th-and-1, he is a fluid athlete with the speed to stretch the field against linebackers and many safeties and the size to create problems for defensive backs. Add to that a good pair of hands and some nice flashes of route running at all levels and you have a player who would not only be good value at this point in the draft but a natural complement to Tremble.
4th-Round Pick (LAR via HOU): Nolan Smith, EDGE (Georgia)
As a defense, the Panthers certainly value smart, versatile players who are able to create different looks for an offense and cover multiple positions, with one result of this being a move away from traditional linebackers, replaced either by big safeties such as Jeremy Chinn and Sam Franklin or mobile edge rushers such as Haason Reddick or Frankie Luvu, and they could look to add yet another player in that style in the upcoming draft, especially if they don't re-sign Luvu.
Nolan Smith certainly hasn't lived up to his recruiting hype as one of the top high school players in the nation, but what he has become is a really solid, consistent player who is able to defend the run, rush the passer and drop into coverage, even if he isn't going to excel in any one regard. At the NFL level he's probably not a starter, but he would offer them a high level of depth who can step in and cover both linebacker and edge rusher.
4th-Round Pick (ARI via BAL): Alex Forsyth, iOL (Oregon)
It might not be the worst idea for the Panthers to try and bring Matt Paradis back on a short-term deal to be their bridge on what could end up being a very young offensive line, but Pat Elflein should get an extended audition over the next five games to try and claim the first shot at the role. However, given the lack of other real options at the position, if the Panthers don't add a veteran player to compete with Elflein then they should absolutely be looking to bring in competition through the draft.
Forsyth isn't likely to be a All-Pro player at the NFL level, but he is a solid athlete who is technically sound and is able to consistently execute against NFL competition, and should be able to push for a starting role if the Panthers don't already have a clear starter on the roster and, at this point in the draft, if all he ends up being is a long-term back-up then that's far from a disaster.
5th-Round Pick (from Jacksonville): Logan Hall, DL (Houston)
As good as the Panthers' defense has been this year, one area they have continue to have some issues with is the consistency of their interior pass rush. While this likely wasn't helped by the injury to Daviyon Nixon, there is something of a size gap between the likes of Morgan Fox and Yetur-Gross Matos, who are essentially bigger defensive ends, and the Derrick Browns and Bravvion Roys, who are more nose tackles than anything.
Logan Hall isn't the biggest defensive tackle, but he plays with more power than his listed weight suggests, which allows him to be a legitimate option at defensive tackle on run downs while still having the quickness and hand usage to impact the game as a pass rusher. Having had something of a break-out 2021 season there is a chance he continues to rise higher than this, but he is a player who has shown real improvement during his career and has the potential to develop even further with good coaching.
5th-Round Pick (from ATL): Emil Ekiyor, OG (Alabama)
If the Panthers don't take a guard early in the draft, then they would at least do well to continue to add competition for places further down the depth chart, as the Panthers lack of interior offensive line depth has been really exposed at points this year, especially the decline of Michael Jordan following a decent start to his Panthers career.
Ekiyor isn't in the same tier as some former Alabama offensive linemen, but he's a solid athlete who does some nice things from a technical perspective and has starting upside if he can clean up some hand usage inefficiencies and improve his knee bend. Additionally, if the Panthers really are going to try and be a run-first team moving forwards, then his lack of elite pass protection tools will be offset somewhat by his ability to move a defender off his spot.
5th-Round Pick: Tyler Goodson, RB (Iowa)
Yes, running back maybe isn't a glaring need for the Panthers right now on the surface, but if the Panthers are finally going to start using Christian McCaffrey as more of a receiver and less of a workhorse running back, then they could benefit from finding somebody to share the load with Chuba Hubbard, especially in terms of the ability to contribute to the passing game aside from McCaffrey.
Goodson isn't going to be the kind of player that you build an offense around, but he shows nice vision and burst and enough power and contact balance to be an effective between-the-tackles rusher, but his real value comes in the passing game where he is one of the better route-running backs in college football with good hands and an understanding of how to get open against a variety of coverages. He isn't going to take third-and-7 snaps away from McCaffrey, but he is a legitimate weapon in this regard in a way that Hubbard isn't.
6th-Round Pick (MIA via BAL): Dohnovan West, iOL (Arizona State)
Now we are very much into the throwing darts stage of the draft and, given the state of the Panthers' offensive line, that seems like a good place to start throwing darts at. Though the Panthers do have quite a lot of depth options on the interior, none of them have played well enough to guarantee their places moving forwards and adding a late-round player with positional flexibility would make it easier to potentially cut away some dead wood.
Dohnovan West doesn't have any one 'elite' trait, but he can play across the interior of the offensive line, moves well enough to pass protect and get out on screens while having the technical competence to consistently execute inside what he is being asked to do. He isn't going to be a star, but at this point in the draft he is good value as somebody with a real chance to make an NFL roster and contribute.
7th-Round Pick (via TEN): Jeremiah Hall, FB (Oklahoma)
One thing Matt Rhule made a big deal of during training camp and the preseason was wanting to be able to incorporate a fullback into the offense and, while the experiment with Giovanni Ricci has been largely unremarkable, this is something they could come back to this coming offseason if they get the chance.
Jeremiah Hall is certainly more of the new-look style of fullback, with his game much more around blocking out in space and contributing as a gadget piece in the passing game rather than being either a primary ball-carrying option or a goal-line lead blocker, but he has shown himself to be an important piece in what Oklahoma have done over recent seasons, and could offer the Panthers the kind of move fullback they have talked about using.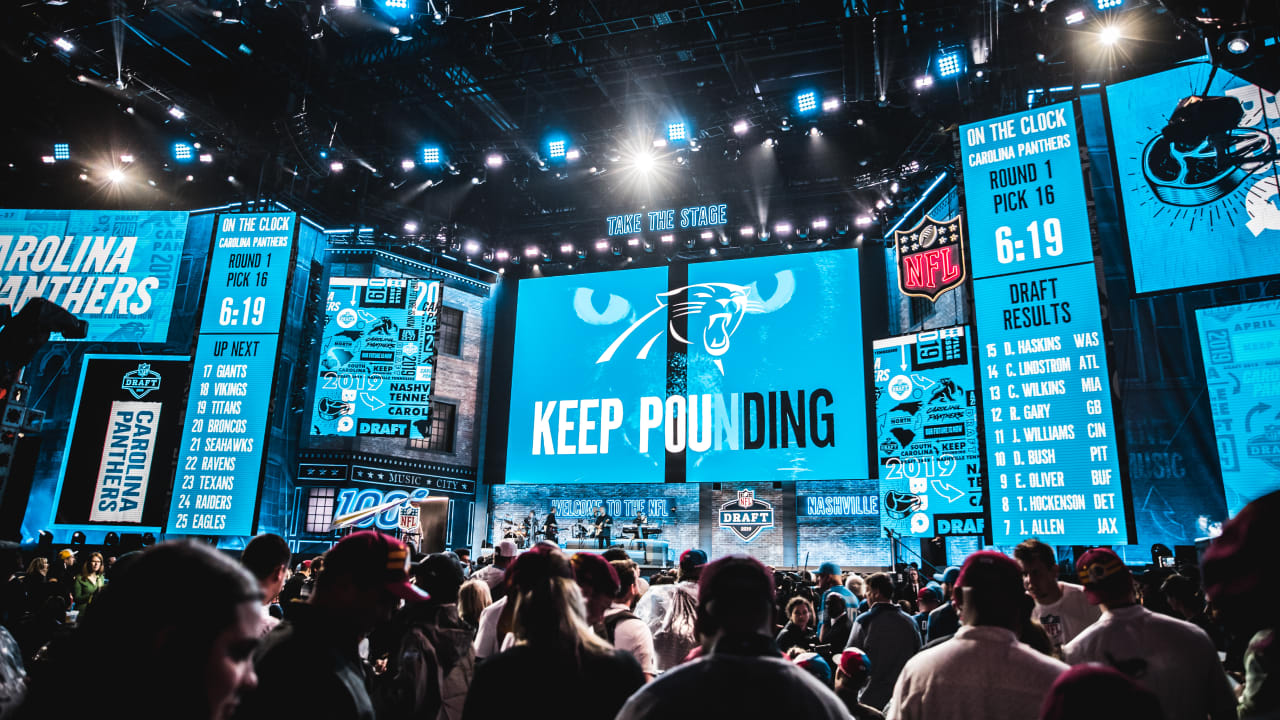 Admittedly, this probably isn't what the Panthers will end up doing come the actual draft, but hopefully this piece has served to showcase some of the prospects who would fit some of the Panthers major needs going into the final stretch of the season, while also emphasizing some of the key limitations and priorities for the Panthers as they look to turn things around after yet another disappointing season.
(Top Photo via Nick Brown/Rooted Media)