Get your credit card ready.
The Panthers remade their roster this offseason and the jerseys that were in your closet went from every week attire to vintage in a hurry (too soon?) – and on the eve of adding another weapon with a top-ten pick in this weekend's draft, the Panthers have announced the jersey numbers of their new acquisitions through free agency. So go ahead and dial up the team store and ask them to ship your new gear.
New quarterback Teddy Bridgewater will rock the #5 jersey, taking it from punter Michael Palardy, who will switch to #2 – Palardy had been #5 on the roster since 2016. Bridgewater has run with that jersey number since high school and that tradition will continue. Former XFL quarterback PJ Walker will wear #6 while Will Grier, who wore #3 last season, will switch to #7 – the number he wore at West Virginia.
Apologies if you'd already picked up that Grier gear – it's now officially a throwback.
On the defensive side of the ball, the biggest question revolved around new linebacker Tahir Whitehead, who will wear #52 instead of the 59 jersey he's worn in previous stops in Oakland and Detroit.
"Even prior to my rookie year, getting the number 59 – [there] was nothing that really went into having the number," Whitehead said when he was introduced to the media last month. "At this point, it would just be that that's the number I've been able to wear my whole career. But we haven't really talked about it – I know Luke wore it – obviously, he's a great guy, great player and all-around, it would be different for people to see me wearing it and everything, but at the end of the day, we're going to see how that goes and just go from there."
"I'm not too hung up on the number, I'm just ready to get out there, start training, be around the fellas, my teammates, the coaching staff and just start understand the scheme and go out there and win some games."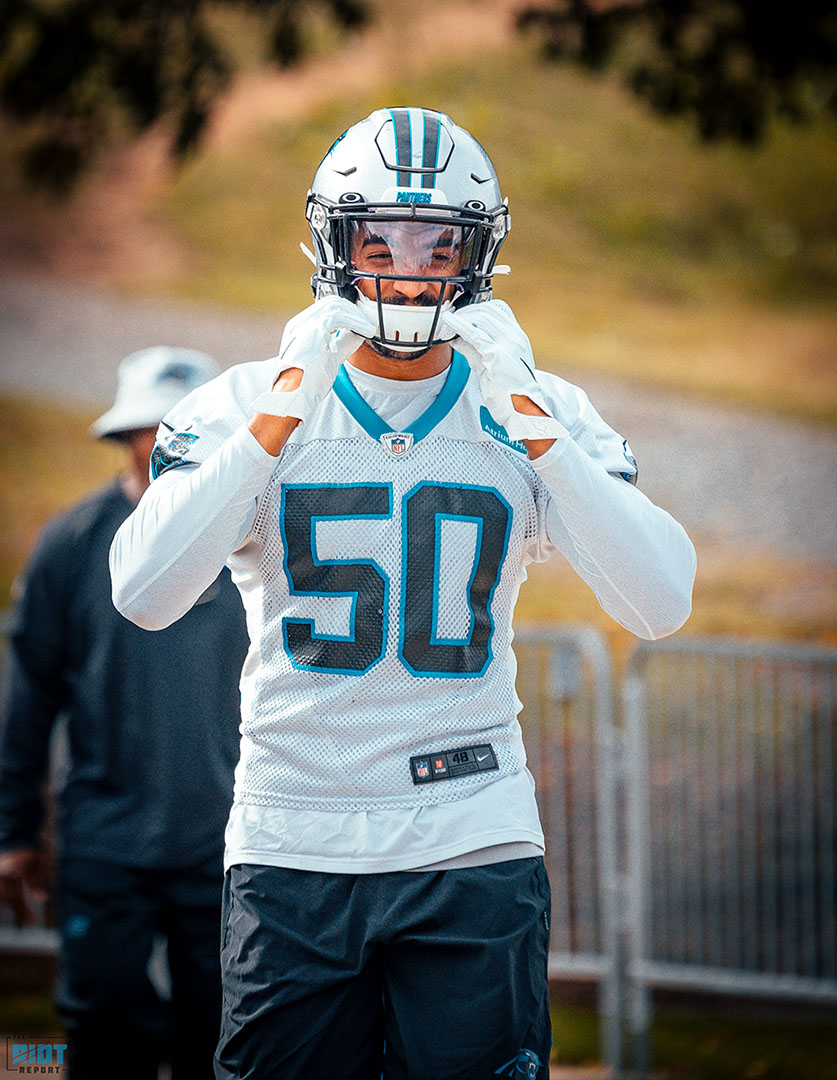 Staying on defense, new safety Juston Burris has #31, defensive end Stephen Weatherly #91, linebacker Chris Smith #50, and defensive tackle Zach Kerr #92. Second-year linebacker Christian Miller has switched from 50 to 55 and safety T.J. Green went from 36 to 24 with James Bradberry departing for New York in free agency.
On offense, the wide receivers will once again stay in the teens, with Robby Anderson (11), Ishmael Hyman (13), Pharoh Cooper (14), Seth Roberts (15), Brandon Zylstra (16) and Keith Kirkwood (19) all choosing not to grab a number in the eighties – the only WR to be an octogenarian is Damon Jeanpierre (83).
New left tackle Russell Okung will sport #76, TE Seth DeValve will wear #87, RB Marcus Murphy has #34, guard John Miller has #67, and Tyler Marz is #68. DeValve wore #88 in Jacksonville.
In case you're curious, NFL Shop has 30% off right now – go crazy.