"Of course it was him. OF COURSE IT WAS HIM!"
As much as one would hope to never have to deal with it, all NFL fans have had that terrible experience from time-to-time: Seeing a player who was once on their team go up against them in another jersey and hit them where it hurts the most. Perhaps it was a castoff who defected to a division rival in free agency. Or a player who never lived up to expectations on their team, only to excel elsewhere. Or perhaps it was someone who really had an axe to grind with their old team.
Unfortunately for the Carolina Panthers, they have ended up on the wrong side of these moments – these "revenge games" – all too often.
Most still remember the "Blood and Guts" game from 2014, where a scorned Steve Smith caught seven passes for 139 yards and two touchdowns as the Baltimore Ravens blew out the Panthers 38-10. However, that loss has been just the tip of the iceberg when it comes to ex-Panthers coming back to haunt their old team: In the 2017 NFC Wild Card Game, it was Ted Ginn, Jr. – frustratingly stone-handed in a Carolina uniform – who caught a deep touchdown to swing things in the New Orleans Saints' favor. Last season, Josh Norman followed up a miserable outing against the Saints with an exceptional one against the Panthers, where the now-Washington Redskin grabbed his first interception since 2016 and also forced a fumble. And others – such as A.J. Klein, Kelvin Benjamin, and Russell Shepard – have made absolutely sure to get big plays in when facing Carolina.

Considering how personal it is when an individual player burns their former team (or at least in the eye of the beholder), the Carolina Panthers have likely had about enough of having revenge be exacted upon them.
The good news is that now, mighty vengeance can be theirs – or at least, it can belong to their new star defensive tackle.
When the Panthers take to the field on Thursday Night against the Tampa Bay Buccaneers, Gerald McCoy will have cause enough for making them pay: The No. 3-overall pick in the 2010 NFL Draft, McCoy became one of the NFL's top interior defensive linemen of the decade, as well as a Bucs franchise great, representing them time and again when it came time for Pro Bowl and All-Pro recognition – which McCoy received in spite of playing on often middling to outright lousy teams.
Then, this spring, McCoy was let go – which would be one thing if Tampa Bay had ended things as gracefully as possible. Instead, affronts were made to both McCoy and his legacy: Prior to his release, new head coach Bruce Arians had remarked that McCoy was "not as disruptive" as he once was. His number, 93, was forked over to free agent signing Ndamukong Suh with McCoy's fingerprints practically still on his locker. Legendary Buccaneers defensive tackle Warren Sapp dismissed McCoy as being a franchise great, remarking to Pewter Report that "nice guys finish last" and that McCoy owes the team money back for never going to the playoffs or winning a division title in his tenure.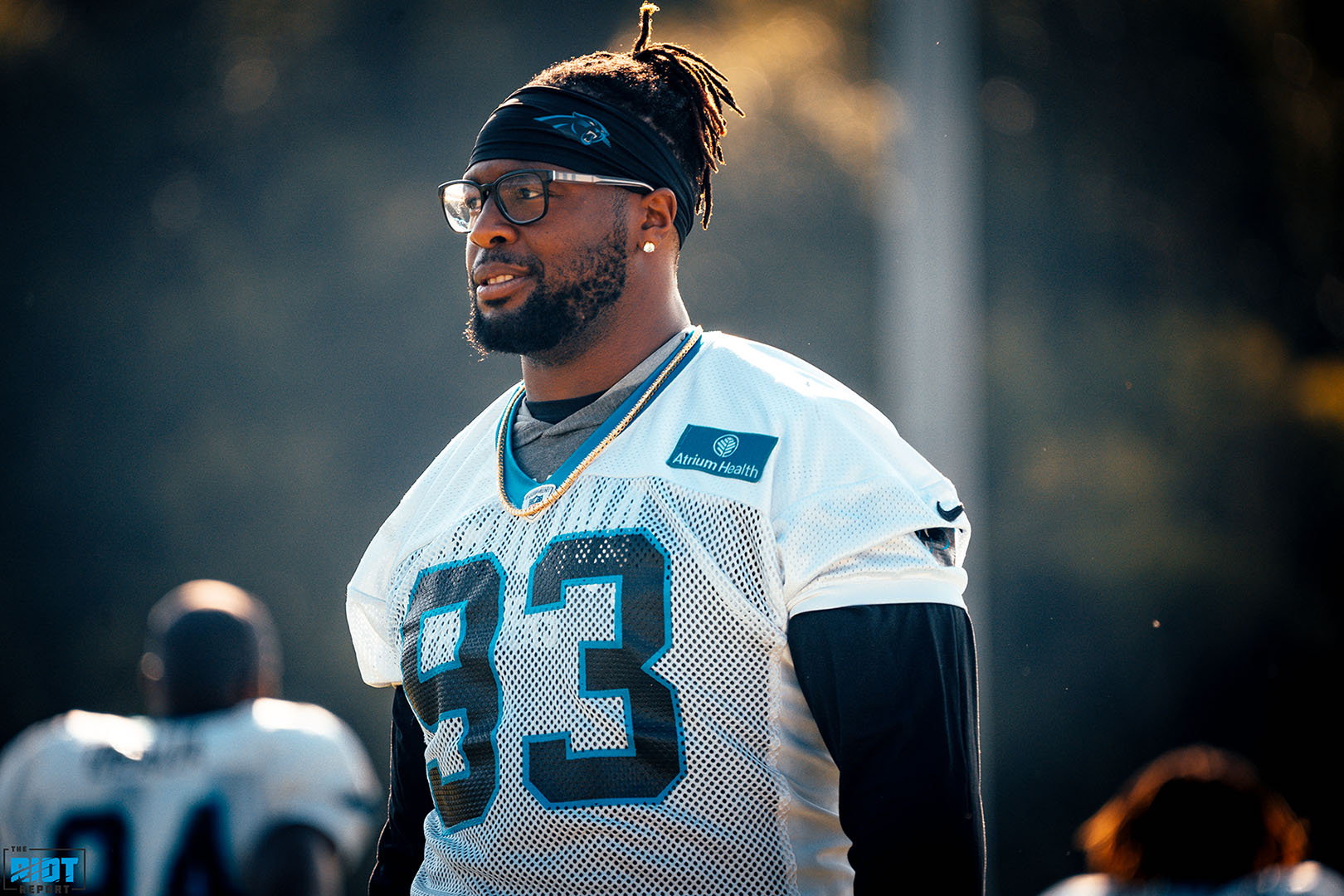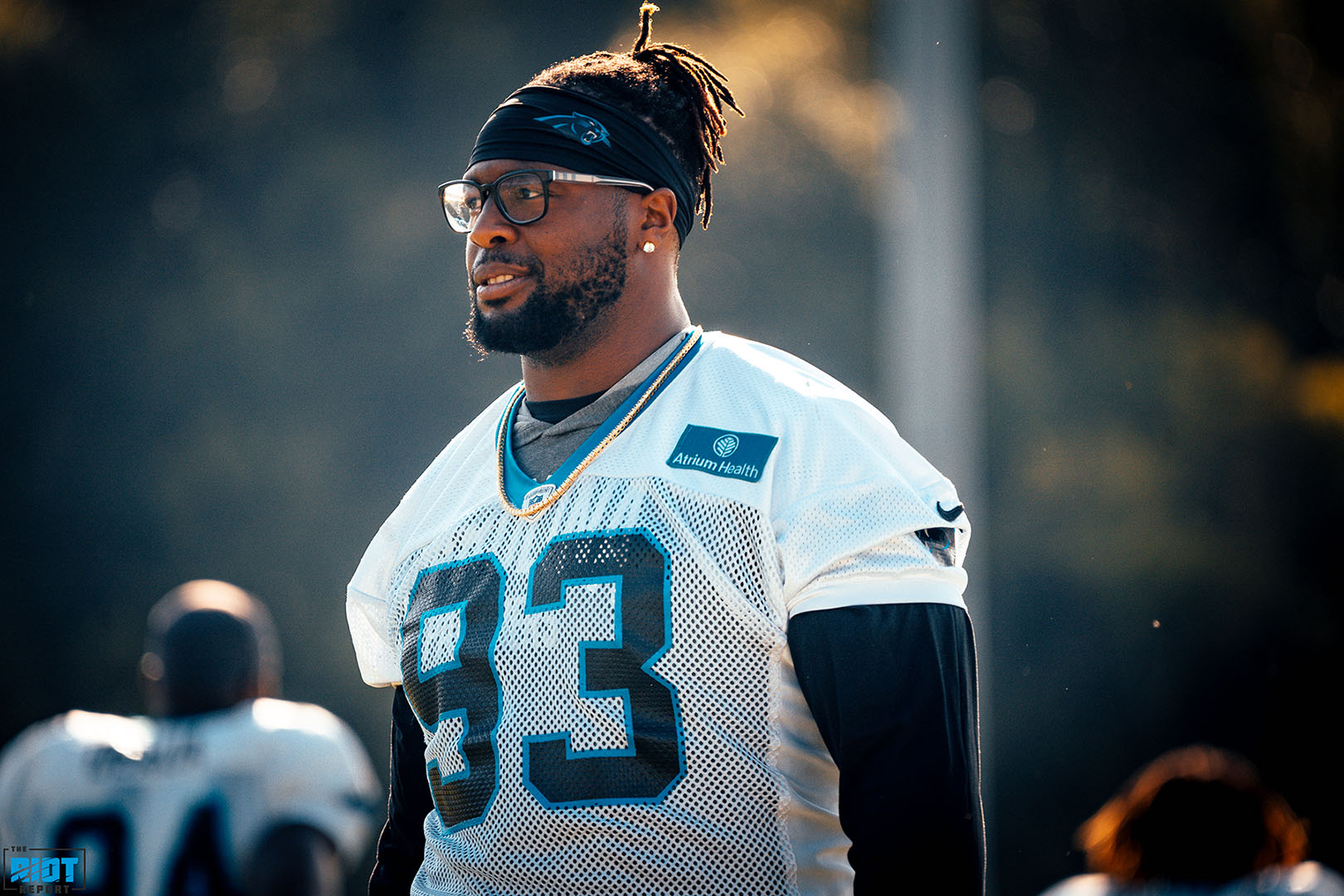 Speaking from the Panthers' locker room, McCoy has said all the right things: Although he isn't going to be "buddy-buddy" with his old teammates and will try to "kill everything moving", he has firmly taken the stance that there's no hard feelings between him and his old team – and that this week's match isn't special.
"Stuff like, 'Oh, he's going to destroy the Bucs because they cut him!' Who cares? So what? It's one game," said McCoy, discussing advice given to him by his father this past week. "I could play well this week and then play horrible next week, and then it's like 'Well, did he only play because he played his old team?' No."
"They brought me here to play well every week, you know?"
In a certain sense, McCoy should be trusted as telling the truth when it comes to his emotions entering this week. That said, there's room enough – probably about the size of an aircraft hangar – to wonder if it's the whole truth.

After all, players providing "bulletin board" material about how hard they're going to stick it to their old team is the exception rather than the norm. Take, for instance, the example of Ginn: Prior to the NFC Wild Card Game at the end of the 2017 season, Ginn's comments on his emotions going up against the Panthers in the playoffs were hardly inflammatory.
"Off the field it was a great place for me. On the field it was, too," said Ginn in January of 2018. "But at the end of the day, you've got to live and learn and you've got to move on. That's all it was about. I had my great time with them and they had their time with me and that was it … No bad blood. We have to just keep on moving."
What ultimately happened in that game – Ginn catching the sort of 80-yard go-ahead touchdown that always seemed to slip right through his fingers in Carolina – said quite enough. And that's only one of the first-hand illustrations the Panthers have had of how a player going up against his old team can help and hurt alike.
"I do know that guys that do tend to play their former teams are amped up a little bit more and are a little bit more hyped," said head coach Ron Rivera this week. "Especially for a guy that's had such a great career there. It's one of those things that hopefully we can contain it, and he can cut it loose and have a big day Thursday."
In the years since Steve Smith put the Panthers in their coffin that day in Baltimore ("You're dead! Take your ass back to Carolina! Make sure you mow my lawn too while you're out there!"), they have found themselves on the wrong side of revenge too many times. Which is why the presence of McCoy in Thursday Night's game is so welcome: The chance is there for the Panthers to flip the script on the scenario, and finally become the exactor of a player scorned's fury instead of have it exacted upon them.
Come kickoff at Bank of America Stadium, the expectation should be for Gerald McCoy, in some way, to make Tampa Bay rue the day that they crossed him. And good for the Carolina Panthers – Because it's about time that someone else's blood and guts get spilled instead of their own.