Oi!
I was informed that they do a thing called 'rhyming slang' over in London where you just use words that rhyme with what you're actually trying to say – it seemed like it sounded cool, but I think a lot of it had to do with making me feel dumb when my buddy said we were 'in bubble' when we were actually in trouble. Or 'apples and pears' instead of the stairs.
So, without further adieu, let's take a look at the trap snouts from the Panthers and Bucs battling across the pond at Tottenham Hotspur Stadium this weekend!
Christian McCaffrey (64) got literally a couple of snaps off – Reggie Bonnafon (3) took his place for the two snaps and they shared the backfield for a play as well – but McCaffrey had eight carries in the fourth quarter with the Panthers up by two scores and the Bucs knowing the team was going to keep the ball on the ground. Those eight carries went for -5 yards; if the Panthers wanted to give McCaffrey some rest, that would have been the time – especially late in the game.
With Chris Hogan on injured reserve, the Panthers gave a few snaps to former CFL star Brandon Zylstra (5), but it was DJ Moore (60) and Curtis Samuel (53) who have taken the bulk of the snaps this season out wide while Jarius Wright (31) continues to occupy his role in the slot.
Even with a whopping 17 possessions, the Panthers had 65 offensive snaps, only their third-highest total of the season.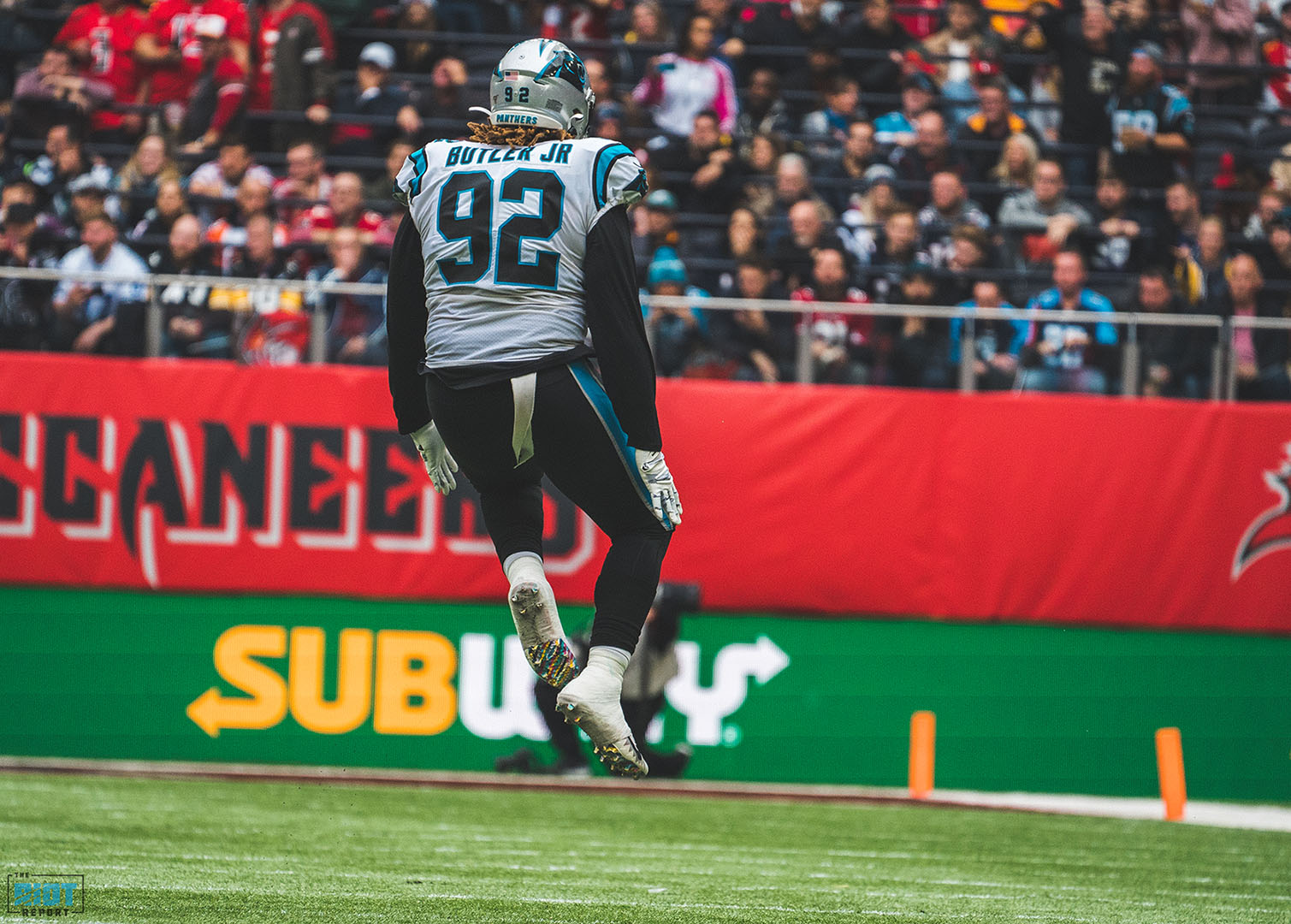 It's not surprising that Efe Obada (36) got by far his highest usage of the season in his homecoming game to London, but it was once again Mario Addison (60) and Bruce Irvin (52) leading the charge at outside linebacker/defensive end; Brian Burns (33) did still manage to pick up a sack in his fewest snaps of the season – one has to wonder if the wrist bruise he's been dealing with for a few weeks is affecting his playing time as his snap count has fallen each of the past three weeks.
While Vernon Butler (25) had the fewest snaps of any interior lineman – Marquis Haynes had 19, mostly coming from the edge – he made the most of them. Butler had two strip-sacks on consecutive plays and Gerald McCoy (45) had his most productive day, at least statistically for the Panthers, with 2.5 sacks, four QB hits and a deflected pass attempt. James Bradberry (80) was one of five players to play every snap and led the team in tackles with ten and bookended the day with interceptions on both the first and last defensive snap of the game.
Check out the full trap snouts here:
| Name | Position | Offensive Snap | Percentage | Defensive Snaps | Percentage | Special Teams | Percentage |
| --- | --- | --- | --- | --- | --- | --- | --- |
| T Moton | T | 66 | 100% | | | 9 | 22% |
| D Williams | T | 66 | 100% | | | 9 | 22% |
| G Van Roten | G | 66 | 100% | | | 9 | 22% |
| M Paradis | C | 66 | 100% | | | | |
| D Daley | G | 66 | 100% | | | | |
| K Allen | QB | 66 | 100% | | | | |
| C McCaffrey | RB | 64 | 97% | | | | |
| G Olsen | TE | 61 | 92% | | | 1 | 2% |
| D Moore | WR | 60 | 91% | | | 1 | 2% |
| C Samuel | WR | 53 | 80% | | | | |
| C Manhertz | TE | 36 | 55% | | | 9 | 22% |
| J Wright | WR | 31 | 47% | | | | |
| A Armah | FB | 11 | 17% | | | 17 | 41% |
| B Zylstra | WR | 5 | 8% | | | 15 | 37% |
| I Thomas | TE | 5 | 8% | | | 1 | 2% |
| R Bonnafon | RB | 3 | 5% | | | 27 | 66% |
| B Witzmann | G | 1 | 2% | | | 9 | 22% |
| R Cockrell | CB | | | 80 | 100% | 10 | 24% |
| S Thompson | LB | | | 80 | 100% | 5 | 12% |
| J Bradberry | CB | | | 80 | 100% | 5 | 12% |
| L Kuechly | LB | | | 80 | 100% | 4 | 10% |
| T Boston | FS | | | 80 | 100% | | |
| E Reid | SS | | | 79 | 99% | 4 | 10% |
| J Elliott | CB | | | 67 | 84% | 12 | 29% |
| M Addison | LB | | | 60 | 75% | | |
| B Irvin | LB | | | 52 | 65% | 1 | 2% |
| G McCoy | DT | | | 45 | 56% | 3 | 7% |
| E Obada | DE | | | 36 | 45% | 13 | 32% |
| D Poe | NT | | | 34 | 42% | 11 | 27% |
| B Burns | LB | | | 33 | 41% | 10 | 24% |
| K Love | NT | | | 29 | 36% | | |
| V Butler | DE | | | 25 | 31% | 4 | 10% |
| M Haynes | LB | | | 19 | 24% | 21 | 51% |
| R Gaulden | SS | | | 1 | 1% | 27 | 66% |
| C Jones | FS | | | | | 32 | 78% |
| A Smith | LB | | | | | 28 | 68% |
| J Carter | LB | | | | | 28 | 68% |
| R McCloud | WR | | | | | 24 | 59% |
| J Kunaszyk | LB | | | | | 21 | 51% |
| J Scarlett | RB | | | | | 20 | 49% |
| J Slye | K | | | | | 18 | 44% |
| M Palardy | P | | | | | 17 | 41% |
| J Jansen | LS | | | | | 16 | 39% |
| T Larsen | C | | | | | 9 | 22% |