In the theater world, a bad dress rehearsal means a great opening night.
The Panthers are certainly hoping that adage applies to football after everything that could have gone wrong during the first half of their 10-3 loss to the Patriots actually went worse than anyone could have ever imagined. It wasn't just forgetting their lines and dropping a prop – it was more like the curtain fell down and the stage collapsed Thursday night at Gillette Stadium – not to mention the star of the show may need an understudy.
You might be able to ignore the almost-comically bad statistical performance in the first half that included the Patriots possessing the ball for over 20 of a possible 30 minutes, converting 7-of-11 third downs and gaining 195 yards while the Panthers offense sputtered to 29 net yards, zero points and only two first downs – because in the preseason the stats, wins and losses don't matter. But you certainly couldn't ignore when your franchise quarterback got sacked, tested his foot before gingerly jogging to the sideline to be looked at by trainer and was briefly examined before heading to the locker room and not returning – that loss matters.
Especially when that loss happens in a game that doesn't count.
"It's a delicate balance between making sure that your players are ready to go for the regular season and also making sure that they get enough reps at game speed," said Luke Kuechly after the game. "I think it's important to get in there and feel it before the season starts."
"It's the balance of getting some live action that you don't quite get," said Greg Olsen, who along with Cam Newton, Kuechly and Christian McCaffrey, got his first action of the preseason tonight in New England. "You do everything in practice right up until the last minute – you don't get sacked, you don't get tackled, you don't get hit….in this league, you can't just all of a sudden turn a switch and say we are going to be good now."
"Obviously, we hope that Cam is OK."

While multiple sources said after the game that x-rays revealed Newton's left foot injury was only a sprain, in the three hours between Newton retreating to the locker room and sources leaking that Newton's injury wasn't serious, diagnoses on social media varied wildly from a possible Lisfranc injury that would sideline the QB for months to the strain that was eventually reported as the initial diagnosis – the Panthers will likely know more after tests back in Charlotte tomorrow, but it appears they may have dodged a bullet.
There were still those three hours of the Panthers coming face-to-face with the reality of what might have happened if the star of the show wasn't available for opening night.
Newton's backup, Kyle Allen, went 3-of-6 for 18 yards and led the Panthers to only three first downs in three drives. Third-round pick Will Grier, who threw interceptions in the first two weeks of the preseason and has not challenged Allen for the backup quarterback spot at all, had only 44 yards passing – 27 of which came on a fourth down catch-and-run dump-off to running back Reggie Bonnafon – on eight attempts in mop-up duty during the fourth quarter.
"I was looking for a little more consistency out of the two of them," said Ron Rivera afterwards.
The Panthers could have used consistency from the rest of their offense – the Panthers punted on their first six possessions and were ready to punt on a seventh before an offsides call moved it to fourth-and-short, which the Panthers were able to convert and score their only points of the day on a Joey Slye field goal.
Overall, they were 3-of-13 on third or fourth down and had almost as many penalty yards (88) as they did net yards (99).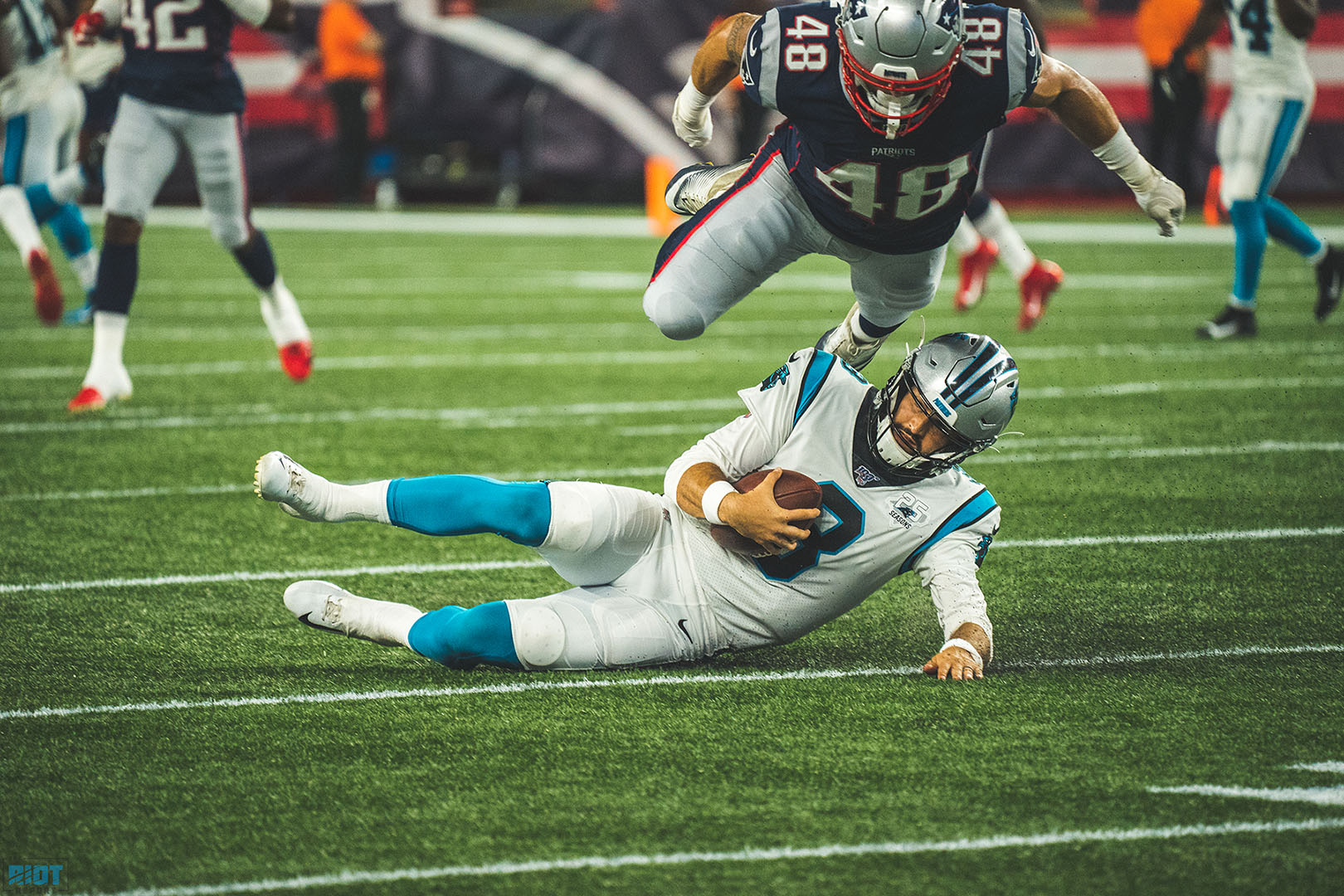 The defense didn't perform up to the Panthers high standards, either. While the final score may read that the Panthers secured five sacks and a forced fumble while holding the Patriots to only ten, all of those positive stats came from the second and third-string against rookie quarterback Jarrett Stidham.
Tom Brady was 8-for-12 for 75 yards and left the field after one quarter with a 7-0 lead; the Patriots had 118 total yards on the first three drives and would have had more had two rushes – one of 30 and another of 8 – not been wiped away by penalties.
While there are still things to clean up for the defense, the Panthers success ultimately hinges on whether or not Newton will be healthy for the regular season.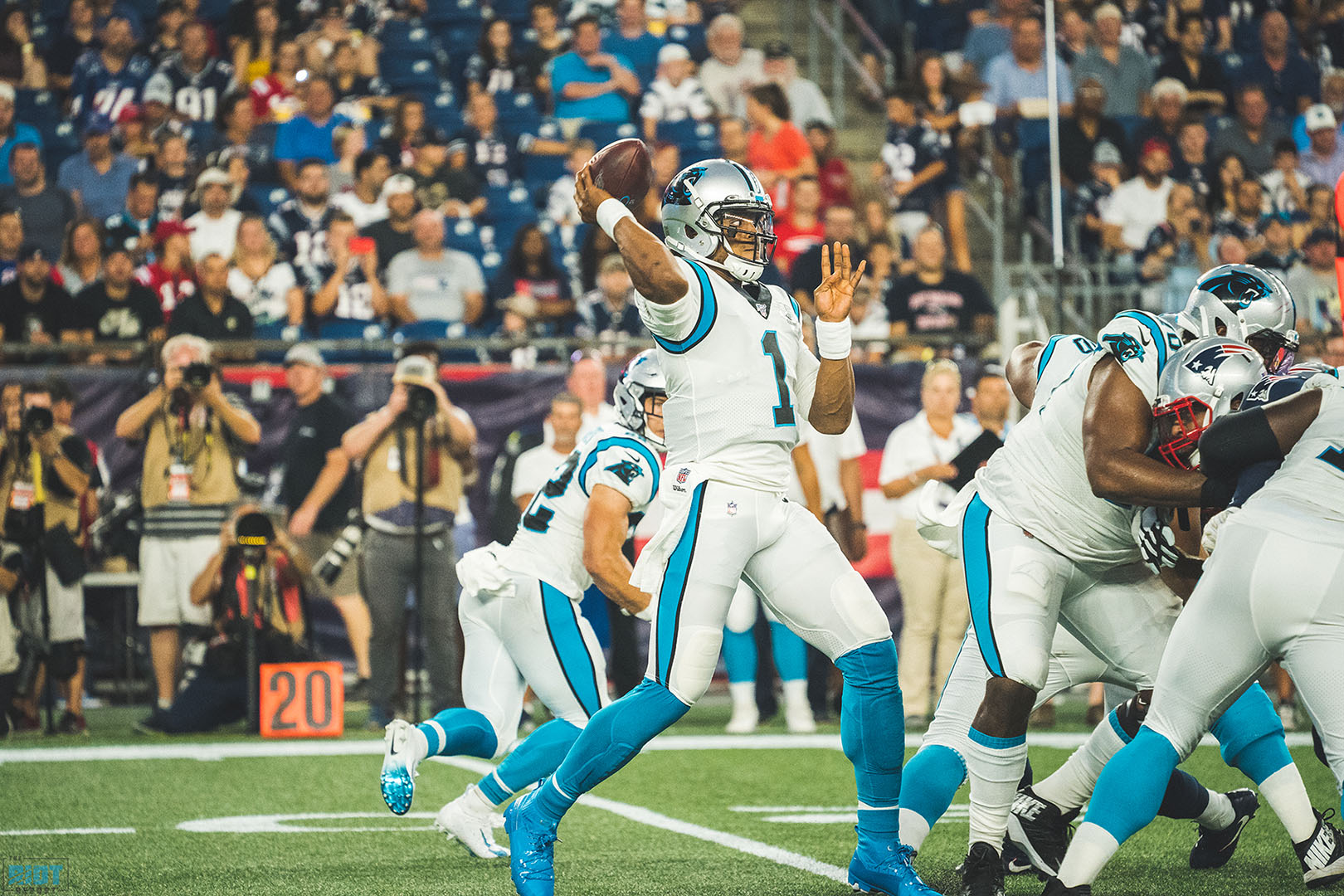 On the fifth offensive play of the game, Patriots linebacker Kyle Van Noy beat Chris Manhertz off the edge and plowed into Newton for the first of four Patriots sacks on the night.
"He just timed that snap extremely well," said Manhertz. "Before I knew it, he was up the field. Those guys get paid, too – that's a pretty good linebacker and, obviously, on that play I demand more of myself and expect more of myself."
When the 6-5 QB got to his feet and he shook off the hit, the fanbase exhaled – after all, that's what the preseason is for. Get hit a few times, remember what it feels like to go to the ground and put on a bucket hat with the top cut out for the rest of the game and laugh on the sidelines with your friends.
That was the plan, anyway.
Six plays later, on third-and-10 at their own 31 with just over four minutes left in the first quarter, Newton took a long drop and felt immediate pressure. It was unclear whether Newton hurt his foot during the desperate attempts to escape pressure from a blitzing corner with his linemen being pushed backwards or when he went to the ground and 304-pound defensive tackle Adam Butler landed in the vicinity of his leg – Rivera said after the game that he wouldn't speculate on when the injury occurred without watching the tape.
"What I usually do is I don't ask any questions, so I can't answer future questions," said Rivera, only revealing that Newton was in a walking boot – but he wasn't ready to undermine his decision to play Newton along with the rest of the starters. "It could [have] happened on game one of the regular season, so to sit here and say that [you shouldn't] play him in these games and then he gets hurt on day one, what do you do?"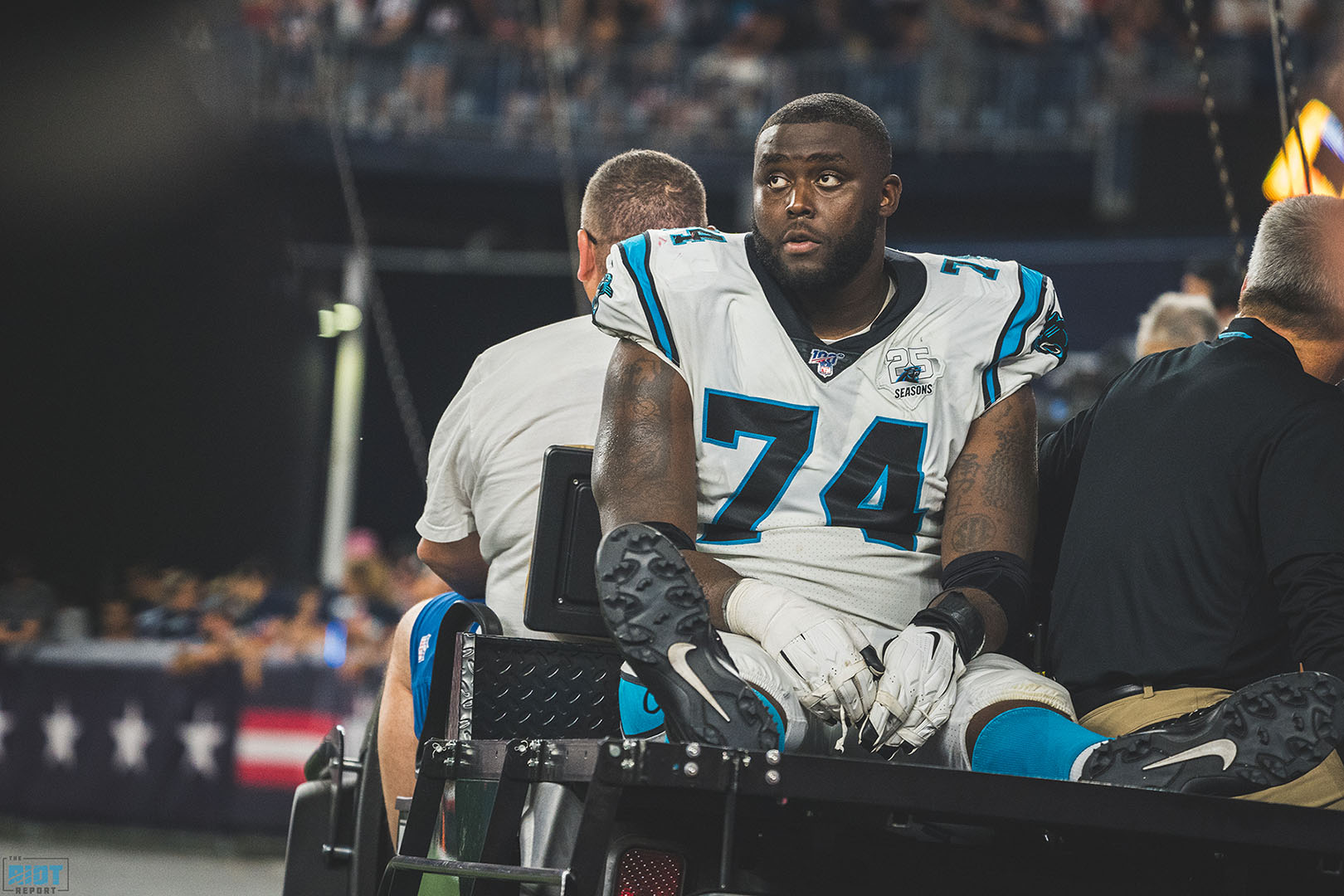 Newton wasn't the only casualty – the Patriots had seven or eight injuries of their own and second-round pick Greg Little was evaluated for a concussion late in the game. There's validity on both sides of the argument – keeping players in bubble wrap for the preseason game may not necessarily keep them from getting injured.
"It depends. You could argue that with joint practices, you could argue that with practice," said Christian McCaffrey. "There's definitely arguments both ways.  Personally, I enjoy it sometimes but I understand why [people] don't."
"I just chalk it up to it being football – shit happens," said Trai Turner. "It ain't going to change, so I guess it really doesn't matter what my opinion of it is. It's always good to get some good reps in and see what you need to work on….but it is also the two evils of it when you come out with little nicks and bumps and bruises from it and you're like 'damn, i could have been fresh for Week 1."
"It's not changing, so it really don't matter….you've just got to, I don't know, protect yourself better. I don't know."
Most would admit that the season rests on the health of Cam Newton, be it his surgically-repaired shoulder, his left foot, his thumb or his head – for a few hours Thursday night during the Panthers' dress rehearsal, they had a glimpse of what it might look like without Newton on the field.
Here's hoping opening night looks a lot different.
"You would like for the third preseason game – get in, get those reps, find some rhythm, find some tempo and get out healthy. Those are the order of the goals," said a chagrined Olsen.
"We didn't get any of those goals accomplished tonight."