At halftime of their 34-28 victory over the Jacksonville Jaguars, the Panthers inducted four new members to it's Hall of Honor.
Steve Smith Sr., Jordan Gross, Jake Delhomme, and Wesley Walls joined linebacker Sam Mills, who was honored in 1998. Each player got only 60 seconds to speak about the people who helped them reach the Panthers Hall of Honor in their honorary Panthers blue blazers they had received earlier this weekend.
"What an amazing day in the 25-year history of the franchise," Panthers play-by-play announcer Mick Mixon said before each player spoke to the crowd.
Smith, Gross, and Delhomme were all members of the 2003 Panthers team that lost in Super Bowl XXXVIII to the New England Patriots. Walls was on the Panthers 1996 team that won the NFC West in their second season as a franchise – that 1996 team would make it to the NFC Championship before losing to the Green Bay Packers.
Walls had a ton of success during his time with the Panthers. He was a five-time Pro Bowler along with being an All-Pro four times in Carolina.

Although Walls played with the San Francisco 49ers and the New Orleans Saints before arriving in Carolina in 1996, he told the crowd that during his seven seasons with the club, he finally found a home with the Panthers.
"It took me seven long years in the NFL before I finally became a Carolina Panther, but I knew good and well in my heart when I landed here in 1996 that I had finally found a home; a home for my football career and a home for my family," Walls said. "I'm so grateful to the Panthers organization for giving me this opportunity."
Unlike the rest of the inductees on Sunday, Gross spent all of his 11 NFL seasons in the NFL with the Panthers. During that span, Gross was a three-time Pro Bowler and a first-team All-Pro in 2008.
Gross, who now works as an analyst for Panthers radio, had a message for Panther fans.
"We're all born with a dream inside of us, and it's frightful to put that into action because you know the world will be there to tell you when you fail," Gross said. "But compare your life to your life, know that there's greatness inside of you, and a winner isn't nothing but someone who gets up when they're down."
Delhomme, who also works as an analyst for the Panthers radio broadcast, helped lead the team on a magical run in 2003. In just his first season with the club, he helped lead the Panthers to an 11-5 record and an appearance in Super Bowl XXXVIII, where they would lose to the New England Patriots. In seven seasons with the Panthers, Delhomme threw for 19,258 yards, 120 touchdowns, and 89 interceptions and was selected to the 2005 Pro Bowl.
Delhomme said he still remembers his first game against the Jaguars in 2003 and how he didn't want to let any of fans and teammates down that day – and now he was going to relish this one.
"This is the greatest sports day of my life," Delhomme said. "It started here in this stadium at halftime of the Jacksonville Jaguars game in 2003, that's when I was in that locker room, against this team, and I got the call. I never wanted to let you down. I came in week in and week out, trying not to let them down, trying not to let our team down, not to let you down."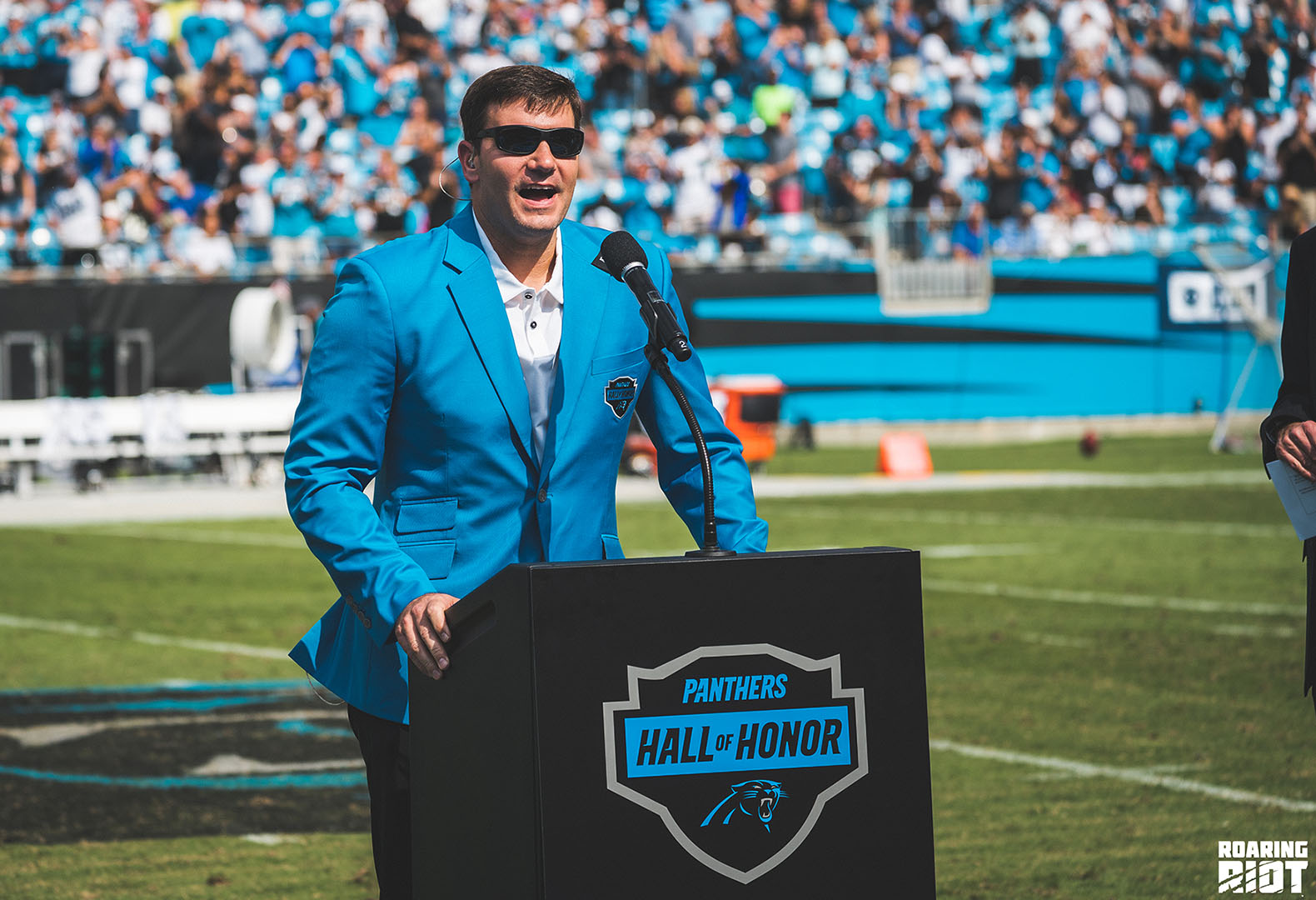 The loudest reception and applause from the crowd definitely came when Smith came to the microphone. Smith spent 13 seasons with the Panthers before finishing his career with the Ravens and is the Panthers' all-time leader in total touchdowns, receptions, and receiving yards.
"I'd like to thank Mr. [Jerry] Richardson and Marty Hurney for drafting me, and I'd also like to thank Mr. [David] Tepper for bringing me back," Smith said. "I'd like to thank George Seifert for drafting me, John Fox for believing in me, and Coach Ron Rivera for giving me a chance as well. I never thought I'd be back in this stadium, but I am, and I'm happy to be here. I love the fans and I love this city that invested in me."
He then blew the metaphorical roof off of Bank of America Stadium when he removed his blazer and pulled off his sweatshirt to reveal a white 89 jersey with a Super Bowl patch on the chest – perhaps the most iconic jersey in Panthers history.
"I never thought I'd be able to wear a Carolina Panthers jersey ever again, so I thought for one last time I'd put it back on. Now the next step: make sure nobody ever wears this number again."
Now that he and his fellow honorees names are inscribed on the bowl of the stadium high atop the 500 section, retiring 89 may be next on the list.
Check out some pictures from the halftime induction: