The Panthers will likely take the final three weeks of the season to evaluate some of the younger players on their roster – on Sunday, the hands of interim head coach Perry Fewell will be forced at a couple of positions as the Panthers will be without tight end Greg Olsen and outside linebacker Marquis Haynes, which should allow for additional snaps for second-year tight end Ian Thomas and rookie edge rusher Christian Miller.
Haynes injured his knee last week in Atlanta.
Thomas played the majority of the tight end snaps last week and had five catches for 57 yards and the third touchdown of his career, while Miller was a healthy scratch – after being active the first five weeks, Miller missed five games with a high ankle sprain but returned in Week 13 against the Redskins. The fourth-round pick out of Alabama has two sacks but has played only 91 snaps in his rookie season.
Greg Olsen remains in the concussion protocol, despite practicing in a limited fashion since Wednesday.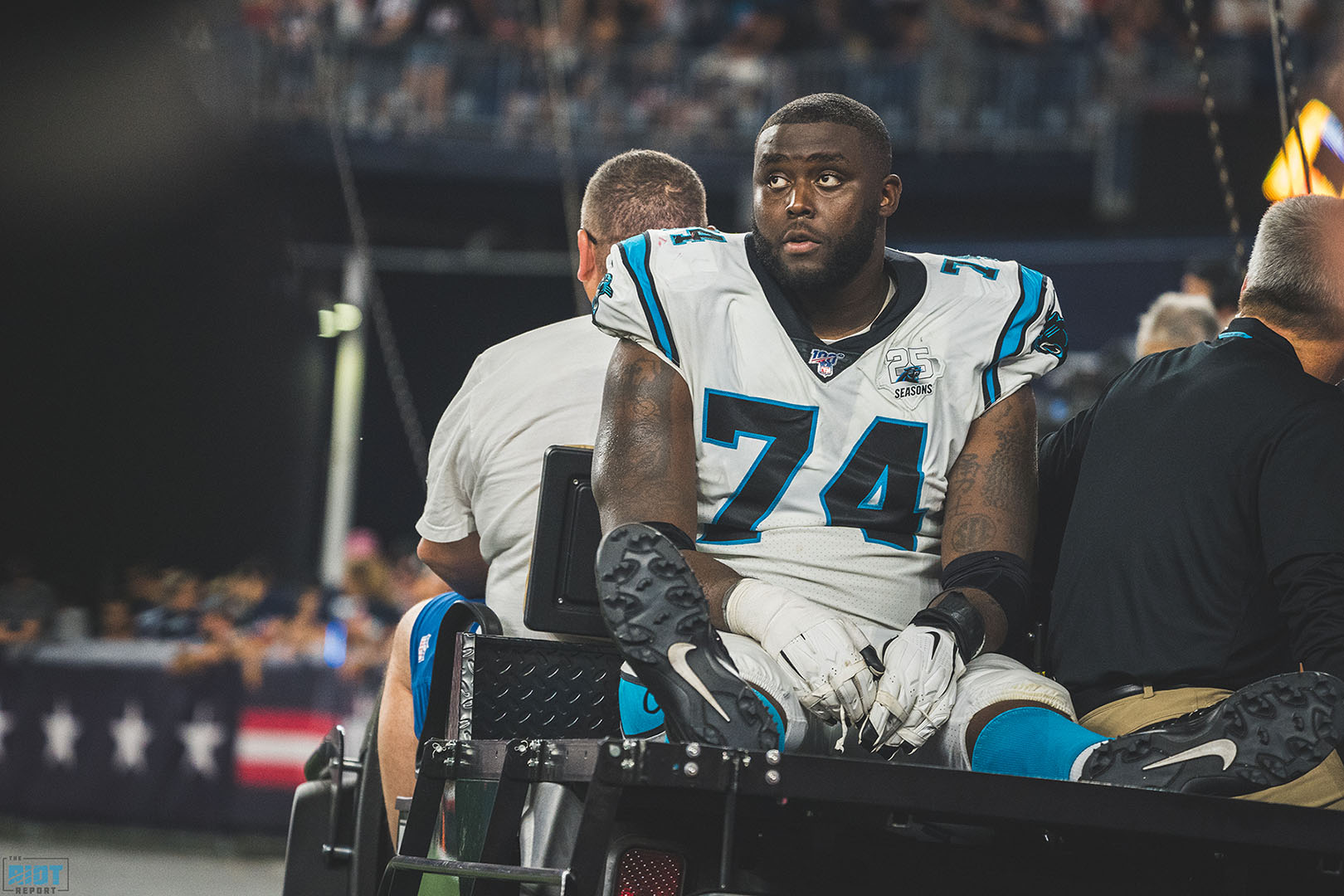 The Panthers will also be without second-round left tackle Greg Little for the ninth game this season – Little was in the concussion protocol for much of the first half of the season and has now been battling a high ankle sprain. Perry Fewell is hopeful that Little will play again this year, but it has been a trying rookie season for Little.
"I know it's frustrating for us as coaches," said Fewell. "He does have the potential to be a starter – I know it's frustrating for Greg, in the sense that he gets started a little bit and then he gets set back, but he's being set back for health purposes and so, although it can be frustrating, it's best for him in the long term for his health."
"I am hopeful, but when it comes to those kind of protocols, I can hope all I want, I just have to do what's best for the young man and what the medical people say."
Mario Addison did not practice on Wednesday or Thursday, but was able to participate on Friday – Fewell says he'll evaluate the tape of practice to see if there need to be tweaks in the defensive line rotation or personnel, but he was hopeful that the Panthers leader in sacks will be able to suit up on Sunday.
"We'll continue to evaluate him, but I thought he got out and ran around, did some good things today [and] we'll go out and do the same thing tomorrow," said Fewell. "I'm very optimistic."
UPDATE: On Saturday morning, the Panthers placed Little on injured reserve and activated Chris Hogan to the 53-man roster. 
Check out the full injury report here:
| Player | Injury | Game Status | Notes |
| --- | --- | --- | --- |
| Marquis Haynes | Knee | Out | |
| Greg Little | Ankle | Out | |
| Greg Olsen | Concussion | Out | |
| Garrett McGhin | Ankle | Doubtful | |
| Mario Addison | Chest | Questionable | |