The Panthers defense kept the Panthers in the game as long as they could – for almost the entirety of the first half, they bent, but didn't break.
Even as the Panthers offense sputtered to three turnovers and zero points, converting only one of six third down attempts in the first half, the defense was right there – but then Julio Jones happened.
"The game kind of spiraled on us offensively," said Greg Olsen. "Defense played really well. Gave up the opening field goal, then stopped them; next drive, we get the ball back then obviously, we had a turnover. They stopped them – it's still 3-0. Then, 10-0 [after the punt return touchdown], we had a shot there before half."
"For anybody who watched it, it's very clear, obviously, what happened."
For those who weren't watching, what happened was that every time the Panthers defense gave the ball back to the offense, the Panthers gave it right back to the Falcons, with Kyle Allen twice shooting the Panthers offense in the foot with interceptions inside the Falcons' five-yard line. Allen will – and should – take the bulk of the blame with four interceptions, but there's plenty to go around – a wide open Reggie Bonnafon drop up the seam resulted in the punt that was returned for a score. Greg Little, Taylor Moton, Daryl Williams and the rest of the offensive line were all beat by the Falcons' pass rush for sacks and pressures that turned into interceptions and incompletions; even Christian McCaffrey had a drop on a second-and-short in the first quarter that helped curb a drive.
"When you have a game like that offensively when you score three points, any guy who stepped on the field offensively shares in that blame. Obviously, quarterbacks are always the focal point and that's just the way the league is – but anybody who played offense for us today did a bad job."
"To score three points in this league – at home – is pretty bad."
But with five minutes left in the first half, the Panthers were down by only two scores, despite their offense turning the ball over twice and their special teams allowing a punt return for a touchdown.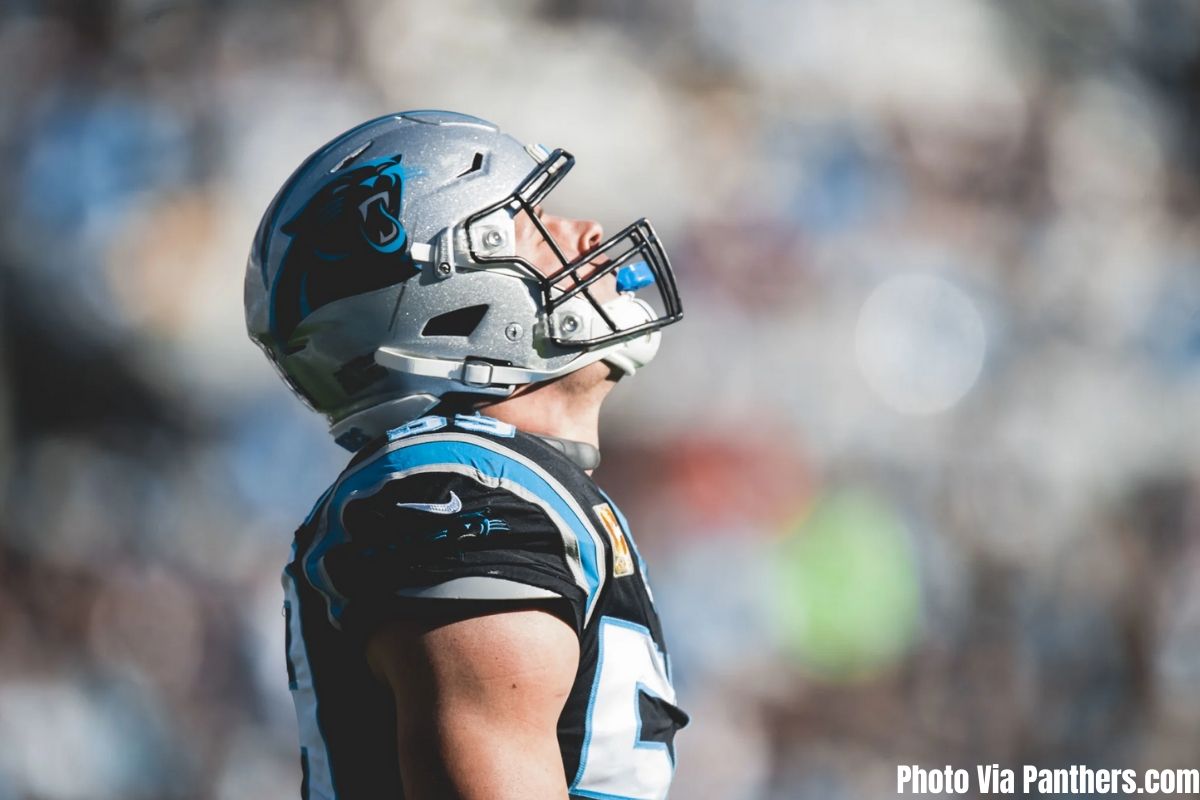 But eventually, the defense broke – a 3rd-and-16 that saw Luke Kuechly trying to carry coverage on Julio Jones 50 yards downfield ended badly with the Falcons inside the three-yard line. Even if they had stopped the pass, a roughing the passer penalty on Mario Addison would have given them a first down in Carolina territory anyway – and it's hard to defend against a perfect pass to the best wide receiver in the NFL.
"Great throw, great catch," said Kuechly. "But looking back on it, as he goes to make the adjustment for the ball, I've got to get my head back so I can see the ball. He's a great player, Matt is a great quarterback, but I have to make that play."
The defense refused to assign blame to the offense, even though they were able to shore up issues that had been plaguing them recently.
The worst red zone defense in the league coming into the game allowed only two touchdowns on five trips inside the 20. The team that had given up over 500 yards rushing in the past three games held the Falcons to only 54 yards on 26 carries. The NFL's leaders in sacks added three more to the total.
But none of that matters in a loss.
"You've just got to come up with a stop," said Bruce Irvin. "It is what it is – you can't sit here and blame the offense. We've just got to bow up, either take the ball back or hold them to three. We can't allow teams to go down there and just score if we want to be the defense that we think or that we talk about everyday, every week. We've got to bow up and make a play for the offense – we can't sit there and blame them."
"It's tough, because we know we're better than that – we just didn't play like it and they took advantage of it. I'm not going to sit here and give you a million excuses and tell you what we could have [done], what we should do better. At the end of the day, they just whooped our ass – that's what it is."
The Falcons defense – much maligned for the first eight games of the season – has surged the past two weeks after six sacks a week ago at New Orleans and constant harassment up front of Kyle Allen. While the defense didn't do enough to win – they haven't produced a turnover in two weeks – the offense didn't do them any favors. What has been complementary football between the three phases of the game during their five wins has gone the other way – no phase is helping the other and the frustration and disappointment is starting to mount in the Panthers' locker room.
Gerald McCoy: "It's extremely frustrating. A division game at home, you never want to drop those. Definitely frustrating."
Olsen: "Just a comedy of terrible football."
Greg Van Roten: "It's hard to win if you don't score points. We just didn't play well today."
Brian Burns: "Disappointed because I know what this team is capable of and I know what we've shown early in the season and this is definitely not how we should be playing, especially coming into this back end where we've got three divisional games. We need to get back to where we were before. It sucks losing, especially home and it's a division game. Those are the ones you have to win."
Ron Rivera: "It's disappointing. We didn't play well enough to win. That's how I would assess it. You want me to say disappointing and I said disappointing. It was disappointing."
Perhaps the most frustrating thing is that they don't know how to fix it.