For the second consecutive year, a four-game losing streak and a porous defense has resulted in changes to the Carolina Panthers coaching staff – this year, the change is at the top as the team has parted ways with Ron Rivera, the team announced Tuesday afternoon.
Rivera will leave the team as the franchise's winningest coach with a 76-63-1 regular season record and a 3-4 postseason mark. In nine seasons, Rivera guided the team to a Super Bowl appearance, an NFC Championship and three NFC South titles and was named AP Coach of the Year in 2013 and 2015.
"I believe this is the best decision for the long-term success of our team," owner David Tepper said via press release. "I have a great deal of respect for Ron and the contributions he has made to this franchise and to this community. I wish him the best. I will immediately begin the search for the next head coach of the Carolina Panthers."
"We are going to take a comprehensive and thorough review of our football operation to make sure we are structured for long-term sustained success. Our vision is to find the right mix of old-school discipline and toughness with modern and innovative processes. We will consider a wide range of football executives to complement our current football staff. One change that we will implement is hiring an assistant general manager and vice president of football operations. We all must recognize that this is the first step in a process, but we are committed to building and maintaining a championship culture for our team and our fans."
Last season, a four-game losing streak and a defense that allowed more big plays than any other team in the league caused Rivera to fire two assistant coaches and take on the defensive playcalling himself – as a defensive coordinator for the six seasons before he came to Carolina and a head coach that prided himself on his defensive prowess, Rivera re-invented the defense with a new multiple scheme in an effort to jumpstart the pass rush and improve the defense.
However, even as the Panthers lead the league in sacks, the rush defense suffered, allowing over five yards per carry and 22 touchdowns in the first 12 games of the season.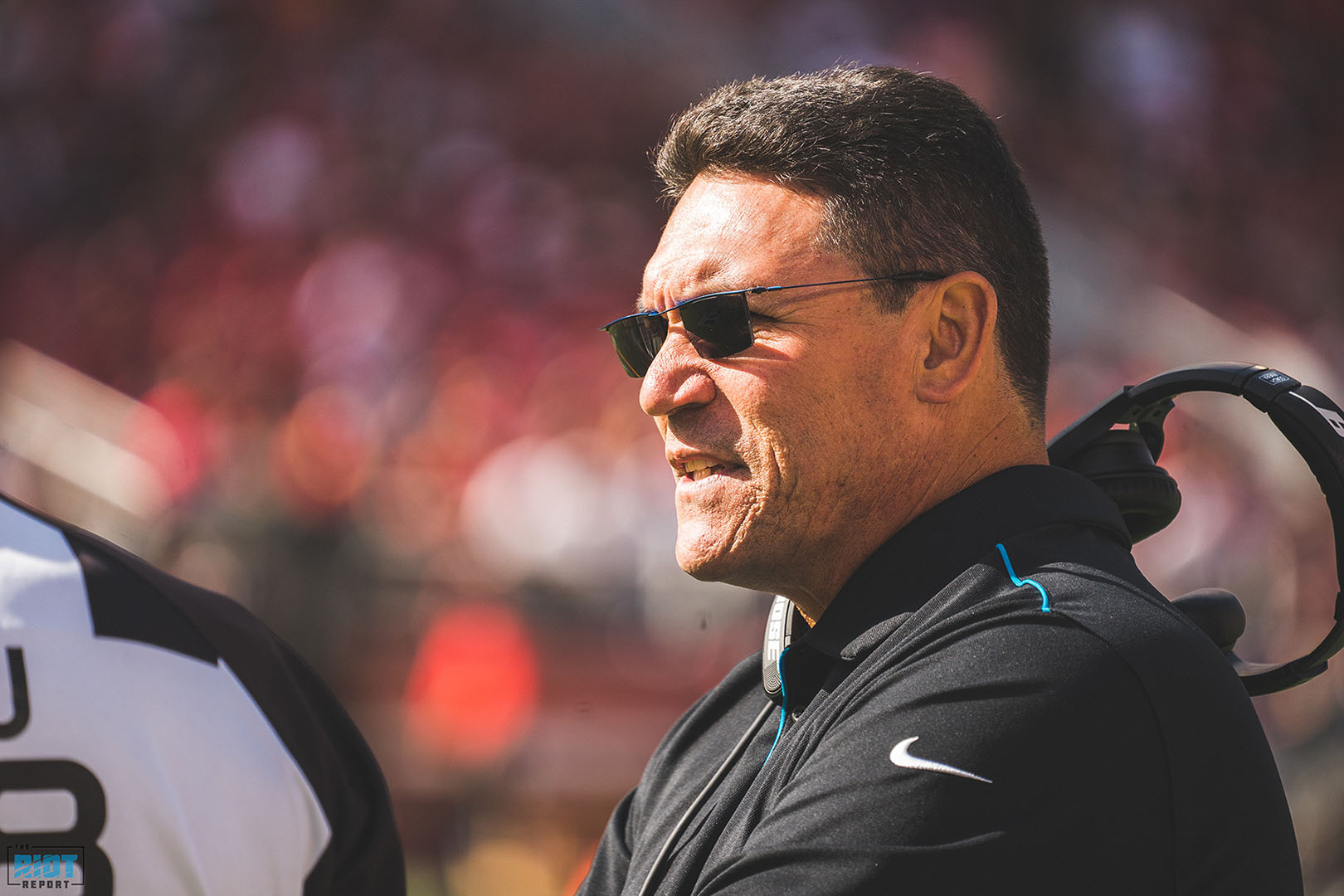 Since being named the fourth coach in Panthers history, Rivera has led the team with a strong rushing attack – Carolina has boasted a top-10 rushing offense in six of the last seven seasons and currently ranks 12th in 2019; under Rivera heading into 2019, the Panthers have gone 64-36-1 when rushing for over 100 yards in a game in the regular season – much of this rushing was attributed to Cam Newton, who was drafted first overall in 2011 and whose legacy in Carolina go hand-in-hand. Newton won MVP in 2015 as Rivera was named Coach of the Year behind a 15-1 campaign that saw them fall in the Super Bowl to the Denver Broncos – Newton battled a shoulder injury last season and missed all but the first two games of 2019.
Rivera has the 10th highest winning percentage since being hired in 2011, but holds a 29-31 record since 2015. Rivera led the Panthers to the playoffs four times, but has only three winning seasons in nine years in Carolina.
One issue Rivera never had was concerning his players – he was beloved by the players he coached.
"I just hope people appreciate him for what he's done for as long as he's done it," Greg Olsen, who has been with Rivera for all nine of his seasons in Carolina, told The Riot Report in October as Rivera prepared to become the winningest coach in franchise history. "In today's day and age, there's not a lot of coaches coaching nine years in one spot. Turnover, the lack of patience in the NFL is pretty well-documented. And for him to be in one organization, to deal with some of the roster changes, some of the adversity that we've dealt with, to weather some of the storms – over the years, we've had some rough stretches, but we've had a lot of really good stretches.
"But a lot of coaches let those bad times just crush them and it's the end – they can never get it right. And just when you think [the Panthers] are down, we rally. And that's really a testament to him, his leadership, and his style of coaching."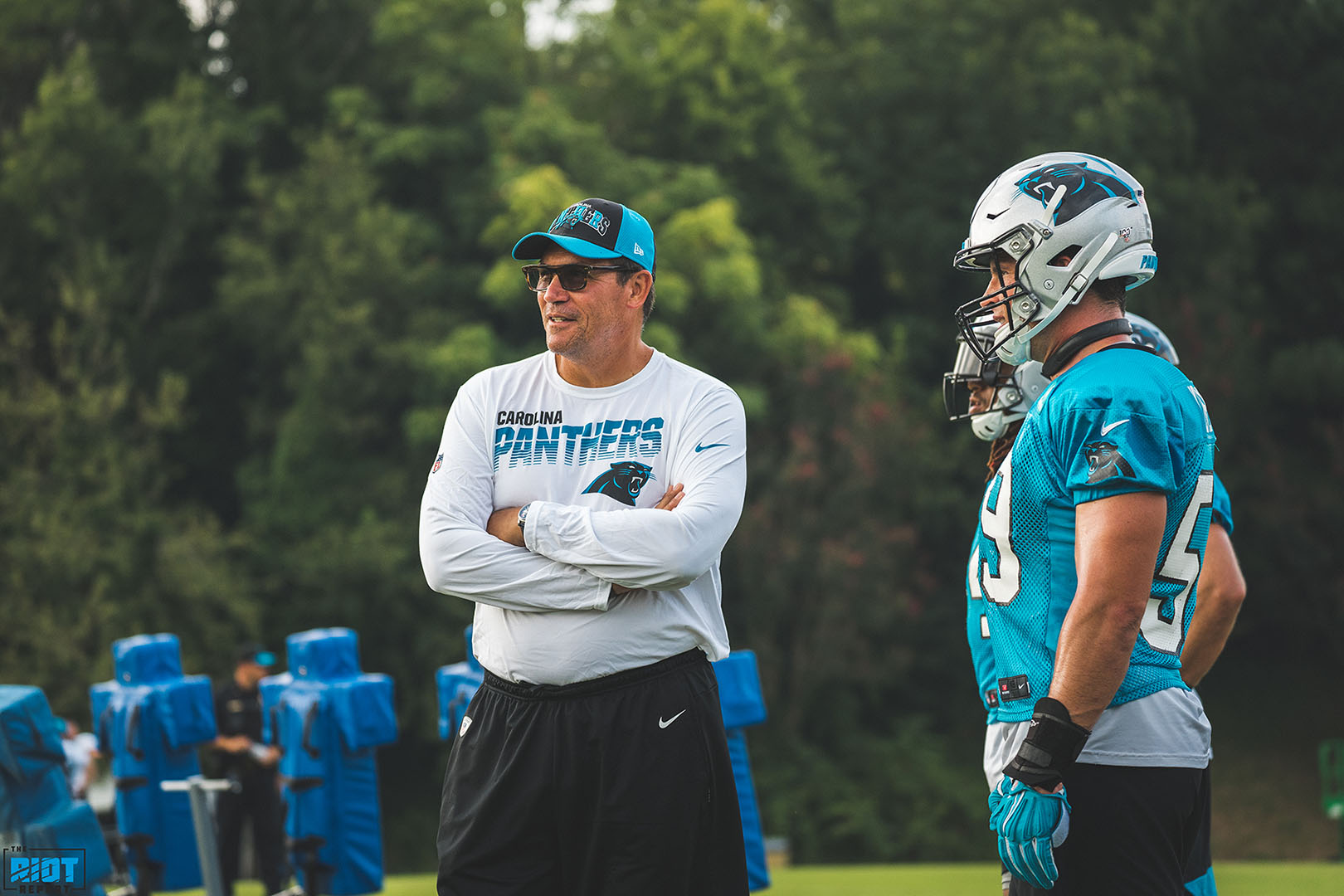 David Tepper met with local media two weeks ago after the Panthers were blown out at home by the Falcons 29-3, saying that he would not be satisfied with 'long-term mediocrity' as he attempts to build a sustained culture of excellence in Carolina.
"This game isn't about anything else other than winning," said Rivera last week when asked about the comments. "This is my 33rd year. I get it. So when I hear [Tepper] talk about it and say the things that he should say; so that our fans understand – Hey, I don't accept [mediocrity] either. And that's something that everybody has to understand: We don't accept it."
The team has named secondary coach Perry Fewell interim head coach; the 57-year old Gastonia native briefly held the interim head coach title in Buffalo during the 2009 season and led the Bills to a 3-4 record. Offensive coordinator Norv Turner will transition to special assistant to the head coach and quarterbacks coach Scott Turner will serve as offensive coordinator.