When David Tepper hired Matt Rhule to be the fifth head coach in the franchise's history, he followed Rhule's press conference by speaking about how the former Baylor and Temple coach would be responsible not only for leading the men on the field, but for building a culture at Mint and Morehead St that would live on for the foreseeable future of the team – a Noll or Belichick for the new era, someone to make 'Panthers Football' not only a style of play on the field, but a recruiting tool for free agents and create a baseline for future iterations of success and sustained excellence for Carolina.
Not just the first back-to-back winning seasons in team history, but a decade of back-to-back wins. But to get to the mountaintop, they have to start from the bottom.
"We're willing to build something for the long term. It's a building process. Things could happen fast, and maybe they will," said Tepper. "But we're in a building process here and sometimes you have to tear things down to build them up."
Tepper has said that Rhule has unlimited resources to build the team in his image – and the building blocks for the organization will revolve around Rhule's coaching staff, said to be 'huge' with assistants to position coaches and positions that haven't existed in the franchise before being created for coaches that fit the mold of the culture Rhule is trying to create.

"I want coaches that love football," said Rhule at his introductory press conference. "That each and every day are searching for an edge. And then I want guys that are competitive, that want to be the best, whether we're playing Madden or we're playing in the championship game. They want to be the best each and every day, not just compared to the guy across from them, though that's important, but they want to be at their best. They want to be the very best that they can be at everything that they do. I think when you have that mentality in the locker room, you can be special. When you have it with your coaching staff, you can be really good."
"The one thing I've learned and the advice I've gotten from so many people in this league is don't rush. Get the right people, so that's what we'll do."
The Panthers haven't rushed Rhule, who was still interviewing candidates last week at the Senior Bowl and has only officially revealed his three coordinators with all other positions simply being reported by multiple outlets ahead of the full staff announcement. Rhule said that he felt as if his staff at Baylor was one of the best in football and staying true to his word, he has brought seven pieces of his 2019 staff with him to Carolina, with many others having previous ties to Rhule.
Let's take a look at the coaching staff as it's currently assembled:
Offensive coordinator Joe Brady 
The hottest assistant coach in college, LSU's 2019 passing game coordinator/wide receivers coach agreed to become the league's youngest offensive coordinator and like Rhule, brings a pragmatic, process-based approach to the game.
"We have to find what our guys do well and we have to put them in the best position to have success," said Brady. "Find out what they do well and let's do what they do well. If we're not doing that, then we're not doing a great job as a coach."
Defensive coordinator Phil Snow 
The most experienced coach on the staff has also been Rhule's defensive coordinator at every head coaching stop – Snow led the defenses at both Temple and Baylor and has coached for 37 years, including with the Lions from 2005-2008 as defensive assistant and linebackers coach.
"We actually, I think, learn more from failure than we do success," said Snow. "And you find out about who you are and I think you learn a little bit more. So [when] I was in the NFL with Detroit, we were not successful there. So there were a lot of things I learned from that experience that [will] help me today."
"Here's the deal: anytime that you can make somebody better and they know you can, they're all the same – whether they're 18 or 25. I have kids that have gone through all those stages; people are people. So it's not that big of a difference."
Special teams coordinator Chase Blackburn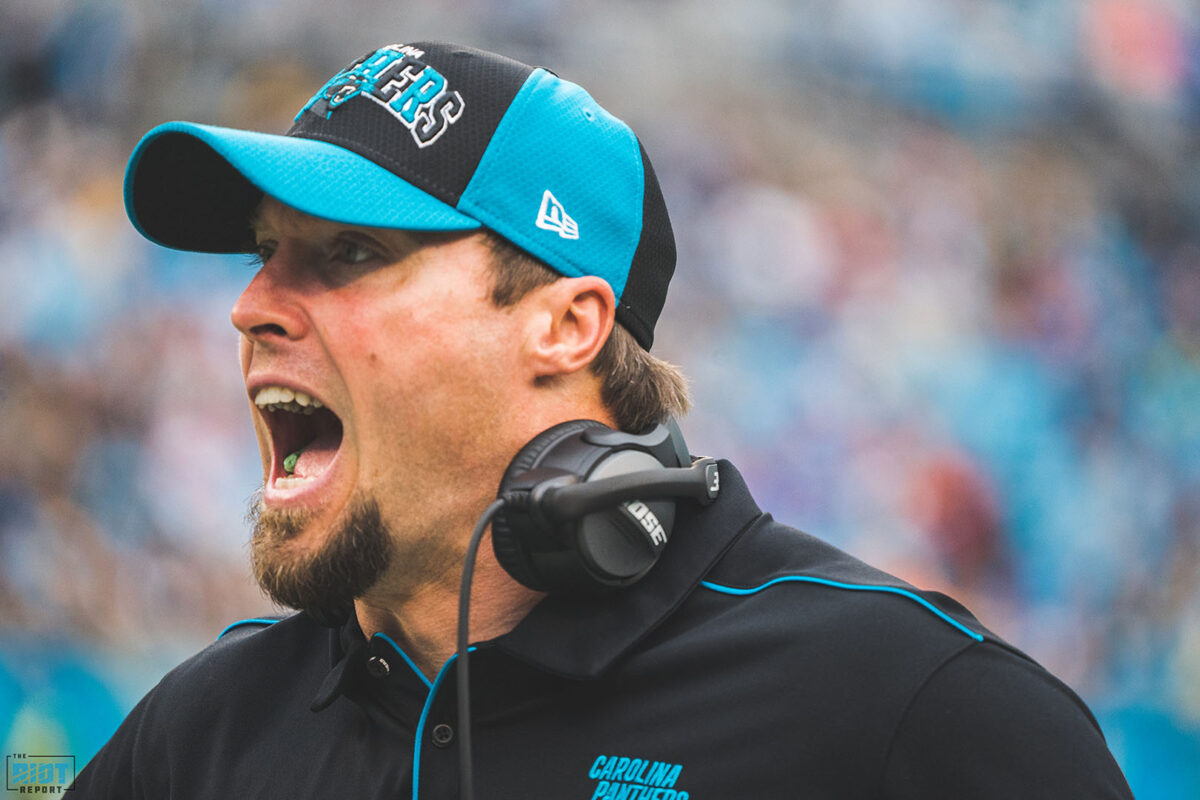 Much like most of the coaching staff, Blackburn has a history with Rhule – he was a linebacker on the 2012 New York Giants while Rhule was assistant offensive line coach – and although the Panthers special teams unit struggled last season under Blackburn, the former player has a good rapport with the players and is viewed as a good motivator, one of the reasons why Blackburn was hired to Rhule's staff. The Panthers allowed three punt returns for touchdowns in 2019 (the rest of the NFL allowed only four) while rookie kicker Joey Slye set franchise records for most field goals made from 50+ yards (8) and kickoff touchback percentage (95.7) after Graham Gano went on injured reserve before the season began. 
Michael Palardy had the most punts of his four-year career (75) and tied his career-best average (46.0 yards/punt) in 2019.
Assistant special teams coach Ed Foley 
The 52-year old Foley was an assistant coach during Rhule's four years as head coach at Temple before joining Rhule at Baylor as an off-the-field analyst who worked with special teams – Foley served as interim head coach three different times at Temple, including when Rhule departed for Baylor. 
Quarterbacks coach Jake Peetz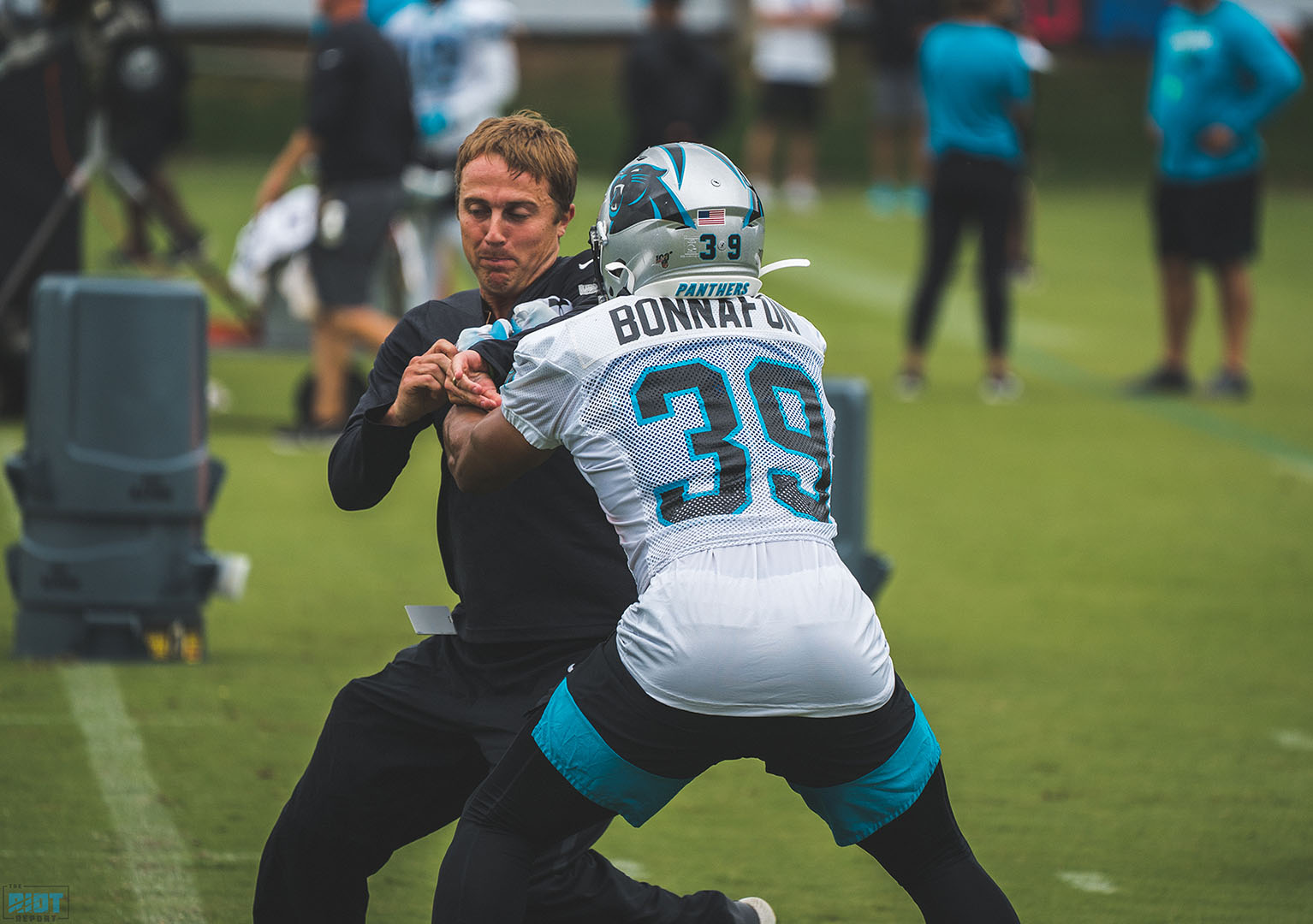 One of the few coaches the Carolina front office reportedly blocked other teams from interviewing, Peetz will move from helping coach Christian McCaffrey to the third 1,000/1,000 season in NFL history to helping the Panthers quarterbacks (Rapoport) in 2020. Peetz previously worked as a quarterbacks coach in Oakland before heading to Alabama to work as an offensive assistant, so the transition from running backs coach to quarterbacks coach will be a familiar one for the 36-year old.
Assistant quarterbacks coach Matt Lombardi 
Lombardi spent 2019 as quality control coach in Miami, his first NFL coaching experience after spending the two years previous to that at – you guessed it – Baylor. Before Baylor, he helped coach tight ends at the University of Louisville and was a scout in Cleveland while his father, current NFL Insider for The Athletic Mike Lombardi, was general manager of the Browns.
Up Next: More Position Coaches, Including Former Players