Last Wednesday, the Panthers had an almost completely clean injury report, with almost every player on the active roster participating in full to go along with a returning Greg Olsen.
What a difference a week makes.
The Panthers were missing six players from practice today, five of which weren't even on the practice field, as they prepare for their Week 6 matchup with the Washington Redskins on Sunday – but it wasn't all bad news as the team welcomed back Olsen, albeit in a limited fashion, and fellow captain Thomas Davis, who was eligible to return to the practice fields for the first time this season after being suspended for the first four games of the season for violating the NFL's policy on performance-enhancing drugs.
"Glad to have him back," said Cam Newton. "It goes without saying how much he means to this team – a captain, a hard-worker, a person that sets the tempo and tone; it's looking like we're peaking at the right time. But we've still got to go out there and do certain things."
While Davis returned, the Panthers were without two linebackers; rookie Andre Smith is nursing a hamstring injury – he also dealt with a similar injury throughout the preseason – and Jared Norris suffered a bad case of turf toe during practice on Friday. With Davis still utilizing a roster exemption, the Panthers have 54 players currently in uniform – when they activate Davis, it may be one of these linebackers moving to injured reserve.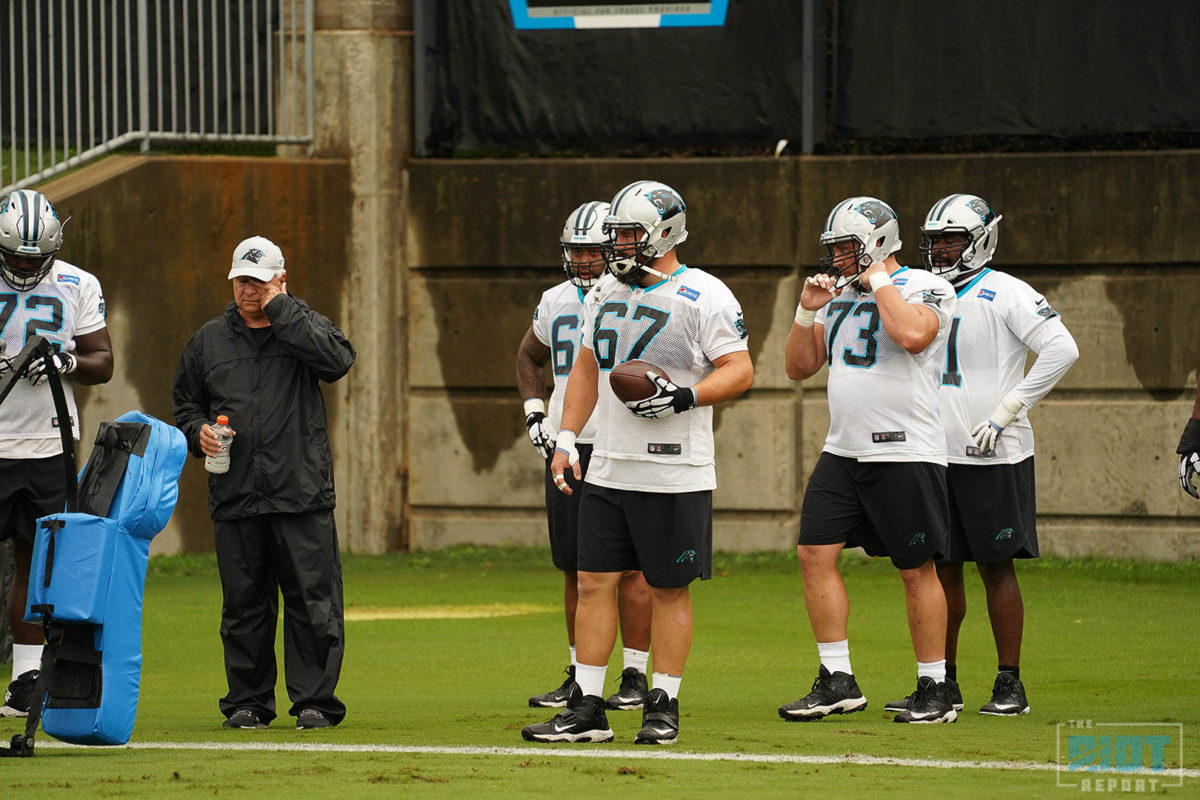 The Panthers also saw a full practice session from veteran center Ryan Kalil, who missed the final eight snaps of Sunday's 33-31 win over the Giants after suffering a shoulder injury. On a rainy day in Charlotte, the Panthers downgraded a practice that was expected to be in full pads to shells due to weather – anytime there is inclement weather, be it rain or unusually high humidity as it was last week when the heat index hit 102 on Wednesday, it sparks a conversation about whether or not the Panthers could use an indoor practice facility.
"It does change the way things happen – last week, the concern coming off of last week's practice was how many guys had to get IVs after practice," said Ron Rivera. "It's always something you're always concerned about – today it's about getting traction when you're running and cutting and timing in terms of throwing the football. But we haven't had one here since I've been here – it's always been something that we've just gone through and dealt with. It does us no good to complain about it while we're out there – might as well have a good time, practice hard and get something out of it."
Cameron Artis-Payne and Marquis Haynes both missed today's practice session today with family-related illnesses, but tight end Olsen was a limited participant in what he deemed a "big day" of practice to test the fractured fifth metatarsal the former Pro Bowler suffered during Week 1 – he's excited to get back on the field after less than a month of missed time, although Rivera – as he always does – warned that the most important test will be how he feels tomorrow after a full day of practice.
"It's been a lot of sideline cheering, a lot of yelling at the referees [and] a lot of standing up for your guys," Olsen said about his time on the sideline, both over the course of the past month and last year when he missed nine games. "I'm finally glad that I can get back on the field and do less of that – do what I've always been able to do is go out there and play and hopefully contribute. Hopefully, even from a production standpoint being out there can help other guys."
"We will find out."
Check out the rest of the injury report here:
| Player | Injury | Practice Participation | Notes |
| --- | --- | --- | --- |
| Cameron Artis-Payne | Not Injury Related | None | Family Issue |
| Marquis Haynes | Not Injury Related | None | Family Issue |
| Jared Norris | Toe | None | |
| Julius Peppers | Rest | None | Peppers doesn't need to practice on Wednesdays - call it the "New Normal" |
| Ryan Kalil | Neck | Full | |
| Kawann Short | Ankle | None | Hold your feelings until Thursdays. |
| Andre Smith | Hamstring | None | |
| Greg Olsen | Foot | Limited | |