While Greg Olsen said he's not sure he'll win the MVP of today's practice, as the only name on the injury report – only 24 days after re-injuring his foot in the Week 1 win over Dallas – he'll certainly win the "Get Fans Most Excited" award after participating in a limited fashion in today's practice. Olsen said that he and head trainer Ryan Vermillion consulted with other players who had suffered the same injury as well as trainers around the league on how to get the tight end back the fastest. After missing nine out of ten games last season with the same injury, Olsen says he may be ready to go as early as next weekend against the Redskins if he has a good week of practice.
"The doctors, the trainers and myself thought that even though we had a little bit of a setback with the re-fracture, we thought we were kind of starting ahead of the curve a little bit because we already had that screw inserted last year," said Olsen. "We thought with some time it would respond pretty well; it has. We've done every possible thing you can imagine to try to expedite that as best we could."
While it is simply exciting to see the tight end who had three consecutive 1,000-yard seasons in which he made the Pro Bowl back out on the practice fields, Olsen says it will still take him some time to get back into game shape – what takes months to build up goes away in a hurry when you haven't been able to run for three weeks. They've been revving up his workload this week – Rivera says they'll work him again on Saturday to see how he responds, but the tight end will definitely not be available against the Giants – however, it's not out of the question for their next game in Washington.
Olsen has two things working in his favor as he attempts to come back on an accelerated schedule: first, the Panthers play on grass surface for the next month – last year, Olsen returned for a game at MetLife Stadium, which has an artificial grass surface, only to play a third of the offensive snaps and miss the next week against Minnesota. This year, the Panthers will play on natural surfaces until they travel to Detroit on November 18; Olsen said the playing surfaces were one of the reasons he and the training staff were targeting this time in the schedule to attempt a return.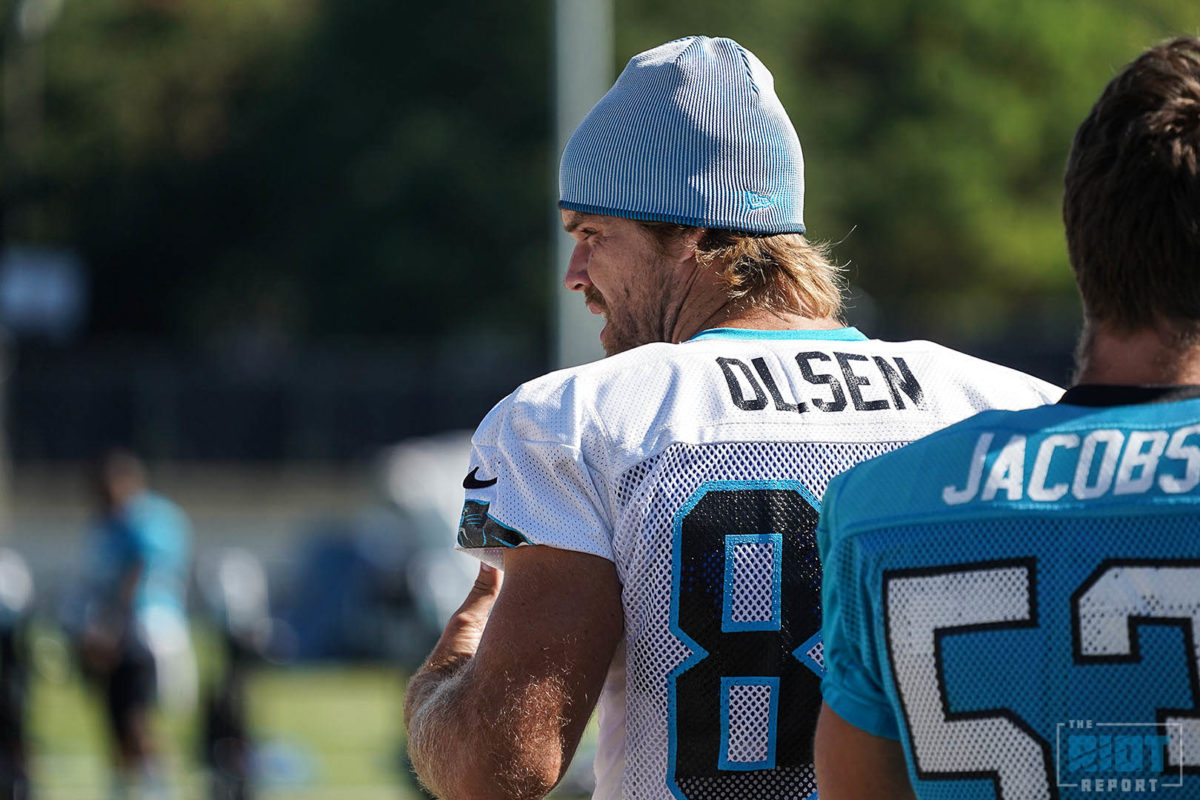 Also helping accelerate the timeline is Olsen's familiarity with the injury – last year, he didn't know what felt right and what felt wrong, but this year, he says he'll be better when he first returns than when he first returned in 2017. But when he does return, he's going to go full throttle – playing at half-speed because he's worried about a re-break isn't going to help this team.
"What else is going to happen to it?" Olsen said. "Obviously, we don't want to go out and be reckless, but it is kind of what it is – if it doesn't hurt and I can move and provide something to the offense, I feel like it's my job to be out there and play – once I'm out there and playing, I just let it go. If I can't move and run and do what I'm used to doing, then I don't really help us much."
Also returning from injury was Julius Peppers, who Rivera joking that the 38-year old was given a "senior day off" during yesterday's practice – Peppers isn't expected to practice on Wednesdays.
We'll call that the new normal.
Check out the rest of Thursday's injury report (light though it is) below:
| Player | Injury | Practice Participation | Notes |
| --- | --- | --- | --- |
| Greg Olsen | Foot | Limited | |
| Julius Peppers | Rest | Full | |
| Vernon Butler | Shoulder | Full | |
| Damiere Byrd | Knee | Full | |
| Curtis Samuel | Medical Illness | Full | |
| Trai Turner | Concussion | Full | |