One of the key tenets of playing offensive line next to somebody is building a rapport with the guy next to you.
You need to, almost instinctually, know when the tackle or guard is going to need help, when he's going to push a rusher to the outside, where his feet will end up on a double team and how fast he can get back into his set if you're directing someone his way – it takes reps and time to make your movements seamless, because the difference between a sack and a touchdown can be less than a half-second of additional time for the quarterback.
For rookies Dennis Daley and Greg Little, that rapport has been starting to build in practice and over the course of the preseason – but the goal isn't necessarily to be ready for Week 1.
It's to be ready for the future.
"What happens is some guys aren't put in a position where you need them now – so there's a lot of pressure that's off them," said Ron Rivera about players who are drafted with someone in front of them on the depth chart. "So they develop over a period of time. I think, sometimes, it's better for some guys. It takes a little bit to understand and get what it takes."
"Honestly, thank goodness for Greg Little and Dennis Daley – they're not being thrown out into the mix right now. They've got time to progress, they've got time to develop and grow, because quite honestly, eventually, they're going to be the future."
So while their time on the field together might be in the future, the time to grow together is right now – and not just on the field. When asked how Daley and Little were building their rapport, Daley smiled sheepishly.
"We're actually living together right now."
That'll do it.
"I've Got A Lot Of Different Positions To Play"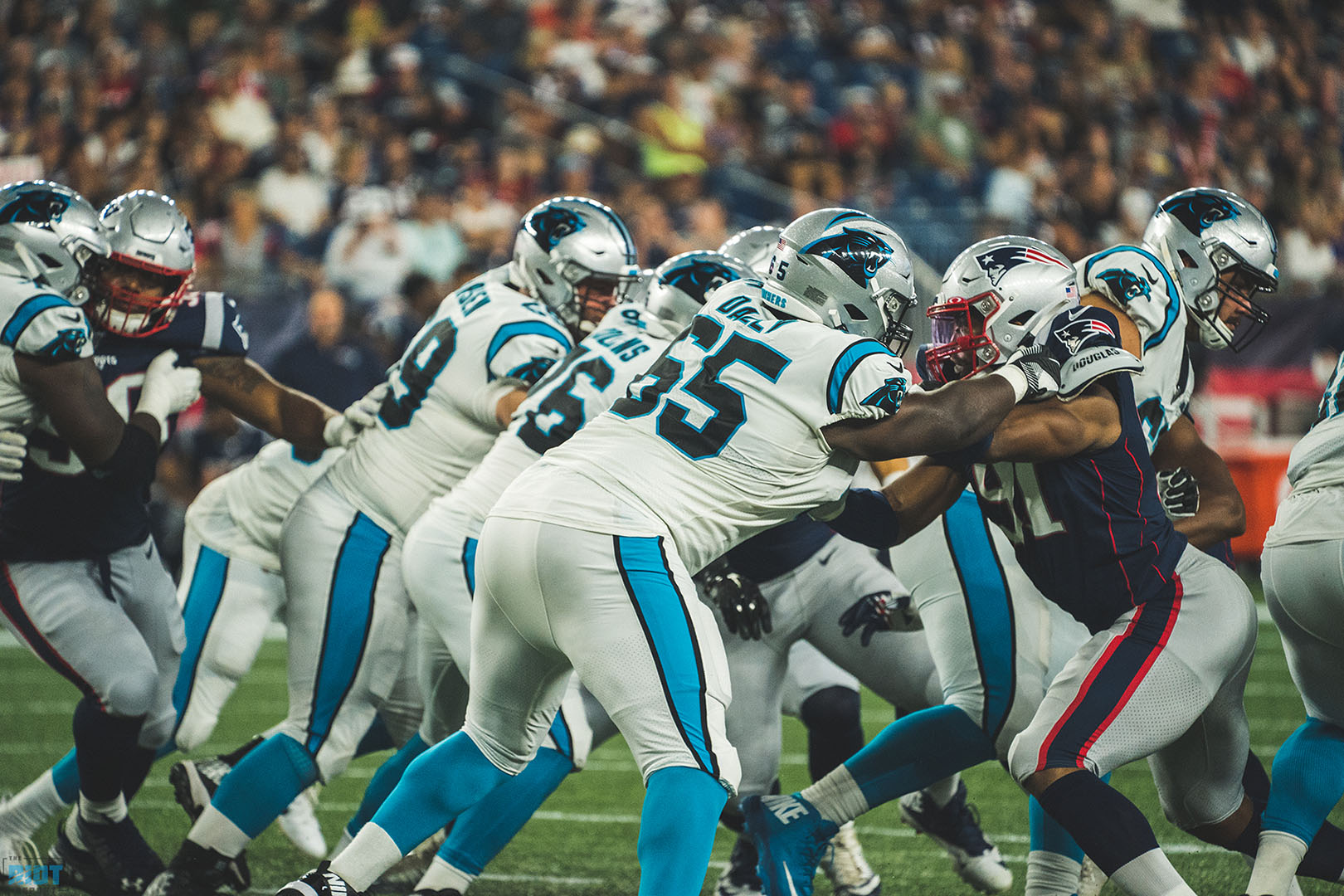 The Panthers coaching staff are taking a look at almost everyone on the roster this training camp – but the man they've gotten to see the most has been sixth-round pick Daley, who's played the most snaps of any offensive player through three weeks of the preseason.
That makes sense – there's a lot of snaps to play when you can play four positions.
Daley, who has been practicing at both guard and tackle on both sides of the line, has seen most of his game reps at left guard where he'll likely back up Greg Van Roten in 2019, but his flexibility has made him a valuable piece in this rotation. With fellow rookie Little on the sidelines as he progresses through a concussion protocol, the primary backup to Daryl Williams at left tackle will be Dennis Daley.
If you're counting at home, that would make him the backup at every position but center – a lot of pressure for a sixth-round pick who hasn't played anything but left tackle since he started playing football in high school.
"My first year of playing football, it was in tenth grade [and] I played right tackle for that year and I've been playing left tackle ever since," Daley told The Riot Report after practice last week. "It's been a building process. Every phase I go through, I learn something new and then build on it. I'm still learning; I've got a lot of different positions to play."

"The thing that you have to have is players with position flexibility, because when [players] come in, if they're primary backups, they've got to be able to play more than one spot," said Rivera. "That's one of the reasons why we're moving him around and giving him a lot of opportunities at different positions. Very smart young man and a good football player – he's one of those guys that's going to have a bright future."
Daley knew when he came into the NFL that teams would want him to play guard, but he didn't mind the switch – playing tackle on an island out in space made it easier when he was in limited space at guard. Even though things happens faster inside and there's been an adjustment period, he's leaned on veterans like Greg Van Roten to help teach him the finer points of playing on the offensive line in the NFL.
It's especially appropriate that Van Roten transitioned from tackle to center when he came into the league and was originally brought to Carolina as center depth before ultimately winning the starting spot at left guard and playing every snap in 2018 – the only Panthers player to stay on the field for the entire season.
"It's definitely difficult," said Van Roten about Daley's It's really hard to learn four positions, "It's a lot easier to focus on just one – yes, it might just be the difference between right and left, but your footwork's different, your timing's a little bit different and some guys move better different ways, so it says a lot about his flexibility as a player and his ability mentally to be able to handle four different spots, that's huge."
"It's More Pressure-Filled, For Sure"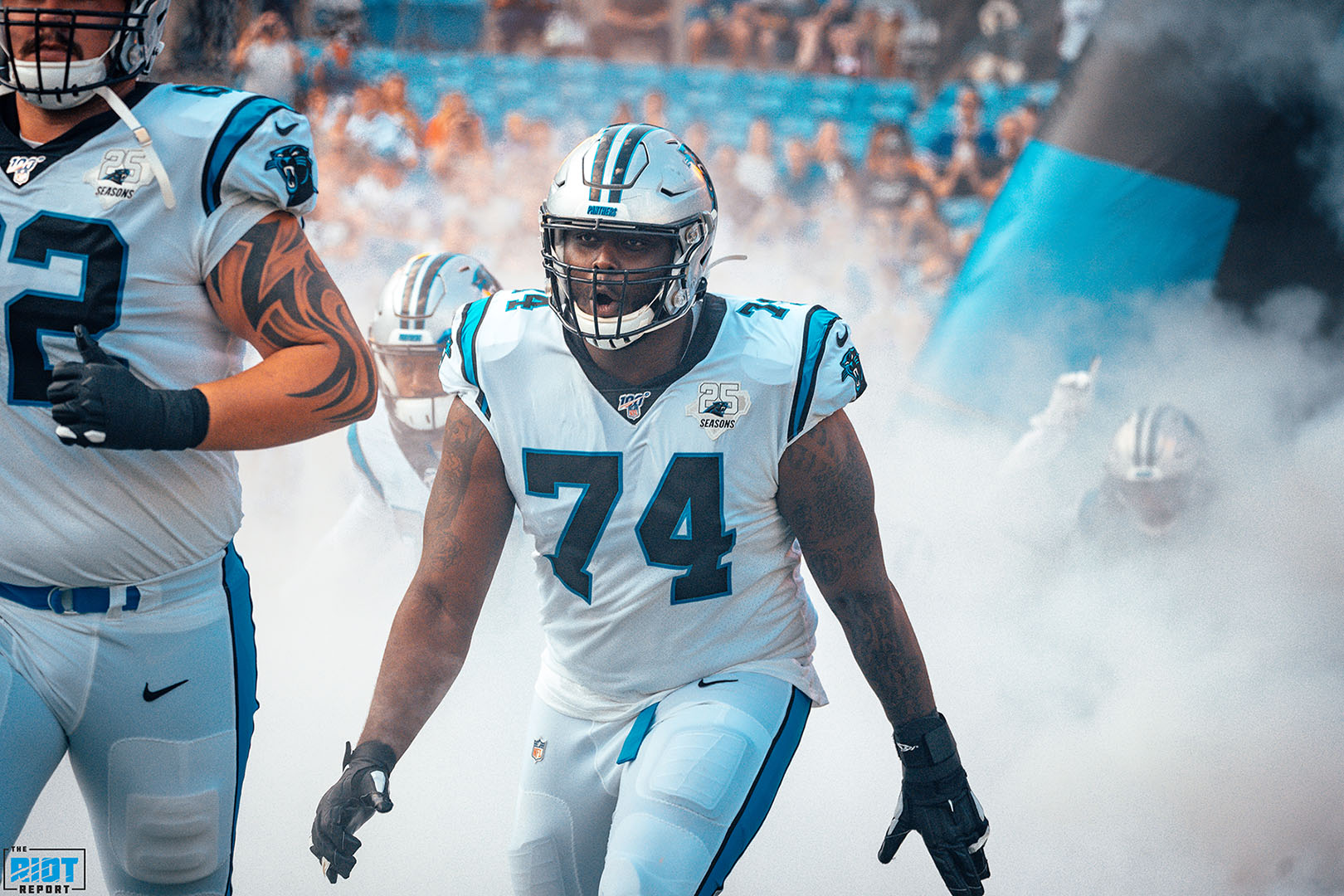 The mantel was set for Greg Little when the Panthers traded two picks to go up and get him with the 37th pick in the draft – the 21-year old who hadn't played anything but left tackle since high school described himself on draft night as a "franchise left tackle" and most fans pencilled him in as the Week 1 starter protecting Cam Newton's blindside.
But with Daryl Williams returning from a knee injury that cost him the entire 2018 season and ready to return to the form that earned him a second-team All-Pro spot in 2017, a season on the bench learning may not be the worst thing for a rookie, especially one that's playing one of the most pressure-filled positions in the NFL.
"He's doing a nice job, he's really is – he's a guy that gives you, right now, first-class depth," Rivera said about Little. "Daryl's had a very good camp, you saw it [against Buffalo], you've seen it in practice the last two of them – you just feel Daryl's coming back. Having both Greg and Dennis….you have the depth that you've never had."
Having a year to learn how to play offensive line has multiple benefits – time to adjust to the speed of the NFL game, allowing a player to pick the brain of a veteran and – something that's often forgotten – learn how to practice, train and watch film at an NFL level. Most players entering the NFL have been the best player on their team for a long time and there is certainly an adjustment once you get into the league.
Aside from Trai Turner, who started his first career game in 2014, every other lineman on the Panthers had at least a year to learn – Daryl Williams, Matt Paradis, Van Roten and Taylor Moton all didn't start their rookie season. And that time made a difference.
"That year of learning, coaching from guys like Trai and Ryan and veterans around me like Mike Remmers and Michael Oher helped out a lot, " said Williams. "I think [I learned from] a little bit of both, since they were playing tackle, I tried to watch both of them and take some of their game and use it for myself."
"Back in my day, there wasn't a need [or an] urgency to put those guys on the field as quickly as there are today," Rivera said. "Now if you're drafted in the first, second or third round, sometimes in the fourth, you're expected to play now. Back then, there wasn't a lot of pressure, you had a chance to develop, learn and grow and really work your way into opportunities."
Two years after being selected in the third round, Williams was named a second team All-Pro. In 2016, his second year as a full-time starter, Matt Paradis was ranked #1 among centers by Pro Football Focus. Taylor Moton started all 16 games in his second season.
"I don't know if you ever truly get all the way adjusted, you just get more and more day by day and year by year," said Moton. "The more I play, the slower it goes for me, the more comfortable I'm getting."
"To Be The Pair Of The Future On The Left Side, It's Going To Be Invaluable"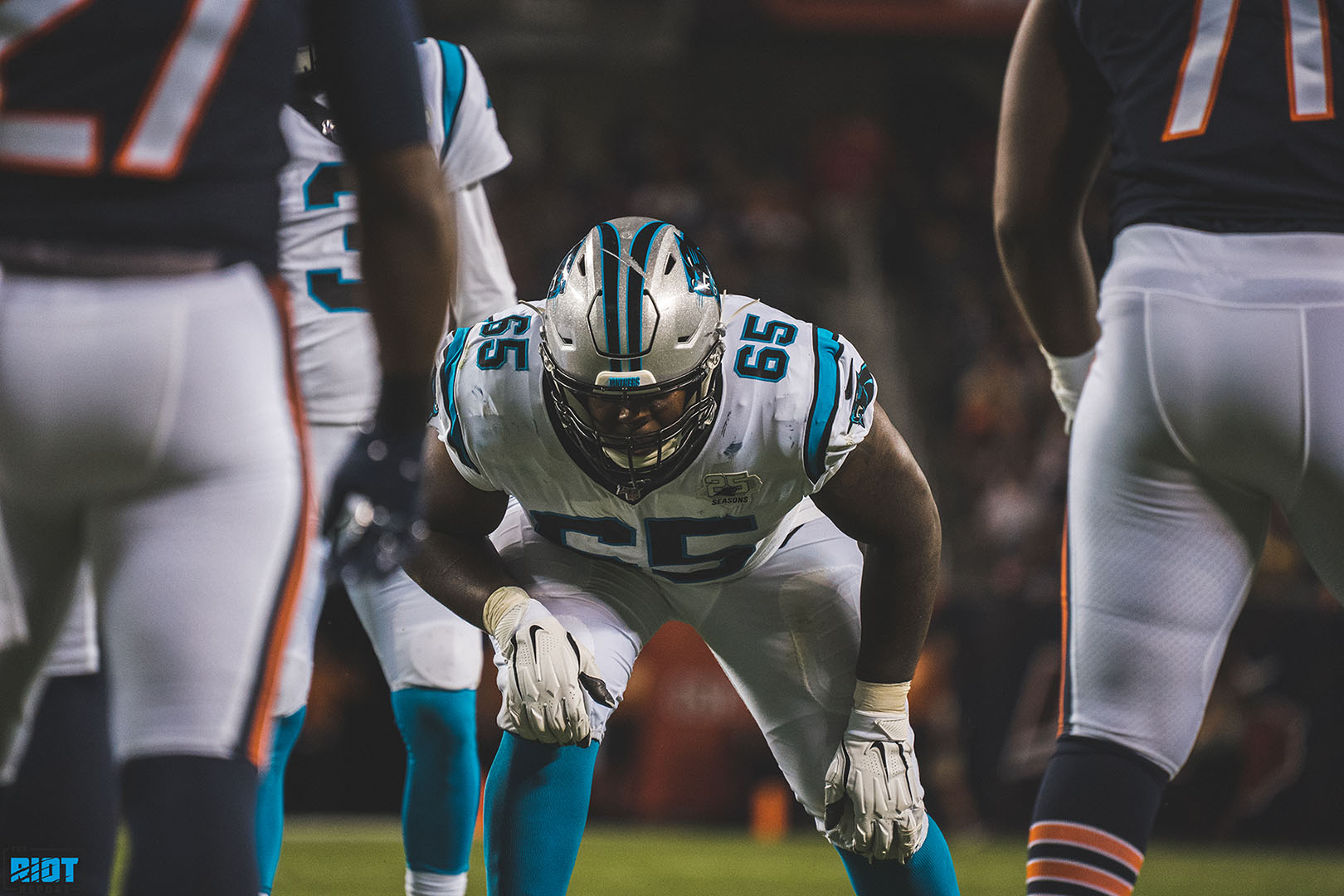 Back to that living situation.
The Panthers have put a premium on Little and Daley playing together – they blocked next to each other for 48 snaps of Week 1 of the preseason and 56 snaps of Week 2 and have spent most of their time in practice next to each other. While Daley waits for his belongings to come up from his hometown of Columbia, he's been living under the same roof of the man the Panthers hope will be their left tackle of the future.
"I'm with him all day, everyday," said Daley. "He plays video games and I sit on my phone – we pretty much just chill all day."
There haven't been any roommate squabbles in this temporary situation as the two linemen try to navigate through their rookie years together – but the reps they get, both on and off the field, will pay huge dividends later on.
"For an offensive line, the longer you play together, the better you're going to be as a unit," said Van Roten. "So for those guys as rookies together and to be the pair of the future on the left side, it's going to be invaluable to get all of those reps together."
"They're young, they're raw, but they're hungry and they both have a willingness to learn. They're very receptive to coaching and Matsko will definitely coach them up; we've seen that over the years. I think it's good that Daryl and I are there to be sounding boards to help them out with the finer points of technique that are not easy to see or to learn [because] you've got to learn by doing."
"We have that experience to give to them and pass on to them and they're soaking it up."
While Williams and Van Roten seem both entrenched at their spots and crucial mentors on the left side, both of their contracts will be up after the 2019 season. So while the Panthers are playing to win this year – Van Roten says of Little that the team is "going to need him at some point. Whether it's jumbo tight end or something happens to one of us – he's going to play football and we're going to need him to play well," they're hopeful that they've found the future on the left side.
"We'll have both Little and Daley starting on the left side, working together," Ron Rivera told David Tepper before Week 1 of the preseason. "Those two guys can be a pair someday."
Dennis Daley hadn't heard that before. But he likes the sound of it.
"We are. I actually wouldn't mind doing that, honestly. That's actually what I want to do, I like playing left guard with him at left tackle," said Daley. "If that's in our future, that's what we're going to do. It makes me feel like I've got a place here, like I've got a home here."