The three-day work week for the Carolina Panthers began with unseasonably low temperatures and gray skies overlooking the Bank of America practice fields as the team started their mandatory mini-camp, the last three days with the team before an almost six week break leads them to Wofford College in Spartanburg – a spirited session saw a sluggish offensive performance highlighted by bursts of the spectacular as new pieces get used to playing together. A sliding interception by backup linebacker David Mayo on the third play of team drills brought howls from the defense, almost equaled by the screams of Cam Newton as he skipped downfield after completing a sideline bomb to Devin Funchess, who somehow found the ball between defenders Kevon Seymour and Rashaan Gaulden. With injured running back Fozzy Whittaker in attendance as well as Panthers legend Wesley Walls watching the practice, here were some quick observations we had of the session:
Everyone was in attendance for the mandatory session (something that can't be said for all of the NFC South teams), with Julius Peppers, Fred Ross, Drew Iddings and Evan Baylis not participating in drills – Peppers likely won't participate all week, though he jogged on the opposite field and worked out with trainers. He doesn't need to work in mini-camp to show up on Sundays, especially considering his age, experience and offseason shoulder surgery.
2017 UDFA Cornerback Cole Luke, who looked to be on track to make the team last year, had dreads last season and has a much cleaner look this spring. #journalism
After weeks of left guard rotation during OTA sessions, it appeared that most of the first-team reps at left guard went to Amini Silatolu – Trai Turner, who had missed some of the past few sessions, participated in team drills today, albeit with a large brace on his left knee. Near the end of practice, as some of the vets gave way, the line consisted of (from right to left) Daryl Williams, Taylor Moton, Tyler Larsen, Silatolu, and Blaine Clausell.
Speaking of offensive linemen, the group breaks into two different groups at one point, with one that appeared to be the "first tier" for lack of a better term, working with John Matsko, that group consisted of the Kalil brothers, Turner, Silatolu, Tyler Larsen, Daryl Williams, Taylor Moton, Taylor Hearn and Brendan Mahon.
Cam Newton threw an errant pass to Christian McCaffrey in individual drills, called the running back back to the line of scrimmage and threw a bullet his way. The quarterback clearly wasn't happy with his performance on that throw, and Newton seemed a touch off during this practice session, missing a few open receivers and overthrowing Jarius Wright on an out pattern in which the vet had found an open spot in the zone defense – Newton did, however, throw some absolute dimes including the aforementioned bomb to Funchess.
Take Two. pic.twitter.com/M2NF2pa7HE

— The Riot Report (@RRiotReport) June 12, 2018
The first reps in the secondary went (as they have all spring) to James Bradberry, Kevon Seymour, Captain Munnerlyn, Mike Adams and Da'Norris Searcy – however, it did appear that rookie Rashaan Gaulden was getting more run with the first-teamers at safety, but the coaches were doing a lot of shuffling, as they've done all offseason, so it was less of running with the ones. More like running with the one-point-fives. The cornerback group is also incredibly close at this stage, with Lorenzo Doss having a nice day today, including a pass breakup with the first teamers.
The second play of the day was a screen to Alex Armah. During last year's training camp, I said throughout camp that they did not appear to have a role for Armah and I didn't expect him to make the opening day roster (which he didn't) – that is definitely not the case this year. Armah appears to be in Norv Turner's plans.
Speaking of Turner, he was constantly tweaking route running and footwork with the receivers during individual drills – he clearly has a way that he likes things done. One thing he also likes (if you read into these early sessions) – jet sweeps. There have been a ton of them, specifically with Christian McCaffrey and rookie DJ Moore.
Greg Olsen was picking on the rookies today, making catches in front of both Rashaan Gaulden and linebacker Jermaine Carter, Jr at points during the session.
Jarius Wright had a nice grab over the middle while being tightly covered by James Bradberry – it wasn't a shock to look at the down marker and see that it was third down – that's when Wright will be leaned on heavily. Curtis Samuel is also looking healthy, at one point taking a swing pass and blowing by the defense; the team has been working on speed this offseason and it is definitely starting to show, with both Samuel and DJ Moore accelerating around and past the defense at multiple points through practice.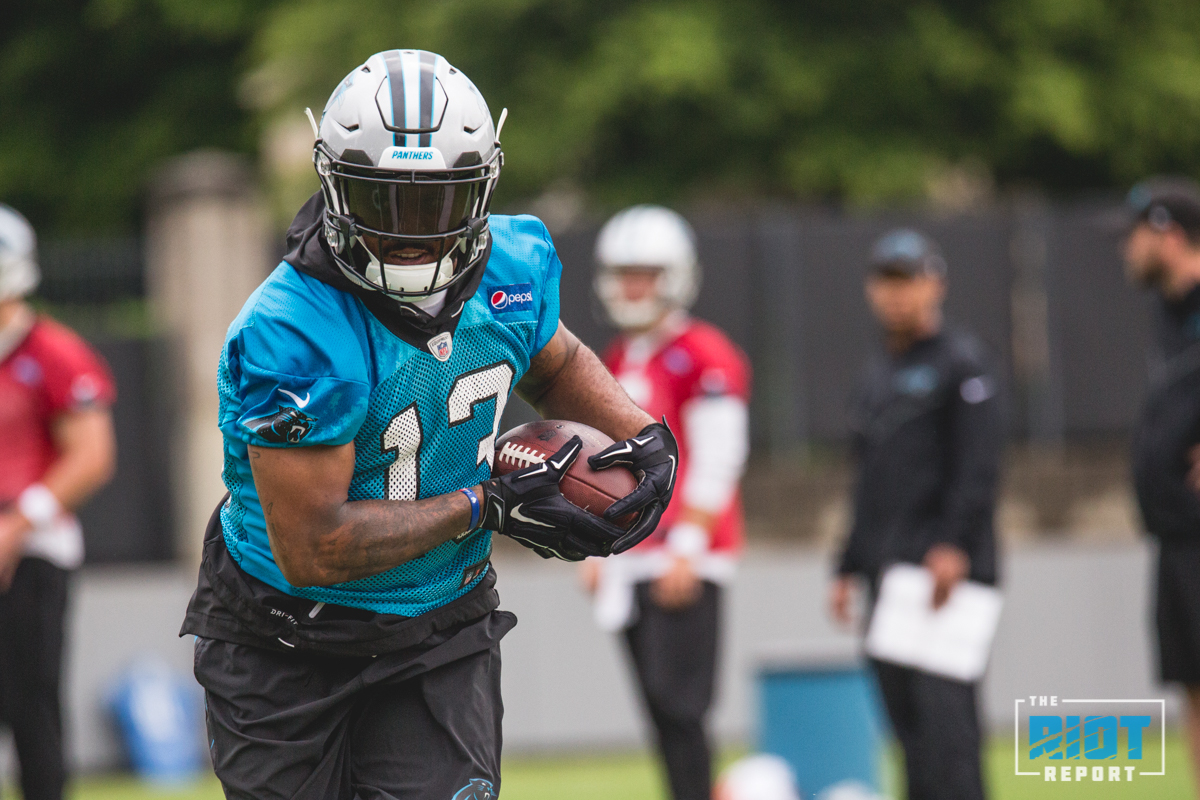 Fourth-round pick Marquis Haynes' small stature is clear when he has to rush – how the 6'2, 235 pound defensive end will be able to get around a left tackle like Matt Kalil, who has five inches and 80 pounds on him, will be interesting once the pads go on. As of right now, if a lineman gets their hands on him, as the 6'6, 330 pound Blaine Clausell did during team drills, he's not getting anywhere near the quarterback.
Luke Kuechly still can't participate in team drills, but still runs the huddle, calling the play with the rest of the defense before jogging to the sidelines; the former NFL Defensive Player of the Year said he's on track for training camp after offseason shoulder surgery.
The final play of the session was a goal line touchdown pass to DJ Moore in the back of the endzone, a frozen rope from Newton.
"First to Practice" award goes to rookie linebacker Jermaine Carter, Jr.