As we've already covered, if the Panthers do end up picking towards the top of the 2023 NFL Draft, then there is a good likelihood that they will look to use that pick to find their QB of the future. However, especially if Scott Fitterer remains in place, the front office might be confident that 2022 3rd-round pick Matt Corral can be that player and decide to build around him moving forwards.
With Corral missing all of this season with injury, and a strong likelihood of a new coaching staff with a new offensive scheme and new philosophy when it comes to QB play, it is very hard to get any real sense of how likely this path might be, but it shouldn't be disregarded without careful consideration.
So, with that in mind, we've taken a look at what the Panthers might look to do in the upcoming draft if they do look to ride with Corral.
1st Round: Will Anderson Jr, EDGE (Alabama)
If the Panthers do pass on taking a quarterback with their first pick, then all bets will be on them taking a pass rusher. While Brian Burns has the tenth-most pressures since 2020 with 88, the Panthers' second- and third-placed players are Derrick Brown at joint 93rd and Marquis Haynes at joint 149th. In short, the Panthers desperately need to add more pass rushers.
And, in the 2023 Draft, any conversation about pass rushers is going to have to start with Will Anderson Jr, who is following up an astounding 17.5 sacks in 2021 with 8 sacks so far in 2022, despite attracting almost-constant double teams.
Anderson is not in the Myles Garrett or Von Miller tier of athlete, but he is able to combine a really good first step with surprising power for a 245-ish pound player. Crucially, he plays with consistently good knee bend which allows him to get under the pad level of blockers as both a pass rusher and run defender. This, combined with good arm extension and hand placement allows him to both set a firm edge in the run game and create pressure with a good bull rush.
Anderson isn't perfect. He lacks the kind of freakish bend that Burns makes look so easy, and there is still room for him to continue to add to his toolbox of developed pass rushing moves. However, he is the clear favourite to be the first non-quarterback taken in the 2023 Draft and would certainly give the Panthers' pass rush a much-needed boost.
2nd Round: Gervon Dexter, DL (Florida)
As already mentioned, the Panthers' defensive line is significantly lacking in pass rushing depth, and that isn't going to be helped by the fact that Matt Ioannidis (who is second on the Panthers with eight QB Hits) is a pending free agent. The Panthers will probably hope that Daviyon Nixon is able to step into a bigger role in year three but relying on a former 5th-round pick with 0.5 career sacks to emerge as a starting-calibre 3-tech is probably not prudent.
Whether the Panthers plan on primarily using a three- or four-man front moving forwards, finding a 3-tech to pair with Derrick Brown is another must-do for the offseason. At 6'6 and 312lbs, Dexter's game is similar to that of Nixon in that he wins with length and power rather than quick-twitch and bend, but it doesn't really matter how you get it done as long as you are able to do so on a consistent basis.
On tape, Dexter shows good power, hand placement and arm extension, allowing him to drive blockers back, work them off balance and then release into gaps to either make tackles or pressure the quarterback. This not only allows him to be an effective pass rusher but makes him one of the best two-gap run defenders in the draft. Pairing him with Derrick Brown has the chance to make the Panthers very hard to run against indeed.
There are things for him to work on, most notably the consistency of his hand placement and knee bend as, while he shows the ability to get both things right on a fairly consistent basis, when he doesn't get them right his length has the downside of making it very hard for him to adjust if blockers do get under his pads.
He might not be the next Aaron Donald, but he has a good chance of being a high-quality starter for a long time.
2nd Round (from SF); Jaheim Bell, TE (South Carolina)
There's really no nice way of saying this, but the Panthers' tight end group have been extremely poor so far this season. Despite investing a 2021 3rd-round pick in Tommy Tremble and giving Ian Thomas a new three-year contract this past offseason, the Panthers have fewer passing yards to tight ends than any other team in the NFL and are the only team without a tight end over 150 receiving yards.
Furthermore, if the Panthers are planning to build around a young quarterback (be that Matt Corral or somebody else entirely) then having a security blanket who can get open and make touch catches over the middle of the field is going to be hugely valuable.
Finding potent tight ends in the NFL is notoriously tough, largely because the position simply doesn't exist in most college offenses in the way it does in the NFL, meaning that teams are often reliant on selecting highly talented athletes and turning them into tight ends, and that is likely going to be the case with Jaheim Bell as well.
Bell has the speed to create separation down the field against linebackers and safeties, the power to block smaller defenders off the ball, the hands and leaping ability to make plays at the catch point and the agility and balance to be a threat after the catch as well. He will need further technical as a blocker and route runner but with Thomas and Tremble on the roster the Panthers could bring him along slowly while he develops.
3rd Round (from SF): Jack Campbell, LB (Iowa)
Rookie Brandon Smith got his most extended playing time of the season on Sunday, playing 24 defensive snaps and making three tackles, but questions still remain about the Panthers' linebacker corps moving forwards. Shaq Thompson has played well but is entering the final year of his contract and has a huge cap hit. Frankie Luvu excels at making the splash play but has yet to show he can be an every-down player and Smith is still learning how to play the position at the NFL level.
Given all these options, the Panthers probably won't be looking to target linebacker right at the top of the draft but continuing to add capable players who are able to compete for a starting role moving forwards would give them some much-needed flexibility moving forwards.
Campbell is a conventional inside linebacker, capable of shooting gaps, taking on blockers at the point of attack and is a capable tackler. In coverage, he knows where he needs to be in zone and shows good anticipation but isn't going to spend much time coverage tight ends in man coverage 30 yards down the field.
In short, if the Panthers are looking for a direct replacement for Shaq Thompson, then there are likely to be better fits, but if they want a more conventional inside linebacker to pair with either Thompson or the equally speed Smith then he would be a more than capable option.
4th Round: Devin Leary, QB (NC State)
Whatever path the Panthers take this offseason, they are going to have to add at least once quarterback, either in free agency or the draft, as they currently have just Matt Corral under contract for next season. If they do pass on taking a quarterback with their first pick, they could therefore look to add another young quarterback in the middle rounds to back Corral up.
That looks like a particularly likely path of action because of the depth of the 2023 quarterback class as, while there might not be four or five quarterbacks taken in the first round, there are half-a-dozen players who are likely to attract interest as either top-tier backups or developmental options.
Devin Leary will likely be unable to do much on-field work prior to the draft after suffering a torn pec back in October but that could mean that he is available later in the draft for a team willing to be patient with him.
From an arm talent perspective, Leary is good rather than great, showing the velocity to fit the ball into tight intermediate windows and work the outside throws effectively, while having enough arm strength to push the ball down the field when necessary. He is accurate at all three levels and shows some moment of really good touch, even if this is less consistent on his deep ball than on intermediate throws.
Most impressively, he shows an ability to consistently execute a fairly complex offense, with the kind of anticipation and processing that is often the key determining factor in which quarterbacks are able to transition effectively to the speed of the NFL game. He might not be an ideal starter for a lot of teams, but he has a chance to be an excellent back-up with starter upside if everything falls into place.
4th Round (from SF): Jalen Catalon, S (Arkansas)
The Panthers are still trying to work out how to get the most out of Jeremy Chinn, but one thing that is for certain is that his best usage probably isn't going to be as a deep coverage safety, and the signing of Xavier Woods last offseason has both supported this argument and proven to be a fairly astute bit of business. So, why draft a safety?
Well, for a start, the Panthers are short of depth for the role, with Sam Franklin much more suited to backing up Chinn and Myles Hartsfield mostly playing in the slot as a nickel. Added to this is the fact that, while playing quite well on the whole, Xavier Woods has struggled to cling on to passes so far this season, leaving multiple interceptions rolling along the field. Finding somebody who can back Woods up in the short term and replace him down the road would certainly make a lot of sense.
Catalon is another player who is due to miss most of the 2022 season with injury, and missed a large part of the 2021 season as well, but was All-SEC as a redshirt freshman back in 2020 and, in the games he did play in 2021, looked excellent value for his preseason All-American status. He has the range, ball skills and awareness to be a hawk on the back end (he has 5 picks in his last 17 games) and is a hugely physical run defender.
He needs to show he can stay fit, and has room to develop in man coverage, but he would be a worthwhile roll of the dice at this point in the draft.
5th Round: Sataoa Laumea, OG (Utah)
One of the definite positives from this season has been the much-improved play of the offensive line. Ikem Ekwonnu looks to be well on track to becoming a legitimate franchise left tackle, Bradley Bozeman and Austin Corbett have been solid veteran additions and Taylor Moton and Brad Christensen have been solid as well. Though they will have a decision to make regarding Bozeman and his free agency, the key for this offseason when it comes to the O-line is going to be adding depth.
They have already made a pretty decent start of this, as between last year's sixth-round pick Cade Mays and 2021 free agent signing Pat Elflein they have a reasonable amount of cover, especially when you consider that Brady Christensen would likely be the first back-up option at tackle as well as the starting left guard but continuing to add to this group would be useful.
Sataoa Laumea follows the long tradition of college tackles who are expected to kick inside to play guard at the NFL level as, while he is able to hold his own in pass protection most of the time, he is unlikely to be able to deal with the consistent quality of speed rush he would face in the NFL. However, with that said, there is a lot to like about him on tape.
He shows good power to move people in the run game, and his lateral agility is surprising for a man of his size. From a technical perspective, he shows good hand placement, and does flash good arm extension at times, but needs to show more consistent knee bend to allow him to play with better balance, especially in the run game. If he can work this out, however, then he has starter upside.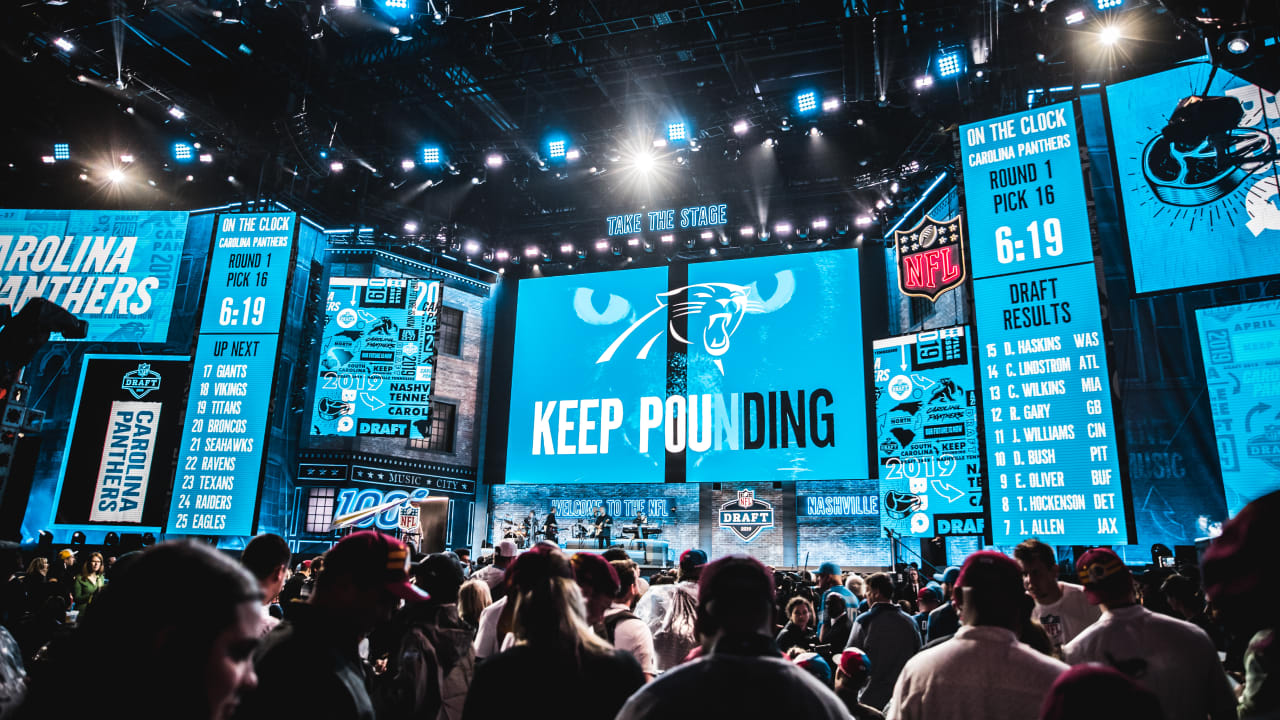 There is still a very, very long way to go between now and the draft, and this certainly won't be the last mock draft we do, but it is worth considering how the Panthers could approach this draft aside from the potential selection of a quarterback early in the first round.
That is still, unquestionably, the most likely outcome, but with a young quarterback already on the roster, the Panthers could decide to double-down on building around him. Hopefully this mock draft has given you a glimpse of what such an approach might look like.
(Top photo via University of Alabama Athletics)