For the Panthers, the 2022 offseason has already begun and, with the Panthers' search for a new offensive coordinator appears to be well underway, it only seems fair that we would also turn our eyes to some of the key decisions facing the Panthers this offseason and, this offseason, there are going to be no bigger decisions than those the Panthers make over three days in late April.
So, with that in mind, here is our second seven-round Panthers 2022 mock draft.
Trades, plural: Panthers send the 6th overall pick to the Eagles for the 16th pick, their 2nd, 3rd, 4th and 5th-round picks plus their 6th-round pick from the Bucs
Ok, so the details of these trades aren't super relevant, but there are a couple of key points to take away. Firstly, the Panthers are far from one player away from being a good team and, with only one pick in the top 130, the Panthers desperately need to turn their one significant asset (the 6th overall pick) into a more diversified set of picks. As the Panthers showed in the 2nd-round last year, the most effective way of doing this is with a series of trade-downs that allow them to collect an extra pick or two each time, thereby allowing them to turn one pick into a handful.
The Eagles have somehow managed to make the play-offs while also carrying three 1st-round picks into the offseason, though none of their picks are higher than 15th overall. With that in mind, they are in a prime position to make an aggressive move up the draft for one of the top prospects, with the draft assets to also trade down themselves to recoup picks.
Panthers send the 16th overall pick to Packers for their 1st, 2nd, 3rd and 4th-round picks as well as their trio of 7th-round picks
In order to save time, here we are approximating this repeated trade down approach with a pair of massive hauls, with a more realistic scenario being a series of smaller trades, but the Packers are going to need to be aggressive if they are able to keep Aaron Rodgers around for another run and, as with arguably the best roster in the NFL, they are a prime candidate to group a lot of picks and try to move up.
First-Round Pick (From GB): Nicholas Petit-Frere, OT (Ohio State)
It is no secret that the Panthers need offensive line help and, after years of largely ignoring an increasingly significant problem up front, all the noises coming out of the Panthers indicate that this might finally be the year that the Panthers' offensive line gets the investment it so desperately needs. Though Brady Christensen was largely solid on the left side in his extended audition to end the season, his ceiling appears to be higher at guard and, if possible, the Panthers would prefer to keep him there and find a tackle with more upside in pass protection. Enter Nicholas Petit-Frere.
Petit-Frere isn't perfect, and in a worst-case scenario could need some time to polish some technical aspects behind either Christensen or Erving to start the 2022 season but has good foot speed to cover speed rushers around the edge, the power to anchor against power and the balance and ability to counter inside moves. As a run blocker, he's never going to be an earth mover but shows encouraging footwork and hand placement with the ability to make an impact down the field as a pulling blocker or when working to the second level. He's not the finished article, but he offers an upside in pass protection the Panthers don't currently have at tackle.
Trade! Panthers send their 2nd and 4th-round picks from the Eagles plus their own fifth-round pick to the Bengals for their 2nd and 3rd-round picks
Here, the Panthers are able to slide down a few places in exchange for turning two mid-round picks into a pick towards the middle of the third round. As the latter half of the second day and the very beginning of day three look to be arguably the strongest parts of the draft the Panthers would do well to try and gather as many picks as they can in this range and grouping day three picks is a luxury they can afford after a pair of trades to gather picks.
Second-Round Pick (from PHI): Myjai Sanders, EDGE (Cincinnati)
Aside from the offensive line, the Panthers' main priority for this offseason should be re-signing Haason Reddick as, while he didn't quite match last season's sack production, his 11 sacks, 18 QB Hits and 33 pressures are still the number of a high-caliber pass rusher with the ability to be a foundational piece of a defense. However, even if the Panthers do resign Reddick, they still need to add more strings to their pass rushing bow as, aside from Reddick and Brian Burns (31) the only Panthers with double-digit pressures were pending free agent DaQuan Jones (13), Morgan Fox (12) and Derrick Brown (12).
Like Petit-Frere, Sanders isn't a perfect technician who is ready to roll into his rookie season as a double-digit sack artist, but he has many of the same physical tools that Brian Burns showed coming out of Florida State that, combined with flashes of technique, give him a chance to be an elite pass rusher with time. Listed at 6'5 and a somewhat-generous 255lbs, Sanders would also fit the hybrid style of edge rusher that the Panthers have prioritized in Burns and Reddick, with the movement skills to drop into coverage from time to time as well.
Trade! Panthers send their 2nd-round pick from the Packers and the 3rd-round pick from the Eagles to the Ravens for their two 3rd-round picks, their 4th-round pick and their 4th-round pick from the Giants
This is the same rationale as for the previous trades: try and pick up as many picks from the middle of the third to the middle of the fourth as possible. The Ravens are stacked with picks and should be a prime candidate for the Panthers when looking to trade down throughout the draft.
Third-Round Pick (from BAL): Devonte Wyatt, DT (Georgia)
As both Matt Rhule and Scott Fitterer made very clear during their end-of-season press conferences, the blueprint for the Panthers turning the corner in 2022 is improve line play and, while the focus of this is certainly going to be the offense, the Panthers could also do with some help on the defensive side as well. DaQuan Jones will be a 30-year-old free agent this offseason and, while Daviyon Nixon did show some nice flashes before being lost for the season, the lack of pass rush on the interior was a real problem for the Panthers at time.
Wyatt isn't going to be confused for Aaron Donald, but the 6'3 315lbs defensive tackle is a stout and technically disciplined run defender with enough quickness and pass-rushing repertoire to create problems for any offensive lineman who is left blocking him one-on-one in pass protection. For the Panthers, he offers the ability to play as either the 1- or 3-tech in their four-man front or a 3-4 DE. Whether he would be a starter would likely depend on how quickly Nixon continues to develop but, in a scenario where Nixon takes the leap then the Panthers could reasonably play Brown, Nixon and Wyatt in any combination or even as a front three on rushing downs.
Trade! Panthers send their 3rd-round pick from the Bengals, their 4th-round pick from the Rams (via HOU) and their 5th-round pick from the Eagles to Browns for their 3rd-round pick
This is once again the same argument as before, but it's worth noting that one of the advantages of trading down is that it then gives you the draft capital to be aggressive in moving up when a player falls to a point that you like their value.
Third-Round Pick (from CLE): Jalen Tolbert, WR (South Alabama)
The Panthers' receiver room is in a rather strange place entering the 2022 offseason as, while DJ Moore and Robby Anderson have both shown they can be highly productive NFL receivers, Moore is entering the final year of his rookie deal, Robby Anderson is coming of a significantly sub-par year, rookie second-round pick Terrace Marshall Jr. failed to make much of an impact and veteran depth pieces Brandon Zylstra and Alex Erikson are both free agents. This isn't a massive flaw with the Panthers roster, but they likely wouldn't pass on the chance to add another piece into the mix if the pieces fall in a way that allows them to do so.
If he does indeed fall this far then it would be hard to argue with the value of taking Tolbert at this point in the draft. Though he doesn't hail from one of the bigger FBS schools, the 6'3 190lbs Tolbert has noted a combined 173 catches for 3,080 yards and 21 TDs over the past three seasons. Though he isn't a burner he has enough speed to threaten vertically while showing tight route running ability and developed footwork against press to both win early against man coverage and separate through routes down the field. Importantly, he would be a natural complement to DJ Moore as a more possession-focus receiver who would allow Moore to thrive on the downfield routes where he is most dangerous.
Third-Round Pick (from GB): Alec Lindstrom, iOL (Boston College)
Given the uncertainty about who plays where when it comes to the Panthers' returning starters on the offensive line it wouldn't be at all surprising to see them go after a proven guard during free agency but, with only so much money to go around, the Panthers could also be in the market for an interior offensive lineman who has the ability to play both center and guard, allowing them to keep their options as open as possible entering training camp.
Lindstrom isn't a blockbuster athlete but looks every part of his listed 6'3 298lbs with the strength to anchor against power inside with enough agility to cover laterally in pass protection and offer some value as a pulling blocker or on screens. Technically, he shows good hand placement and uses his feet well to create rushing lanes laterally but could stand to improve both his knee bend and arm extension, though the latter will likely naturally improve with the former. Importantly, while he is most natural at center, he looks to be able to play guard as well if needed, thereby giving himself the best chance to see the field early in what looks to be a somewhat muddled offensive line room.
Third-Round Pick (comp. via BAL): Kaleb Eleby, QB (Western Michigan)
The Panthers' need at quarterback is as significant as ever entering the 2022 offseason but, having gone hard at the position and missed last offseason, it is going to be hard for them to spend a top pick on a quarterback without also undermining their development by forcing them to play behind an un-patched offensive line. Instead, they could look to the middle rounds of the draft to find a player with developmental upside who they can sit behind a veteran (be that Darnold or somebody else) for a year. This is far from a sure-fire solution at the position but is a much better balance of risk and reward long-term then throwing yet more assets at a fringe starter or an ageing veteran.
Projecting quarterbacks to the NFL is fraught with difficulty, and for Eleby this isn't helped by the fact that he has not been playing in an offense anything similar to what he is likely to see in the NFL, but it is hard to argue with how effective he has been in that offense or that he has the physical tools to succeed in the NFL. At 6'1 and 210lbs, he is on the shorter side, but he shows the arm to push the ball down the field and the velocity to work he full width of the field on the short and intermediate game. From a statistical perspective, it's hard to argue with a career 64% completion percentage, 6,084 passing yards and 45 TDs to just 11 INTs with another 13 scores on the ground.
Fourth-Round Pick (from NYG via BAL): Quay Walker, LB (Georgia)
The Panthers' linebacker position continues to be in something of a state of flux, with Jermaine Carter a pending free agent and a lack of clarity on whether Jeremy Chinn could ultimately move back to something resembling the hybrid role he played as a rookie. Whatever happens, the Panthers need to add depth at the position, the lack of which was somewhat exposed during the games where Shaq Thompson was out. Exactly what the Panthers might be looking for at the position will likely depend a bit on what moves they make elsewhere on the defense, but versatility, football intelligence and athleticism are typically towards the top of what Phil Snow looks for at every position.
Though listed at a more-than-respectable 6'4 and 240lbs, Walker has played more of a off-ball role for the Georgia defense, one that makes the move of his range and movement skills and compensates for his lack of bruising physicality inside. Though he isn't the next Thomas Davis, he moves well in space to match-up with most TEs and RBs and is a solid technical tackler and would be well suited to a sole similar to the one Shaq Thompson played early in his career, with Thompson assuming the role of Davis in that scenario.
Fourth-Round Pick (from BAL): Channing Tindall, LB (Georgia)
This is really the other side of the same coin to the previous pick as Walker and Tindall are really quite different players with complimentary skill sets, as can be seen in they way they were used in Georgia's defense this season. Importantly, adding a move conventional inside linebacker would also have the benefit of allowing Shaq Thompson to continue to be used in the role in which he has really excelled at times this season.
Tindall isn't a bad athlete by any means, but he is at his best when working north to south, with the strength to take on blockers at the point and a solid tackling technique. As with Jermaine Carter, his best coverage role will likely be as a zone defender who can use his smarts and speed to interrupt opposing passing patterns rather than consistently playing a heavy dose of man coverage. Where he could add some additional in the passing game, however, is as a Micah Parsons-style rush linebacker who can act as a genuine pass rushing threat in obvious passing situations, as evidenced by his 12 career sacks including 5.5 in 2021.
Trade! Panthers send the 4th and both 7th-round picks from the Packers plus their 5th-round pick from the Jaguars to the Texans for their 6th-round pick, their sixth-round pick from the 49ers, and their 2023 4th and 6th-round picks
Ok, I promise this is the final trade. Having addressed almost all of their major needs in some way at this point in the draft, the Panthers can now start to turn their eyes to 2023, or at least to the 2022 season. While the Panthers do need to also make use of the latter rounds of the 2022 draft (as they did so well in 2021), they would also benefit from adding some extra 2023 picks as these would come in handy both for in-season trades and for any plans they might have to move up in the 2023 NFL Draft.
Sixth-Round Pick (from HOU): Rasheed Walker, OL (Penn State)
Though the majority of the Panthers' offensive line rebuild is likely to happen well before the final day of the 2022 NFL Draft, after years of neglect the position also requires a continued investment in depth. This not only offers greater insurance against injury but also creates the competition to push the players who might otherwise be written in as definite starters at the start of training camp. If those depth players are able to play multiple positions to provide the maximum possible injury cover on game days, then all the better.
Though his career at Penn State has mostly been spent at left tackle, the 6'6 325lbs Walker could well benefit from a move inside to guard where his good but not elite foot speed will be a strength and not a weakness. This should also help him to clean up some of his technical inconsistency as, when he hasn't been outmatched for speed around the edge, he has shown an ability to be a consistently effective technician with the power to hold his own at the point of attack and the athleticism to add value as a pulling blocker and on screens.
Sixth-Round Pick (from LV): Tyler Goodson, RB (Iowa)
The talk around Christian McCaffrey spending more time in the slot and less time bashing a path between the tackles on 1st-and-10 has become something of an annual routine around the Carolinas, but there does seem to be a greater tone of acceptance when discussing his best long-term role following a second consecutive season spent primarily on IR. After all, despite the injuries, no player in the NFL averages more touches-per-game over the past four seasons than McCaffrey. To do this, however, the Panthers will need to continue to add to their ball-carrying options at running back.
Goodson is a solid ball carrier, with decent vision and contact balance to go with good quickness. However, his real value for the Panthers would be his ability to contribute to the passing game while also being able to run between the tackles on early downs. Though he is no McCaffrey, Goodson is arguably the best route-running back in the class with good hands and would allow the Panthers to pose a pass-catching threat out of the backfield even if McCaffrey is lined-up elsewhere.
Sixth-Round Pick (SF via HOU): Dohnovan West, iOL (Arizona State)
Similar to the Rasheed Walker pick earlier, this selection is about building depth and competition on the offensive line. As they did last year, by trading down in this scenario the Panthers would allow themselves to take chances on players who have a chance to come in and earn a role without having to be locks to make the roster to justify the selection.
West doesn't have any one stand-out trait, but rather a series of solid ones. He has the footspeed and balance to cover laterally in pass protection, the movement skills to be effective out in space. the technical proficiency to make up for his lack of bulk against more power-based rushers and the positional flexibility to play both guard and center. He might never become a starter at the NFL, but he is ideally suited to bringing competition and depth to a position group that is currently short on both.
Sixth-Round Pick (TB via PHI): Matt Araiza, P (San Diego State)
One area of ongoing work for the Panthers has been their special teams and, after moving on from ST coordinator Chase Blackburn, the Panthers could well look to reinforce this area through player addition as well. Zane Gonzales performed well as a kicker before his season was ended by injury, and Thomas Fletcher should be back from injury to complete with JJ Jansen for the LS job, but that still leaves a space for a punter who can compete with mid-season signing Lachlan Edwards.
Projecting specialists to the NFL can be problematic, but as far as college punters go there is nobody better than Araiza. Having been used primarily as a kicker through his first two seasons in college football (where he kicked a very respectable 81% from inside 50 yards and 99% on XPs, though he did struggle from distance), he emerged as an elite punter in 2021, averaging 51.2 yards-per-punt including an astonishing 86-yard effort. Not only are those prodigious numbers, but he would also likely offer a better back-up kicking option than Brandon Zylstra…
Seventh-Round Pick (CHI via GB): Emeka Emezie, WR/TE (NC State)
The Panthers have certainly found a set of reliable blockers from the tight end position and so, while Ian Thomas is a pending free agent, the priority for this offseason is likely to be finding a more natural pass-catcher who can replace what they thought they'd found in Dan Arnold before ultimately deciding to trade him to Jacksonville as part of the CJ Henderson deal. Though Emezie has played receiver in college, he could be a candidate to follow the path taken by Arnold in adding some additional weight to play a hybrid TE/WR role.
Though Emezie started his college career under 200lbs, he is now listed at 6'3 220lbs and looks the part as well. He is never going to be a consistent deep threat as a receiver, but he has enough speed to create problems for most linebackers and safeties and uses his size well to both create separation as a route runner and make plays at the catch point. His blocking will need work if he is to play some tight end, but if he masters the transition then he has a chance to be a really useful match-up weapon.
Seventh-Round Pick (via TEN): Jeremiah Hall, FB (Oklahoma)
After spending a fair amount of time talking about his desire to find a true fullback during the preseason, the Giovanni Ricci experiment has worked well enough to reward the former TE with a place on the initial 90-man roster for 2022 but, having played only 15% of the offensive snaps, the Panthers could well look to bring in competition this offseason.
What an NFL fullback looks like has changed in recent decades, and while Hall is not the iso-blocking, short-yardage rushing player that would be recognizable for past generations, but he is technically sound blocker who has the ability to impact the passing game as a receiver.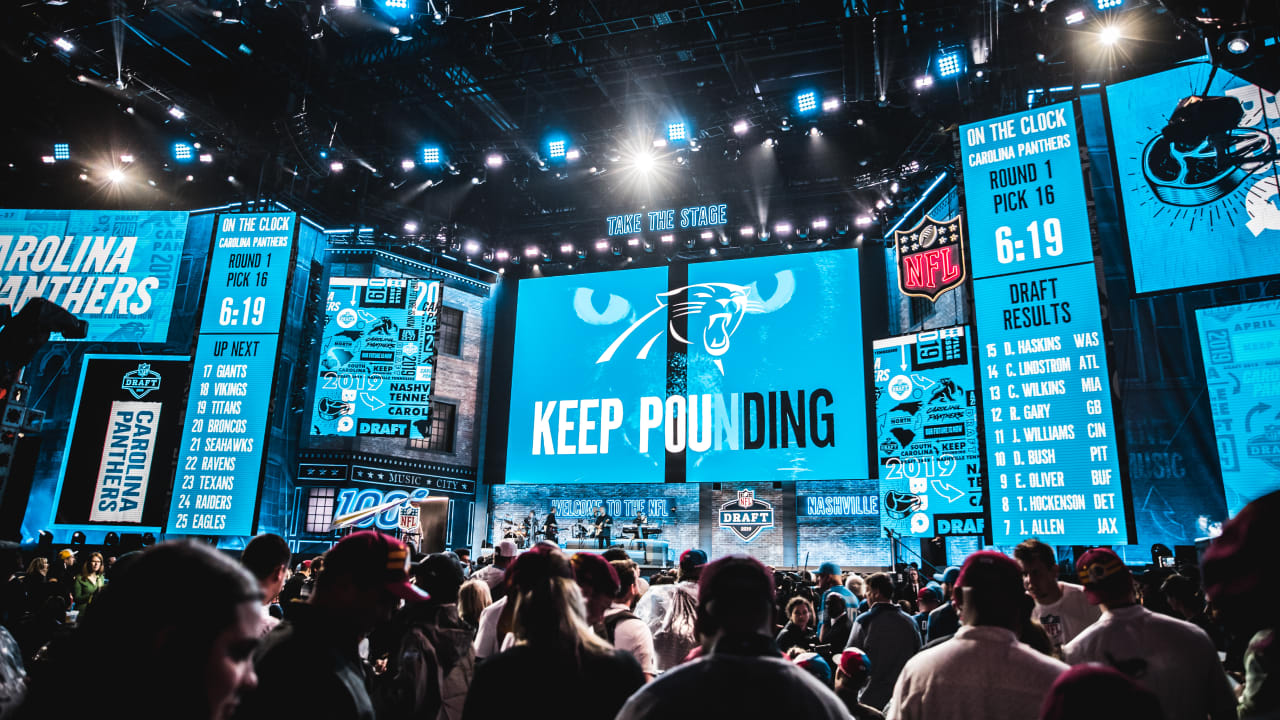 The Panthers are going to face a lot of challenges this offseason and will need to improve in almost every facet of their operation from player development to player evaluation, but if they are willing to take a long-term view and focus on building a solid base of talent then they have a chance to take a step in the 2022 season that could be part of a longer-term journey towards postseason relevance.
They don't have to follow this exact blueprint to achieve this, or even anything hugely similar but, as always, the teams that win the NFL draft are those that can find talent on all three days, and develop the players they select into the best versions of themselves. Fingers crossed I suppose…
(Top photo via Casey Cascaldo/The Lantern)