Though the Panthers likely still have one or two free agent moves to make, plus the ever-looming threat of a trade for a quarterback, the Panthers are now pretty much set in terms of the roster they will start the first day of the draft with, though further free agent moves could well follow the conclusion of the final day of the draft. With this in mind, as well as the confirmation of the full draft order, now seems like an appropriate time to have our third shot at predicting what the Panthers might do over the three days of the 2022 NFL Draft.
Trades! Panthers send the 6th and 199th overall picks to Kansas City for picks 29, 30, 50, 103 and 121 before flipping first the 29th overall pick plus picks 137, 144 and 149 to the Falcons for picks 43, 74, 114 and 213, and then the 30th and 213th overall picks to the Ravens for picks 45, 100, 128, 141 and 196
Though the Panthers did a fairly good job of addressing most of their major needs in free agency, this is still a roster a long way away from competing and, having missed out on the Deshaun Watson sweepstakes, they would be well-advised to take something of a longer approach. Though there are some prospects the Panthers should consider with the 6th pick, given their lack of day 2 selections entering the draft a trade down should always be on the cards.
Though the Panthers could well look to trade back into the middle of the first round in the hope that one of the top prospects falls, this is a draft class whose value is the depth of quality on the second day and, given the Panthers lack of long-term clarity at most positions, turning their one very high pick into a wealth of picks in the 40-130 range would make an awful lot of sense. This makes particular sense following the Panthers' approach to free agency, where they addressed a lot of needs on short term deals which create pathways to starting for young players at almost every position.
This is probably a very extreme form of this approach, but Scott Fitterer has shown that trading back is a major part of his philosophy and, with so many long-term questions all over the roster and only one pick in the top 135, the 2022 Panthers are definitely a team for whom trading down would make an awful lot of sense.
One of the clear needs the Panthers failed to address during free agency, at least to this point, is quarterback, and with Sam Darnold clearly not the long-term solution the odds look fairly good on them prioritizing this position in the draft. Though that could well be an option with the sixth pick, given the precarious nature of both Matt Rhule and Scott Fitterer it would be more prudent to spread their bets and target what looks to be a fairly extensive second tier of QB prospects.
The Panthers have reportedly been impressed with Ridder and, while he is far from the finished product, there is a lot to like on tape. He is an excellent athlete who, while not as elusive as Willis, offers a genuine weapon with his feet both on designed runs and when he looks to break the pocket. As a thrower, Ridder has the arm strength to make all the throws needed of an NFL quarterback while displaying the touch to hit vertical windows down the field.
Like almost all quarterback prospects, Ridder would benefit from some time to develop before he sees the field as, while he generally makes decent decisions with the ball at Cincinnati, he will likely face something of an adjustment period when it comes to both NFL schemes and the speed of the NFL game. He could also stand to continue to refine his footwork in the pocket at this can cause some inaccuracy and his ability to move within the pocket under pressure still needs work.
Overall, however, Ridder should very much be seen as one of the top-tier quarterbacks in this class and, while this group isn't as strong as some in recent years, that lack of truly elite QB prospects is much easier to swallow towards the middle of the second round than in the top ten.
45th Overall Pick: Chad Muma, LB (Wyoming); 6'3 239lbs, RAS = 9.77
Unsurprisingly, it has taken the Panthers to regroup at linebacker following the retirement of Luke Kuechly two year ago and, while Shaq Thompson has emerged as both a real leader on the defense and a good off-ball linebacker, the free agent signing of Wilson is more of a stopgap than a long-term solution for the middle linebacker role. Add to that the Panthers near-complete lack of depth at the position and this is one of the few remaining big short-term needs for the Panthers.
Fortunately, this looks to be a very deep linebacker class both in terms of top-tier and second-tier prospect and even if the Panthers don't take a linebacker early it would be surprising not to see them target the position at some point. However, if they do trade down and find themselves with day two picks to spend, then Chad Muma should be at the very top of the list of options.
Muma might not have got the attention of some others at the position playing at Wyoming, but he is arguably the best linebacker in the draft. He is a great athlete with the sideline-to-sideline speed to shut down the outside run and scheme games, while also possessing the size and strength to take on blockers at the point of attack and be a physical presence against inside runs, where his excellent tackling technique and proactive hands to work past blocks make him a real asset.
In coverage, he lacks the elite movement skills of somebody like Shaq Thompson but is still more than capable of sticking with most tight ends and running backs (plus some receivers) in man coverage with the range to drop to cover intermediate routes in zone. Importantly, while he isn't on the Luke tier, he also shows an excellent ability to both react to and anticipate routes which, combined with his good ball skills, make him a real threat when teams look to throw the ball over the middle.
Nobody is likely to match Luke's level in Carolina or elsewhere for a very long time, but Muma has a chance to be one of the very best linebackers in the NFL with time.
Trade! Panthers send the 50th overall pick to Broncos for picks 75, 96 and 206 as well as their 2023 4th and 6th round picks
If the Panthers do add a day two pick, especially in the second round, then another way they might look to add picks is to replicate what they did in the second-round last year by sliding back a few picks to accumulate mid-round assets. This gives them the ammunition to move back up later if they wish while minimizing risk by only moving back a few picks at a time.
For Denver, they are also going to be pushed into more aggressive moves by an escalating AFC West arms race, and so a move up early on day two could well be one the cards.
74th Overall Pick: Alec Pierce, WR (Cincinnati); 6'3 211lbs, RAS = 9.82
The Panthers have certainly invested in the receiver position over the past two offseasons, with DJ Moore and Robby Anderson both signing extensions in addition to the 2nd- and 6th-round picks spent on Terrace Marshall Jr. and Shi Smith respectively. However, despite this investment, outside of DJ Moore the returns last year left a lot to be desired. While receiver certainly won't be the Panthers' top priority this offseason, given the depth of the draft class, the Panthers would be well advised to use this as an opportunity to add another quality option, especially if they do add additional picks.
The idea of a team adding the favourite college target of their young quarterback is hardly a new one but, as the Bengals showed with their addition of Ja'Marr Chase. this works a lot better if the favourite target is an excellent player in their own right. While Pierce has got lost a little in a very strong receiver class, there is a lot to like about his game.
While he isn't a burner, he has enough vertical speed to stretch the field and shows nice footwork at the line to get into his routes against press coverage. As a route runner, he is able to use his size and vertical speed to good effect to create separation out of his breaks, especially on short and intermediate routes. At the catch point he shows really good hands with the ability to go up and create receptions in the air, while his athleticism shows up after the catch where he is consistently able to add to what one would expect.
In short, Piece is a very good receiver prospect whose ability on short and intermediate routes would pair really well with the vertical ability of Moore and Anderson, with a chance to push Marshall and Zylstra for playing time as the #3 receiver from day one.
75th Overall Pick: Channing Tindall, LB (Georgia); 6'2 230lbs, RAS = 9.67
Even having signed Wilson and Littlejon in free agency, the Panthers lack of long-term options at linebacker besides Thompson is something that is likely to require multiple selections at the position over the next year or two. Given the remarkable depth of the 2022 LB class, the Panthers could well be tempted to take a second bite at the cherry if the board falls that way. In this scenario where the Panthers have already taken an every-down player like Muma at the position, somebody who can come in when teams bring on a second tight end or a fullback would be ideal.
Playing in Georgia's rotation-heavy LB corps, Tindall is certainly somebody who would be a natural fit for such a role. Though he is listed as only 230lbs, he plays much larger than his listed size with a real physicality against the run, not only landing bit hits on ball carriers but also showing an ability to hold his ground at the point of attack against blockers. In coverage, he likely isn't going to play a lot of man coverage, but he moves reasonably well and is able to execute his responsibility in zone. When you add in his ability to impact the game as a blitzer (as evidenced by his 5.5 sacks in 2021), he would be a very useful and versatile rotation piece.
Trade! Panthers send picks 100, 141 and 196 to the Cowboys for the 88th pick
As already mentioned, one advantage of trading down to accumulate mid-round picks is that it gives you the ammunition for make aggressive moves to target players who you think have slipped passed their value point. Here, the Panthers swap three picks for two in order to move up a dozen-or-so spots. The Cowboys have been picked here largely at random, but there will always be teams willing to move back if the price is right.
88th Overall Pick: Nicholas Petit-Frere, OT (Ohio State); 6'5 316lbs, RAS = 6.26
The Panthers need at left tackle is extremely well-documented at this point and, while there has been a fair amount of talk about them signing a bridge veteran such as Duane Brown in free agency, the long-term future of position is as unclear as it ever was. Though this is absolutely something that they could target in the first round, another option would be to take a player later on who has the ceiling to succeed at the position in the NFL but who make take some refinement before he sees the field.
If this is the path they decide to take then arguably the best option would be Nicholas Petit-Frere.
Petit-Frere has all the athletic traits that teams look for in left tackles, with the foot speed and length to counter speed around the edge combined with the balance and core strength to deal with power rushers as well. From a technical perspective, he shows good hand location and plays with consistent good arm extension but needs to continue to work on the consistency of his play height as, while he shows good knee bend at times, most of his negative plays come as a result of either failing to match pad level or getting caught leaning trying to match pad level.
If the Panthers are looking for a week one left tackle then Petit-Frere might not be the ideal option, but he is in the rare group of athletes capable of playing the position at a high level and the Panthers would be well-advised to consider a developmental approach to the position.
96th Overall Pick: Luke Fortner, C (Kentucky); 6'4 307lbs, RAS = 6.90
The Panthers made some moves in addressing their interior offensive line issues during free agency with the addition of Austin Corbett at right guard on a three-year deal and Bradley Bozeman at center on a one-year deal. However, with Bozeman signed for just the one year, if he does play well then the Panthers could struggle to retain him long-term, and so adding somebody to develop behind him as an alternative to Pat Elflein would be a smart move if possible.
Fortner is one of those offensive linemen who, while lacking any one elite trait, is able to offer a high level of play through consistent technical mastery combined with plus athleticism. In a scheme similar to the one the Panthers are expected to run, his hand usage and pad level would allow him to consistently open up rushing lanes on the interior, with the lateral agility and footwork to hold up in pass protection. He doesn't have the boom upside of some interior offensive line prospects, but he should be an above average starter for a long time and would give the Panthers some much-needed long-term stability on the interior alongside Corbett.
103rd Overall Pick: Rasheed Walker, OL (Penn State); 6'6 313lbs, RAS = NA
One area that has been repeatedly exposed over the past several seasons is the Panthers lack of offensive line depth and, while the Panthers have added a lot of new names along the offensive line since Matt Rhule came to Carolina, this is still an area that the Panthers would do well to address. In particular, given the lack of long-term certainty at left guard, players who are able to compete for that spot while have position flexibility should they not earn a starting role will be of particular interest.
Having played mostly at left tackle at Penn State, where Rasheed Walker will end up in the NFL is up for discussion but, similar to with Brady Christensen last year, he could probably play both guard and tackle to a competent level, with a higher ceiling at guard. As a run blocker, he has good power which, when combined with good hand placement and arm extension, allow him to drive defenders off the ball. As a pass protector, he shows generally good technique but can sometimes run out of athleticism against speed rushers.
Though he is something of a projection as a guard, Walker has all the traits needed to compete for a starting spot on the interior, while offering an improved level of depth at multiple positions.
114th Overall Pick: Myjai Sanders, EDGE (Cincinnati); 6'5 228lbs, RAS = 8.73
With the departure of Haason Reddick in free agency the Panthers will be once again looking for a new starter to pair with Brian Burns and, while 2020 second-round pick Yetur Gross-Matos is the favourite to get the first shot at the job, the Panthers would be wise to continue to add to their edge rusher room to help cover the sizeable gap left by Reddick's departure. In particular, they need somebody who can offer something close to Reddick's speed rushing prowess in obvious passing situations.
The projections on Sanders are somewhat mixed, which is fitting for a player for whom so much of his value is about potential. He has great core athletic skills, with the quickness to create consistent outside leverage combined with a Burns-like bend to turn the corner back to the quarterback. Where he needs to improve, however, is in the consistency of his knee bend and hand usage, both in the passing game and the run game. For the Panthers, however, he would be a good fit for a role here he can be used as a specialist pass rusher initially with a chance to earn a larger role as he develops.
128th Overall Pick: Kyren Williams, RB (Notre Dame); 5'9 194lbs, RAS = 3.42
Ok, running back might not be the Panthers biggest need for the Panthers, especially with the signing of D'Onta Foreman in free agency but, with the possibility of McCaffrey spending more time in the slot continuing to hang in the air, the Panthers are going to need to find longer-term options to carry a large portion of the ball-carrying load. Chuba Hubbard and Foreman both have a chance to stake a claim to major playing time, but with Hubbard failing to have much of an impact in his rookie season and Foreman signing to just a one-year deal, there is still room for more names to make their way into the hat.
Kyren Williams didn't have the combine he would have wanted, and is only likely to fall this far in the draft because of that as his tape is as good as any running back in the class. Though he doesn't show explosive athleticism, he has pretty good quickness and speed speed with good contact balance to bounce off arm tackles. Between the tackles, he has the footwork and vision to both create rushing lanes and consistency find space for positive yardage, while also having enough ability to make a man mass to add value when he bounces the ball outside as well.
Importantly, and in contrast to Hubbard, he is a very good receiver with good hands and the footwork and agility to create separation at the head of option routes and also has the ability to consistently execute his responsibility as a pass protector. He isn't Christian McCaffrey, almost nobody is, but he would be a real asset to the Panthers RB room who would allow McCaffrey to spend more time doing what he does best as a route runner and receiver.
128th Overall Pick: Jalen Wydermyer, TE (Texas A&M); 6'4 255lbs, RAS = 1.00
Tight end isn't a need that the Panthers go into the draft having to prioritize as in the recently re-signed Ian Thomas and second-year pro Tommy Tremble they have a pair of well-rounded options, albeit without the pass-catching upside that teams would typically look for in a #1 TE. However, while the Panthers have a pair of receivers who excel down the field and after the catch, what their skill position group lacks is a pass-catching option who can create consistent short and intermediate separation against man coverage to provide the "safety blanket" that often gets mentioned in conversations about tight ends.
Wydermyer would certainly be a natural fit for that role as, while he doesn't have the elite explosive athleticism of a George Kittle, he is surprisingly shifty for his size with enough speed (at least on tape) to stretch the field and, most relevantly, the route running skills to create consistent separation through his routes. Combine this with an ability to make plays at the catch point in the redzone and above-average blocking and you have a player who could help elevate an already-scary set of skill position players.
Trade! Panthers send the 206th pick to the Rams for picks 212 and 218
One thing the Panthers have done really well over the past couple of years is turning late round draft picks into useful either contributors, or players who are able to push for places from the practice squad. Once they have addressed their primary needs, as they would likely have done by this point in the draft, then they would do well to try and accumulate picks right towards the end of the draft so that they can, in effect, get a head start on signing UDFAs. As the Rams seem to actively dislike having draft picks, they seem like as good a place as any to consider as a trade partner.
212th Overall Pick: EJ Perry, QB (Brown); 6'2 211lbs, RAS = 9.43
Even if the Panthers do take a quarterback early in the draft, the value of hitting on a quarterback is so great that it is always worth taking a shot if a prospect with sufficient upside falls this far in the draft. Even if the Panthers hit on Ridder, hitting on a second quarterback in the later rounds would give them a chance at a cheap, quality back-up who they can potentially flip for picks a couple of years down the line.
Perry, who transferred to Brown, is the rare Ivy League quarterback with both a big arm and an ability to command an offense, something he showed to great effect during the Shrine Game. Given the significant step-up in competition he will need some time to adapt to the greater speed and complexity of the NFL game, but there are few quarterbacks who make it as far into the draft as Perry is projected to with the ability to make all the throws and no obvious major issues working through reads. Like almost all QB selections, this would be a long shot, but a long shot work taking.
218th Overall Pick: Jeremiah Hall, FB (Oklahoma); 6'1 239lbs, RAS = 2.45
Matt Rhule talked a lot about wanting to try and incorporate a fullback into their offense during training camp last year, and they gave Giovanni Ricci and extended run at the position throughout both preseason and the season itself, but it is hard to say that this was a hugely successful experiment. Though no team is likely to go into the draft with fullback top of their to-do list, the Panthers certainly seem like a team who could have it as an area of interest entering the final few rounds.
Jeremiah Hall is an example of what the fullback role typically looks like in the current NFL as, while he has hardly ever been used as a ball carrier, he is a technically sounds blocker who runs good routs and is able to offer a genuine passing threat coming out of the backfield. He isn't perfect, and if the Panthers are looking for more of a match-up piece them they would do better to look elsewhere, but if the want somebody who can be trusted to come in and perform at a consistently high level in a fairly conventional fullback role then he would be a logical choice.
242nd Overall Pick: Dawson Deaton, iOL (Texas Tech); 6'5 306lbs, RAS = 9.70
Though the Panthers have started to make moves to address this over the past season or so, the Panthers issues on the offensive line over the past decade have been as much about a complete lack of quality depth as the failings of the starting five entering training camp. Though investing in depth isn't something that always produces immediate rewards, the Panthers need to foster competition for places on the offensive line and selecting high-upside prospects in the later rounds is a good value way of doing so.
Dawson Deaton might not be the finished article, but he is a good athlete with promising core technical traits who has the flexibility to play both center and guard. He has the power to fit in a downhill power rushing scheme and the movement skills to hold his own in a more gap-focused scheme where he is asked to get out in space as a pulling blocker. Right now, he shows good hand location with pretty good arm extension, but needs to continue to improve his footwork in both the rushing and passing game. In the later rounds, however, he would be great value as somebody with starter upside who can push for a roster spot as a rookie.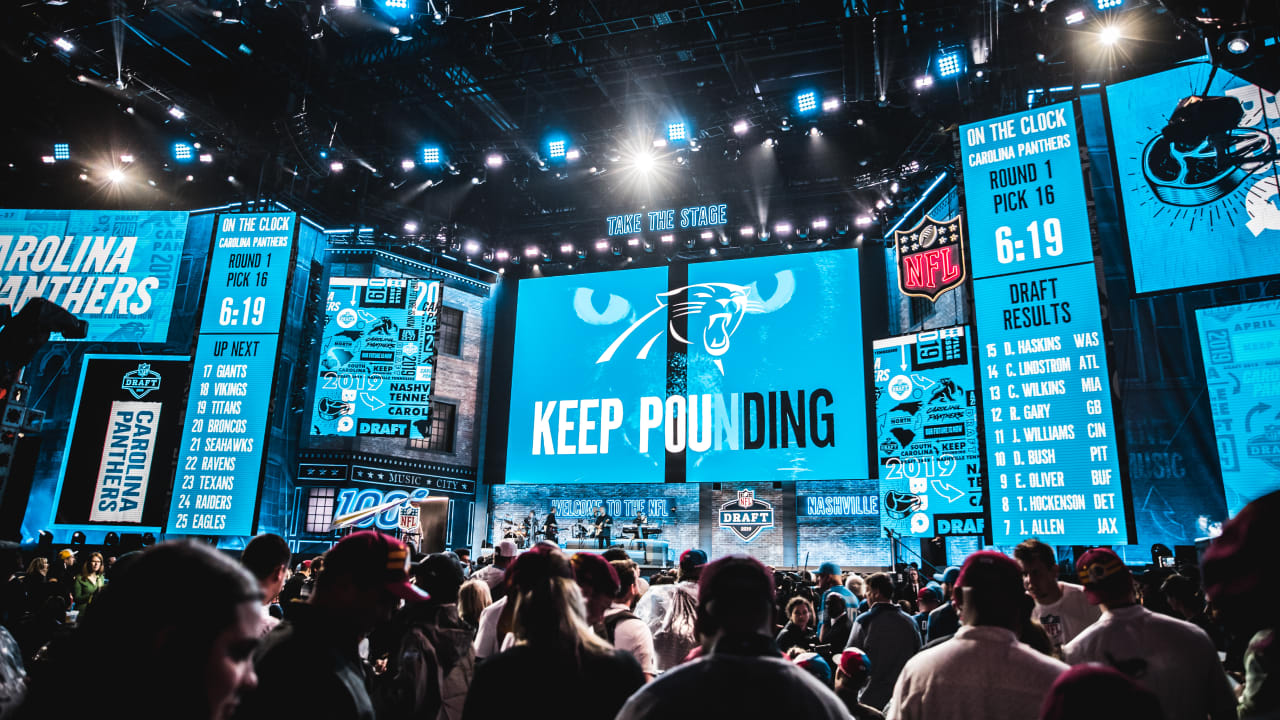 While the odds of the Panthers' draft playing out exactly like this are admittedly small, the Panthers haven't entered the draft in a less certain position for a very long time. It cannot be stressed enough how, with only one pick in the top 135, the Panthers draft is almost completely tied to what they chose to do with the sixth pick. First round picks are always the biggest part of any team's draft, but this is more true than ever for the 2022 Panthers.
Though taking a quarterback, offensive tackle or even edge rush appears to be on the table, one or more trades that allow them to move down and accumulate picks would given them a chance to spread that value (and consequently the associated risk) over several selections looks to be both the wisest and most likely path with still more than two weeks to go. Still, as we have found out several times, a lot can change in two weeks…
Top photo via University of Cincinnati Athletics