The fact that Matt Rhule is on something of a hot seat is hardly a secret and, though the Panthers will hopefully be slightly less willing to hand him carte blanche when it comes to the draft as a result, it seems somewhat inevitable that the Panthers' approach to the 2022 NFL Draft will be influenced by the short-term interests of both the Head Coach and GM. The reported interest in Baker Mayfield in the past week certainly hasn't done much to counter the idea that the Panthers' brass feel pressure to change the optics in the short term.
So, with that in mind, if the Panthers are focused on making the biggest possible improvement in 2022, as opposed to laying the foundation for a more long-term approach, what could that mean for the approach to the 2022 NFL Draft?
Trade! Panthers send the 6th and 144th overall picks to the Packers for picks 22, 28, 92, 132 and 171, before flipping picks 22 and 92 in addition to the 199th overall pick to Kansas City for picks 29 and 62
The Panthers' biggest obstacles to making a significant improvement this season are going to be the offensive line and quarterback play and, while quarterback will likely be an area for real consideration with the 6th pick, if the objective is to make the most significant improvement possible in 2022 then there is no guarantee that any rookie quarterback is better than Sam Darnold in 2022 due to the significant step-up in speed and complexity that almost all rookie quarterbacks struggle with to some degree.
Though there is a much better chance of a rookie offensive tackle leading to a significant improvement from day one, putting all of their draft eggs into one basket would also come with a fair amount of risk. Trading back in this way gives the Panthers two genuine shots at finding immediate starters while also adding more ammunition for day two.
28th Overall Pick: Kenyon Green, OG (Texas A&M); 6'4 323lbs, RAS = 5.99
It would be very hard to imagine the Panthers will come away from the 2022 NFL Draft without having invested in the offensive line, whether that is in the first round or elsewhere and, having passed on the players with a reasonable chance of becoming week one starters at left tackle by trading down, the Panthers would instead see the most immediate improvement from securing one of the draft's elite interior offensive linemen. This would mean keeping Brady Christensen at left tackle, at least in the short term, but if they are committed to a run-first approach then that would certainly play to his strengths and limit his weaknesses.
Kenyon Green is arguably the top guard prospect in the 2022 NFL Draft with the power to move defenders off the ball, the movement skills to get out in space on screens and the technique and lateral agility to both hold up in one-on-one pass protection and to create rushing lanes on the interior should the Panthers move to a more direction blocking scheme in the future. He does need to continue to refine his hand discipline as he does let his arms drop at times, which exposes his frame to defenders, but this is more of a refinement issue that a fundamental technical flaw.
29th Overall Pick: Nakobe Dean, ILB (Georgia); 5'11 229lbs, RAS = NA
Though the Panthers did make a couple of moves at linebacker during free agency, both of these are short-term moves with limited upside and there is a real chance for a rookie to push for an immediate starting role at the position. This is also an area with long-term upside as well because, if the Panthers are able to find somebody to fill the primary starting role alongside Shaq Thompson long-term, that would both free up Thompson to excel in space and fill what has been something of a revolving door since Luke Kuechly's retirement two years ago.
Dean isn't the biggest linebacker in the world, but that doesn't stop him from being one of the best prospects at the position in recent years. In coverage, he has enough movement skills to match up in man coverage with many TEs and RBs, but he also shows great instincts and awareness to make a real impact in underneath zone, as well as being an excellent pass rusher. As a run defender, he excels at shooting gaps and chasing outside runs, but would benefit from working on his hand usage to work off blocks at the point of attack and his downhill style does lead to the occasional missed tackle. Overall, however, Dean has a chance to start right away and be a long-term piece of a contending defense.
Trade! Panthers send the 62nd overall pick to the Ravens for picks 76 and 110
Having addressed two of their biggest needs aside from quarterback, which seems off the table in terms of short-term improvement at this stage in the draft, the Panthers would now likely look to making as much improvement as possible in terms of their rotation pieces and key areas of depth. Though there would likely be some potentially interesting options with the 62nd pick, here the Panthers slide back a dozen or so spots and add an early 4th-round pick for their troubles.
76th Overall Pick: Nik Bonitto, EDGE (Oklahoma); 6'3 248lbs, RAS = 9.37
While the Panthers managed to address a lot of their short term needs during free agency, the departure of Haason Reddick to the Eagles leaves a significant gap in terms of pass rush production which, to date, they are yet to add anybody to help fill. While Matt Ioannidis should help add some pass rush on the interior, finding pass rush help is one of the few "must dos" for the Panthers during the remainder of the offseason. Though the Panthers are expected to move towards more of a conventional 4-3 front this year, adding a pass rushing specialist in place of Reddick would certainly help.
Nik Bonitto certainly fits as a Reddick replacement from a physical perspective as, though he isn't the biggest defensive end in the world, he shows great quickness and bend to threaten the outside shoulder of offensive tackles as well as promising inside counters to take advantage when tackles sell-out to stop the speed rush. As a run defender, he does a really good job of using his flexibility and core strength to get underneath the pads of blockers and drive them off balance with good hand placement and arm extension. Though he doesn't have Reddick's coverage ability, he would give the Panthers a much-needed option in obvious passing situations with the potential to earn a starting role over time.
110th Overall Pick: Matt Waletzko, OT (North Dakota); 6'8 312lbs, RAS = 9.95
It's no secret that the Panthers have a significant need at left tackle as, even though Brady Christensen has the ability to offer short-term cover, his future looks to be somewhere on the interior. Though the Panthers shouldn't expect any tackle they take outside the top ten to be a week one starter, finding players with starter upside who they can develop offers both a good value investment and also a chance for the Panthers' new offensive coaches to prove their abilities with regards to player development.
Unsurprisingly for a FCS prospect, Matt Waletzko will need a fair amount of polish added once he gets to the NFL, but his upside flashes regularly on tape and there is more to work with from a technical point of view than many other boom-bust tackle prospects in recent years. His length can sometimes be inconsistently applied, and he needs to work on both his hand placement and knee bend, but he flashes both at a high level as well as the footwork to both cover laterally in pass protection and to create rushing lanes as a reach blocker. Not somebody for 2022, but an astute option if they pass on tackle with the 6th pick.
132nd Overall Pick: Jelani Woods, TE (Virginia); 6'7 253lbs, RAS = 10.0
Having extended Ian Thomas this offseason on top of the selection of Tommy Tremble in the third round a year ago, the Panthers certainly have a couple of useful rotation pieces at tight end. What they lack, however, is a true #1 option who can play a major role in the passing game at all three levels of the field. Though no ready-made prospect fitting that description exists in the 2022 draft class, the other option the Panthers have is to select somebody with #1 TE upside and hope to develop them.
As arguably the best-testing TE in the history of the NFL combine, Jelani Woods certainly has a lot of upside to work with and, while he definitely needs development, there are also some positives to point to on tape as well. As a blocker, he locates his hands well with good arm extension, though his knee bend is always going to be something of a work-in-progress given his height. As a receiver, he has good hands and an ability to contribute down the seam and at the catch point but needs route running development to help create separation at the head of routes underneath. Far from a sure thing, but the ceiling is definitely there.
137th Overall Pick: Terrel Bernard, LB (Baylor); 6'1 224lbs, RAS = 8.87
Even if the Panthers do select a linebacker early, their near complete lack of depth at the position means that this could be an area they would consider going back to at least once more during the third day of the draft, with the type of player they look for depending on who else they have at the position by that point. Having already selected Nakobe Dean in the first round in this mock that means looking for a player who is able to offer them a match-up piece in coverage with tight ends.
Though Terrel Bernard isn't in the top tier of LB prospects in the 2022 class, he has really good movement skills which should all him to play a high caliber of man coverage and is able to combine those with really promising pass rushing skills that would certainly fit what Phil Snow likes from his linebackers. Given the Baylor connections there is little doubt that Bernard will be somebody on the Panthers' radar and that, combined with the need at the position, makes this an easy pick to put in any mock draft.
149th Overall Pick: Tyler Goodson, RB (Iowa); 5'9 197lbs, RAS = 9.55
It still remains very unclear whether the Panthers are actually going to make good on several years of chatter and use Christian McCaffrey as more of a hybrid offensive weapon than a conventional running back but, whatever they do at running back, what they lack outside of McCaffrey are running backs who are able to contribute to the passing game in a major way as Chuba Hubbard struggled with drops as a rookie and free agent addition D'Onta Foreman has just 18 receptions in 26 career games.
Tyler Goodson isn't a 30-carry-a-game back in the NFL, but he has good quickness to bounce runs outside and enough elusiveness to make a man miss in space which, when combined with good vision and enough contact balance to break the off tackle, allow him to hold his own as a ball carrier. Where he really excels is as a receiver as his good hands and route running allow him to create separation underneath on a consistent basis. Whether McCaffrey stays at RB or not, finding somebody else who can catch passes out of the backfield is a must, and Goodson can certainly do that.
171st Overall Pick: Markquese Bell, S (Florida A&M); 6'2 212lbs, RAS = 8.95
One of the Panthers' free agent signings that perhaps hasn't got the attention it should have is that of Xavier Woods, who can either play the free safety role in a two-high shell or as the centerfield safety in a closed shell look. However, while he should definitely help the Panthers take a step forward in the short term, whether he can be the long-term solution at the position is still unclear. If they can add somebody to develop behind Woods on the final day of the draft, then that would give them the best of both worlds.
Markquese Bell certainly has a lot to like about him, with the ball skills and instincts to make plays on the back end to go with the movement skills and 4.4 speed to match up with most receivers in man coverage. Where he needs work, however, is with the details of his technique as there is quite a lot of wasted motion in his man coverage footwork and his tackling packs a punch but lacks discipline. He's not somebody who's going to step in and start right away, but he has plus starter upside and would be a worthwhile selection at this stage in the draft.
242nd Overall Pick: EJ Perry IV, QB (Brown); 6'2 211lbs, RAS = 9.43
Whatever the Panthers do in the draft, they would be foolish not to try and add some new blood to their quarterback room as, whether he ends up starting in 2022 or not, Sam Darnold is not the long-term answer at the position. Given how low the hit rate is for quarterbacks, the odds of a seventh-round pick turning into the next Tom Brady are very, very low but given the very limited risk that would come with such a move, it is definitely worth it if the Panthers think there is somebody on the board with the upside to develop.
EJ Perry IV is one of the older quarterback prospects in the class, and that isn't a great indicator when it comes to developmental upside, but there are very few players who make it to the later rounds of the draft who throw as nice as ball as he does. Not only does he have the arm strength to push the ball deep, but he throws with great velocity and accuracy to all three levels with some really splashy throws down the seam and to the outside corners. Though he still has work to do on his footwork and will need to adjust to the speed and complexity of the NFL game, he's certainly worth a roll of the dice at this stage of the draft.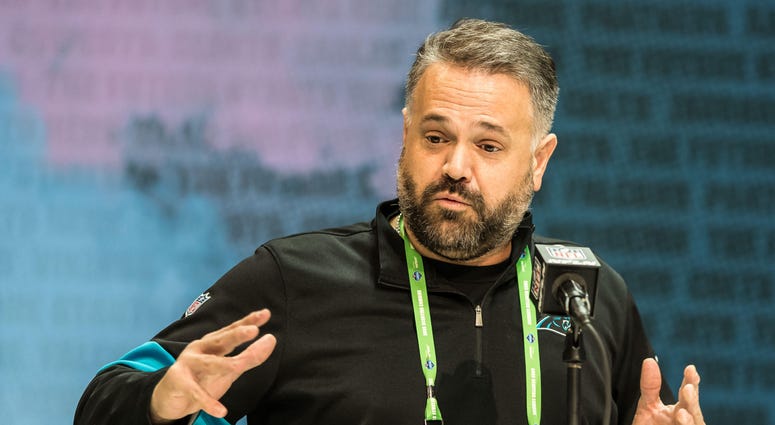 Last offseason, the Panthers made aggressive moves to try and get good quick and they backfired significantly. Though the Panthers should certainly have learned some painful lessons from this, the fact remains that Matt Rhule needs to turn things around this season to keep his job and, while Scott Fitterer's position isn't quite as precarious, if Rhule does go then he could find himself being thrown out with the bathwater. With this in mind, it would be far from a surprise if the Panthers' approach to the 2022 draft is focused on making big improvements quickly.
While this approach can have negative consequences long-term, there are ways for it to be done without jeopardizing long-term success at the same time. Though the selections in this mock would be long shots to address the quarterback and offensive tackle positions long-term, if they are able to come away from the draft with long-term answers at left guard, inside linebacker and edge rusher then that would be success in itself. This might not be what fans would hope for entering the draft, but things could certainly go a lot worse.
(Top photo via Mark J. Rebilas-USA TODAY Sports)