The Panthers have a tall task facing them on Sunday.
A tall, wide, fast, strong, smart task who's name is Aaron Donald.
"He's a unique guy," said Panthers offensive coordinator Norv Turner. "He's going to disrupt and he's going to make his plays – the thing you have to do is make sure you don't leave him in a position where he's going to make a play that turns out to be a disaster for you. That's something we've worked real hard at. Part of it is the system, the way we put the game plan together [and] part of it is how we call the game and a big part of it is the players understanding where he is and what they have to do to contain him."
"They've got an outstanding defensive front and we have to handle them all."

When Turner says disaster plays, he means the kind of plays that helped the Rams lead the league in sack yardage last season as they averaged 7.95 yards per sack, with Donald racking up 183 yards worth of sacks on his own, most in the NFL and more than 60 yards ahead of Chris Jones, the man in second place. The last time the Panthers played the Rams, Donald led his team to five total sacks with a couple of his own, but the hits – pardon the pun – go on and on for the two-time reigning NFL Defensive Player of the Year with his accolade list longer than Tre Boston's dreadlocks.
Last season, after being held sackless for the first three games of the season, Donald had at least one sack in 10 of the final 13 games – including seven where he had multiple. Not to mention he led the league in tackles for a loss with 97 tackles for a loss and was second in the league with 29 QB hurries.
Perhaps Sean McVay said it best when asked what he would do if asked to try and gameplan for Aaron Donald.
"Take a knee every play," laughed the Rams coach. "You know what, I would say this – he is a great player. I'm not going to give any secrets away even though I probably wouldn't be able to stop him either."
It will be a tough task for the Panthers retooled offensive line, not only to protect Cam Newton and his surgically repaired shoulder, but to open up holes for Christian McCaffrey, something they were able to do last season when they averaged 5.13 yards per carry, first in the NFL.
This may be a matchup to exploit for McCaffrey and the Panthers as Donald and the Rams allowed 5.07 yards per carry last season.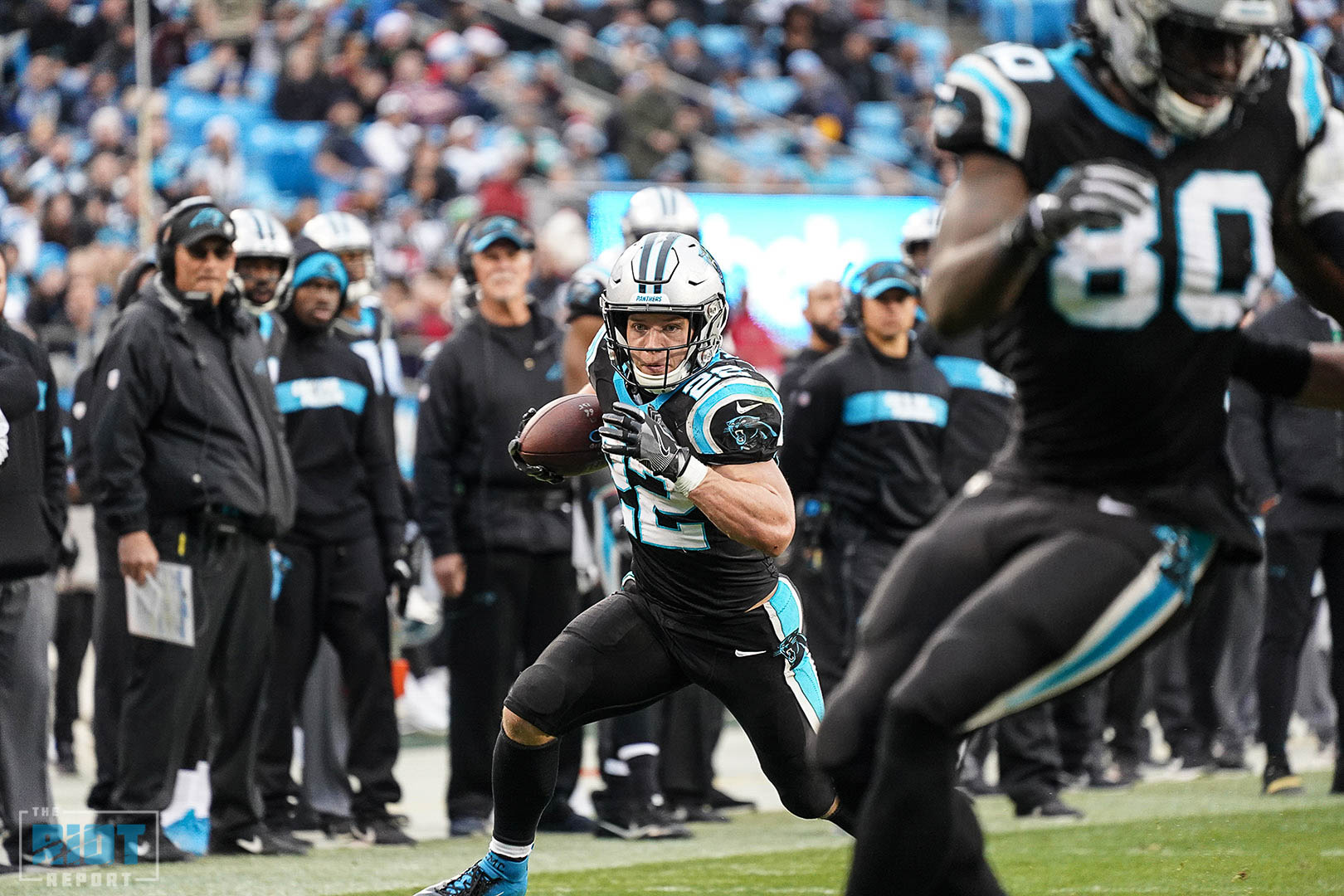 You're not going to necessarily stop Donald and the pass rush with simply the offensive line, it's going to depend on the entirety of the offense, whether it's Cam Newton recognizing blitzes and directing the pass protection, Matt Paradis making the right calls to his fellow offensive linemen and the pass catchers getting into their breaks and, most importantly, open – and quickly.
"They're not getting further away from the quarterback, that's for sure," said Greg Olsen.
With a pass rush like the Rams have, defensive coordinator Wade Phillips isn't scared to put his secondary in man coverage, where they run most of their scheme from – so it's imperative for the pass catchers to provide a good, easy target for Newton, who may be under pressure quickly – Aaron Donald led the NFL in a lot of categories, but since 2016, the defensive tackle has the fastest average time to the quarterback for an interior lineman, getting to his target in only 3.73 seconds.
Last year, he got to the quarterback in only 3.6 seconds to secure his 20.5 sacks – the fastest speed in the NFL regardless of position.
"As receivers, backs and tight ends, we've got to do a good job of getting separation and winning early in the routes," said Olsen. "We've got to keep their hands off of [us] and give Cam somewhere to go with the ball."
That means Newton's 'easy button' Christian McCaffrey may be even more of a dumpoff option than he was last season when he had 107 catches – the most by a running back in the history of the NFL – without a drop and rolled up a franchise-record 1,965 yards from scrimmage in his sophomore season.
That means DJ Moore and Curtis Samuel, the wide receivers heralded as "running backs when they get the ball in their hands" will need to be open earlier in their routes and be prepared to fight for the first down.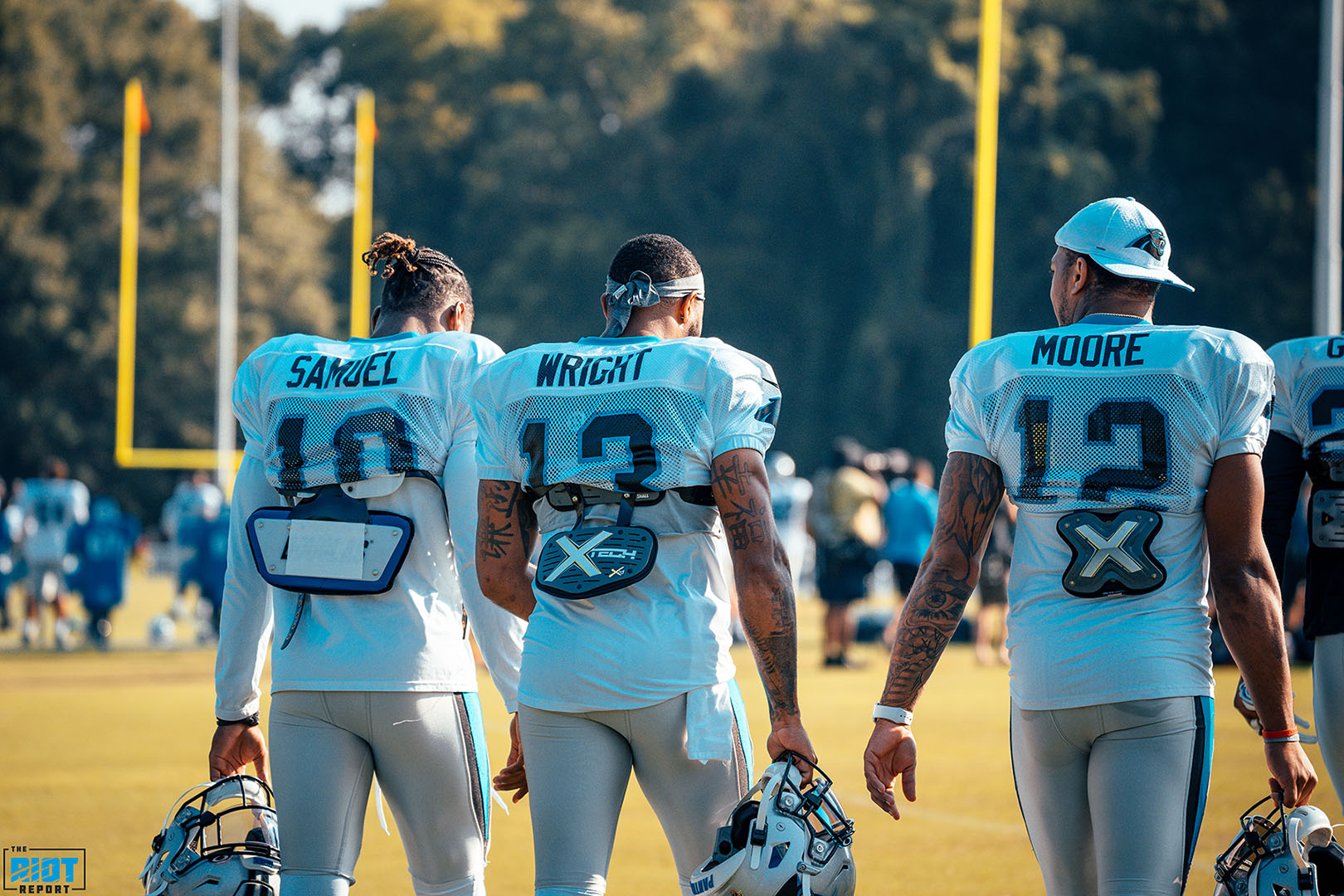 While they'll need help, eventually there will simply be reps that the offensive line has to win – the one-on-one rep that every offensive lineman dreads but know is coming; Ron Rivera reiterates that there are four or five plays per game that decide the outcome, and the Panthers don't want one of those to be an Aaron Donald disaster.
"You need to mix it up with him, you can't give him the same stuff every time because he's smart enough, strong enough and savvy enough to adapt and overcome quickly," said left guard Greg Van Roten. "He's not someone you're going to continuously surprise – you've got to give him different looks, you've got to give him different sets – just kind of mix it up with him. But at the same token, you don't want to get out of what you do well and what you're comfortable with."
"I had an o-line coach that said you've got to dance with a dancer and punch with a puncher – he can do both."
So there will be both dancing and punching – hopefully no disasters.