It might only be two weeks into the 2019 NFL season, but Thursday night's 20-14 loss to the Tampa Bay Buccaneers might have been a harbinger of a bigger problem waiting on the horizon.
Carolina's offense struggled throughout the night as they were held without a touchdown with Cam Newton's lackluster play highlighting the Panthers frustrating night as he finished 25-of-51 for 333 yards with no touchdowns, no interceptions, and a 70.1 passer rating.
Through two games, Newton has thrown for 572 yards and zero touchdowns – Thursday was the second consecutive week Newton failed to account for a touchdown. After the game, it was obvious coaches and players were disappointed and surprised by the Panthers offensive woes.
"A lack of execution offensively," said Newton after the game. "I think through my lens, it's hard to look defensive guys in their eyes after a game like this. You know offensively, we didn't hold up our end of the bargain. Needless to say, that's the obvious. We didn't uphold our end and we're past due. Special teams had a good return, defense was stout all game."
"All fingers are just pointing back to me specifically on offense."
Newton didn't stop there after hearing boos from fans at Bank of America Stadium as the Panthers dropped their first two games of the season at home.
"It's embarrassing, it's embarrassing," Newton said. "We hear [the] fans. You're not going to deny the fact – walking off the field on third downs. It is just unacceptable."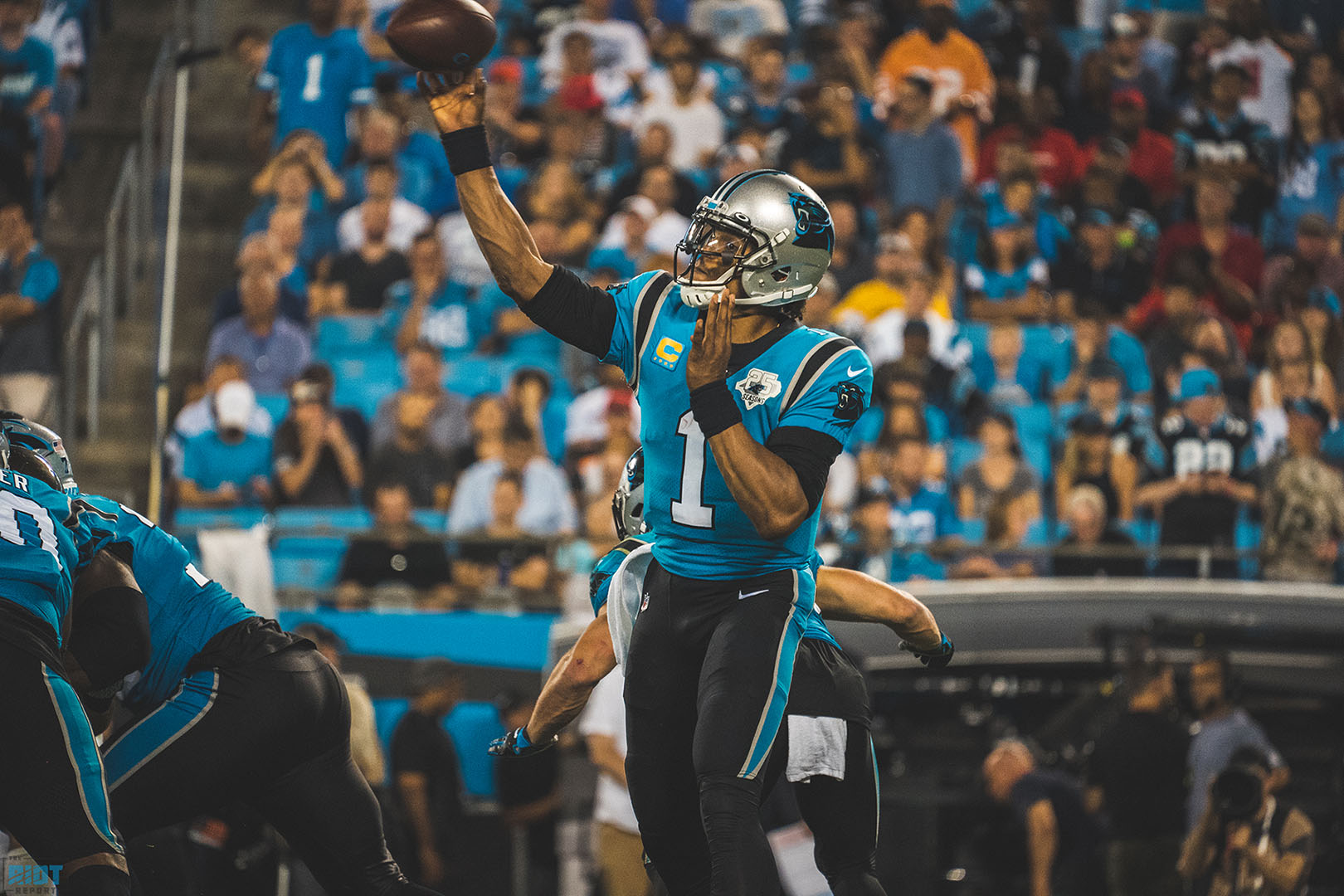 Unlike in Sunday's loss to the Rams, the Panthers were unable to get anything going on the ground. Christian McCaffrey rushed for only 37 yards on 16 carries and had just two receptions for 16 yards.
That was a massive change from the 209 all-purpose yards McCaffrey had during Week 1. With the struggles on offense, Ron Rivera said it's hard to look at positives from his offensive unit.
"We gave up a sack in an inopportune moment," Rivera said. "We had a penalty in another bad moment. We missed a throw in another bad moment. We thought maybe we could have called something different. But you know, it's a combination of things that we obviously will take a look at and hopefully get those things corrected as we go forward."
Although there weren't many positives to take from the Panthers offense, Rivera stressed there's still time for the Panthers to turn things around after beginning the season 0-2.
"I tell the guys – do what we always have done," said Rivera. "Come back, get ready to play. Take one at a time. There are 15 weeks left, so we will see what happens in the next 15 weeks."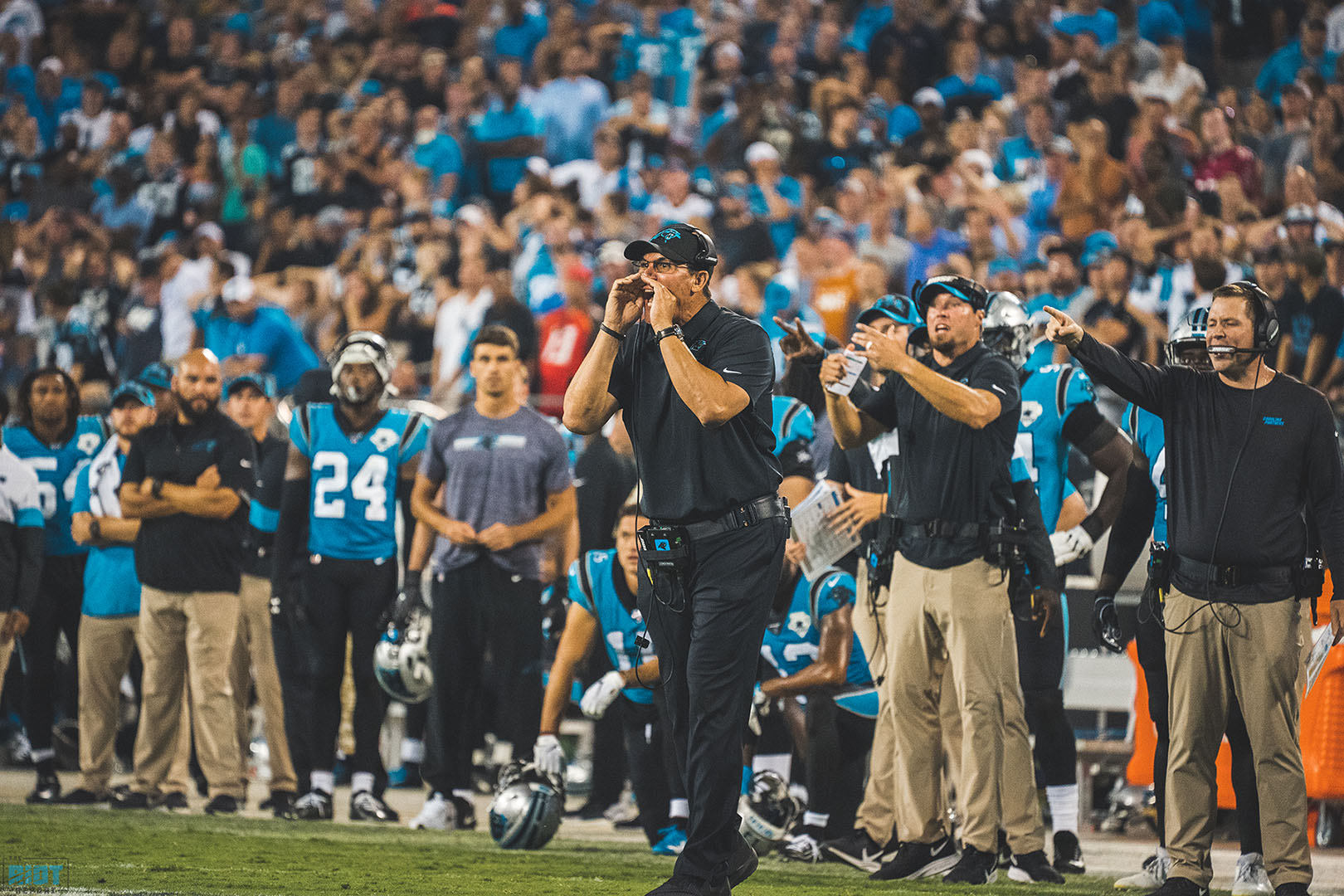 Carolina's offensive line certainly didn't help Newton any as the veteran was knocked down a number times throughout the night. Although the Buccaneers officially sacked Newton three times, it felt like he was under duress a bulk of the night, specifically as Shaquil Barrett beat Daryl Williams around the left side multiple times.
Just like the rest of his teammates, guard Trai Turner wasn't happy with the loss, but he remained positive as the Panthers still have a lot of football remaining
"It is definitely tough, but I'm just happy we have 14 more," Turner said. "It starts with one game, so we have to get the win. In [15] weeks, [when] we are [14]-2, then this will be a different conversation."
"It's September 12th," said Greg Olsen. "We've been in the season for five days."
After playing two games in the span of a week, the Panthers will have some time to rest and analyze the issues with their team, in particular, their offense. In Week 3, the Panthers will travel to Arizona to take on the Cardinals, who are coming off a Week 1 tie with the Detroit Lions.
Then the Panthers will play the Houston Texans on the road before coming back to the Carolinas and hosting the Jacksonville Jaguars on October 5th, one of only two home games they'll play over the next two months. There is a lot of time for the Panthers to right the ship, and defensive lineman Gerald McCoy is not willing to write off the season yet.
He's seen the Panthers start slow before – like they did in 2013 when they started 1-3 before reeling off eight straight and finishing 12-4.
"You just stay positive," McCoy said. "It's just two games. We've seen, across the league, many teams start slow and then get on a run. You know this team [did] it. Started slow and then hauled off 10 straight. It can happen, but you don't want to start the season like [this], especially at home."
Curtis Samuel had a much more succinct take.
"Ain't no time to panic," said the third-year wide receiver.
Maybe not, but that time is approaching.