The Panthers' offensive line is expected to see a fair amount of overhaul with offseason, with six of the nine players who started the season on the active roster hitting free agency including four of the five Week 1 starters.
While the Panthers will undoubtedly not want to let all six of these players depart in free agency, and may even add a veteran or two in return, it seems likely that the Panthers will turn to the offensive line at some point in the draft. With that in mind, we spoke to Panthers' offensive line coach Pat Meyer last week on the phone about his experience in the Senior Bowl, his philosophy when it comes to coaching the offensive line, and how he goes about evaluating offensive linemen in preparation for the draft.
What was your experience like at the Senior Bowl and how can it help you in the evaluation process?
It's been a good experience; I've come to the Senior Bowl many times as a scout, but I've never actually coached in this game so obviously a lot more hands on with the young men that we have here. You get to know them, be around them, see how they are, what their demeanor is like and how they handle themselves, not just on the field but off the field and in the meeting rooms. What they're like in the hotel, just getting an opportunity to be around them and figuring out who they are.
Then obviously we're working with them on the field and see what kind of skillset they have, what kind of traits that they have that we have to work with and just trying to help them out … Trying to teach them things here and there to improve their skillset. It's been a good experience so far.
How do you approach coaching the offensive line from a technique perspective and how do you take that approach and apply it to the Senior Bowl setting?
Everybody's different, no two people are identical, especially in football, so I think you have to have flexibility. Something that one left tackle can do, the next left tackle can't do that. He can't do the same thing, so you have to be able to adjust. I don't think it can always be "this is the only way you do it" because sometimes you are asking somebody to do something impossible that they can't do. So you have to have different ways of getting it done.
In terms of working with them here, I am looking at it as they're here for a reason, they're here because they were very good college football players. That's why they were selected to come to this game. In two days, can you change their whole skillset? Absolutely not. We're not trying to say "hey, here's the way I want you to approach this block; here's the way I want you to approach this run; here's the way I want you to approach this pass protection" because you can't learn it in two days in a two hour meeting and take it out to the field and apply it.
It's something that is taught over time and taught over thousands and thousands and thousands of reps.
I really want them to play the way they've been taught in the past so that they can have an advantage to show their skillset. And if I can teach them one or two things in this whole week of like "You guys come to me before practice and here's one thing I want you to work on today". Maybe for one guy it's making the first significant contact in pass protection and maybe for another guys it's [his] first step in the run game, I want [him] to do this on a certain play. That's kind of how I've approached it and how these young men have taken it here in the meetings and on the field.
When you're coaching at the Senior Bowl, how much of it is about the here-and-now as opposed to a more long-term view in case they end up with the Panthers?
You never know, we may get one or two of these guys in Carolina. We may draft one, somebody may end up being a free agent, we may not get any of them. To me, it's evaluating for right now and then, who knows? Maybe in three years from now, four years from now, we get one of these guys too. It's like "You know what, I remember so and so at the Senior Bowl, and I remember what kind of kid he was back then, I remember what kind of personality he had or what his demeanor was, what his temperament was. He was a leader back then, he was a smart kid, he was a bright kid.
You never know how it's going to play out in terms of who you're going to get, what you're going to get. I'm just trying to teach these guys, number one the assignments, what we're going to run in the game. Obviously, we're here to evaluate these players, and to see … if something comes up at the right round at the right pick; do we like them at this point in this round? … I want them all to do well, especially the guys that love the game, that want to play, that are attentive and want to learn. I want to help them, like "You can do this one thing, do this better and it may help you. It may help you in the long run" … It may help them and it may help their stock too. That's really the way I'm approaching it.
What is it that you look for when you're evaluating offensive linemen?
Typically, when I look at it, I have traits that I look for in linemen. Measurables; how long are they? Does this guy have huge length, does he have 35" arm length and this guy has a 33" arm length? You look at the measurables but then you look at the traits and try and find if he can he anchor down? Is this guy powerful? How does this guy stand? What's his lower body stiffness like? You put them all on a scale and grade them all in terms of where they're strong at and where they're weak at, and does he fit what we want in terms of traits.
Do we want these big heavy strong guys that are maulers that can move guys, but maybe they don't redirect as well? Or do we want a quicker guy that can get up to the second level or can reach the first level and can reach block on certain plays? I think it's all-encompassing. When it comes down to it, can you get around these guys and can you figure out do these guys really love to play football?
To me that's big – to all of us here in Carolina, that's big. Do they love the game? Because if they do have some traits that you can work with that you like, and they love football and they play hard and they really like coming to work and love being around the guys; that's the best that you can ask for. For me that's the ultimate, guys that love the game and love to play Panther football, and they have the traits that you like to work with – that's huge.
This offseason is likely to look a little different in terms of the access teams get to players; can you effectively assess things like lower body stiffness from tape alone?
I think you can. I think you can if you study it and watch a guy long enough you can see if he's tight in the hips, can he bend his knees, can he bend his power angles, can he bend his ankles, his knees, his hips? When you watch film, is he a little bit more top-heavy than the next guy? I think that's something you can evaluate when you're watching film. So the answer to your question is yes, I believe you can see it on film.
How different is the evaluation process for smaller school guys who perhaps haven't had the same quality of coaching and where there is maybe more projection involved?
You mention the guys from smaller schools, and I don't know to be honest with you, if that's the case or not. Everybody's taught differently … I think some of the best coaches I ever had were in high school if you believe it or not. Just teachers that taught young men how to do stuff the right way and how to handle themselves as well as some of the technique stuff.
They all learn differently, they're all taught differently by different coaches.
How quickly can a guy pick something up? Obviously, playing offensive line you've got to be tough; you have to because if you're not you're not going to play it, but you have to be smart, you have to be able to process and understand stuff. How quickly can you teach a guy to do something and then can he go out there and take what he's been taught in a meeting or in a walk-through and can he apply it then in real practice and in games; can he do it?
Young men that are able to do that, that are able to watch it on the film, show them, walk through it, practice it and then apply it to the game and they're able to do that and they're able to pick it up relatively quickly and they can process what you're trying to do. Those guys usually have a better chance of hanging around longer in the NFL.
Last offseason you weren't able to coach in person until late in the process. How optimistic are you that, with a hopefully more normal offseason this year, you'll see the offensive line take a real step forwards?
I'm very optimistic about it. Last year we met with these guys for months online, virtually, on Microsoft teams and calls and all that. We met them, literally, for hours and hours, hours upon days and days and weeks and months and I'd never even met some of them [in person]. I'd never even met some of them until late July, until training camp, where we actually met face to face. I joked around, "I'm coach Meyer, by the way" and they laughed and they were like "Yeah coach, we've seen you for the last two months straight in all the meetings".
At the same time, it's showing them on film … "here's how I want you to approach this, and here's what we do" and just over and over again. Showing them and showing them and showing them virtually. They're pros, they're pro guys and this is their job and this is what they love to do, they had to go out on their own and go out and practice the stuff by themselves.
Where I'm hoping that this year, if we get to be able to practice with them in the Spring, that now let's slow this down, because [last year] when we first got together it was July and we didn't have much time it was like "right, we're together now let's go"… So now, in Spring, hopefully we can slow this down and really dissect it and say "here's how we're going to approach this, here's how we're going to approach this" and obviously we've got a year under our belt now so they understand our coaching style, they understand what we're trying to ask from them and trying to demand out of them. I'm optimistic that we'll get in in the Spring and really dissect and improve on what we've worked on.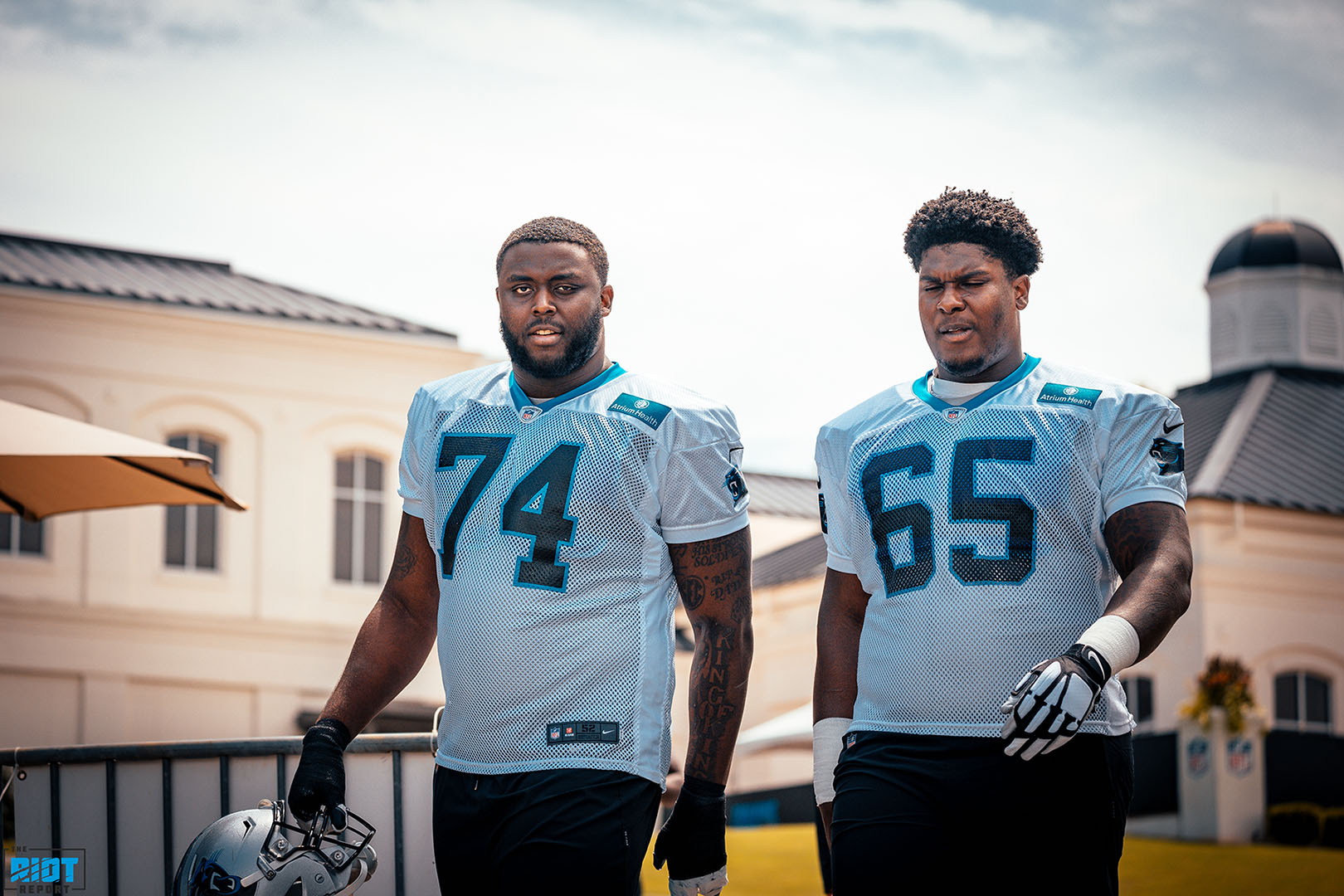 We often hear about the value of communication for the offensive line, and of guys building that chemistry together. How important is that and is it something that should be helped by a fuller offseason?
The funny thing about our sport of football is that when you start talking about the line you say the starting five. You always want your starting five to stay together because they know each other, as they're all different, so when some of these guys get injured and somebody else has to play, then he may not approach a certain block the same way as the guy that was in there earlier. You want them to stay together and work together but at the same point you know that's not going to happen.
Very rarely do you always have the same five that play all the time. Somebody's going to go down, somebody's going to get hurt, somebody's going to be whatever. That's why you've got to have quality guys in the room that are smart, that can process, that are tough, that can move in and really not take a step back. It's not just the five [starters], it's all of them communicating together, because there are five other guys that are one play away from being a starter. Getting an offseason where you can gel even more together as a group and as a line, just by being together and learning a bit more and having the experience of having a true offseason.
Do you also have some input when it comes to evaluating the defensive line prospects given your perspective of having to coach how to block such players?
I primarily focus on the offensive line, but we do talk as a staff.
We'll sit in there and I'll watch defensive guys, and they'll ask "what do you see in this kid, what do you think here and what do you think about whatever, his get-off, his move here to help set his hips" that type of stuff. Primarily in the whole draft process I'm focused more on the line, but when I'm watching them on film I'll go to the defensive guys and ask who are the top guys, as when I'm watching offensive line I want to see them go against the top people.
I'm watching the kid from whatever school, here are the games that they played last year, which guys would you recommend me to watch them play against so that I'm seeing them against really good competition. Then I get a feel for the defense then too as I watch more and more games, it's like "Hey, #5 from Auburn last year this kid's a good player" type stuff.
How important is it that you get to see offensive line prospects against a range of skillsets?
Any time that you're talking about drafting guys, you want to find everything you can out about the guy. Anything you can. What are their strengths, what are their weaknesses, anything you can dig up.
You want to watch them vs all different sorts of players, you want to watch them vs speed rush guys, you want to watch them vs power guys. If you watch four or five games on a guy and all they're doing is working against speed guys that are trying to rush around the corner and trying to beat them with speed and trying to come up and under, you maybe never get to see whether they have the ability to anchor down and hold the point and do stuff like that. You want to watch them against various skillsets to see what are their strengths and what are their weaknesses.
(Top photo via Brandon Todd/Carolina Panthers)