The Panthers' offensive line has been many things over the past decade, but consistent certainly hasn't been one of them.
Given how much changeover the position group has seen, this should hardly come as a surprise. 32 players have started for the Panthers on the offensive line over the past decade, and while there are a few examples of a player coming in for a game or two in one season due to injury, what is really startling is that 24 of those 32 players have started at least eight games. In other words, in any given season, two new players have started at least half the games for the Panthers. This is a remarkable rate of turnover.
This rate has also been seen from the opposite perspective, in that only one player started more than half of the Panthers' regular season games over the past decade, namely Ryan Kalil, and only six have started over a quarter of those games.
There are a number of reasons for this, and the Panthers have certainly had more than their fair share of offensive line injuries, but it is hard to move past the fact that the Panthers have struggled to find quality offensive linemen – and when they have, they have let them move on when they reach the end of their contracts.
This brings us back to the present.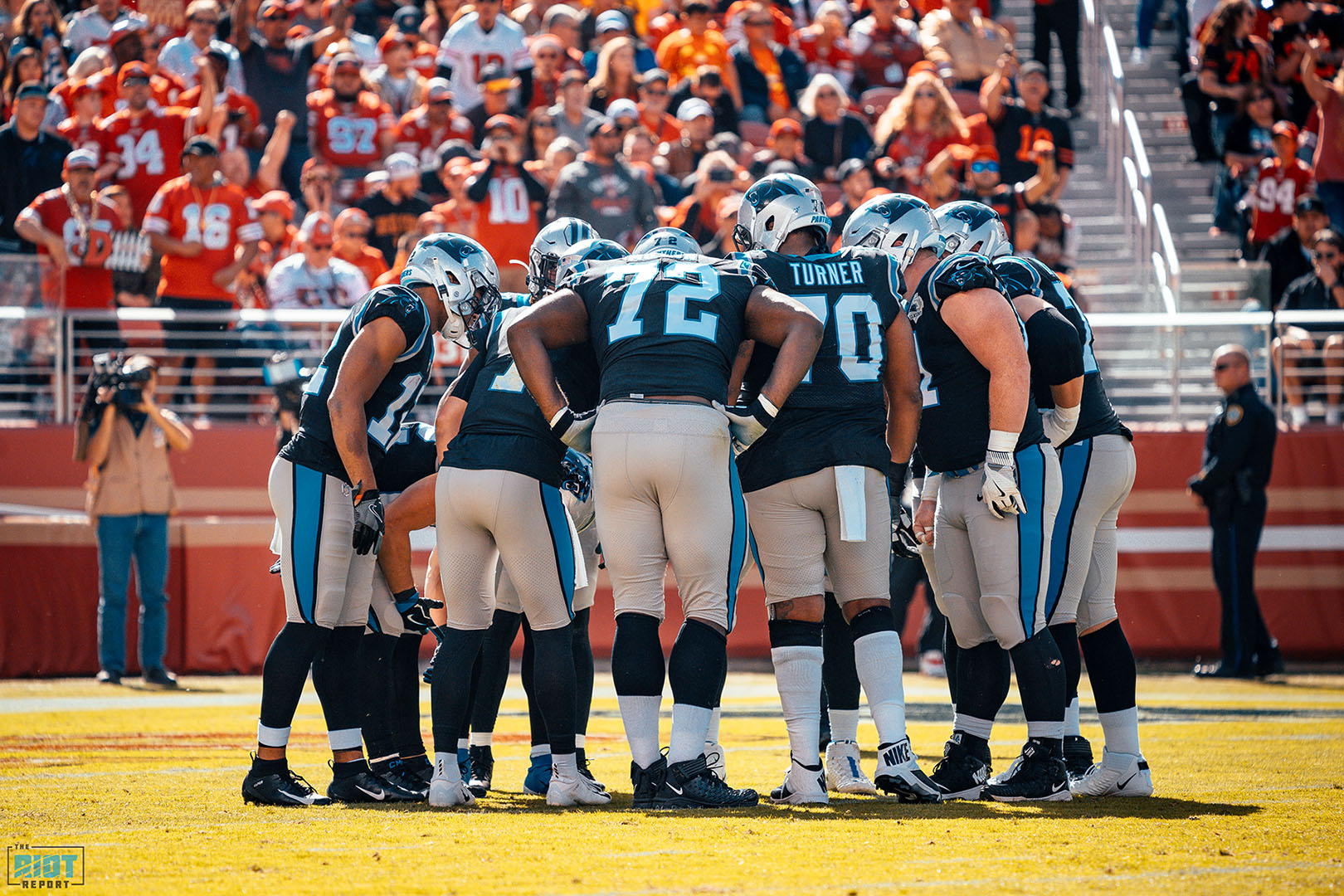 The Panthers currently only have three offensive linemen returning for 2021, with 105 of the 155 Panthers' starts on the roster in 2020 hitting free agency, including four of the Week 1 starters from this past season. It seems likely that the Panthers are going to take a serious run at resigning Taylor Moton, even if it is only through the franchise tag, and the return of some of the other pending free agents shouldn't be ruled out, but it seems likely that the Panthers will once again be rebuilding their offensive line to some extent in 2021.
While this will not be a simple task, given the instability of the last decade, the Panthers should be able to discern some pointers on how to go about this rebuild.
Firstly, they need to be willing to spend high draft picks on the offensive line. Over the past decade the Panthers haven't spend a single first-round pick on the offensive line, and have spent just four day two picks on the group.
Given that the offensive line accounts for roughly 15-20% of most NFL rosters, and almost 25% of the starters, the fact that the Panthers have spent so little draft capital on the position is notable. While that doesn't mean the Panthers need to go out and spent their first three picks this year on offensive linemen, if the Panthers aren't willing to invest draft capital on the group then they are going to be fighting an uphill battle to field competitive units.
Of course, assuming the Panthers do invest in the offensive line to some degree this offseason, the other important part of the equation is doing so in a coherent fashion, something that offensive line coach Pat Meyer spoke to when talking to The Riot Report during the Senior Bowl:
"Do we want these big heavy strong guys that are maulers that can move guys, but maybe they don't redirect as well?" asked Meyer. "Or do we want a quicker guy that can get up to the second level or can reach the first level and can reach block on certain plays?"
The indications to this point are that the Panthers are looking more towards the latter option, as while the likes of Greg Little and Matt Paradis were brought in by Marty Hurney, the addition of Russell Okung would also fit more into this category as well, and with Paradis and Little being two of the three players currently under contract for 2021 there is certainly more of a foundation for this approach.
Therefore, if the Panthers go out this offseason and add a number of maulers, that would either be an indication that they have made an abrupt about-face or, more worryingly, that they lack a strategic clarity at least with regards to the offensive line.
The other major lesson the Panthers need to learn from the past decade is that the offensive line is about more than the starting five, something that Meyer was very emphatic about:
"Very rarely do you always have the same five that play all the time. Somebody's going to go down, somebody's going to get hurt, somebody's going to be whatever," said Meyer. "That's why you've got to have quality guys in the room that are smart, that can process, that are tough, that can move in and really not take a step back. It's not just the five [starters], it's all of them communicating together, because there are five other guys that are one play away from being a starter. Getting an offseason where you can gel even more together as a group and as a line, just by being together and learning a bit more and having the experience of having a true offseason."
When looking back at the data, Meyer certainly has a point, as of the 50 possible times a player has had the chance to play 16 games for the Panthers, just 23 times have they actually gone on to do that. While some of that is bad luck, this bad luck was made even more problematic by the fact that the Panthers habitually failed to invest in offensive line depth.
Ron Rivera's strong preference for veterans over young players meaning that when backups were called upon, it was usually a veteran who had proven themselves not to be a starter rather than a younger player being developed behind a veteran. Part of the issue the Panthers are facing in 2021 in terms of so many players hitting free agency is due to the fact that just three of the offensive linemen on the Panthers roster are players on rookie contacts who the Panthers have drafted.
While Ron Rivera's preference for avoiding playing young players wherever possible certainly wasn't limited to the offensive line, but was certainly impactful in how many players were developed. Byron Bell and Amini Silatolu are the only offensive linemen to have started 10 games as rookies for the Panthers in the past decade – and while Trai Turner, Andrew Norwell and Dennis Daley all started a majority of games in their rookie seasons, all three were only originally brought into the starting lineup due to injury.
Again, this doesn't mean that the Panthers should roll out five rookies week one in 2021, but if the only path to the starting lineup is through injury, that is never going to encourage development.
This is really the key point – unless the Panthers are going to consistently throw high draft picks and significant free agent spending at the offensive line, player development is going to have to play a key role in how the Panthers build their offensive line. In their favor this offseason compared to a year ago is the expectation that they will be able to practice and train in-person at some point in the Spring, and that with that, they will have a chance to work with players on the details of the game that there often isn't the time for during the season.
"Where I'm hoping that this year, if we get to be able to practice with them in the Spring, that now let's slow this down, because [last year] when we first got together it was July and we didn't have much time it was like "right, we're together now let's go," explained Meyer. "So now, in Spring, hopefully we can slow this down and really dissect it and say "here's how we're going to approach this, here's how we're going to approach this" and obviously we've got a year under our belt now so they understand our coaching style, they understand what we're trying to ask from them and trying to demand out of them.
"I'm optimistic that we'll get in in the Spring and really dissect and improve on what we've worked on."
While this will certainly make things much easier for the Panthers' 2021 draft class, it will also be crucial for the two returning young players on the Panthers' offensive line; Dennis Daley and Greg Little. Both players have struggled with injuries at times, but both have shown potential when they have played and while it shouldn't be taken for granted that both players will be starting Week 1, some of the solutions are going to have to be players the Panthers develop, and starting with the young players you already have seems a good starting point.
It is worth noting that although they are entering year three, Daley and Little will start the 2021 season still young – they're 25 and 23 respectively.
There is no easy five-step guide to building an offensive line, and ultimately the Panthers will have to rely on their scouts and front office to evaluate talent, their coaches to develop it, and then have a determination to ensure that they allocate the cap space to bring back players at a competitive price when they hit on a player. There is a good chance that this isn't something that the Panthers are able to achieve in just one offseason, but they have to take a proactive step rather than continuing to cobble a line together year after year.