In their 29-3, loss to the Atlanta Falcons on Sunday, hardly anything went right for the Panthers on either side of the ball. Yes, Kyle Allen turned the ball over four times, but it didn't help that the Panthers offensive line didn't give him much protection throughout the afternoon.
Atlanta sacked Allen five times and hit him five others – that doesn't include multiple pressures throughout the afternoon and seven tackles for loss in the running game. After the game, many of the Panthers offensive linemen didn't give any excuses for their performance.
"I didn't do a good enough job on my part," said Taylor Moton after the game. "As a collective unit, I'm not too sure, but I just know where I need to get better at – as well as protect the quarterback, in the run game and stuff. It's a learning experience. So come in tomorrow, watch the film and see how I can play better next week. I didn't play up to my ability. Obviously, in the NFL [I] play against tremendous players every week and they have a good defensive line, but that's not an excuse."
In part because of the struggles of the Panthers offensive line, quarterback Kyle Allen struggled.
He finished the day 31-of-50 as Allen threw for 325 yards and four interceptions while the Panthers offense struggled in the red zone when they had opportunities to score. Perhaps part of the reason for the struggles to protect Allen was the musical chairs being played on the Panthers offensive line that began at the beginning of the season and continued all the way into the first quarter of Sunday's game.
Greg Little started at left tackle for Dennis Daley, who was inactive because of a groin injury. Little hadn't played since the Panthers' Week 3 victory over the Arizona Cardinals because he was in concussion protocol and certainly showed a lot of rustiness against Atlanta.  Little struggled with Adrian Clayborn and other pass rushers up front.
"I think Greg is a young guy," coach Ron Rivera said. "Growing pains when you play young players. It's kind of difficult, it's kind of tough for that group to kind of build a little bit of cohesiveness when they don't have an opportunity to work together as often as you would like. It's unfortunate because Greg is a good young football player who is going to learn."
But that cohesiveness wasn't helped when right tackle Taylor Moton was removed early in the first quarter after giving up a sack to Vic Beasley – Daryl Williams entered on the right side and promptly gave up a sack to McKinley.
"We are just trying to find consistency and we need to be able to protect Kyle and we have to be able to work with moving parts," said left guard Greg Van Roten, who has played next to four different left tackles through ten games this season. "We can't say we can only play good when we only have a certain combination upfront. We are not the only team that has certain guys coming in and out. We just didn't do a good job of handling that."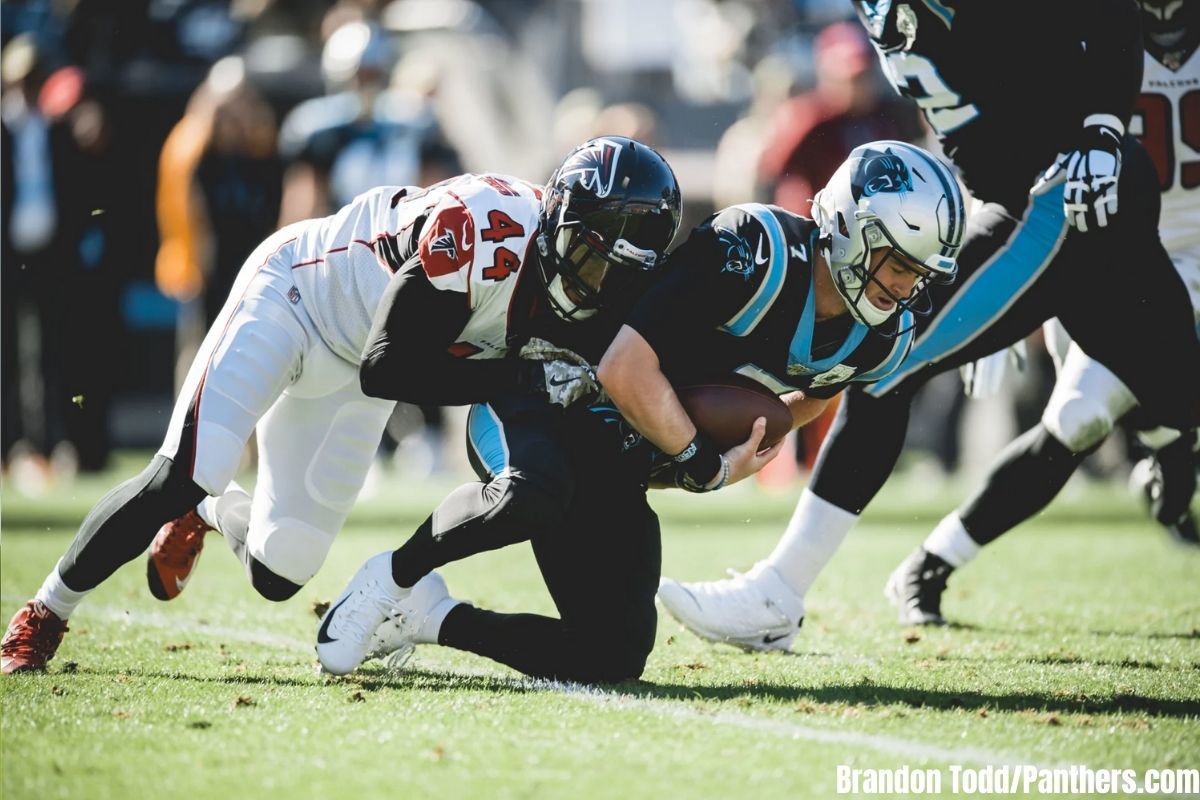 On a couple of drives, the Falcons were able to derail the Panthers on third down as the line broke down at the worst time. Early in the first quarter, down 3-0 on 3rd-and-3, Allen was sacked on the Panthers 22-yard line. Carolina had to punt on fourth down. Another first quarter sack led to a punt that was returned for a touchdown.
Later on, in the third quarter, the Panthers had a 4th-and-5 on the Falcons 35, but Allen was sacked by Clayborn – who bullrushed past Little – which resulted in a loss of down. The Falcons would score and that would put the game out of reach.
Penalties also didn't help the Panthers offensive line – holding calls by Little and an illegal block by Trai Turner in the third quarter forced the offense to have long second and third downs to convert; once the Falcons knew the Panthers would be in passing situations on second and third down, that made the offensive line's job that much harder.
"You're limited, you're more one-dimensional," Greg Van Roten said about the Panthers offense being in long-yardage situations and being forced to pass, down by three scores. "They know you're not going to run the ball and if you do, they're willing to give up five or six yards, because you're down by 20 already. So we just need to find ways when we have to pass it, to be able to protect Kyle so he can sit back there and throw the ball."
"The guy can throw the ball, we just didn't do a good job of giving him an opportunity."
Next week won't get any easier for the Panthers offensive line as they will go against the New Orleans Saints, who entered Week 11 with 25 sacks, which was the 12th most in the league, and had 12 QB hits this week against the Bucs.