Wednesday's practice had a different feel around the Panthers facility.
After Ron Rivera was let go on Tuesday, the team appointed secondary coach Perry Fewell as interim head coach for the final four games of the season and on Wednesday, instead of focusing on one position, Fewell was in all parts of practice, talking to quarterbacks, kickers and other players, rather than just the defensive backs he's overseen this season.
Fewell said he spent some time with Rivera on Wednesday morning going over practice and travel schedules as well as some other aspects he would have to have to handle as an interim head coach – a luxury that Rivera didn't have to afford the man who would replace him, but Fewell spoke glowingly about his predecessor.
"A first-class man as Ron Rivera is, he stayed and helped every minute of the day that he could," said Fewell, who was brought in by Rivera ahead of the 2019 season. "It's easy for you to slam the door, pack up your things and walk out or just walk out – but he took care of Panther business, which you know he would do – he's a first-class guy."
Fewell said he changed Wednesday's practice up just a little bit by working on the Panthers' third-down efficiency after their offense converted just three out of 11 tries in their 29-21 loss to the Washington Redskins last week. Carolina's offense has been successful on third downs on 31.4% of the time this season – that's 30th in the NFL. Their defense hasn't been much better on third down this season as opponents have converted 40.27% – 21st in the league.
"We had a little competition between the offense and the defense for third down for pushups – we wanted to improve in that area," Fewell said. "We did some things to get better as a football team, we had the first-team offense go against the first-team defense for the first two plays of each series as a scout team look, in order to get better. I thought the competition was good, and I thought the spirits were on the field were good."
The offense converted their third downs and the defense had to drop and give their coach 11.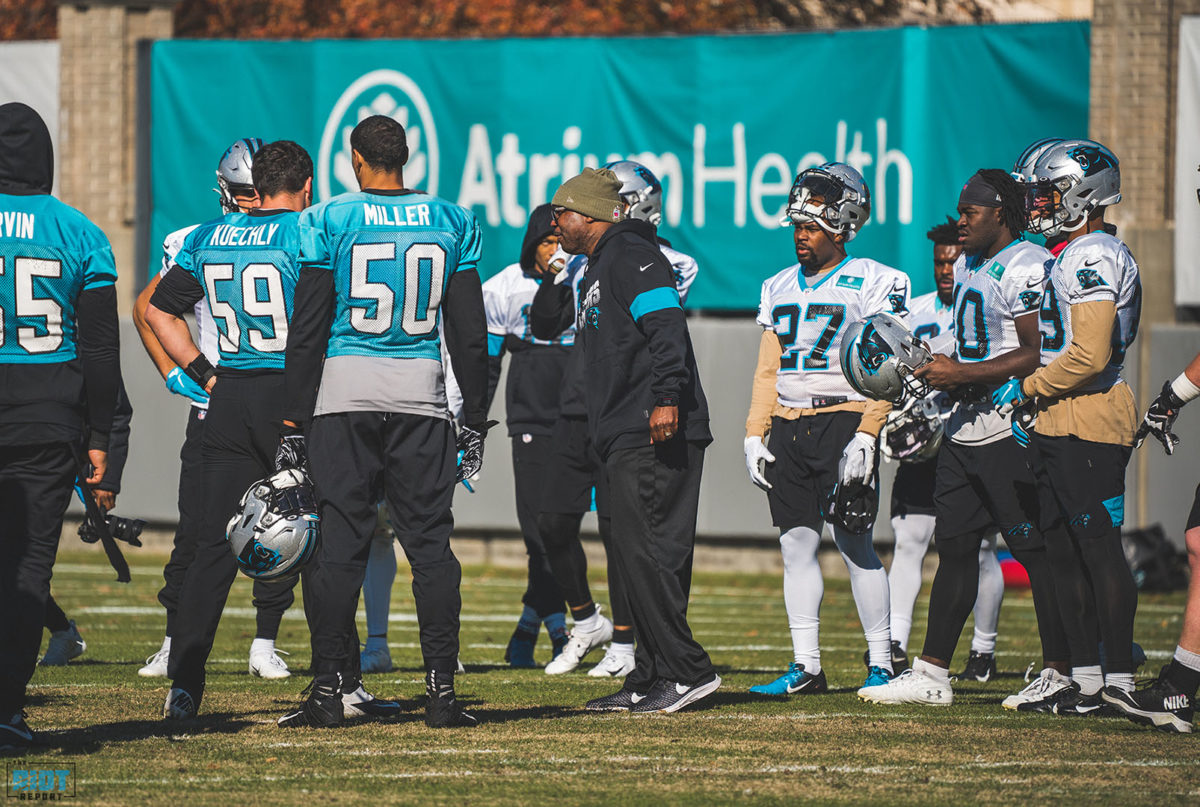 So how would Fewell describe his coaching style?
"Old School," Fewell said after Wednesday's practice. "I kick them in the ass. I bark at them — it's not out of malice, it's out of love."
Fewell is in an odd position, but not one he is not unfamiliar with. In 2009, when the Buffalo Bills fired head coach Dick Jauron after a 3-6 start, Fewell, who was the team's defensive coordinator at the time, became their interim coach for the final seven games that year. During that stretch, Fewell finished with a 3-4 record.
"It helps that I've done that before," Fewell said. "That's the biggest asset that I have is that I have been in this position before and I have this experience. So I know where to go, what to do and when to do it."
The next few weeks will be a bit of an audition for Fewell as Panthers owner David Tepper said he will consider him for the Panthers permanent head coach after the season – a position he's been in before. In 2011, when he was the defensive coordinator of the New York Giants, Fewell interviewed with GM Marty Hurney for the Panthers vacant head coaching position that ultimately went to Rivera. Fewell, who is a North Carolina native, said Hurney made the right choice by hiring Rivera instead of himself.
"During that time, I was probably too young to come back home and take on a task such as this," Fewell said. "I think I've matured enough that I can handle a task such as this. So with that experience, and then being in New York and several other places, those experiences have helped me grow to the person that's ready to lead this team at this point."
As many can imagine, the last 24 hours were emotional for Panther players and coaches – including Fewell. This isn't the way he wanted to get a chance to become a head coach again, but Fewell wants to make the most of the last four weeks.
"It gives me an opportunity to prove it and it gives our players an opportunity to prove it," Fewell said. "That's what we are going to do, go out and prove we can win a football game this Sunday. And then move to the next objective. But the NFL is about opportunity. You don't want to get the opportunity this way, but I am granted the opportunity and I've got to make the most of the opportunity when I have the chance."
Safety Tre Boston, who has been working with Fewell all season, said he thought Fewell took command of the team during practice and he believes the Panthers have the right man for the job.
"The way he prepares is to the wall, we're talking 110% and you can only give 100," Boston said. "So the way Perry goes about his business every single day – his DBs and his defense – I'm excited to see what he can do with this team. I'm willing and I want to fight for him; this is his opportunity and I'm going to make sure we get the best out of it."
Boston wasn't the only Panthers player that gave Fewell a ringing endorsement as running back Christian McCaffrey also had some kind words to say on how he ran his first practice.
"Awesome. We all believe in him and he believes in us – we had a great practice today and our jobs don't change," McCaffrey said. "Our job is to go out there and win on Sunday."