The Panthers had a chance to go ahead of the Tampa Bay Bucs late on Thursday night – well, technically, it was early Friday morning as the clock had struck midnight a few moments before – but after a game that seemed to last forever after a 27-minute weather delay during the first quarter, the Panthers opportunity to escape with a win that they maybe didn't deserve came down to one singular play. Cam Newton slowly walked towards the goalline, Matt Paradis snapped the ball directly to Christian McCaffrey, who ran left with Curtis Samuel running the opposite direction and – if it had happened the way Norv Turner drew it up – the defense would have naturally gravitated to the danger of Samuel running the reverse or perhaps even throwing a pass to Cam Newton a la the 'Philly Special' – but that's not what happened.
Vernon Hargreaves stayed home and rode McCaffrey out of bounds – and even if he hadn't, Shaquil Barrett, who had eaten Daryl Williams' lunch all night, was running towards the sidelines to meet McCaffrey. If not Barrett, William Gholston might have been there had McCaffrey ventured back inside.
While some may question why the Panthers didn't choose to use their 6-5 quarterback as anything more than a decoy, the Panthers liked their playcall and felt like it gave them a chance to win the game – it was certainly the talk of the locker room as the Panthers try to grapple with their 0-2 start. Here's what the team had to say about the biggest play of the game.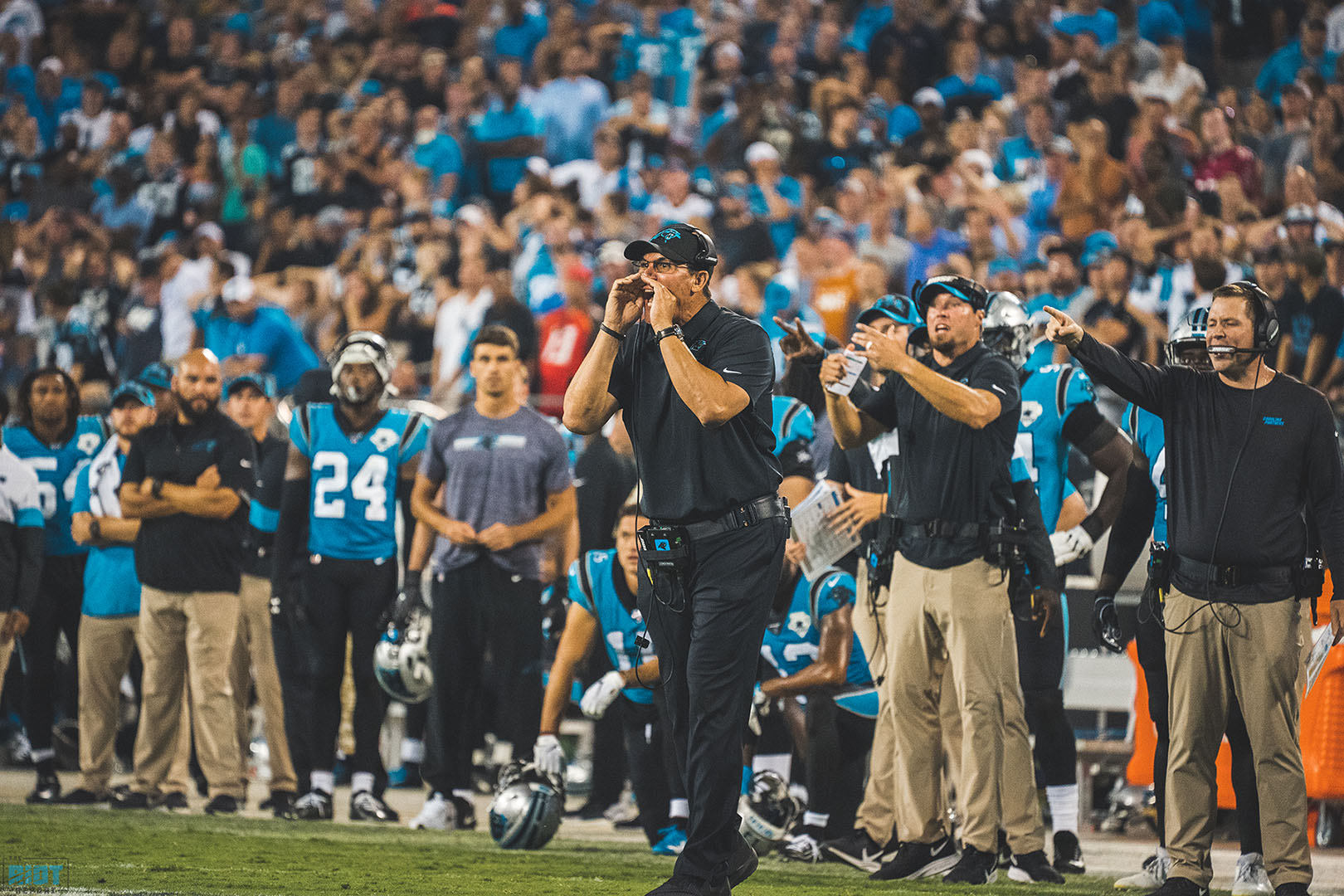 Cam Newton: "I felt extremely confident in the play. I have always felt confident in the plays called. You know, Norv gives us a great chance to put us in winning position. It's just up to us as players to execute."
Newton, on whether he would have liked the ball on the final play: "Of course. But like I say, you're not going to have me up here saying what I would have called different[ly]. Personally, I accept responsibility in making sure offensively I do my part and uphold my end of the bargain. That's the only thing I can say right now. I am shameful to say it that way and it came down to [us] not being able to put up points.
Ron Rivera: "Well, what we hoped to do [with] Christian, we felt had a good opportunity to score. So we went fake-reverse ghost action, trying to deke them a little bit. We had every opportunity. We thought we could at least get the first down but unfortunately, we didn't."
Greg Olsen: "We felt good about that play, we really thought it was going to work. We had it dialed up before they got the penalty with the back-to-back timeouts. We counted on that guy going with Curtis. It was a well thought out play. We felt really good about it in that exact kind of situation down in the red zone. Game winning play, tight, two minute, two-point type of play. For some reason the corner didn't run with Curtis…he was left unblocked. Tough."
GOAL LINE STOP FOR THE WIN

(via @NFL) pic.twitter.com/8dmX4jlS4X

— Bleacher Report (@BleacherReport) September 13, 2019

Jameis Winston: "Thank God. Pretty big, big play. Defense played great all night. It was really good for our team to come here in Carolina and get a victory."
James Bradberry: "I was on the sideline watching it on the video cam. Definitely thought it was pretty close, definitely thought we had a first down, but you can't leave it up to the refs. Can't leave it in their hands to make the decision. We've got to make better decisions and we've got to make the most of our opportunities."
Curtis Samuel: "I'm not a ref, I'm not a coach. I'm a player. I just play; I felt like coach put us in a position to get a touchdown to win the game and we just fell short – we've just got to get a couple of days off, come back and just fight back harder."
Vernon Hargreaves: "It looked like it was going to be the Philly special from the Super Bowl. A reverse pass. When Cam walked up to the line of scrimmage, that's what I thought it was going to be. As the play developed, McCaffrey faked it and he came right to me. I just stayed at home and he came right to me, I just had to make the play. That's huge. We're on the road, division game. It doesn't get any more challenging than this. We pulled one away today."
Trai Turner: "I'm confident in every playcall that comes in. I think we'll be able to score, convert, whatever you want to call it with every playcall that comes in. But it just didn't happen tonight."
Christian McCaffrey: "Coach put the ball in my hands at the end of the game and I blew it. So it's my fault. I'll take that one. Just got to make a play there and I didn't…..Ball is in my hands, I have to make the play at the end of the game and I didn't."